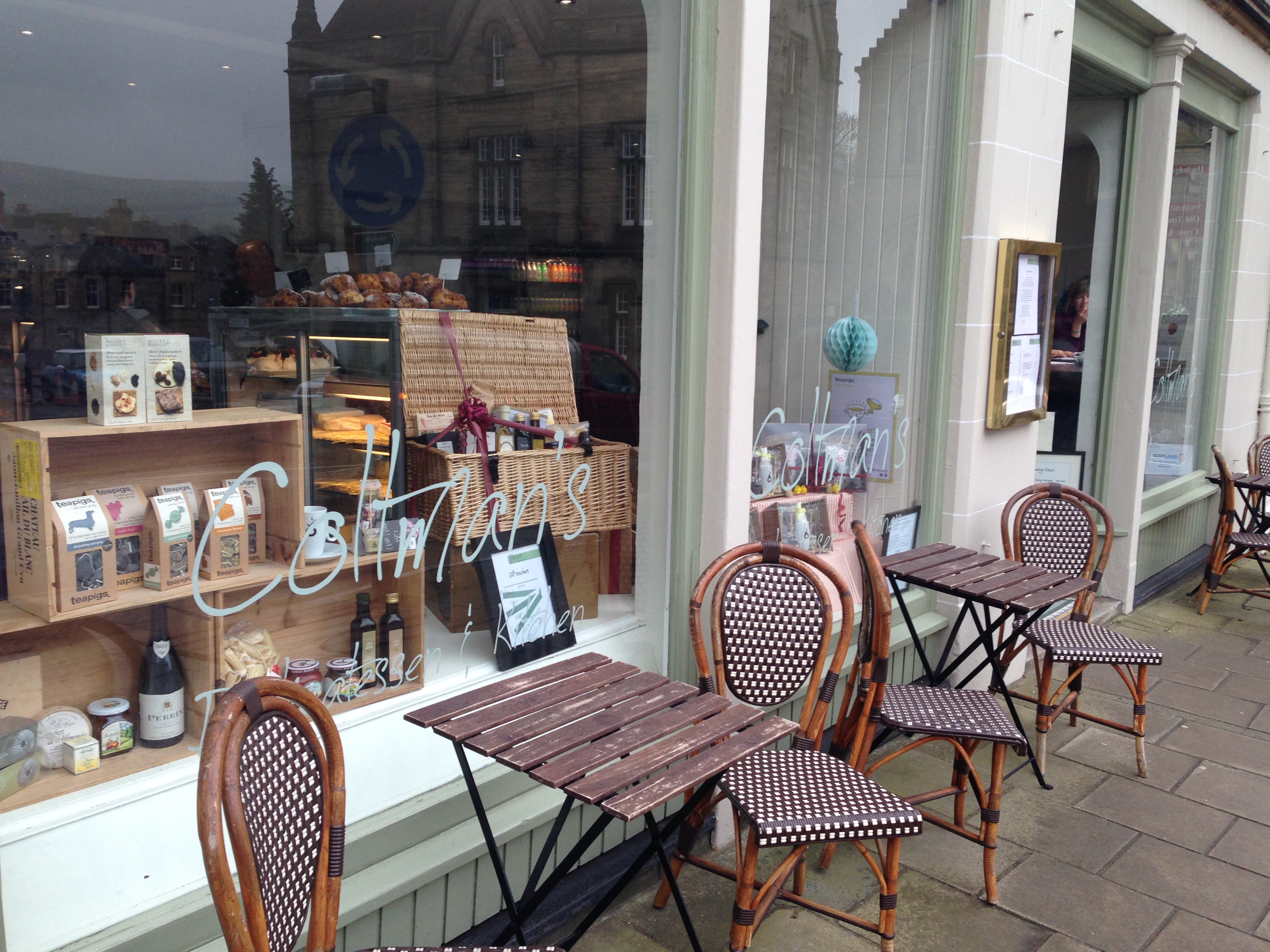 There's a charming story about a lord near the tiny town of Peebles, located in the rolling hills of Midlothian, Scotland, right by the beautiful River Tweed.
When the conversation turned to Paris once, this lord recounted how a local woman once sniffed: "I've been to Paris and I've been to Peebles — give me Peebles for pleasure anytime."
Which may have been why Dorset Boy chose to take me to Peebles on our very first Sunday drive. I've been to Paris, after all. Peebles, on the other hand — now this was virgin territory.
What was in store? A cozy little cafe named Coltman's …
If you've wondered what spring looks like in Scotland, many days look something like this. (Main street, Peebles, however still had its charms.)
Step into Coltman's and you're greeted with shelves of gorgeous baked goods, crisps and snacks.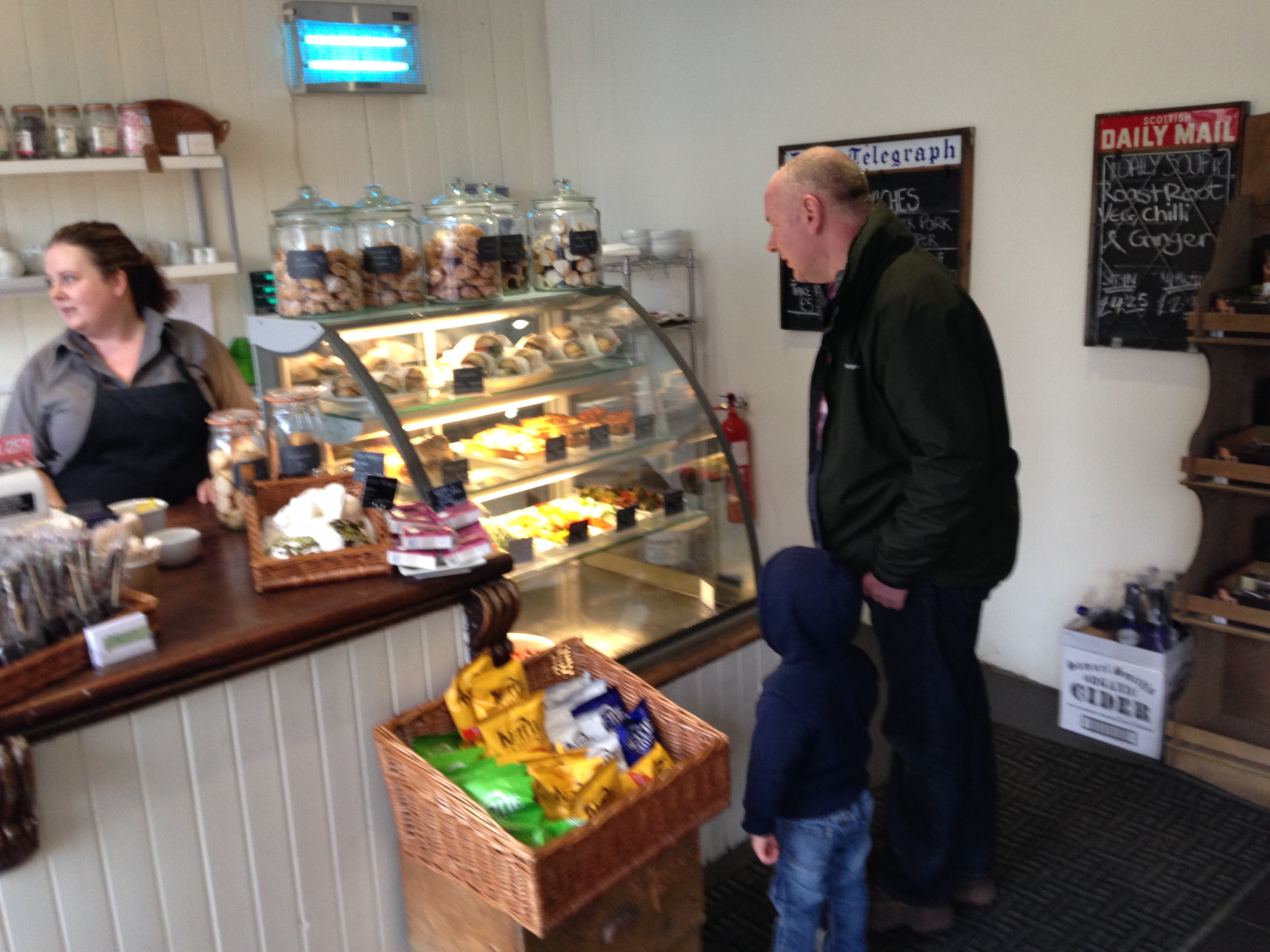 We were famished, though, so off to the back room it was.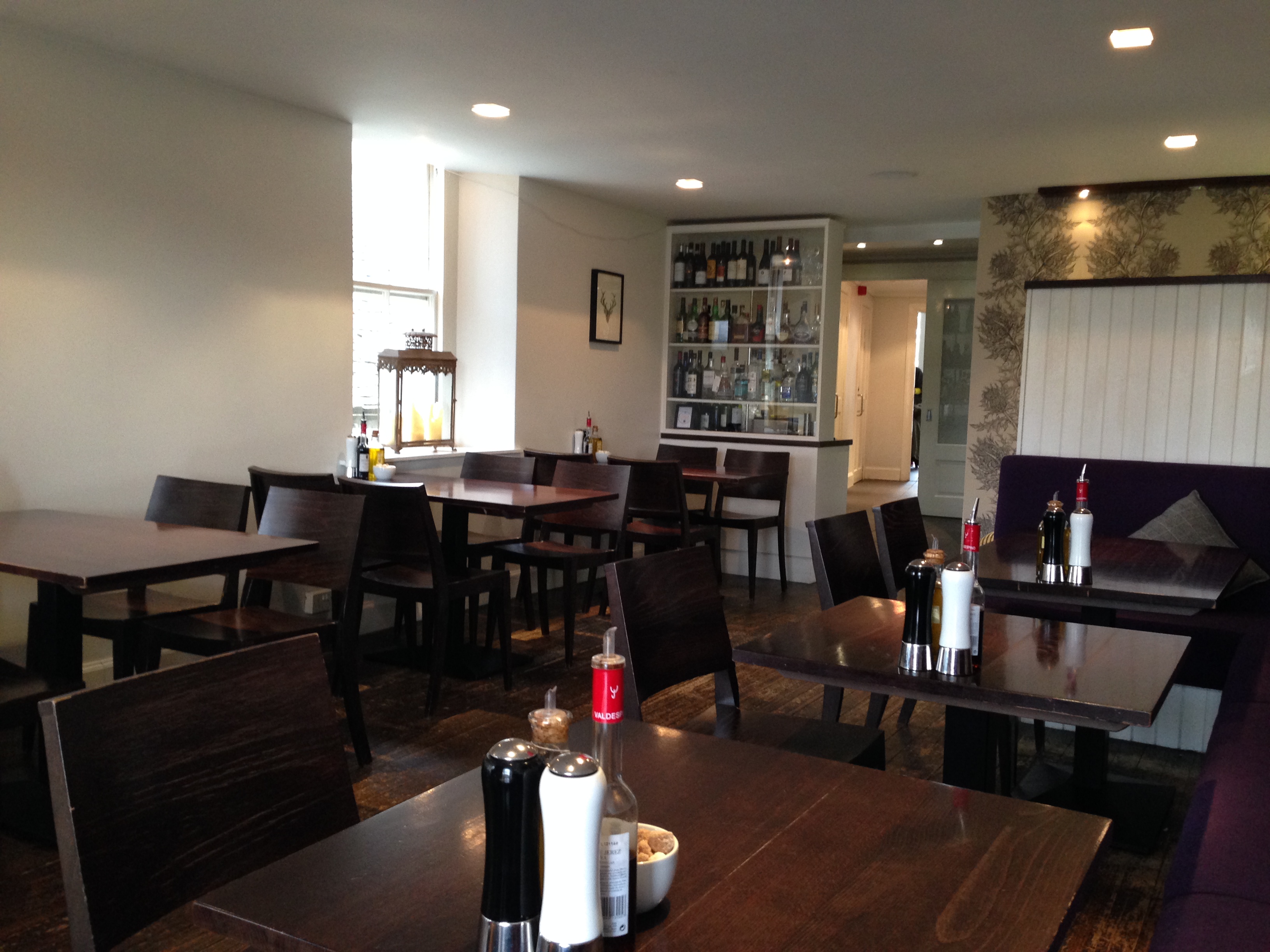 The table gods smiled on us — our nook looked out onto the Tweed, a 97-mile river that flows along the scenic Borders region of Scotland.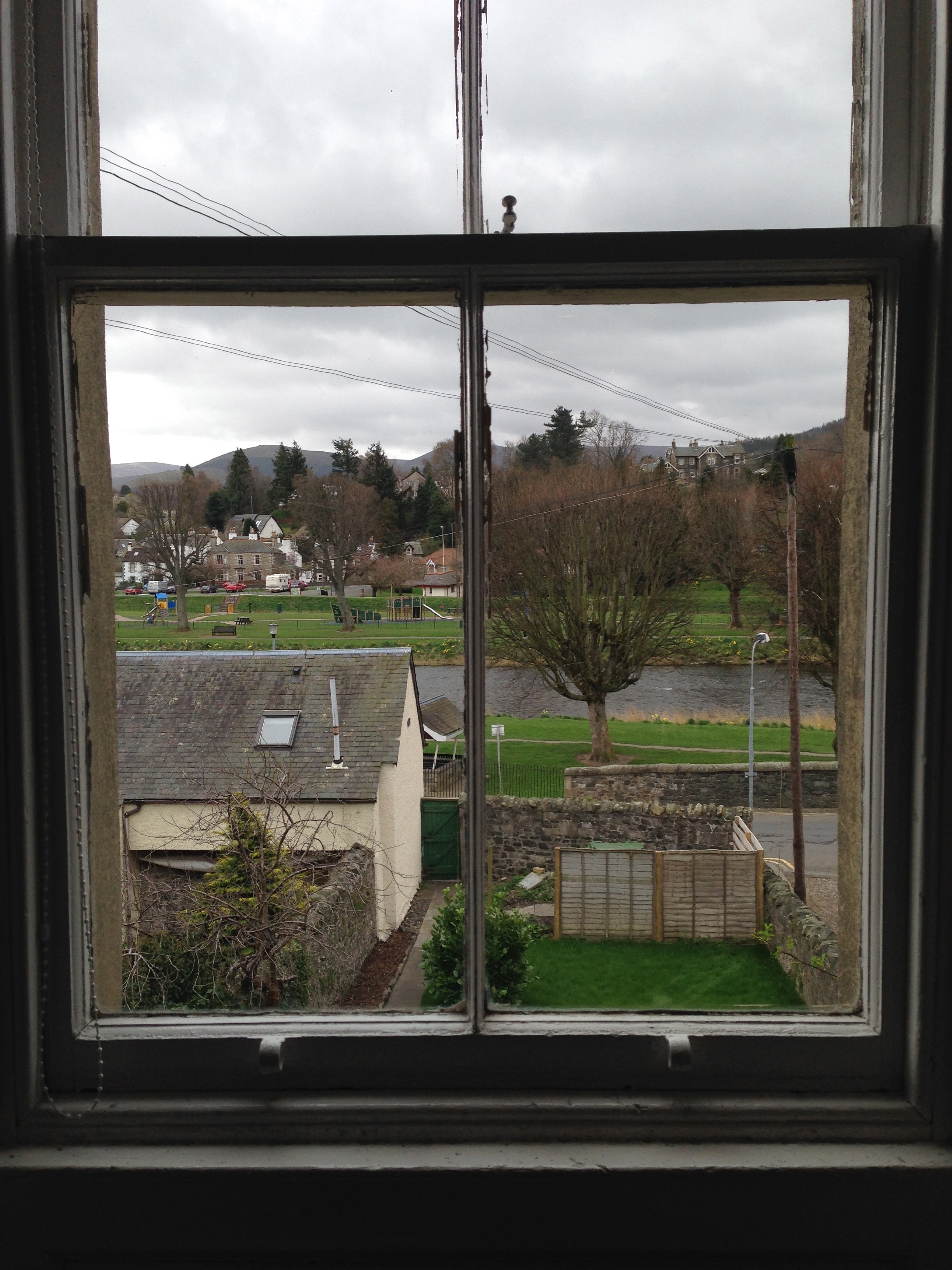 First things first: the coffee here — terrific. (And I adored the little cookie that came with it — not too sweet, a little almondy; it reminded me of slightly crunchy Chinese almond cookies.)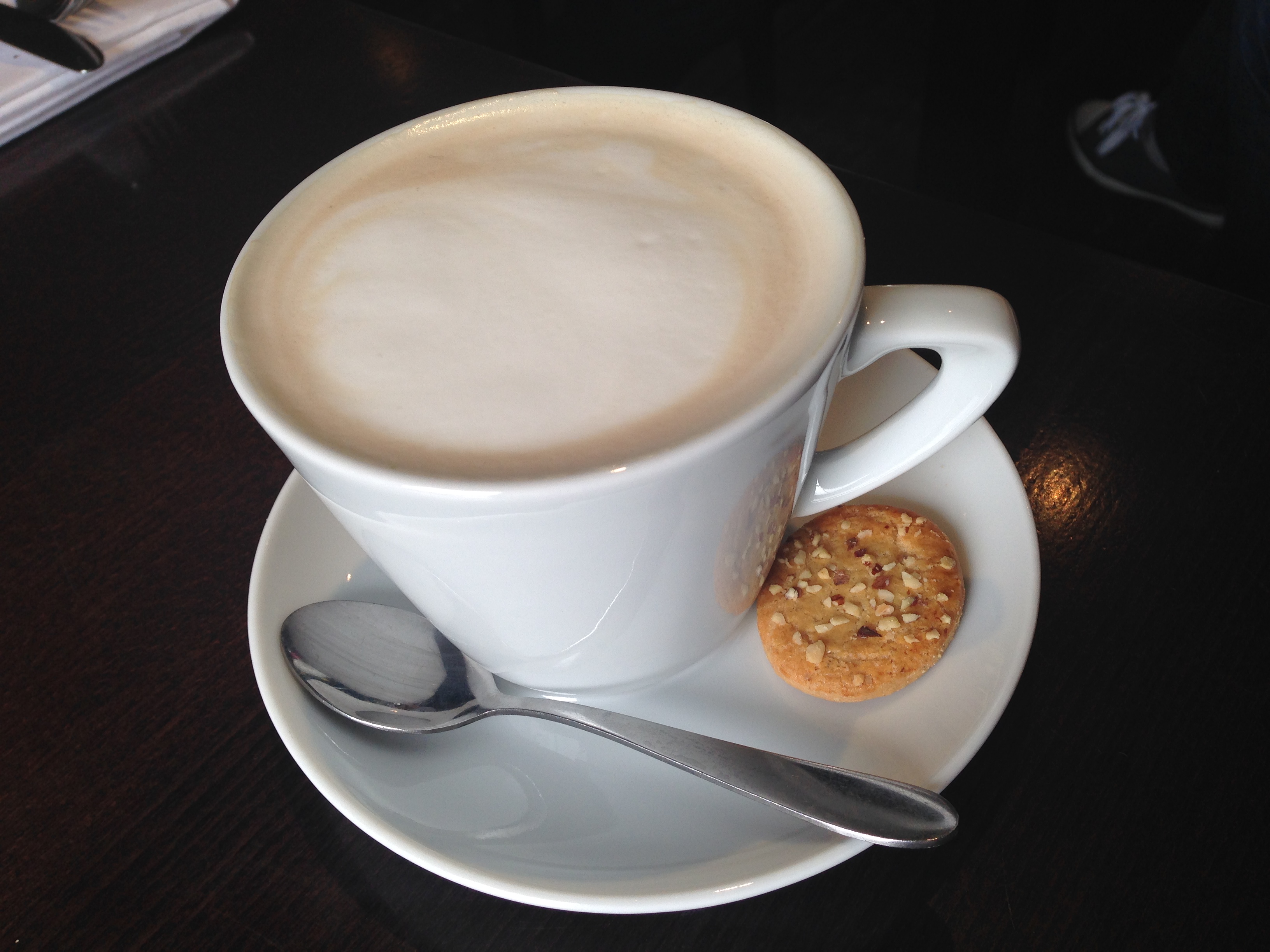 I did mention we were hungry, right? Well, Dorset Boy clearly was — his dish of poached duck egg with black pudding and pancetta (£6.95) was just about the most gloriously rich brunch item I've ever seen.
The pancetta was deliciously salty and the egg — with a huge, orangey-yellow yolk — was perfectly poached. I'd not had much black pudding before but Dorset Boy, much more of a black pudding aficionado than I am, proclaimed this a good one. (I did find it awfully tasty as well, for what it's worth.)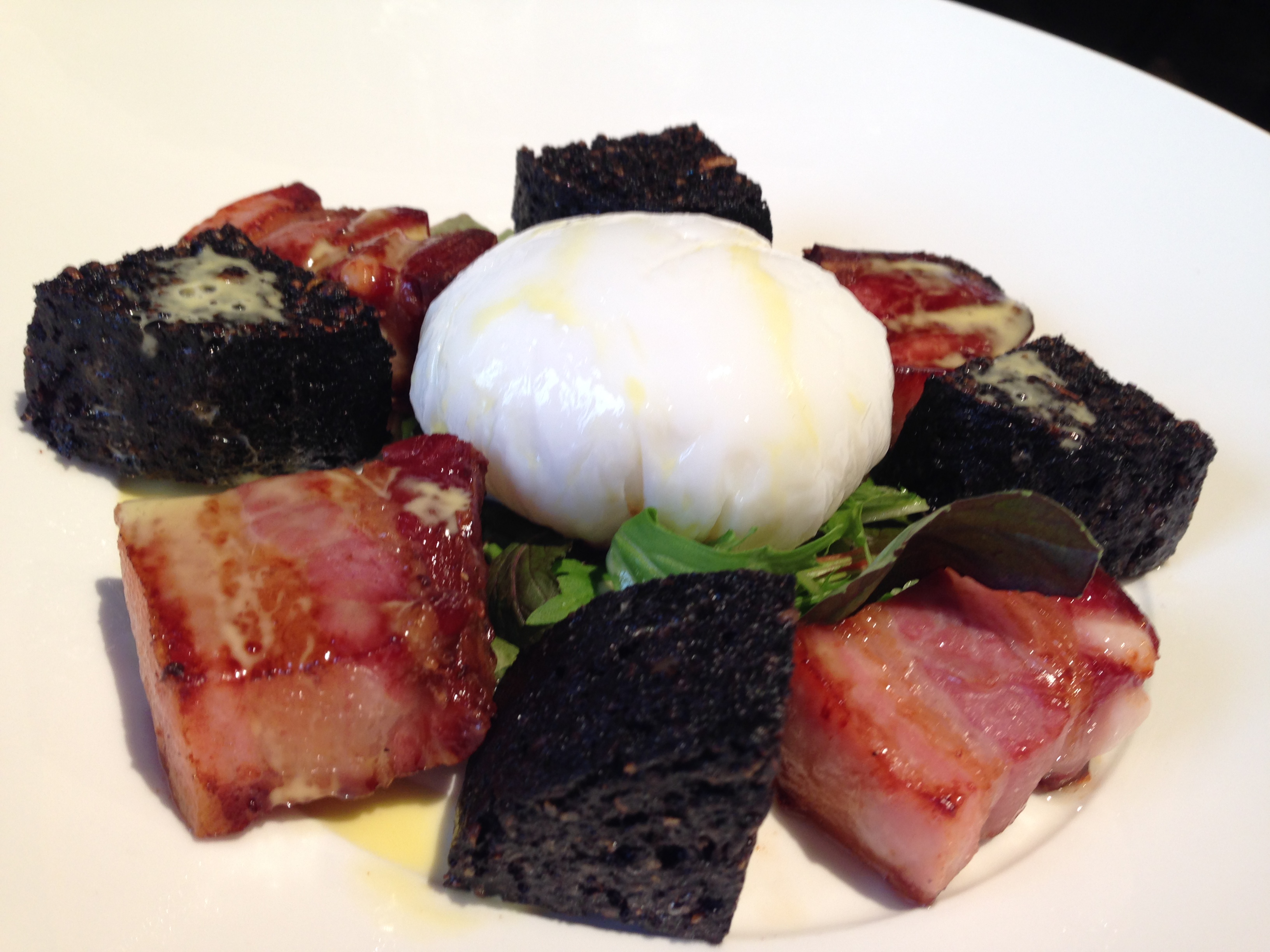 I'm not generally a big eggs Benedict fan — Hollandaise isn't my favorite. But bacon, on the other hand, I could eat every day. And I was definitely craving it on this chilly spring morning. So poached eggs and Ayrshire bacon on an English muffin (£6.95) it was.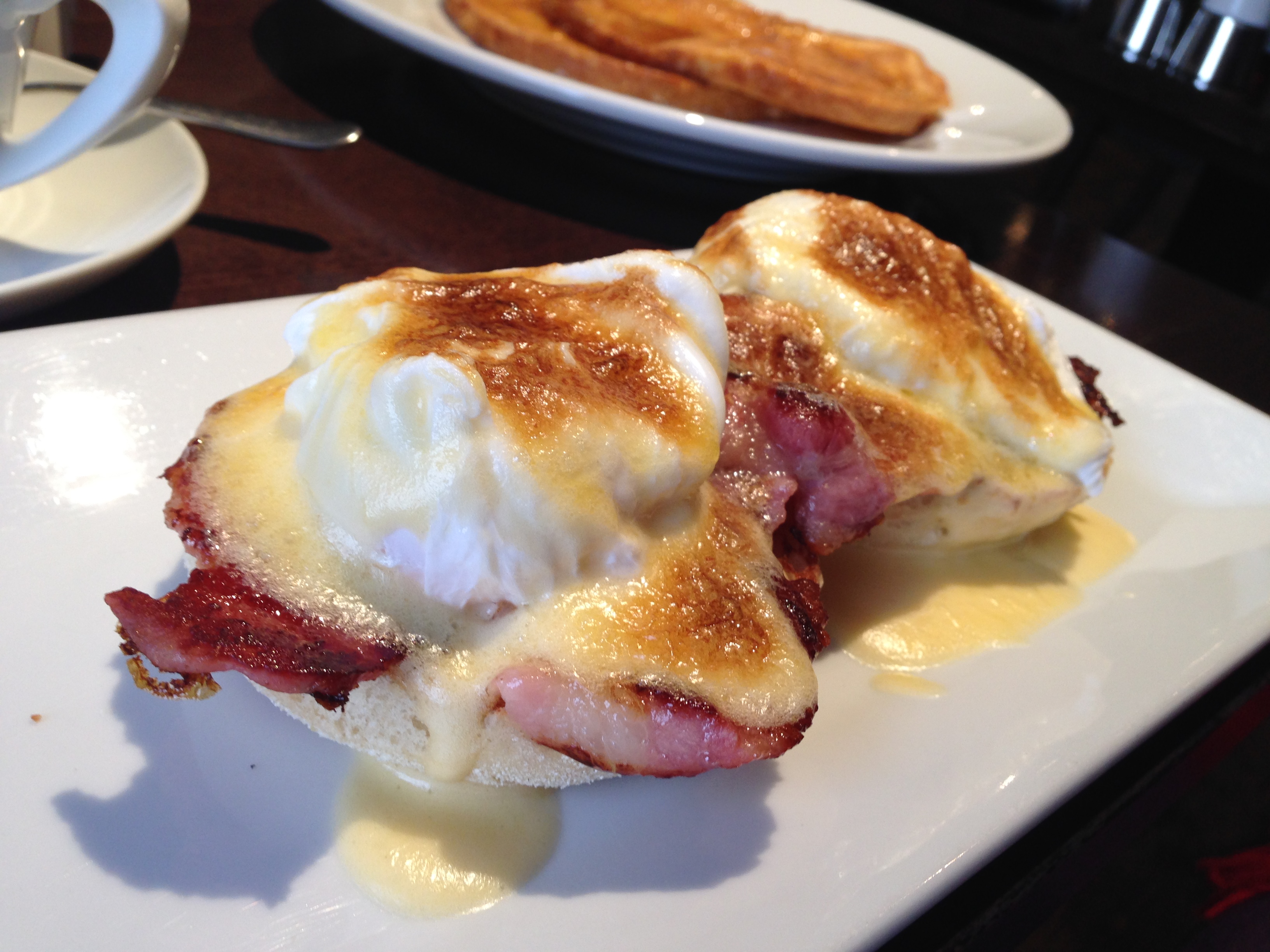 The bacon was incredible — meaty and salty, just as I like it. But it was the egg that wowed me — the local eggs here are just fantastic. Look at how rich that yolk is!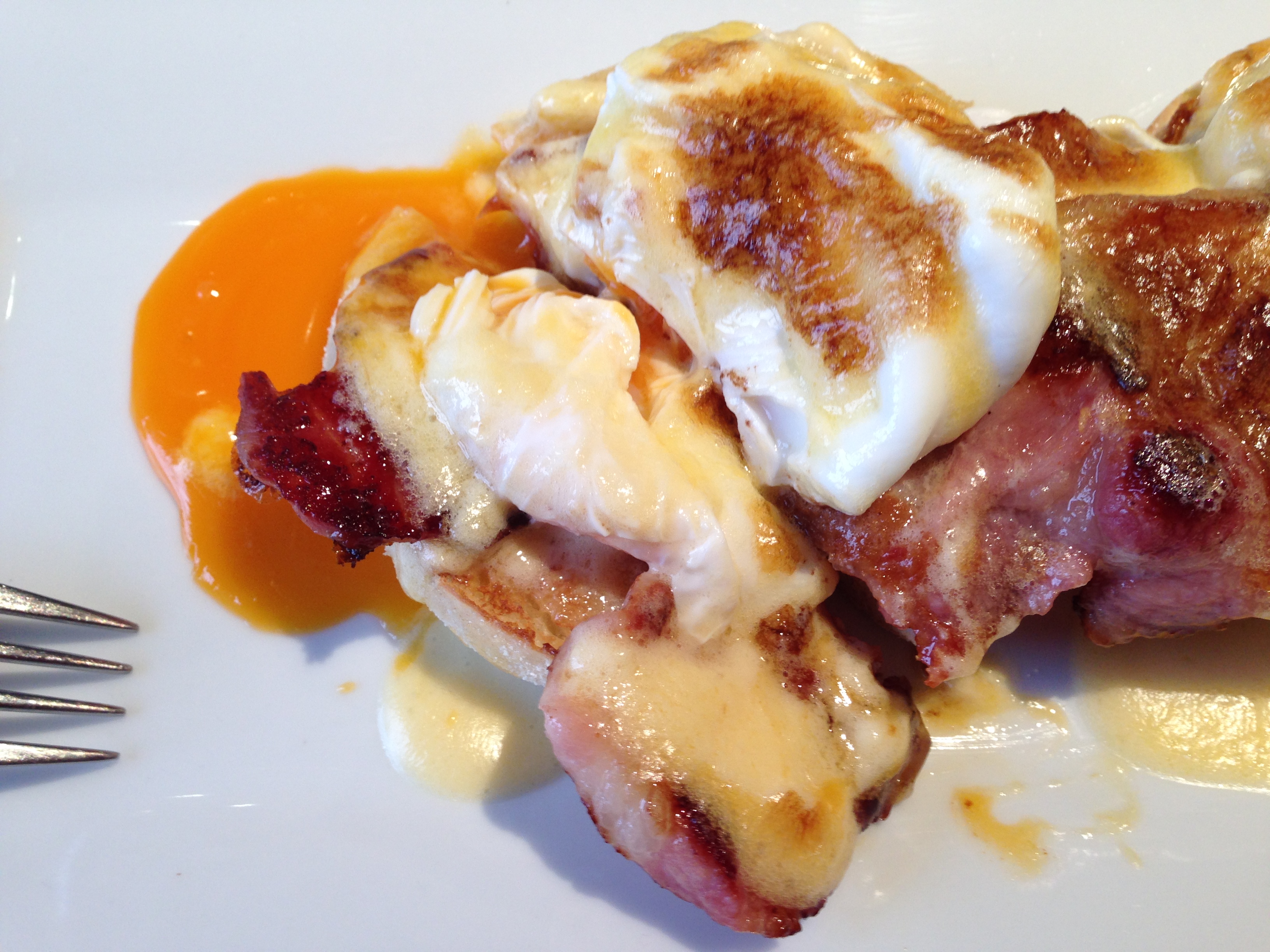 I suppose we weren't just hungry — but greedy as well. So a side of French toast with maple syrup (£4.95) seemed to be in order. After all that salty, rich umami, this was a lovely sweet chaser, even if not the best French toast I've had.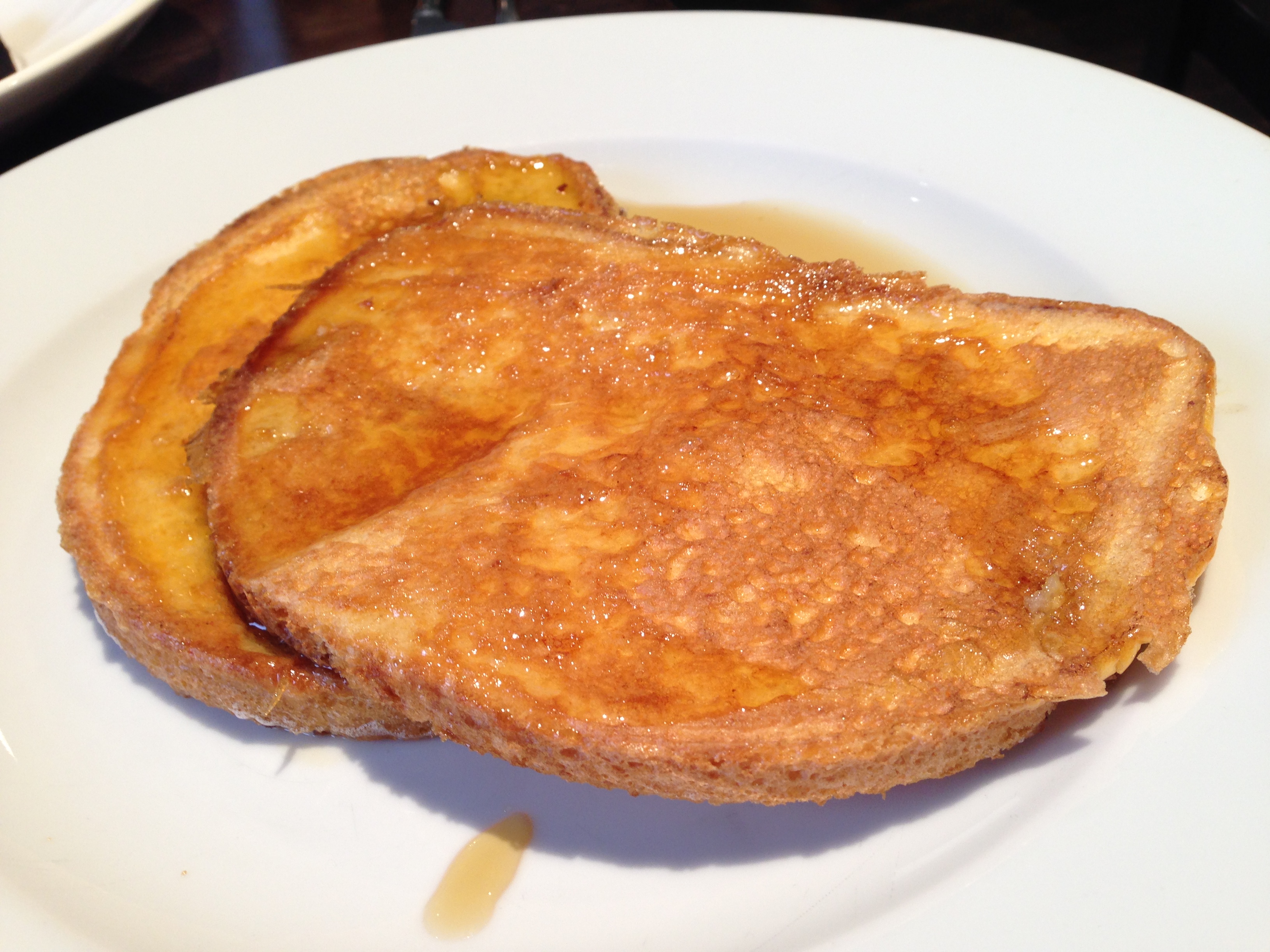 We were stuffed that day, so the delicatessen outside held little appeal for us. On a next visit, however, I did pick up a slab of house-made sausage rolls, which tasted like none of the sausage rolls I'd ever eaten. (Dorset Boy concurred.)
Sprinkled with caraway seeds and featuring an herb-heavy sausage filling, this sausage roll was divine. Perfect with a cup of tea just a few hours later.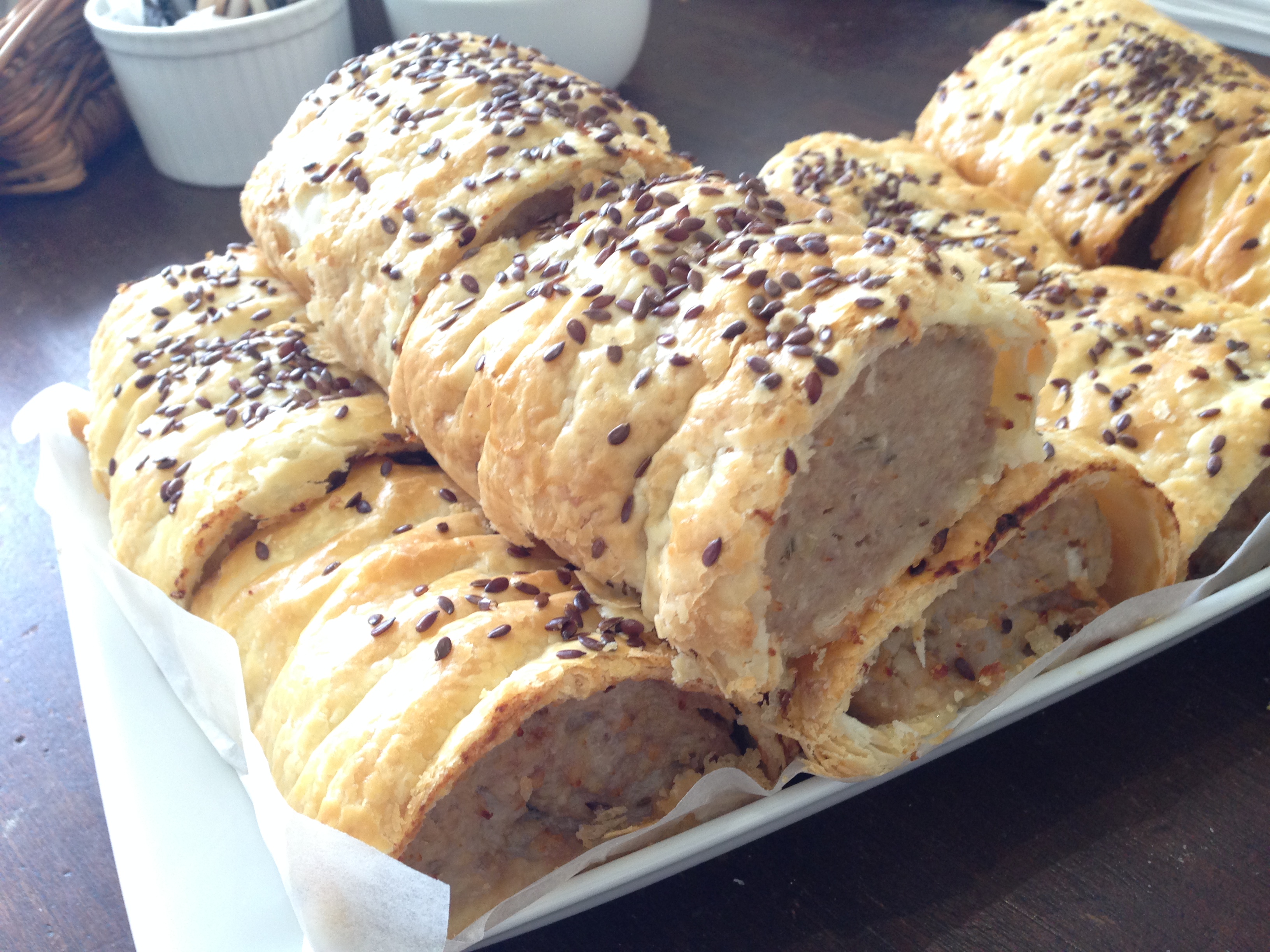 When Dorset Boy had first told me the story of that cut-up of a lord, I had laughed. After having traipsed through Peebles and sampled some of its delights, however, I began to think that perhaps the guy had a point.
But you know, a fair comparison should be made, of course. Now that Dorset Boy's taken me to Peebles, it seems only right that this should be the next stop: Paris.
Coltman's Delicatessen & Kitchen, 71-73 High Street, Peebles, Scotland
EH45 8AN; 01721 – 720405; info@coltmans.co.uk;  http://www.coltmans.co.uk/