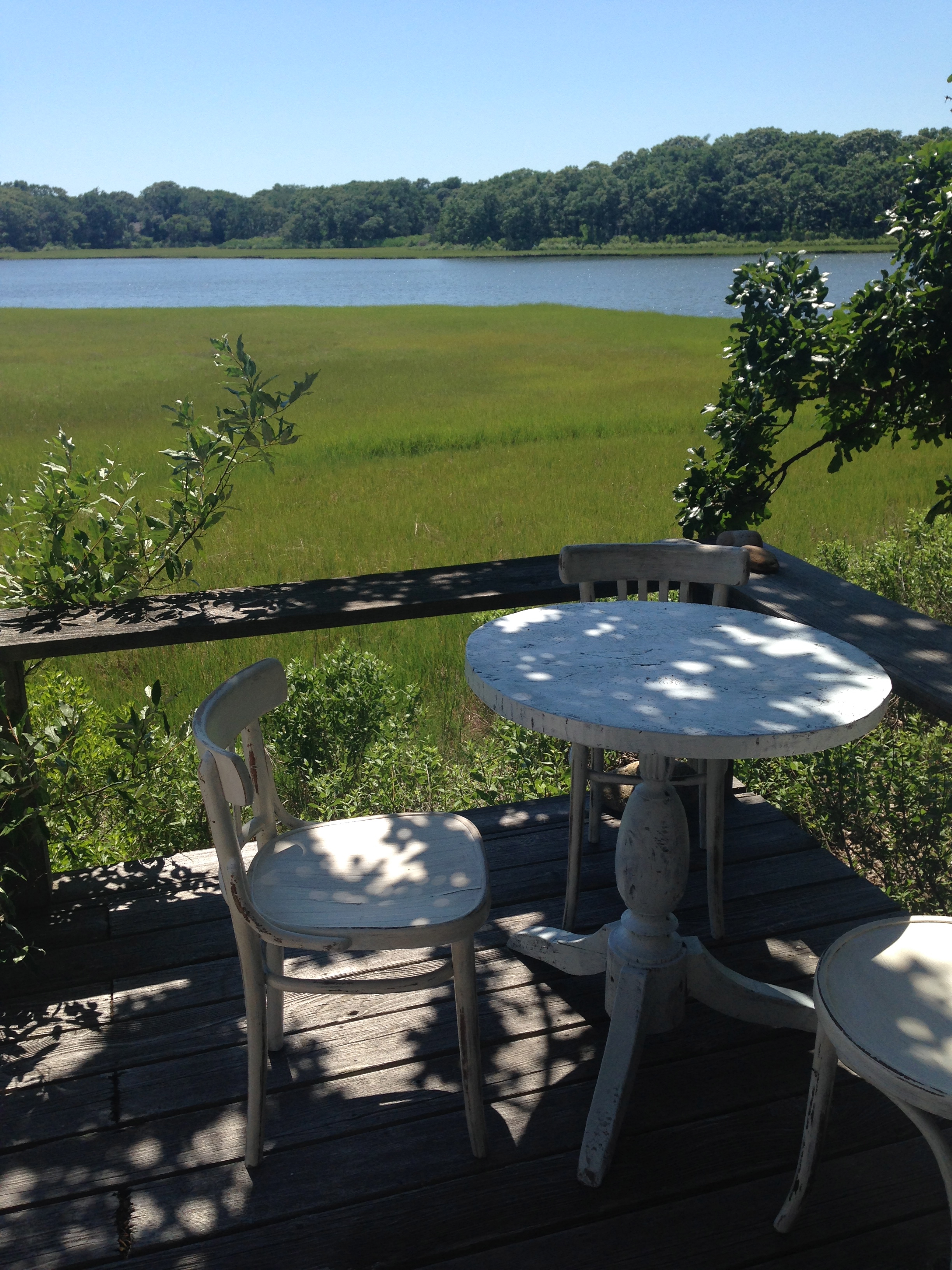 People may wax lyrical about spring and its blossoms and fall or its ripe beauty, but for me, summer is always ma saison préférée.
This may come as no surprise to anyone who knows I grew up on a little tropical island, but my favorite meals always go something like this: Outdoors, at a little table surrounded by dear friends, gorgeous water on the horizon, azure sky above, the promise of a fresh simple feast before us.
So when my trusty Let's Lunch bunch decided to do al fresco dining for our monthly lunch date this month, I was all over it.
Now, I'm fortunate that New York City and its nearby beaches offer me these ingredients on a plate. And recently, I found myself in the Hamptons enjoying one such meal with one of my dearest friends, chef Simpson Wong.
What was to come? A little summer pesto …
Now, when you find yourself presented with a day like this, it's just silly to eat indoors.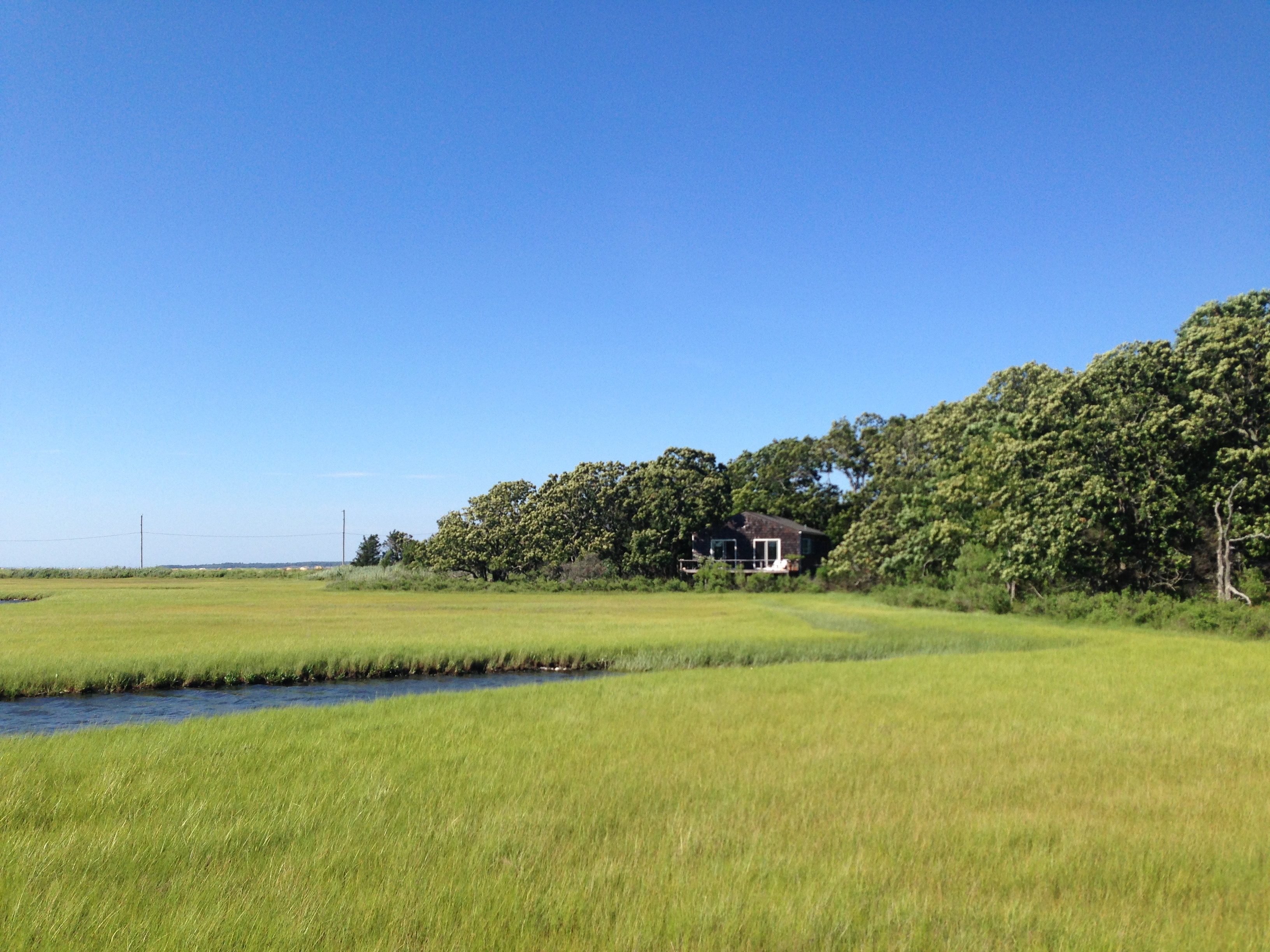 So we took our places around a spindly table on the deck and soon, this appeared …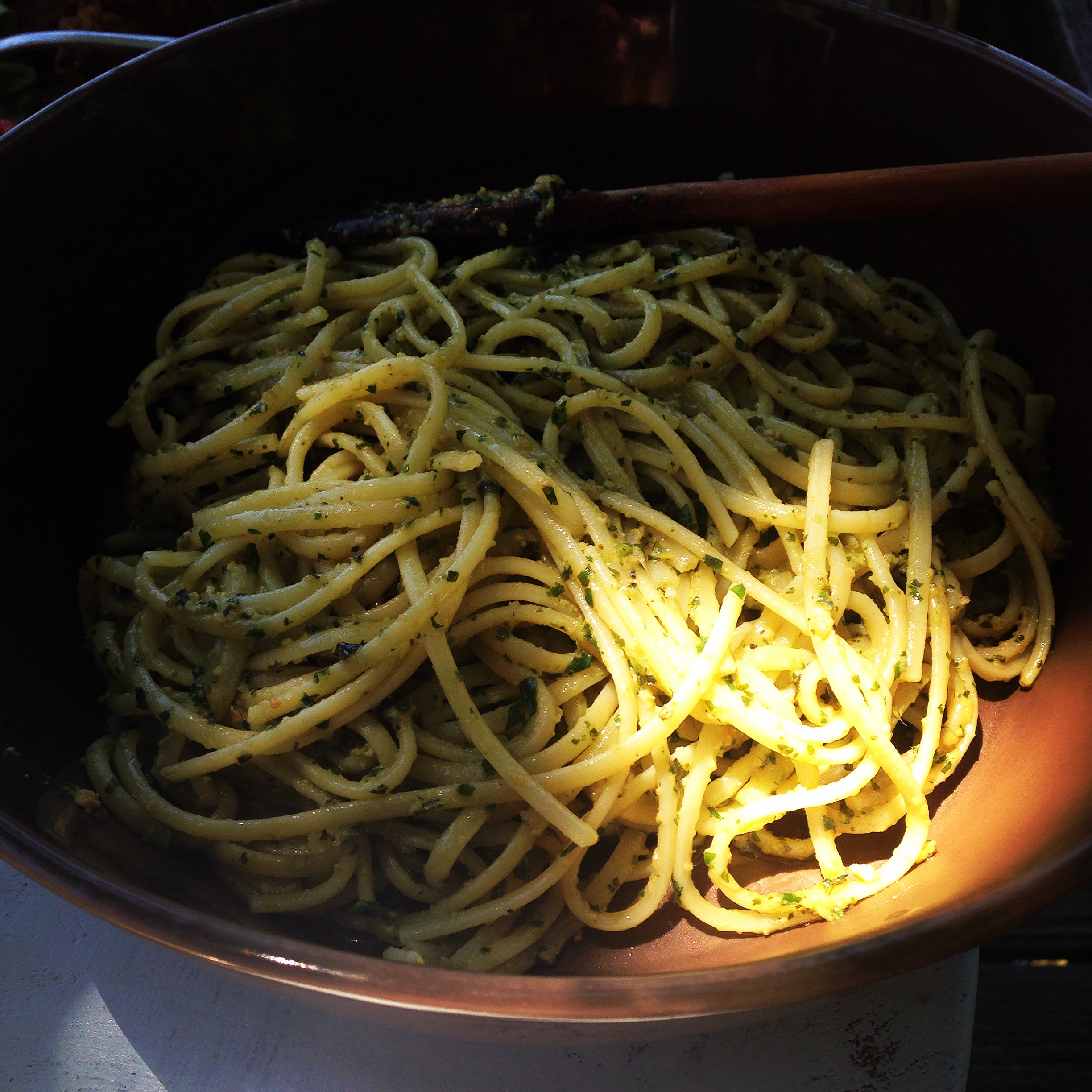 … just about the freshest, tastiest pesto I'd sampled in a while. I love how green, earthy, nutty and salty a good pesto is — a combination of summery flavors that's just perfect with a glass of crisp white wine.
Simpson is a talent — no doubt about that. But what makes him an especially fascinating cook is his foodplay and versatility and here, while making this pesto, he found himself sans pine nuts so he simply substituted cashews, which he had on hand. The result was different — but delicious, nonetheless.
When I asked Simpson what the recipe was, he — like most good cooks — just waved me away and said, "There's no recipe!" So instead, I've shared the one I use at home in Brooklyn — it's a basic classic pesto recipe with the optional addition of anchovies, which I adore mashed into a summery pasta.
So here, have at it. And the next time you see a summer's afternoon like this again, I demand you pull it out. Buon appetito!
~~~
Don't forget to check out other Let's Lunchers' al fresco dishes below! And if you'd like to join Let's Lunch, go to Twitter and post a message with the hashtag #Letslunch — or, post a comment below.
Annabelle's Butterscotch Brownies at Glass of Fancy
Anne Marie's Fresh Peach & Honey Lavender Goat Cheese Sliders at Sandwich Surprise!
Betty Ann's Adobong Mani (Peanuts in Garlic) at Asian In America
Karen's Watermelon-Mint Cocktails at GeoFooding
Linda's Spicy Nectarine-Tomato Salad at Spicebox Travels
Lisa's Spinach & Three Cheese Coils at Monday Morning Cooking Club
Margaret's Pudding & Cookie Jars at Tea and Scones
Sonja's Lamb, Dukkah, Kale & Feta Scrolls at Foodnutzz
~~~
Perfect Summer Pesto
Ingredients:
3 cups fresh basil leaves, packed
1 or two cloves garlic, peeled
A slightly overflowing 1/4 cup extra virgin olive oil, plus more
1/3 cup pine nuts, toasted if you wish
1/2 cup good quality grated parmegiano reggiano, plus more
1 anchovy filet (optional), more if you like anchovies
Salt to taste
Directions:
Pack basil, olive oil, pine nuts, cheese and anchovy, if using, in a food processor and process until well-mixed, occasionally stopping to scrape down the sides. Look at the pesto as it's mixing — if it needs to be more liquid (or if you like your pesto slightly more liquid), add more olive oil.
Once it's well-mixed, add salt, if needed. Depending on the cheese you use, you may not need any salt at all.
Before tossing with pasta, look at the pesto — if it needs to be slightly more moist, drizzle a little olive oil on it and mix it up into a paste to help it stick to your pasta better. Toss with pasta and serve immediately with more parm on the side.