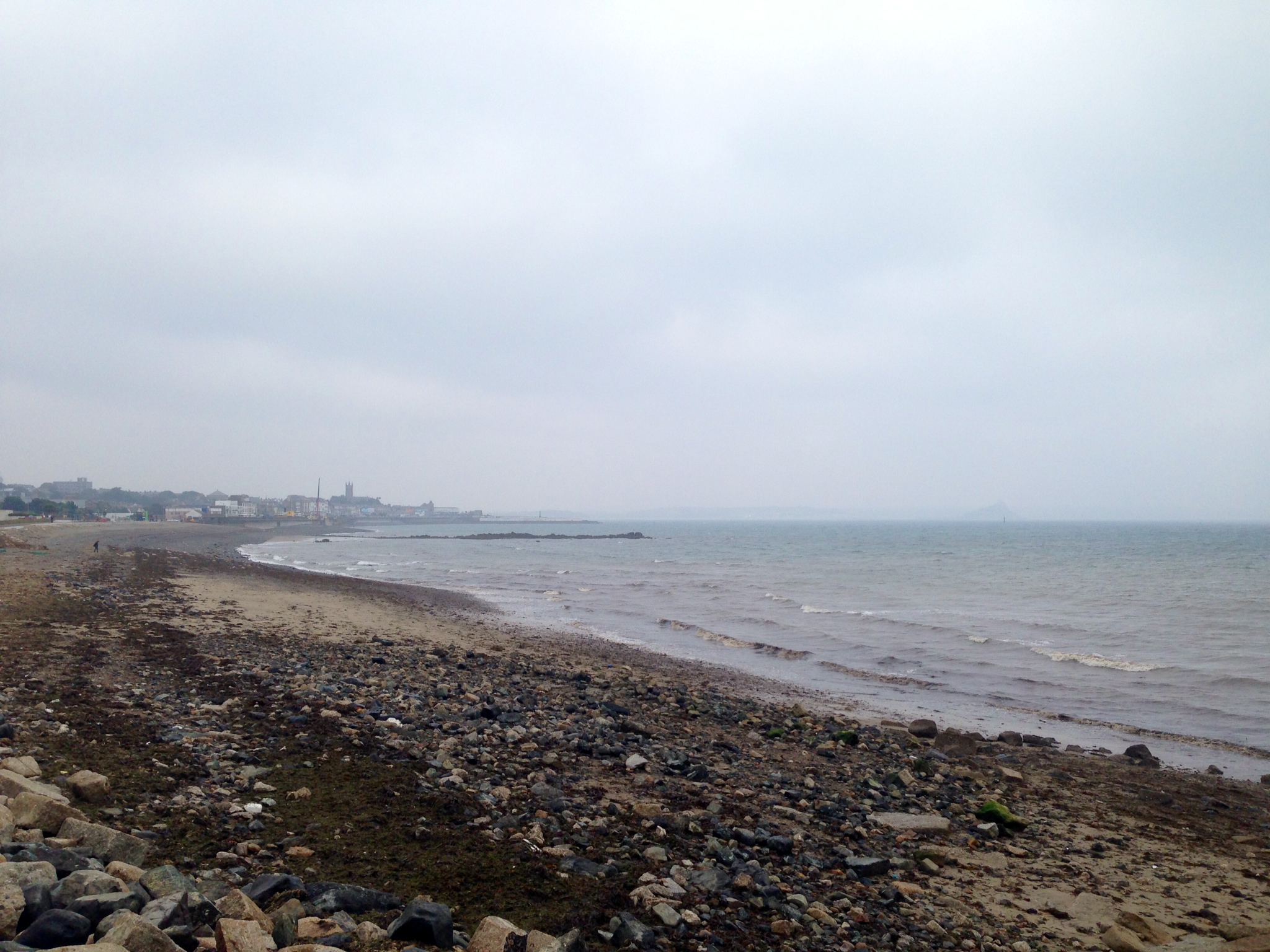 The noodging began the moment I mentioned traveling to Cornwall for work.
"You must go to Jelberts."
"It's really the best ice-cream."
"You have to go."
All this coming from a man who has given very few foods the slightest compliment in the short time I've known him.
I'm not a big cold sweets person myself, but two things swayed me — Dorset Boy simply adores ice-cream. And, he spent chunks of his childhood in Cornwall, a fairly short walk from Jelberts, in fact.
So when I finally set foot in Cornwall, on this southernmost bit of England, I decided I had to see what the fuss was all about. Or, never hear the end of it …
If you ever find yourself in Penzance, the largest town near the southern tip of Cornwall, the place itself is nice — but get on the path by the beach, head out of town and just keep walking.
About 20 minutes later, you'll hit Newlyn, the teeny town next door. And once you're there, it's impossible to miss this sign.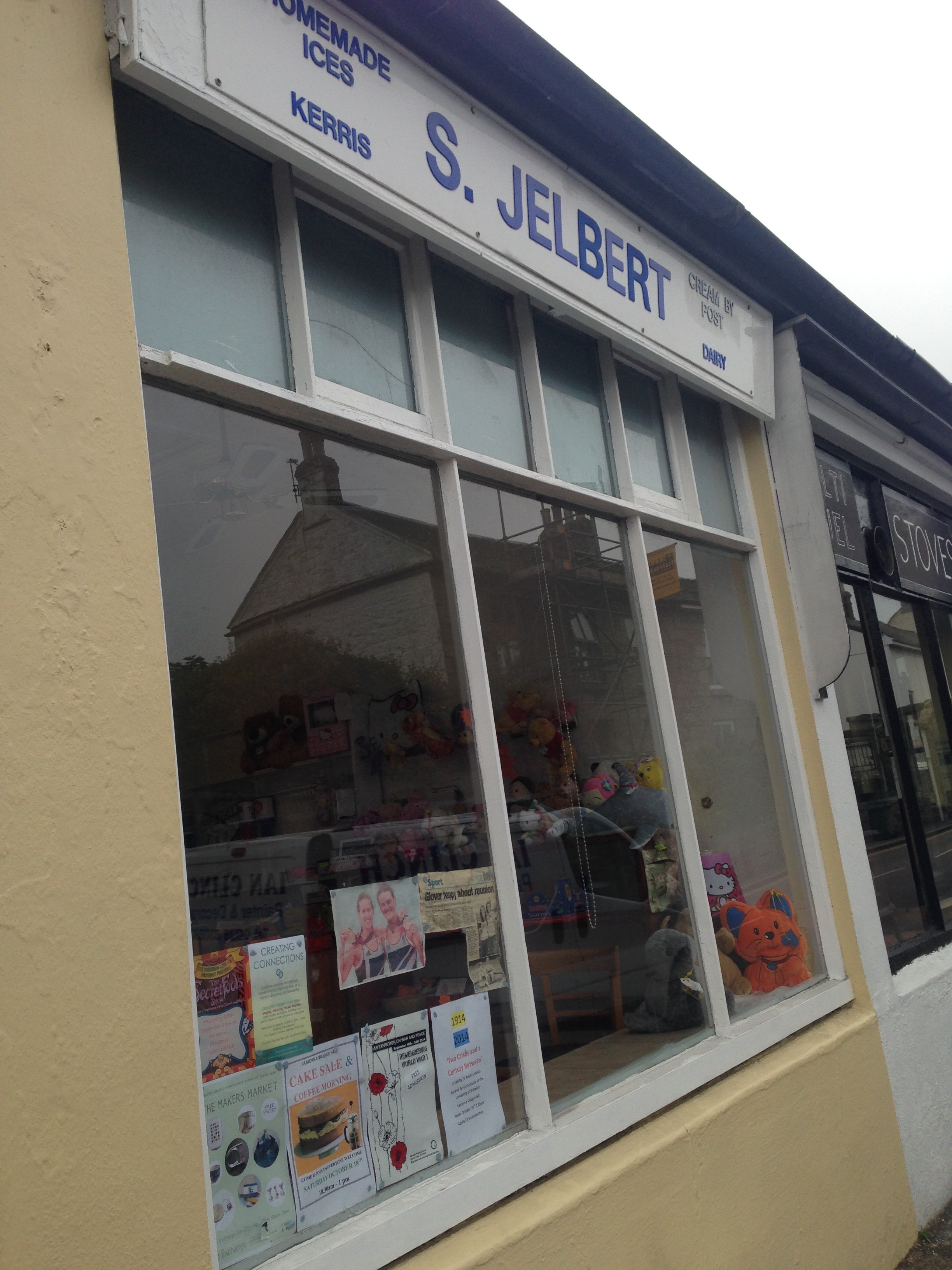 Jelberts has been around for a while — when I walked in and asked how long, it ignited a little debate. "Has it been 60 years or more?" the lady behind the counter asked a customer who seemed to be a regular. Neither had the answer.
The shop appears to have set down roots sometime around the second world war, however — it's an offshoot of a local dairy business that existed then. Jim Glover, the grandson of the dairy owner then, still runs it today. (In 2012, his daughter Helen picked up an Olympic gold medal for rowing at the games in London. You can see her photo with the medal in the window above.)
And people near and far do seem to like it — hey, the Financial Times ran a 2011 piece on Jelberts headlined: "Is there a better ice-cream on the planet?"
The setup is bare bones at Jelberts — there's a sparse collection of candy and drinks. And, there's ice-cream — just one kind: vanilla.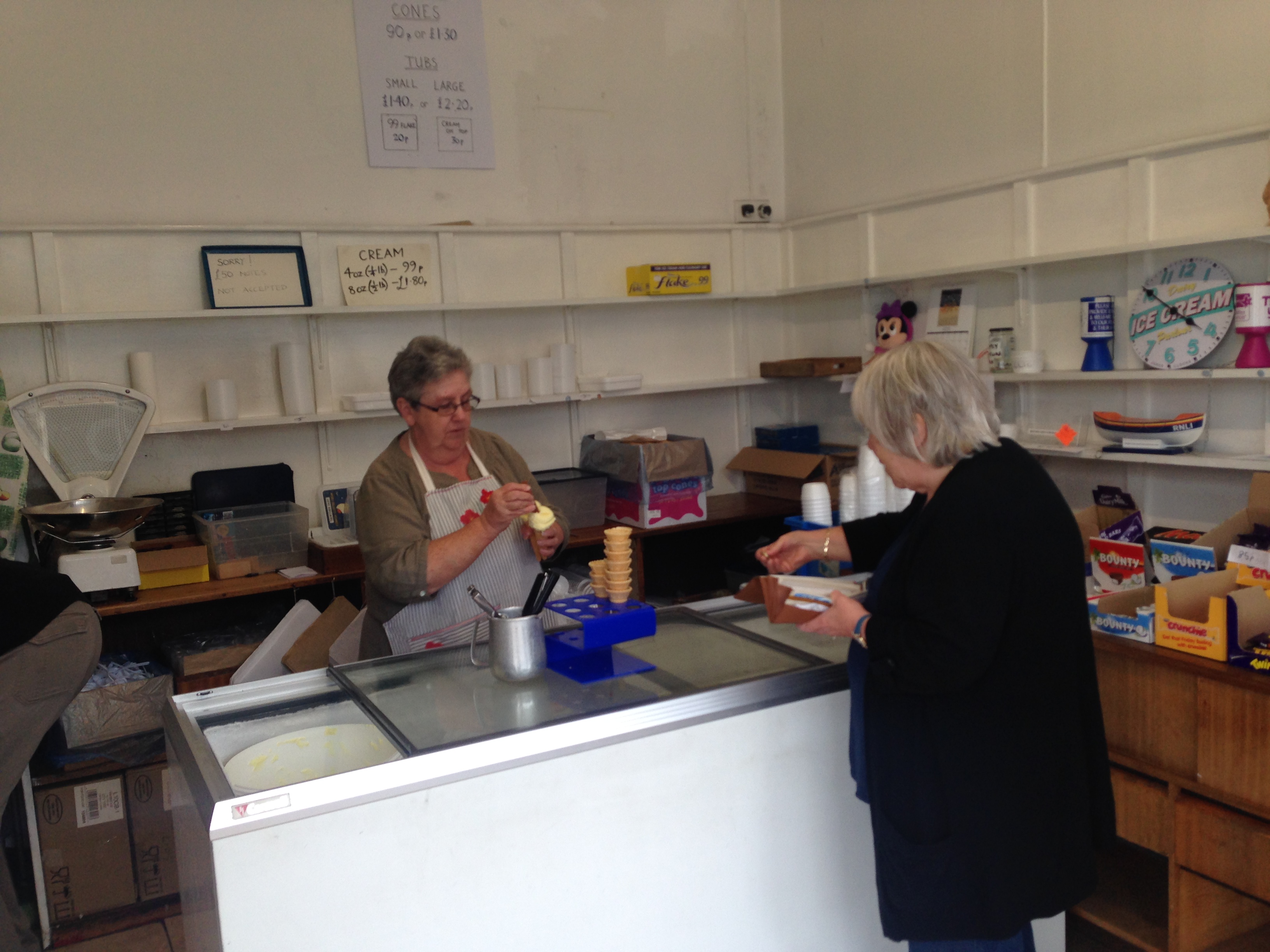 Your main choice is a cone or a tub and then there are the extras.
When I'd first blown into town and mentioned Jelberts, a friendly taxi driver had urged: "Get two scoops, with clotted cream and a flake," referring to Cadbury's tasty fall-apart-in-your-mouth flaky chocolate bar. But when I told Dorset Boy this, he was flabbergasted. "No, no, no — don't get a flake," he said. "Just the clotted cream. You don't want a flake."
And it's true — the clotted cream topping is what makes this ice-cream uniquely Cornish. Clotted cream is huge in these parts — which is terrific for me as I adore the stuff, usually on scones though. I'd never even thought to have it on ice-cream. Talk about an artery clogger.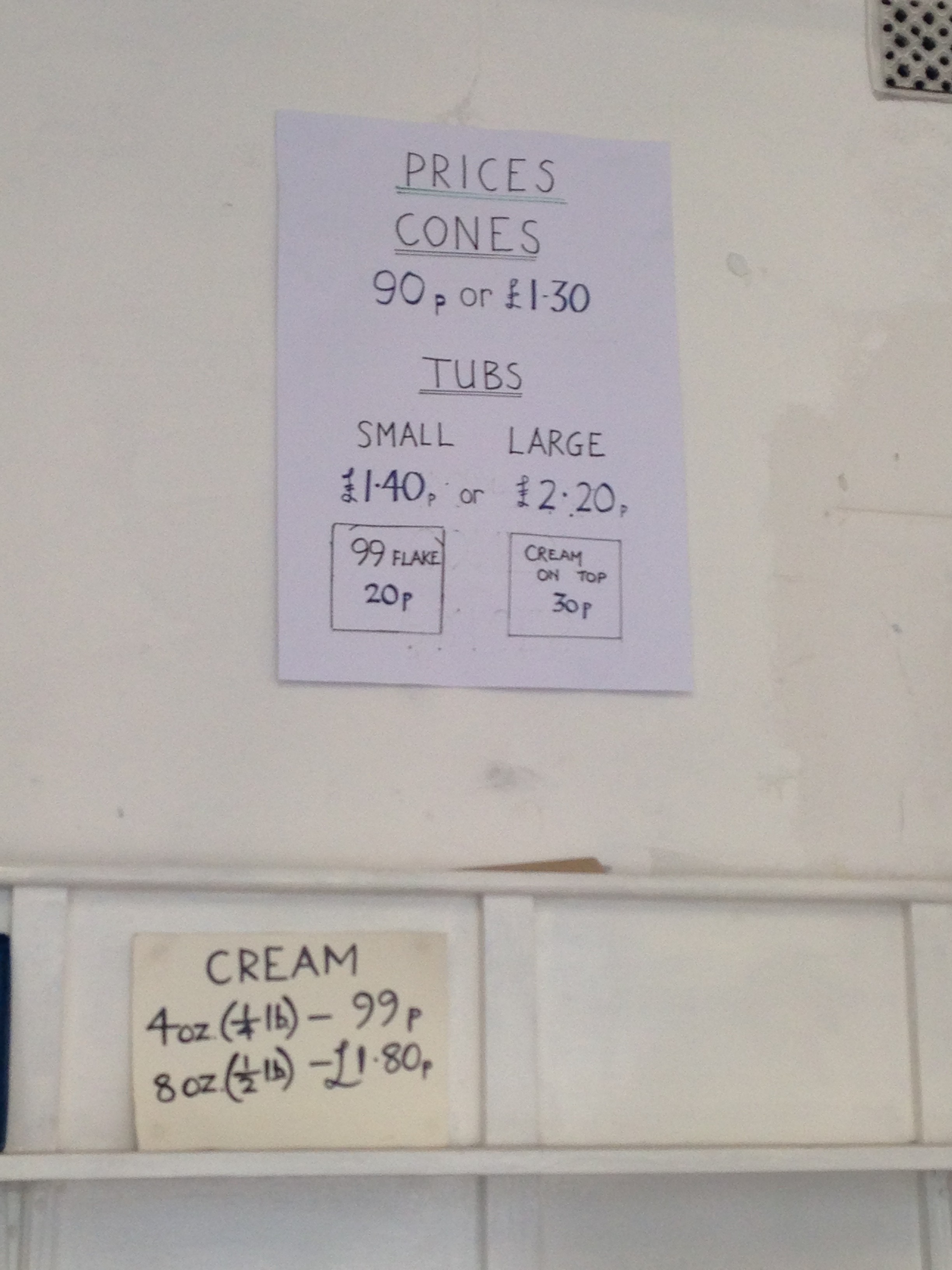 When in Cornwall though, I figured this must be done.
So, here it was, a small tub with clotted cream for the princely sum of £1.70.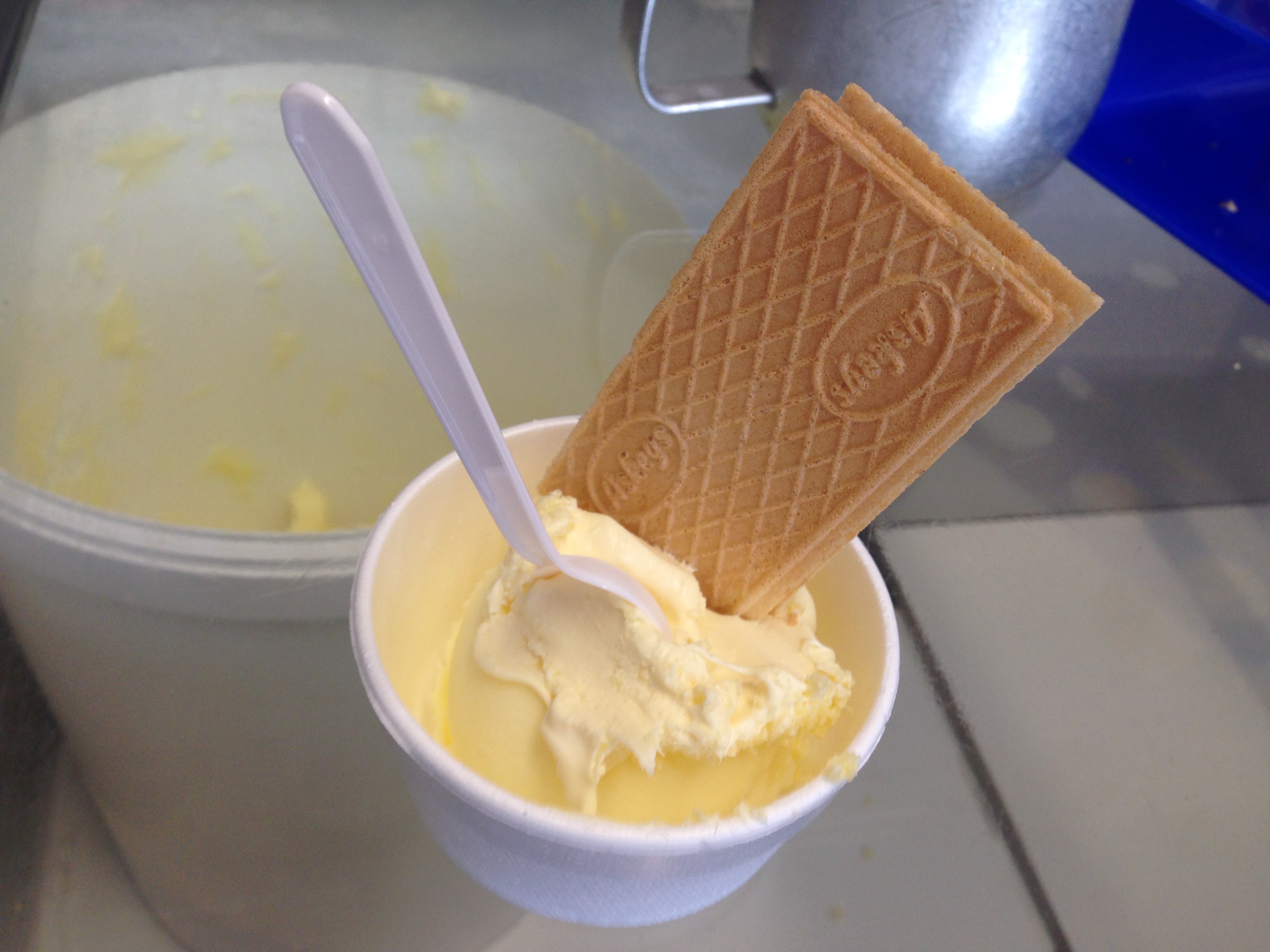 Now, this particular day in Cornwall was not the most ideal for ice-cream consumption. Gray, chilly and so blustery I felt I might get puffed into the waves at some points — the day had me looking forward to a hot cup of tea much more than a scoop of ice-cream, clotted cream or no.
So, I thought I might get the ice-cream, take a polite bite and say I'd done it.
But that happened, and then another, and then a bite of the crisp wafer, and then more ice-cream… The ice-cream itself was like nothing I'd eaten. Each bite was incredibly dense, rich and thick — I had never tasted anything quite as unabashedly creamy. I've never been much of a fan of vanilla ice-cream because it's often so bland — this, however, was anything but.
In fact, the clotted cream was so much less rich by comparison that it almost had an airy quality to it — a lovely light foil to the vanilla ice-cream base.
I had thought this tub would last me the stroll back to Penzance but by the time I reached the beachside walkway just a block away, I was madly scraping the cup, trying to harvest any last bits of cream and ice-cream before I had to give up.
So yes, if you find yourself anywhere in Western Cornwall, I believe it's been said: You must go to Jelberts.
S. Jelbert Ices, New Road, Newlyn, Cornwall, TR18 5PZ.