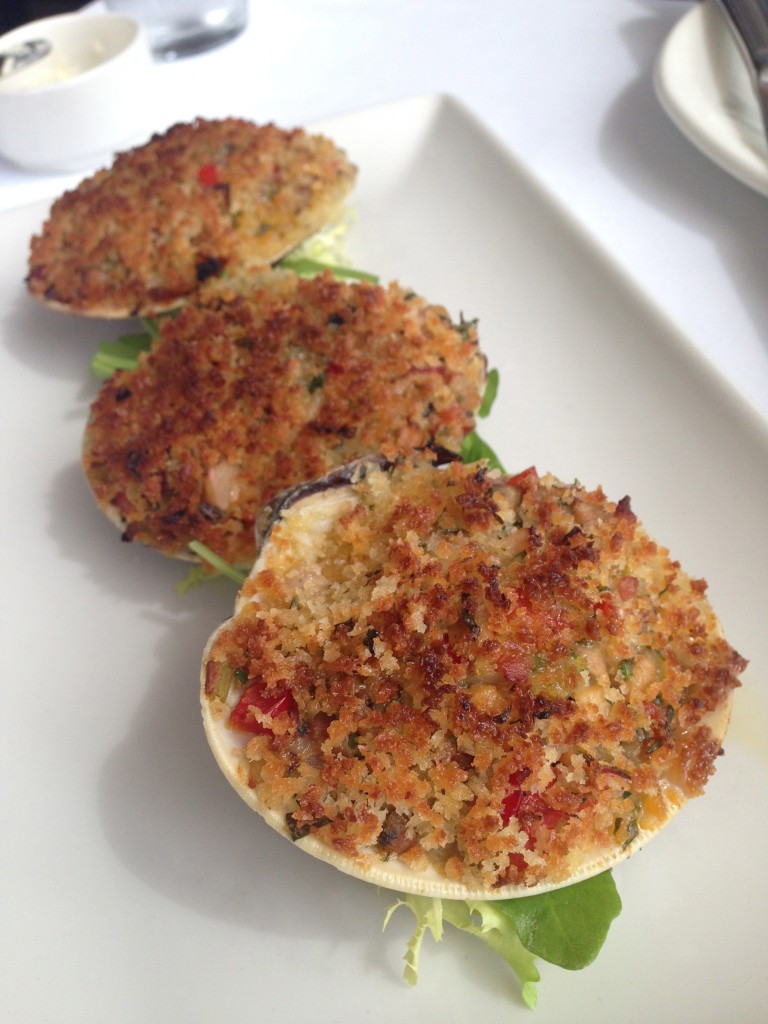 The early chilly days of fall always have me nostalgic for the summer feasts of very recent memory.
Which is how I found myself thinking about one of the most perfect lunches I've had this year — one that happened during New York fashion week, no less, a time that tends to be focused on fitting into clothes than eating any food.
On the last day of this season's shows, my very dear friend Clifford Pugh, editor-in-chief of Houston's CultureMap magazine, called, wanting to toast the end of the week after Ralph Lauren and said, Let's eat.
Well, you don't have to ask me twice, which is how we ended up having the loveliest lunch at a little place called The Clam …
Located in the West Village, in a quiet, darling little corner space on Hudson Street, The Clam is in a spot I've been frequenting for years. I used to live closeby when I first moved to New York, so I've been to every restaurant that's opened doors there — an old favorite was Anglers & Writers, only the cutest brunch spot that ever existed.
I'd not been happy with any restaurant that's taken over since Anglers & Writers — until Chef Mike Price came along, opening The Clam with chef/restaurateur Joey Campanaro, who owns two other New York favorites of mine, The Little Owl and Market Table.
At The Clam, the space is simple, bright and elegant.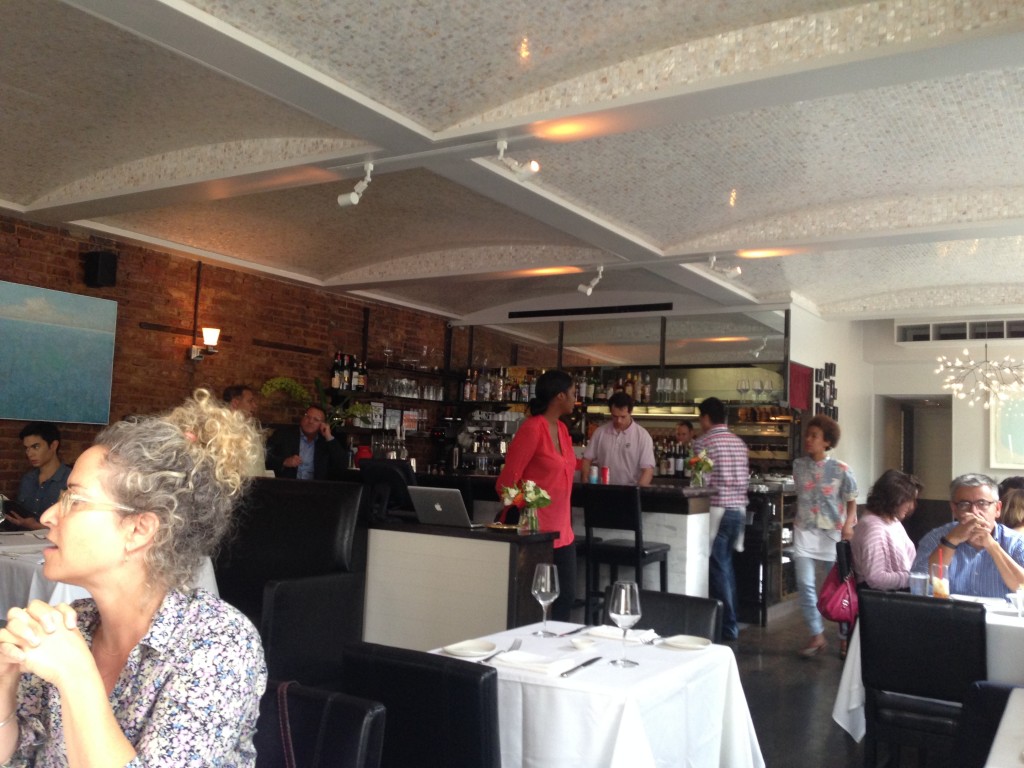 And the same could be same about Chef Mike's food, really.
In my interview with him for the Wall Street Journal a few months ago, Chef Mike had mentioned his green goddess dressing — and shared his recipe for it. I love creamy salad dressings — and I adore anchovies. So I knew I had to try this.
Chef Mike serves it with vegetable crudités, as a side with some of his chilled seafood starters. The vegetables were deliciously crisp and the green goddess dressing — divine. Very subtly fishy, it packed solid umami. Fashion week civility be damned — I found myself running my fingers around the edges of the cup to make sure I got every single drop of it.
Clifford was craving tomatoes — something he has problems finding good versions of in Houston, whose climate doesn't always lend itself to tasty tomatoes during the summer. So we started with marinated heirloom tomatoes with purslane and cloumage, topped with crispy fried onions ($13).
The tomatoes were super juicy and sweet — and worked well with the salty crunch of the onions.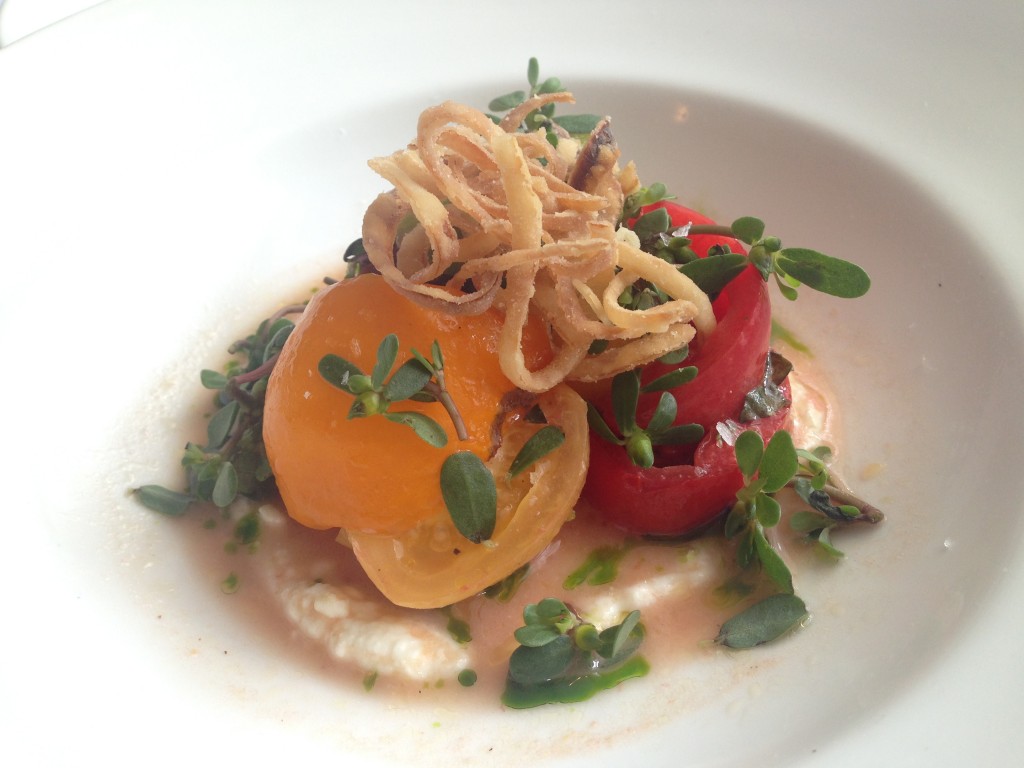 Now, Clifford always seeks the East Coast dish that he can't find back home — at The Clam, that would definitely be the Cherrystone clam stuffies ($13), pictured up top.
I love any form of baked shellfish — don't even get me started on oysters Rockefeller. (Trust me — you do not want to see what ensues if a platter of oysters Rockefeller lands on any table where my father and I are.) So baked stuffed clams? I have to order them whenever I see them on a menu.
What I adore about Chef Mike's is how well mixed the filling is — the clams are minced, not whole, and tossed together with minced peppers, herbs and breadcrumbs. Each bite will make you want to close your eyes and savor the moment, the flavors, the mouthfeel.
Another dish Clifford never gets in Houston: Clam pizza.
I love all forms of clam pizza — even the ones with the clams, still in shell, baked onto the crust. Chef Mike's grilled white clam pizza ($17), featuring clams mixed with pickled hot cherry peppers and whipped ricotta, is pretty terrific. The topping is delicious but the crust is a perfect New York pie crust as well — thin and crispy, with just enough char.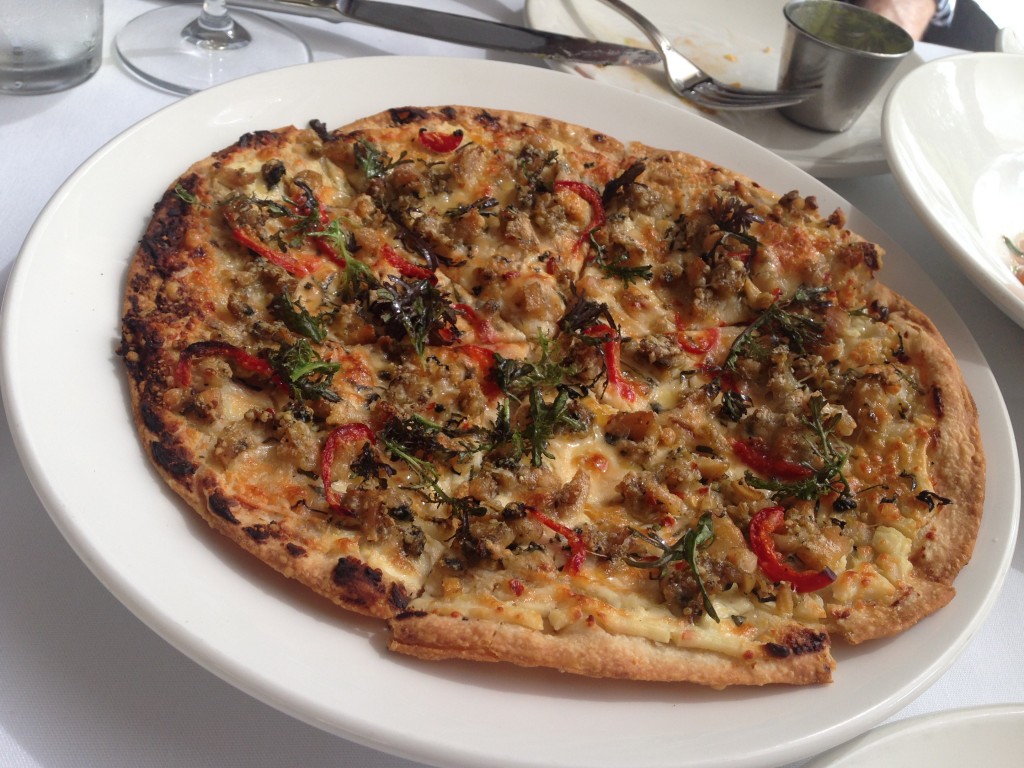 Just before we rolled out — me to my writing desk and Clifford to the airport, we had to take a photo to cap a memorable meal.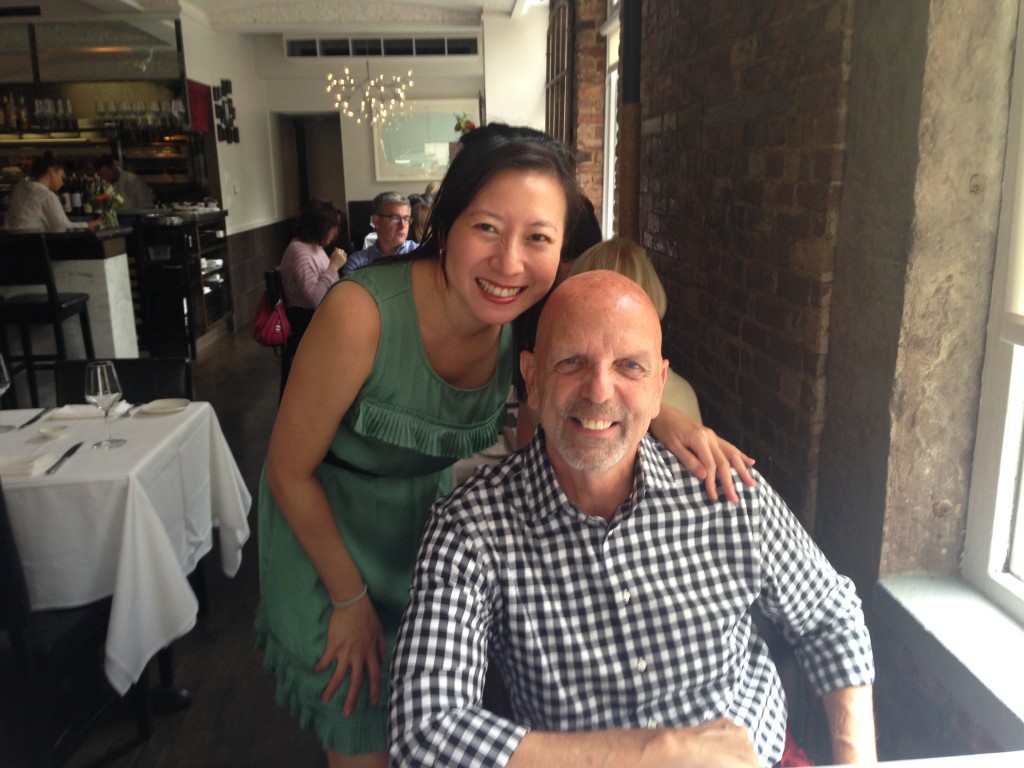 Of course, if we had been true members of the fashion tribe, we'd have shot this snap before lunch and not after we had eaten up a storm.
But hey, maybe this'll be a new trend.
The Clam, 420 Hudson Street, New York; 212.242.7420; http://theclamnyc.com/