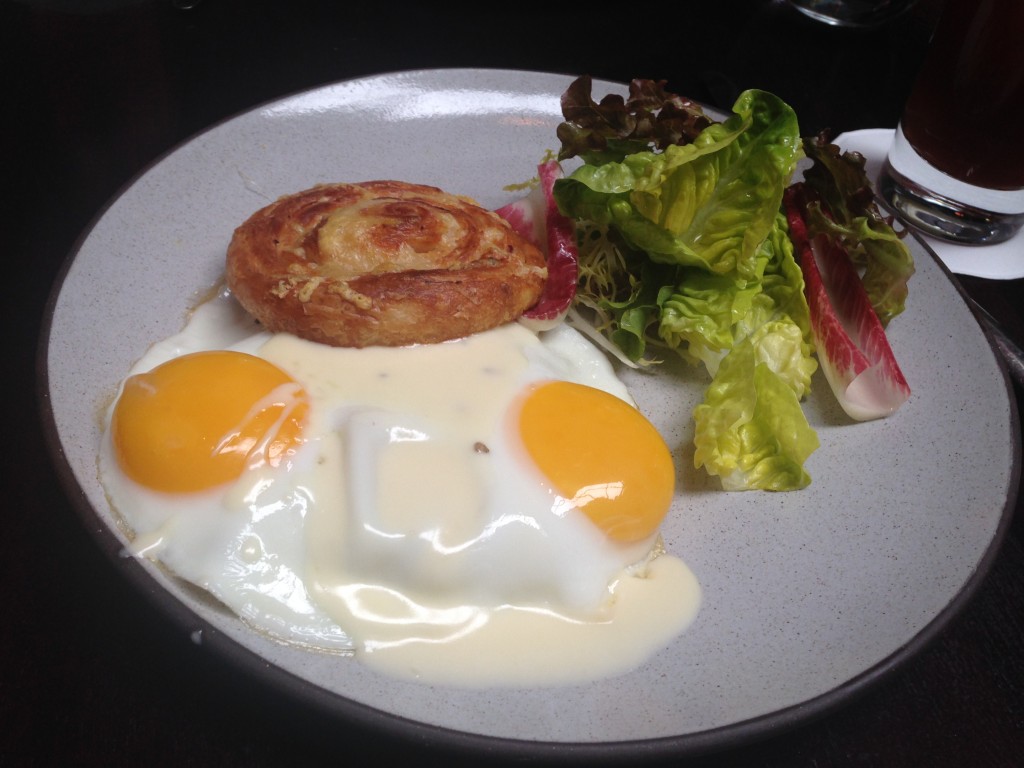 The thing about starting the tradition of sending a visitor off from your city with a terrific last meal is that well — you've got to keep that going.
I'd quite royally spoiled my fashion editor friend Clifford Pugh when we feasted on delicious stuffed clams and vegetable crudites in a memorable green goddess dressing in New York City, right before he hopped on a plane back to Houston after the September fashion shows. So when Clifford came back to New York this month (for my birthday!), I knew I had to plan something good for his final lunch here.
The place had to be comfortable and chic, like Clifford, and the food — well, after our last meal at The Clam, I knew it had to be pretty darn great.
Which is how we found ourselves converging on a place that instantly came to mind: The Nomad, at the rather fashionable Nomad Hotel …
Sunday brunch in New York City is something of an event — and at the Nomad, this certainly was no different. (Clifford immediately noted how every single person in the restaurant was very stylishly outfitted.)
The guys behind this — chef Daniel Humm and restaurateur Will Guidara — helmed Eleven Madison Park, one of my alltime favorite New York City restaurants, for many years. So I had a pretty good feeling about our meal ahead.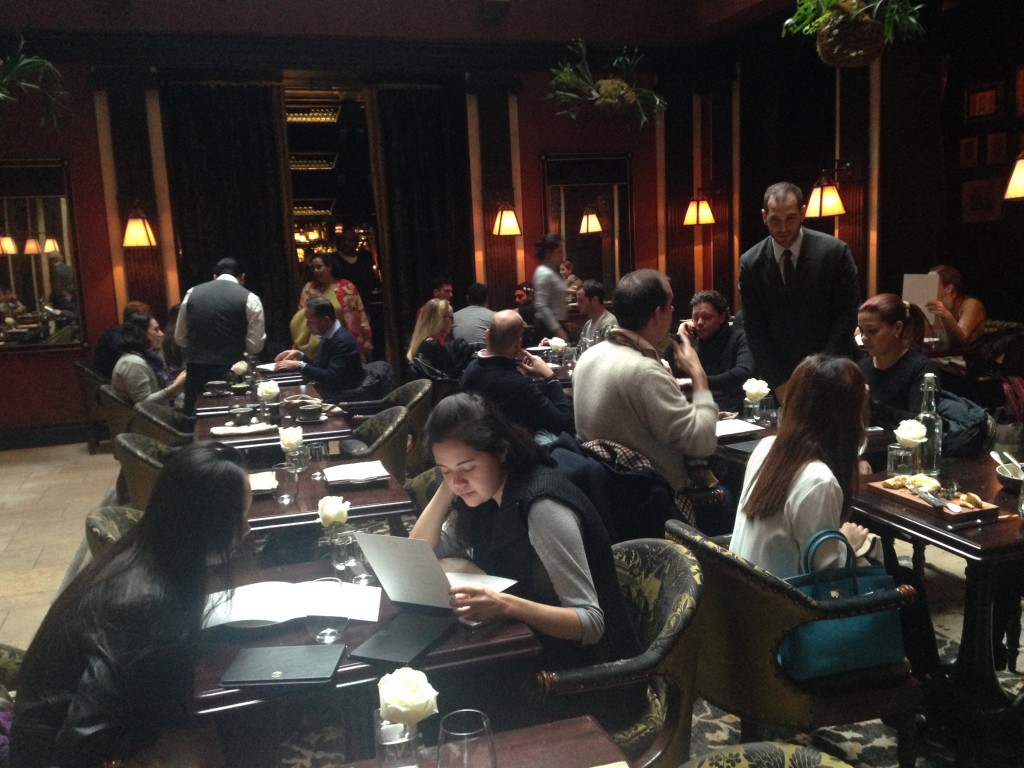 We snagged a table right in the heart of the main dining room, beneath this massive glass roof, which showered the entire dining room in sunlight — what a treat, even if the day was a little gray.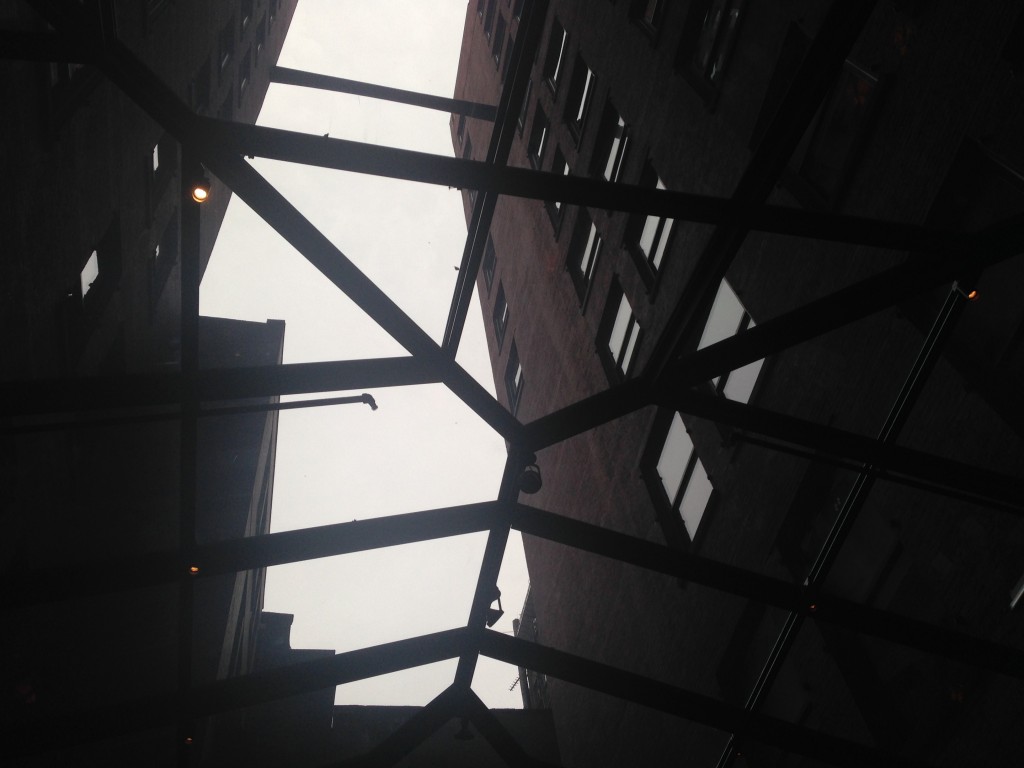 I like any menu with truffles on it — especially one that specifies that you can order them in "Reasonable" and "Ridiculous" portions.
(Having just had truffle mac and cheese the night before at the birthday party Chef Simpson Wong threw for me, we decided to pass.)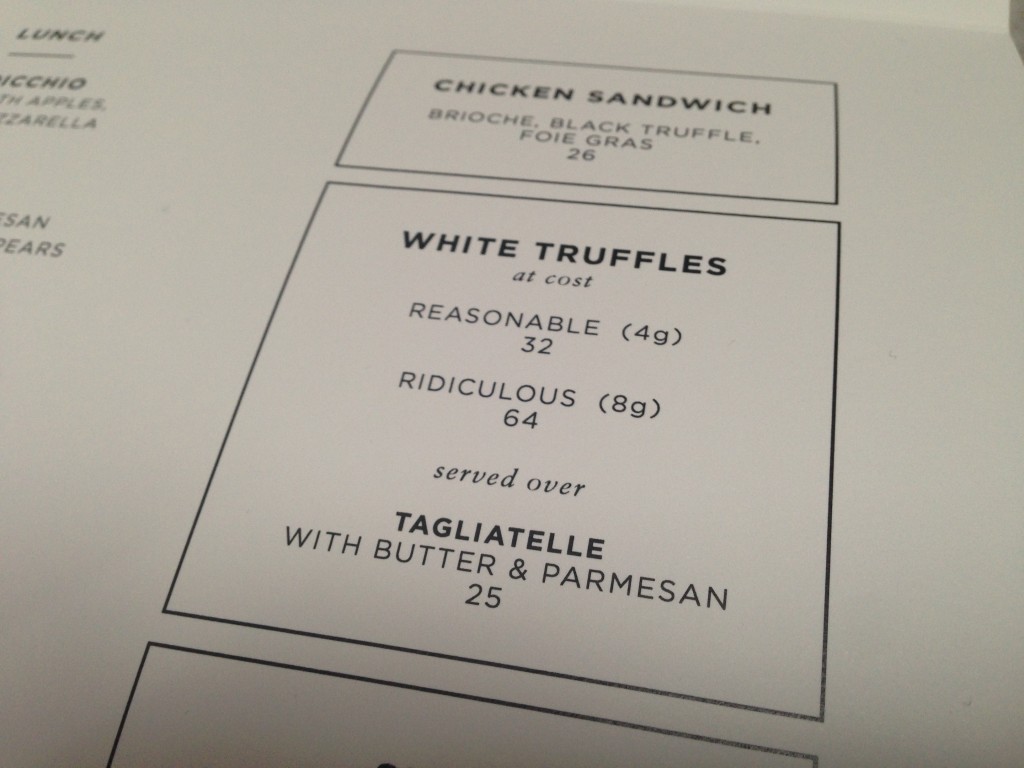 We knew we couldn't pass on the selection of Bloody Marys the menu offered though — you can get the traditional kind or ones inflected with beets, beer, sherry or hot peppers. The Caesar ($16), packed with tomato, lemon, horseradish and shellfish juices, caught our eye though — it was spicy with just a hint of shellfish loveliness.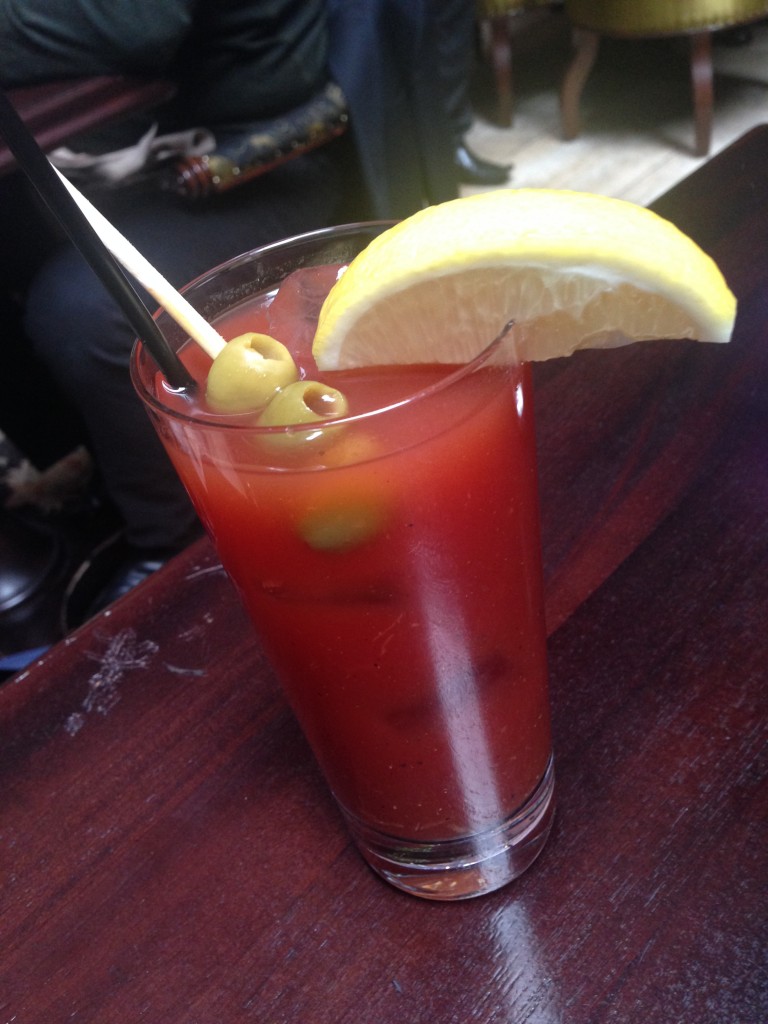 The "savory cake" ($18) intrigued us — when quizzed on it, our waiter said it had ham, gruyere and basically every delicious thing you might have in a quiche baked into a cake.
He wasn't lying — and it was very tasty. What a terrific idea — one bite of this had me thinking of all the savory dishes and perhaps even stews that I might try to turn into a savory cake for lunch or dinner.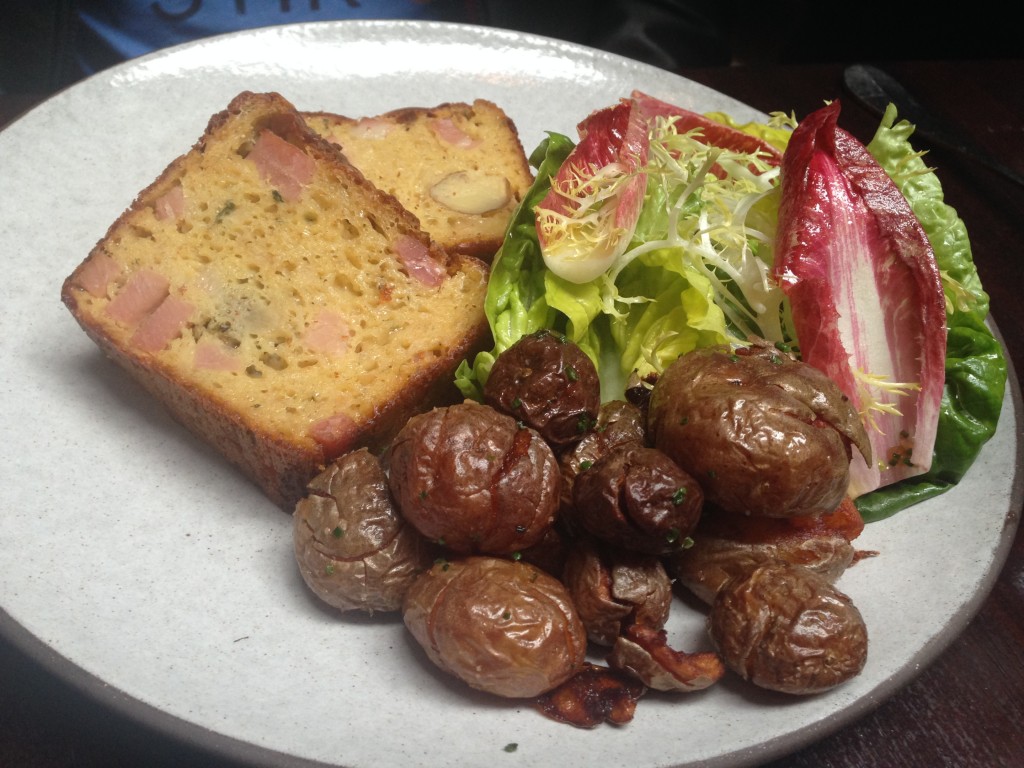 The croque madame ($24) at any restaurant always tugs at my heart and the one at the Nomad (pictured up top) did not disappoint. In fact, the plate made us chuckle when it hit the table — doesn't the croque madame look like a man in a beret smiling up at you?
The eggs were lovely and just runny enough and the sandwich beneath was umami-packed with strong gruyere and hearty ham. (The salad, too, is worth mentioning — the vinaigrette was nicely tart and the greens were deliciously crisp. This salad-hater actually ate half of it.)
After all that, a coffee seemed to be in order.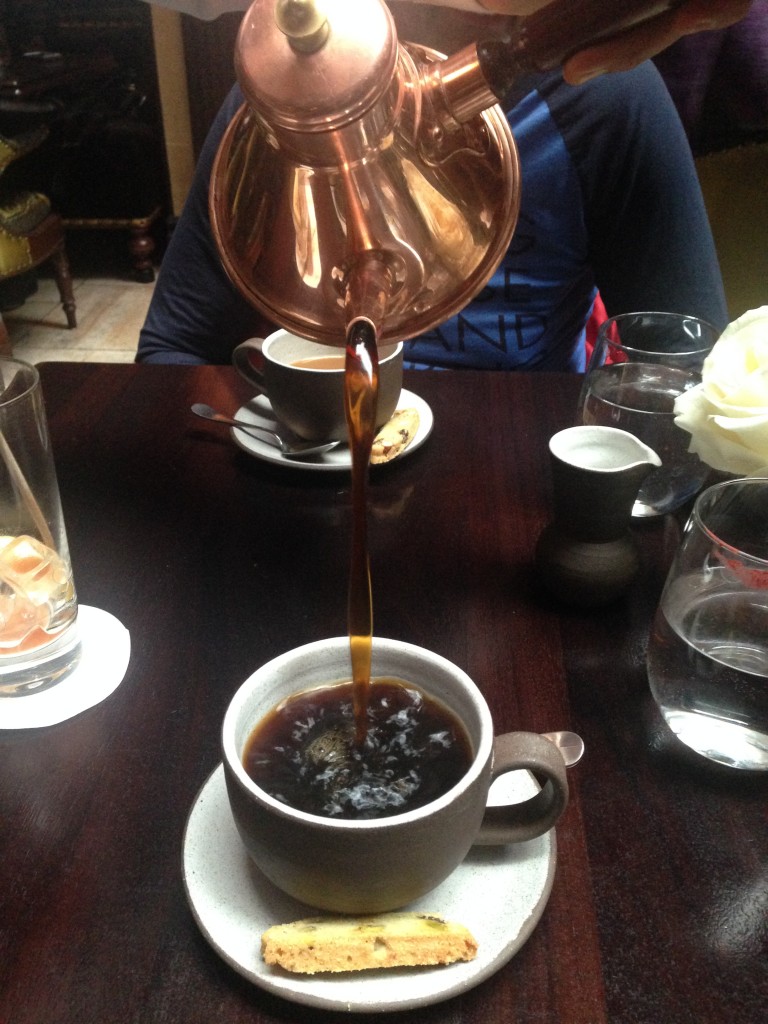 And it was good.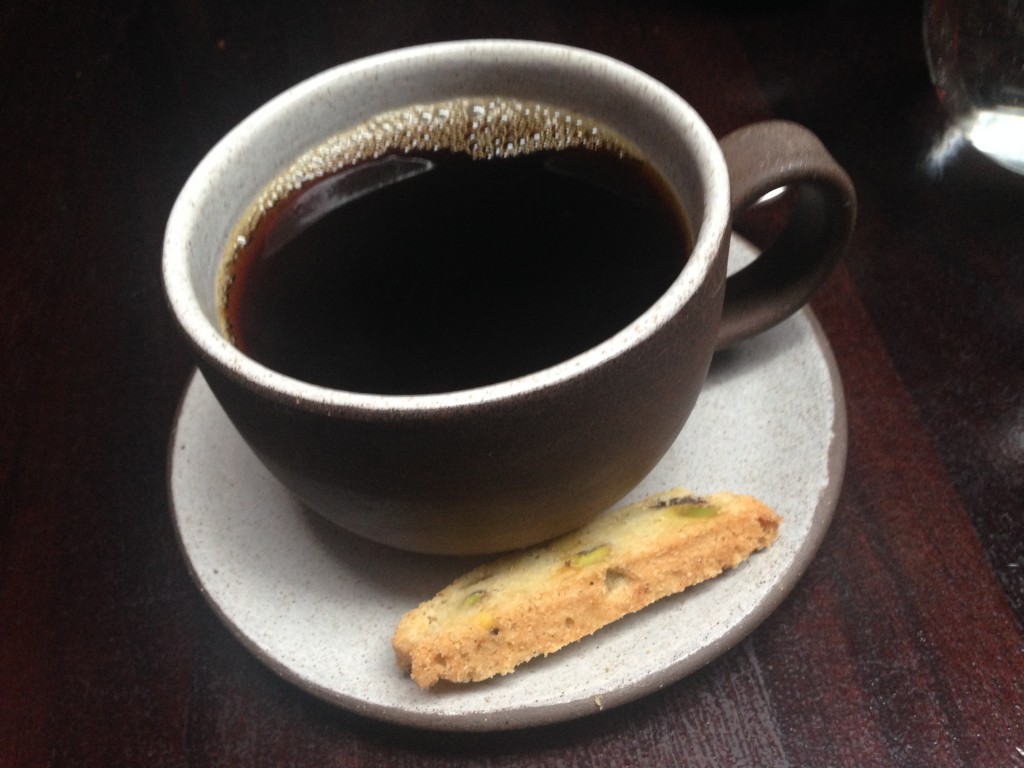 Sated, we sipped our cups of Joe, reluctantly thinking of having to bundle up, head back outside to face the elements — and a plane to catch.
As I watched Clifford happily loading his brunch photos on Instagram, however, I knew this had been a win. As it had been with our last final meal together, I suspect we'll be thinking fondly of this one for some time to come.
The Nomad, 1170 Broadway (at 28th Street), New York, NY; 212.796.1500; http://www.thenomadhotel.com/#/dining