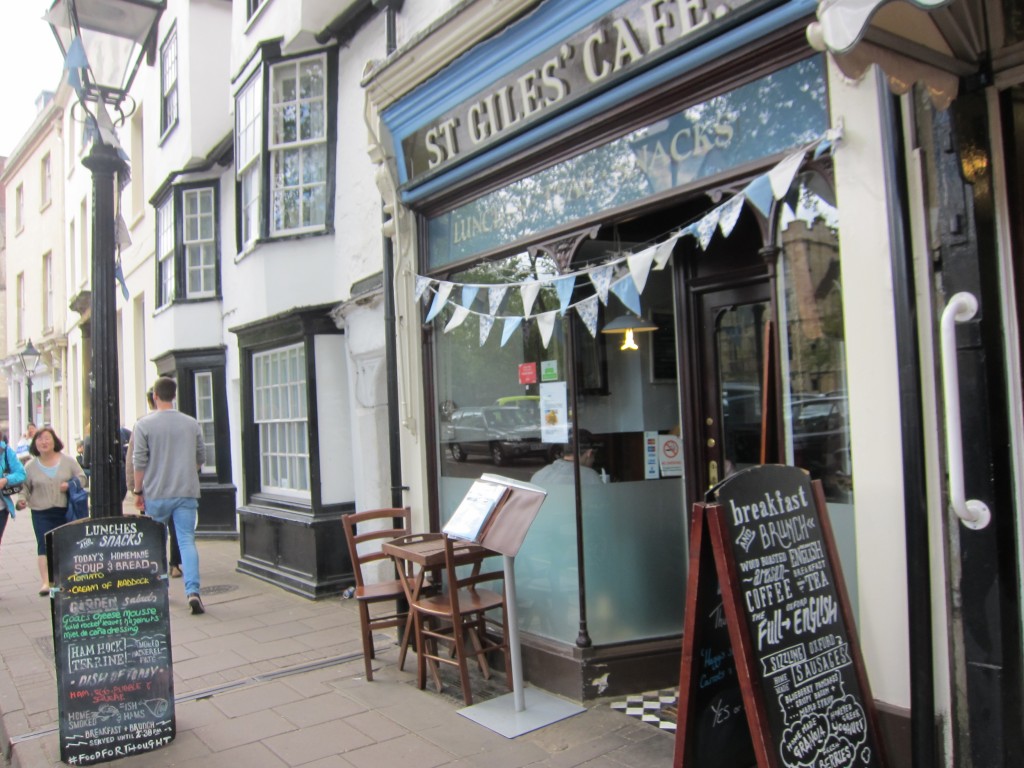 Somewhere along my very first English roadtrip, as my finger trails our route on the map, a massive excitement starts to set in. I've realized two things:
1. We have to stop somewhere for lunch.
2. At about the place on the map where we have to stop, I find my finger hovering over a small dot that says "Oxford."
There are many reasons I've long been fascinated with Oxford, though the increasingly sad truth was that I've never visited the place. As for the question of where to lunch, once I learned that W.H. Auden used to frequent a little greasyspoon called the St. Giles' Cafe — well, that was that …
First, I have to say that we could not have picked a more gorgeous and sunny day to be breezing through Oxford.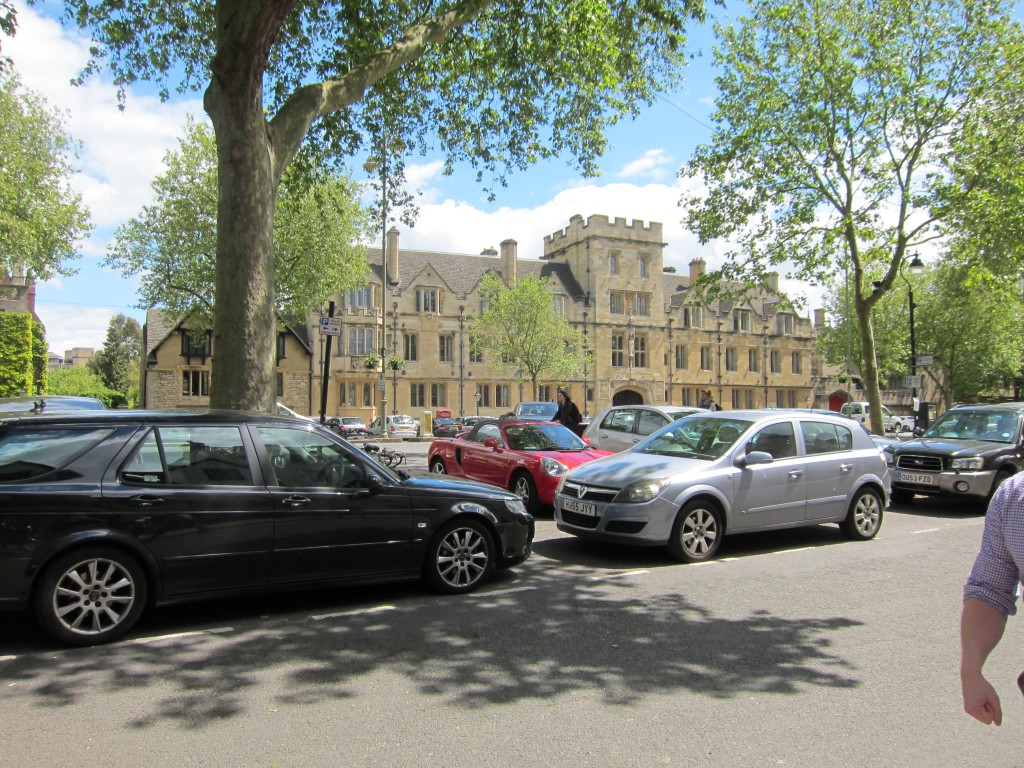 Along St. Giles, one of the main arteries that will lead you to the heart of the city, you'll come upon this inviting sign.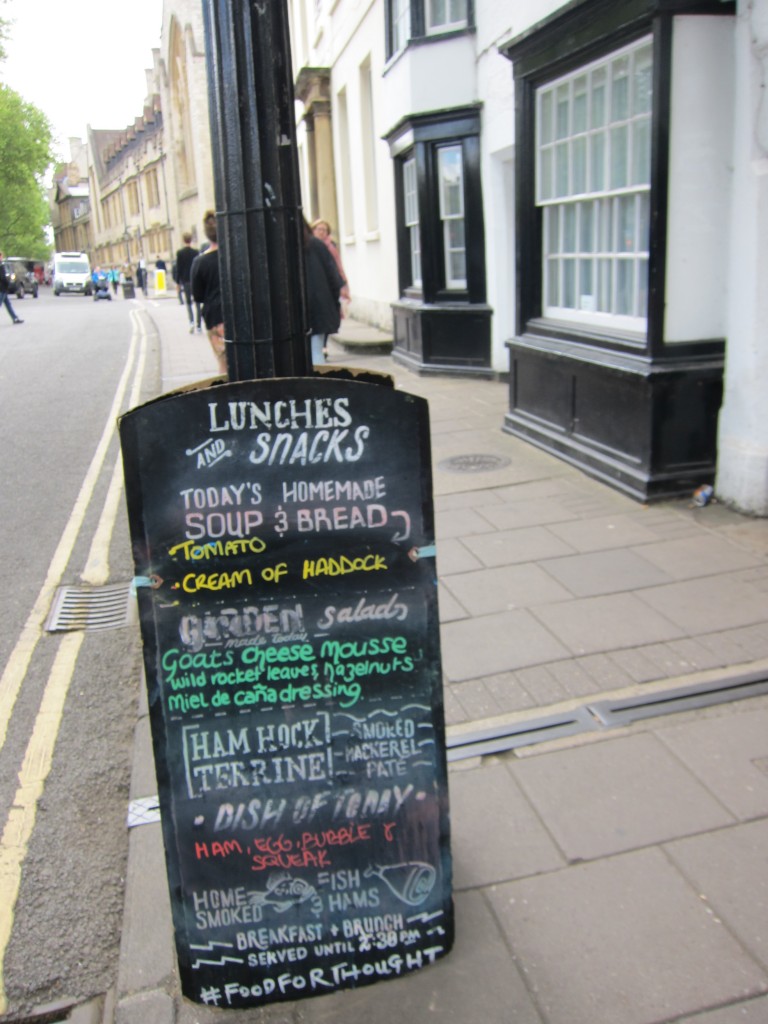 Step inside St. Giles' Cafe and this is what you'll find — a fairly modern restaurant that's not the old greasyspoon where poets and students would pop in for eggs and chips or beans on toast. That's because although the cafe has been in this spot since 1937, it changed hands a few years ago and got a little gussied up in the process.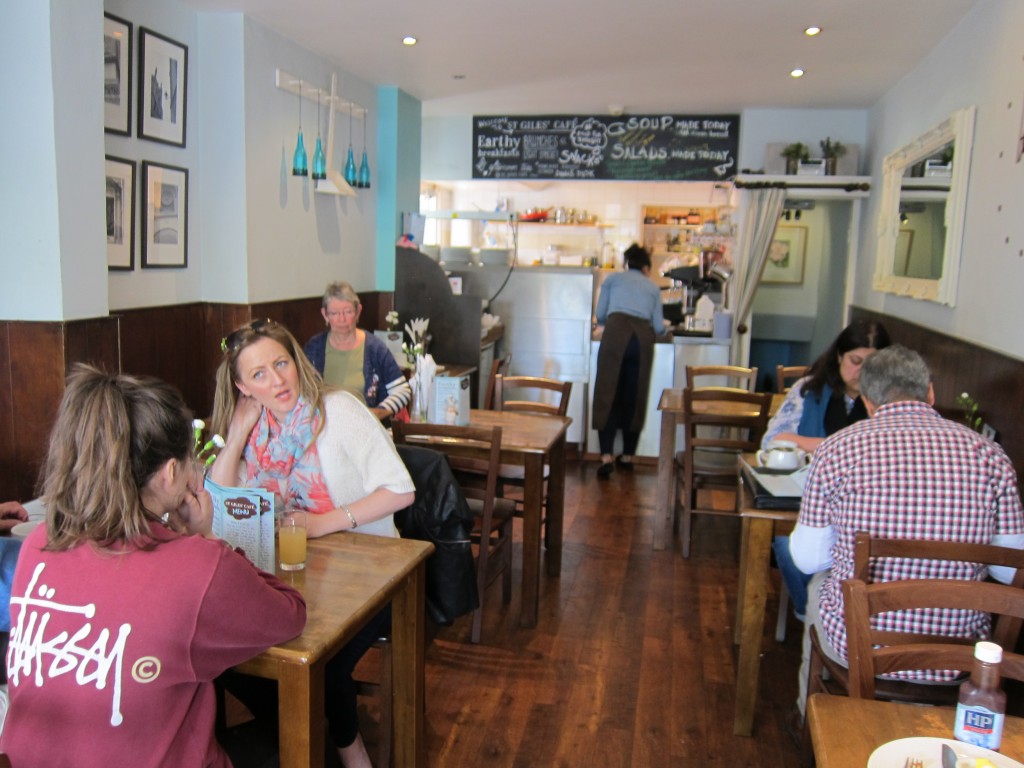 From all appearances, however, it still seems to be an Oxford institution that draws locals for a cup of something good and a deliciously long read.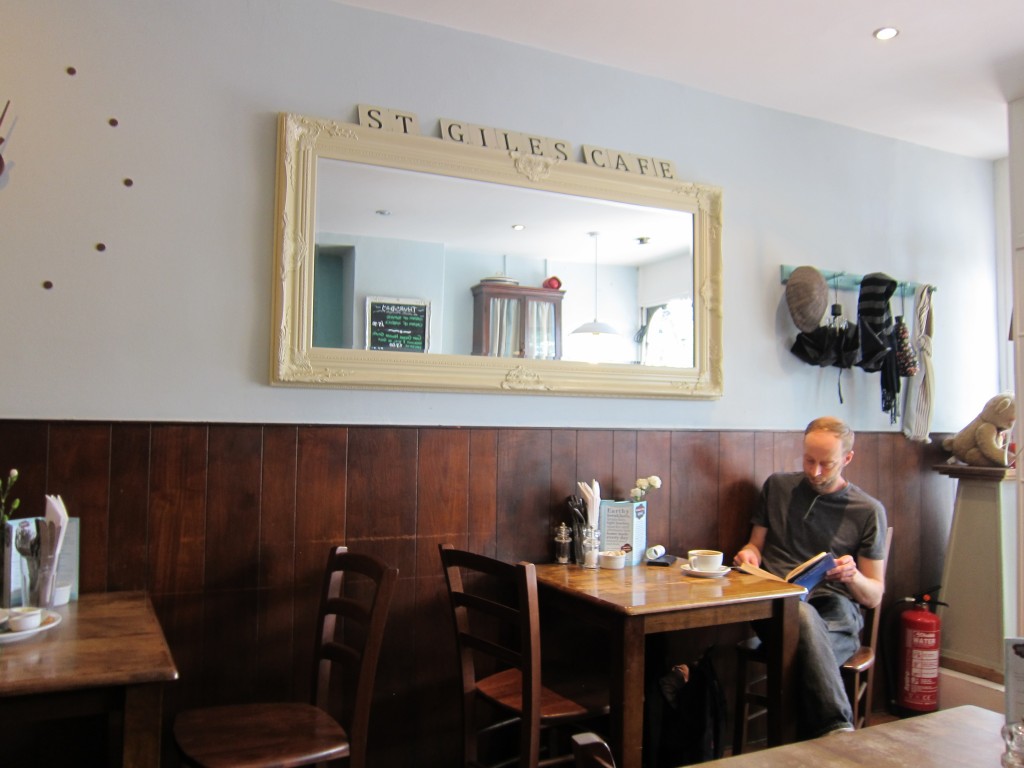 The menu is fairly small, though everything enticed. Kedgeree! Bubble & squeak!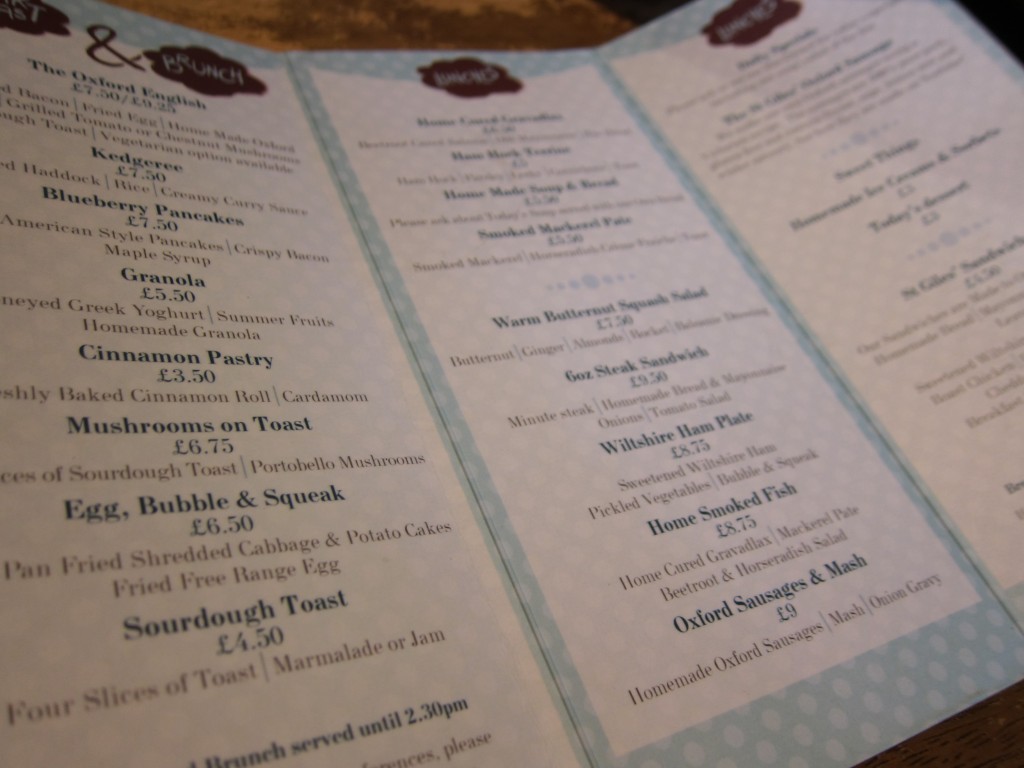 We started with two house specialties: Fresh-pressed apple juice and lime cordial with sparkling water (£2 each).
I normally don't order fruit juices in the U.S. because they're usually far too sweet. These however were just perfect — the apple juice was elegantly done and very subtly sweet, though my favorite was the tart and fizzy lime drink.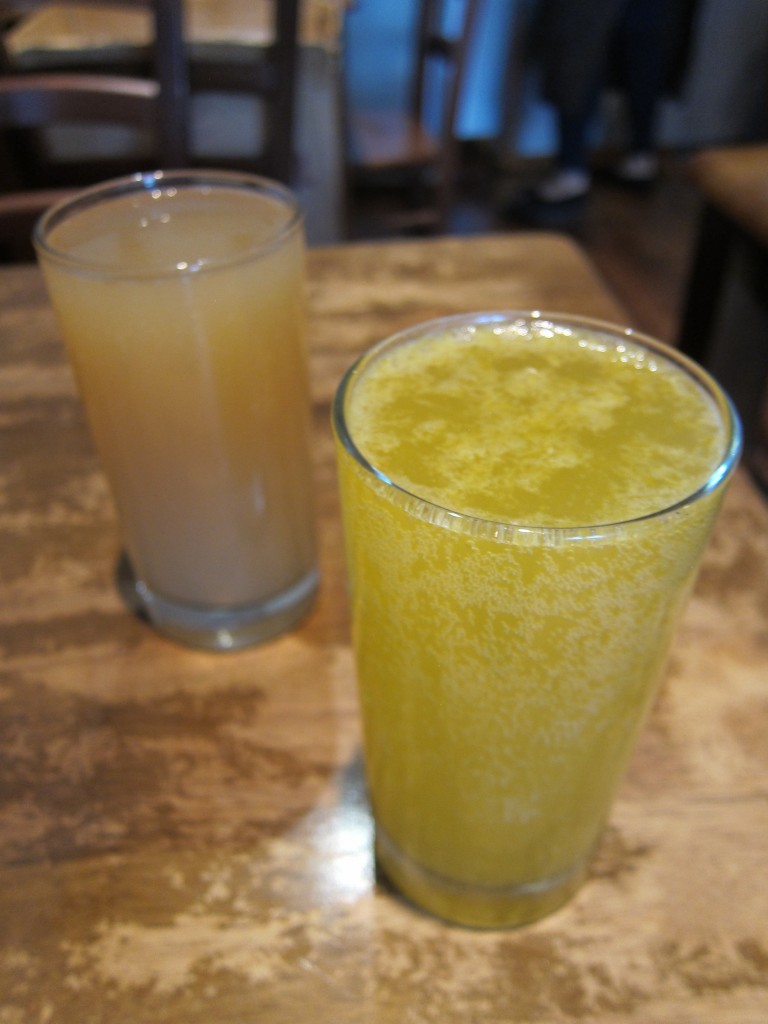 D.B. was in a breakfasty mood, so one of the specials of the day soon appeared on the table: Wiltshire ham and bubble and squeak, topped with a fried egg (£8.50). Each item on this plate was delicious — the ham was nicely cured and the egg and bubble and squeak (each about 3/4-inch thick) were just right. I loved the combination of textures on the crisp yet soft bubble and squeak.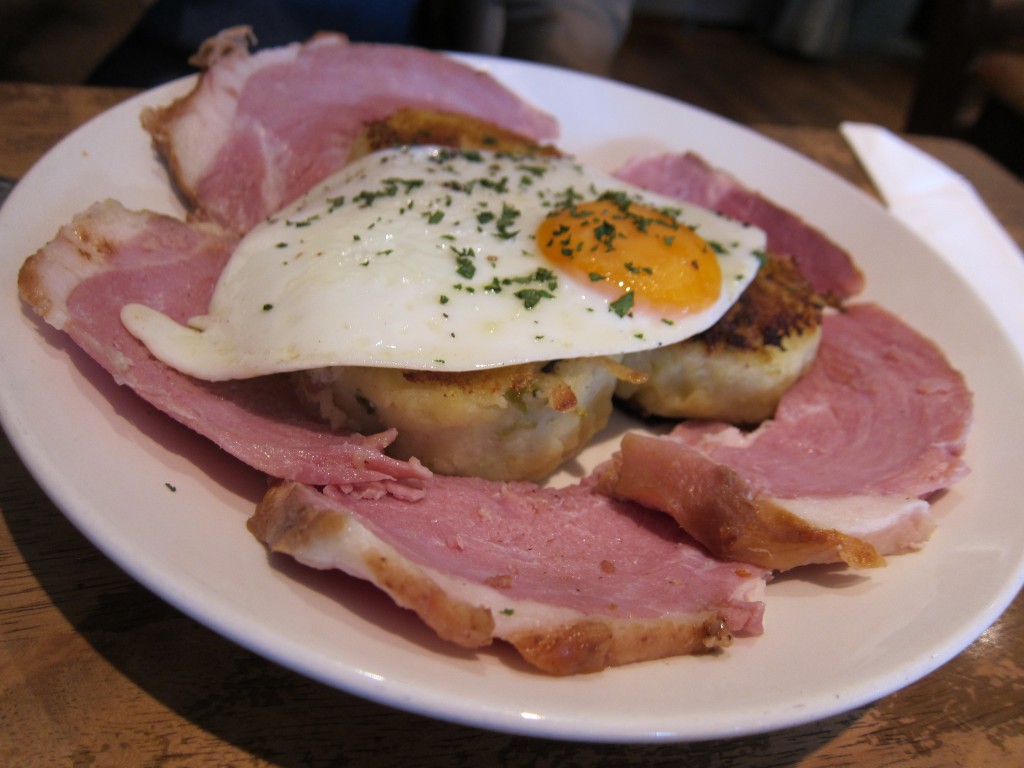 Having had bangers and mash for dinner just the night before, I wondered about sampling the version St. Giles had to offer (£9). The menu's note that the cafe's sausages were made from a Victorian recipe intrigued me though and I certainly didn't regret it.
The sausages were just packed with earthy herbs — much more so than your usual English sausage. The onion gravy could have had a little more salt/flavor but the mashed potatoes were fine.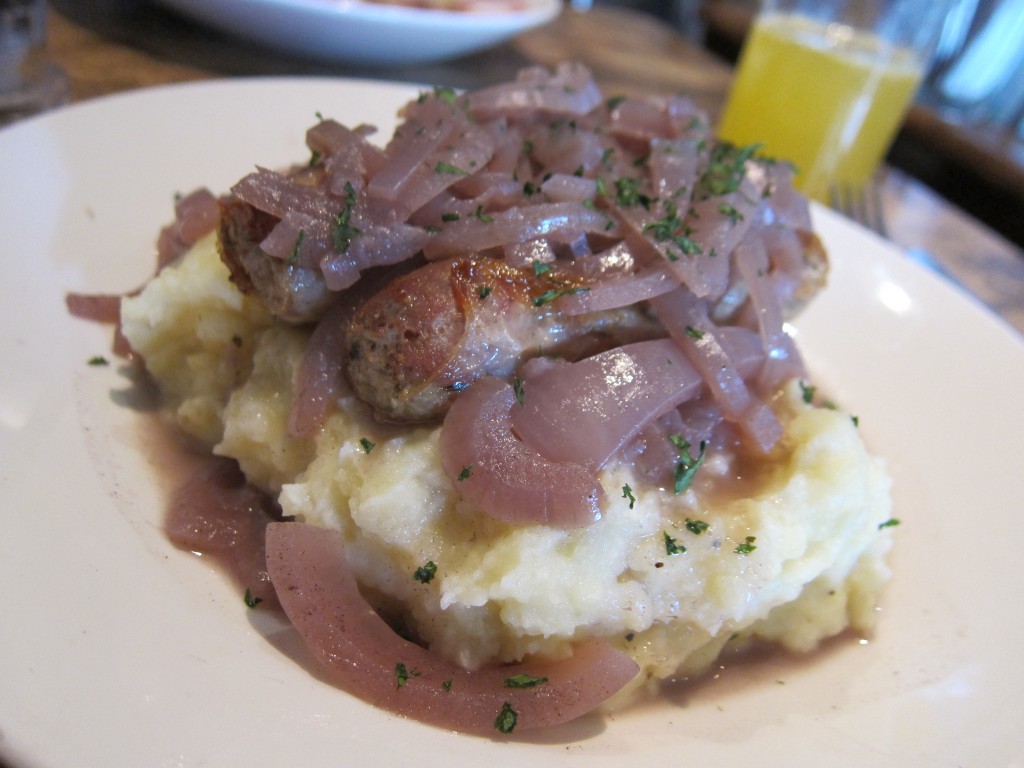 Now, when we'd first entered, I'd harbored fantasies of saving room for a little something sweet at the end. After polishing off our meals however, I realized how deluded I'd been.
Outside though, the sun and gay bustle of Oxford's cobblestoned streets were beckoning. There it would be — our little something sweet.
St. Giles' Cafe, 52 Saint Giles', Oxford OX1 3LU; +44.01865.554200; http://stgilescafe.com/