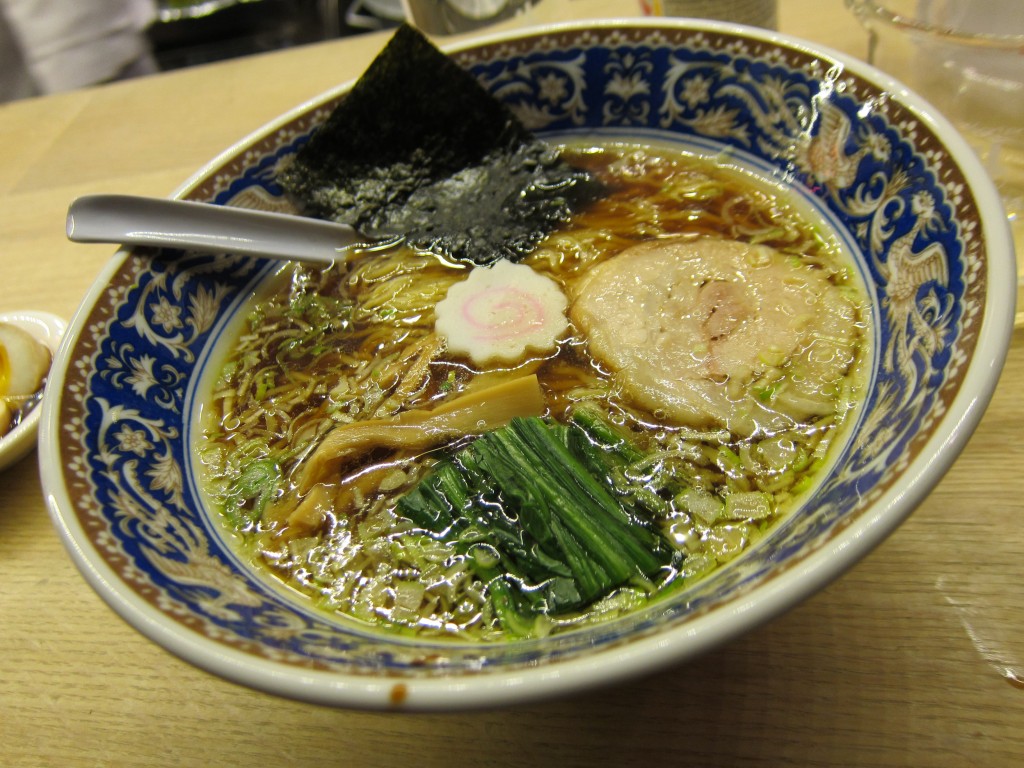 When it's 20 degrees out (with a windchill of far lower), just about nothing will get me off the couch and out of the house.
Nothing, that is, besides the possibility of excellent ramen.
I'd been reading and hearing about Ramen Lab for months, a little Tokyo-style noodle joint that Sun Noodle, which has been supplying noodles to some of the country's best ramen joints (Momofuku, Ippudo, etc.), was opening in New York. Two days ago, after much anticipation, Ramen Lab finally threw open its sliver of a door in NoLita.
Would it live up to the hype? I had to find out …
Getting to the Ramen Lab on this incredibly frosty evening was a little surreal. Even though it was just 7:30 p.m., my subway car was empty — something I've never experienced in my 12 years as a New Yorker. In the heart of NoLita, a neighborhood that bustles no matter the hour, I passed just a handful of the brave and bundled up in the blocks leading to the restaurant.
Given the leadup, I was convinced — hopeful, perhaps — that there'd be no one at the Ramen Lab. Of course, I was wrong.
It may have been a ghost town outside, but once I arrived, I could barely get the shop's little door to push open because there were so many bodies jammed into the tiny space, waiting for a stool.
The setup is basic — just nine stools lined up along a bar counter.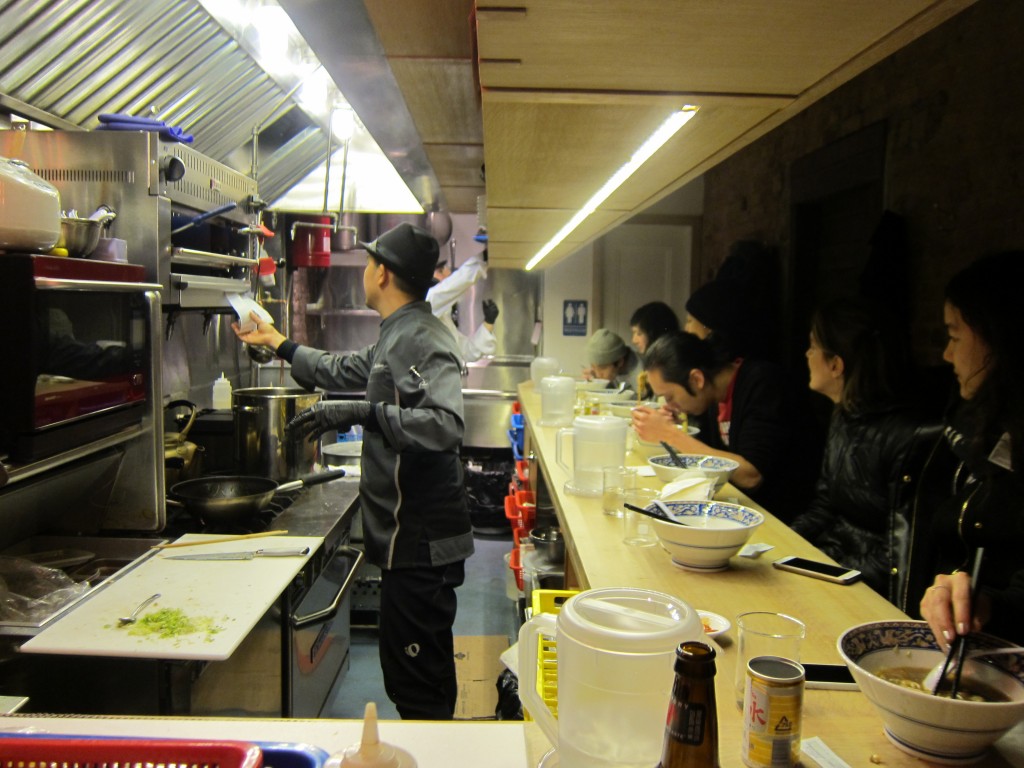 Here's executive chef Jack Nakamura in action below. (Sun Noodle's Kenshiro Uki may have been trying to recreate a somewhat authentic, bare-bones Tokyo ramen counter experience for New Yorkers, but Nakamura and his sidekick are certainly the most sleekly dressed ramen chefs I have ever seen. Fedoras!)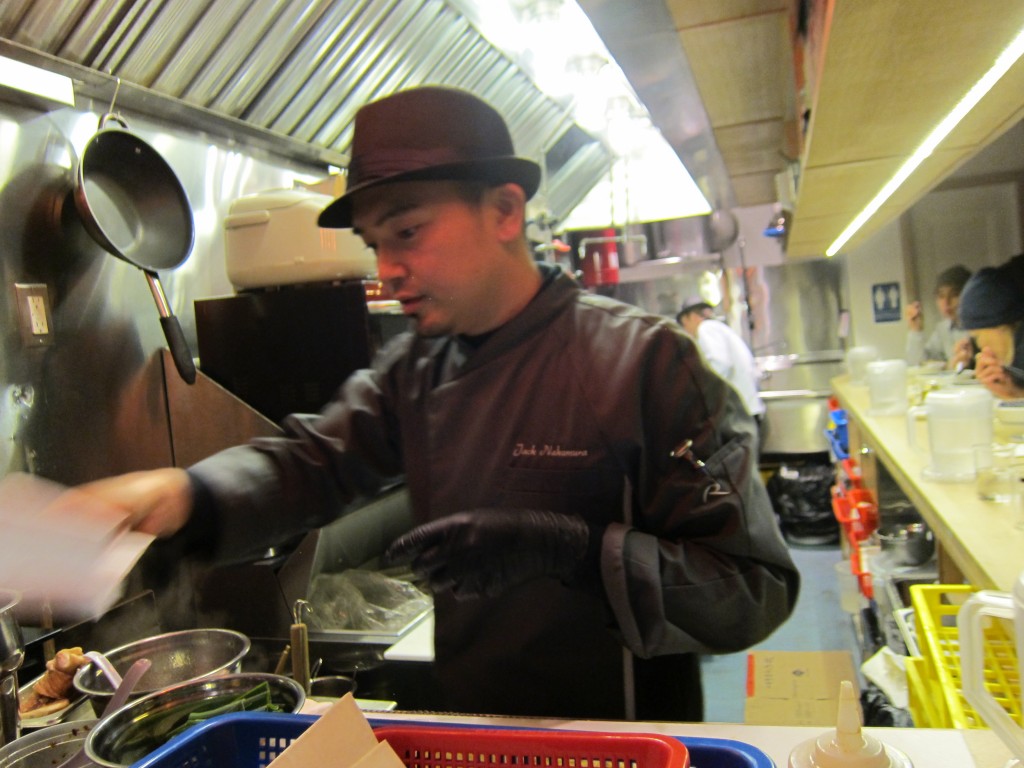 The menu is basic — just two kinds of ramen ($13 for the pork-shoyu and $14 for the vegetarian XO miso version) and pork gyoza ($7).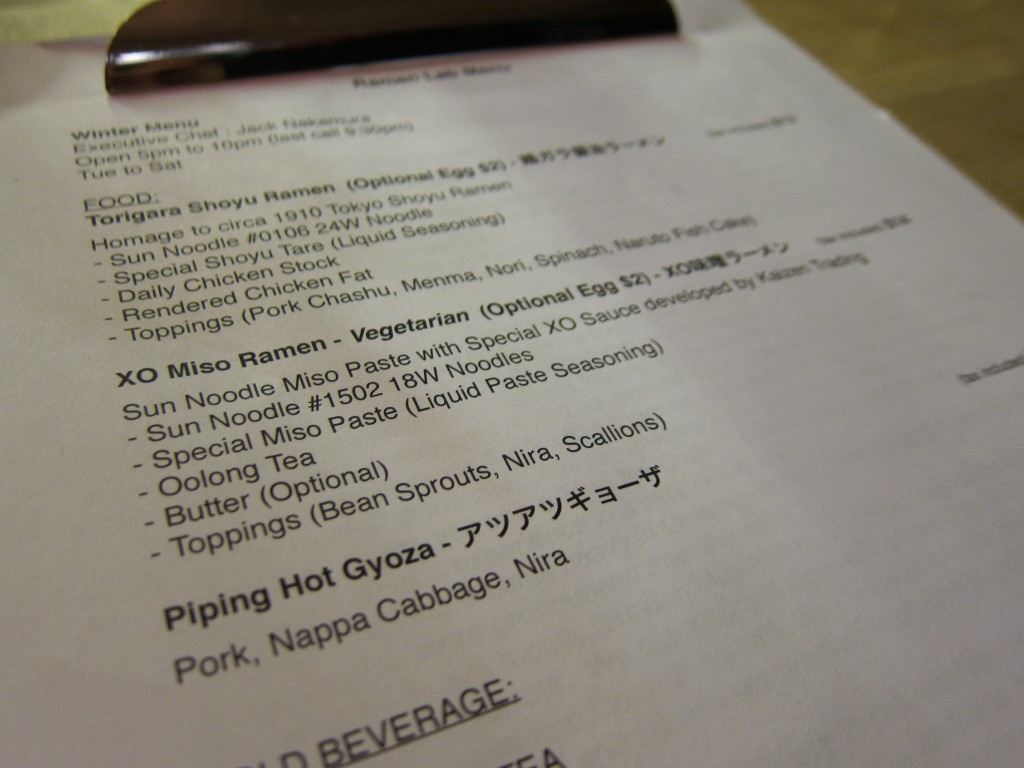 Once your name is called up, you place your order with the hostess, she gives you a chit and points to a seat.
At Ramen Lab, there really isn't a bad seat — all of them offer you a terrific view of Nakamura putting together bowls of ramen one by one.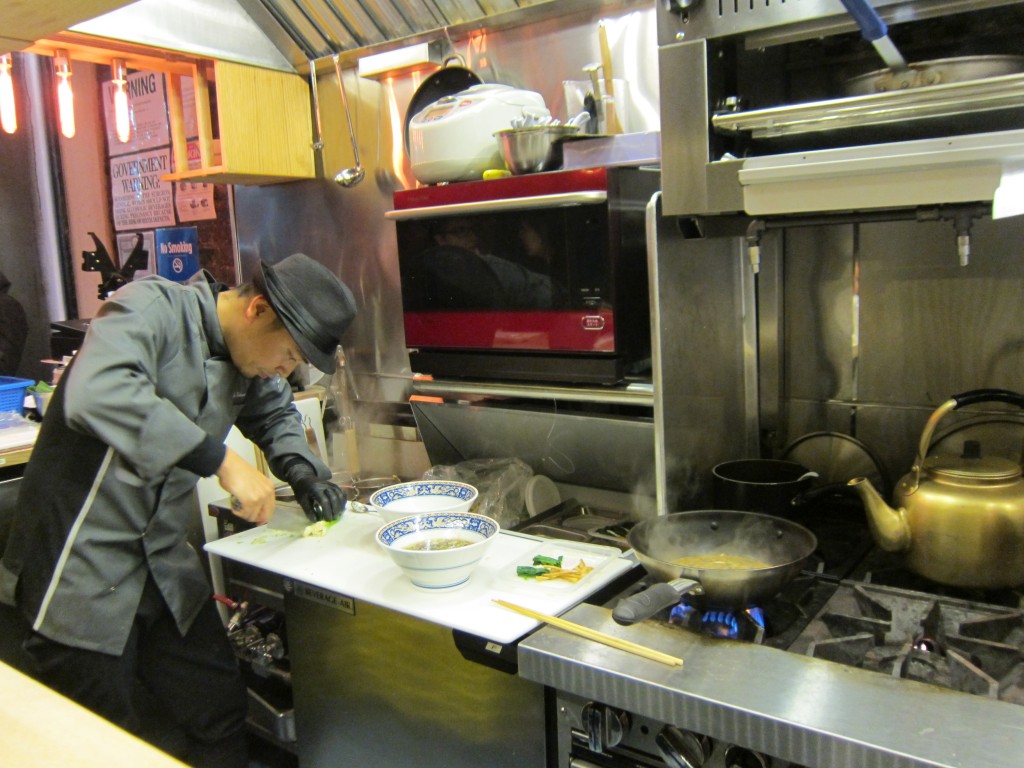 Nakamura is fairly meticulous, so the process though not slow, isn't fast either. So we thought an Orion beer ($6) and a can of hipster Kikusui Funaguchi sake ($10) were in order.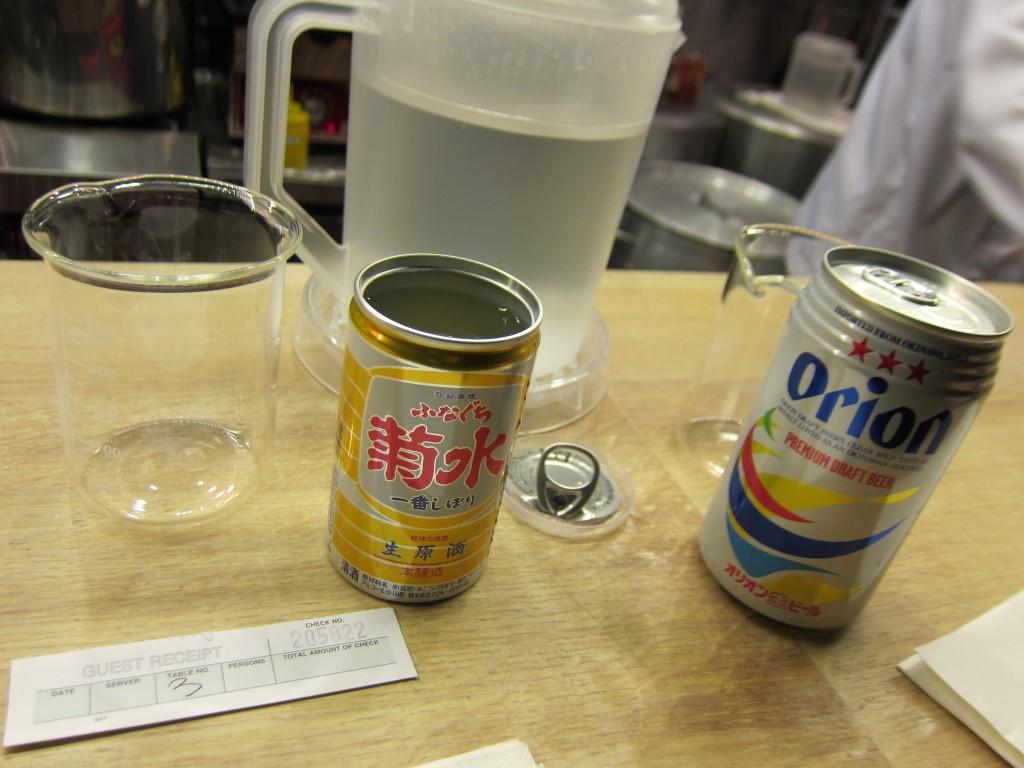 The first thing you'll get — if you've ordered the optional $2 egg for your ramen — is the egg, sliced in half with a wire and served with the beautifully runny yolk dribbling into a pool of soy sauce. These look so enticing it's tempting to just snarf them down. (In fact, several of our counter-mates did.)
But, we held out.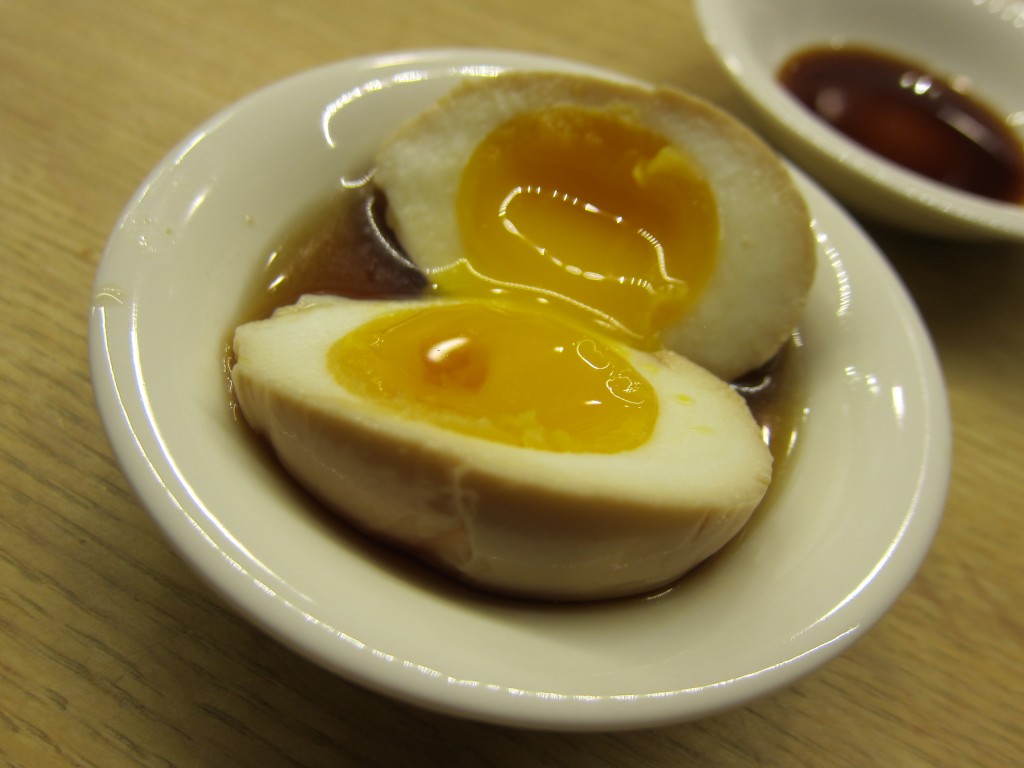 First up, the gyoza, which came pan-fried with a crispy sheet connecting them all. The sheet was a little unevenly fried, as you can see, with one side much more charred than the other. The dumpling wrapper itself was a little too soggy and slightly overcooked for my tastes but the pork, napa cabbage and nira (Chinese chives) filling was outstanding.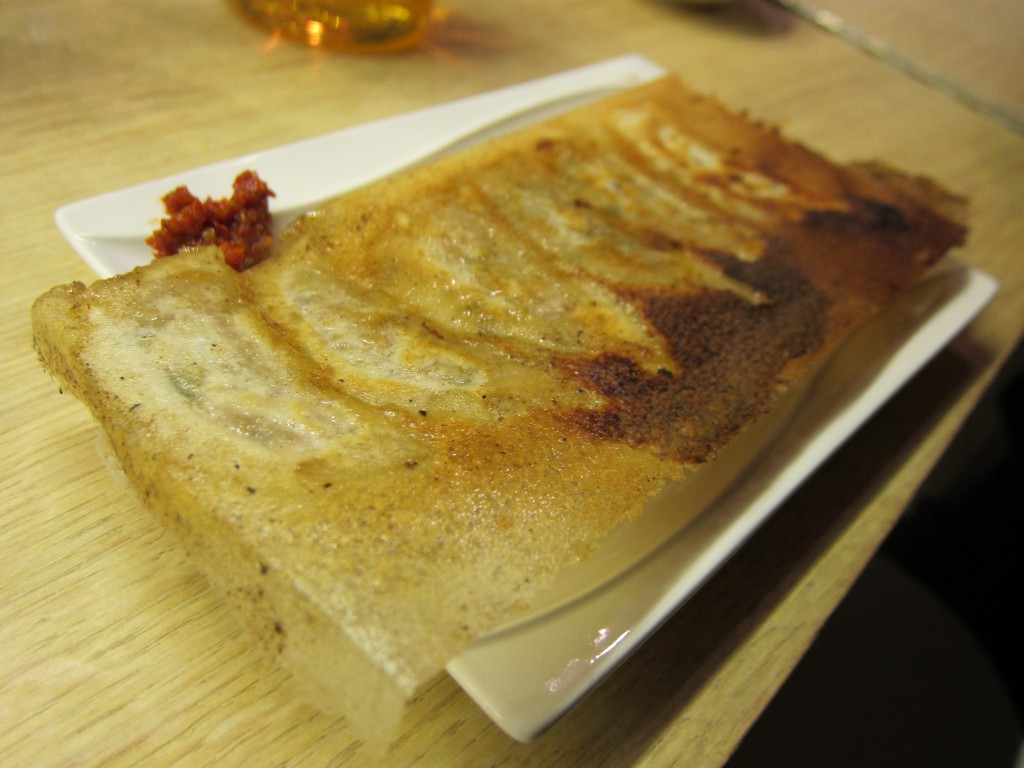 The Ex and I had quibbled over which ramens to get. We're both big meat eaters (vegetarian-schmegetarian) so our first choice was obvious. With just two kinds of ramen on the menu — and this being an incredibly hard seat to get — we felt somewhat obligated to at least try everything on the menu.
At one point, I declared: "I'm getting the pork ramen and I'm not sharing."
Even so, the Ex decided on the vegetarian miso ramen. Brave, I thought.
The bowls arrived together and mine was delicious. The broth, made with chicken stock, rendered chicken fat and other seasonings, was tasty — a very hearty and rich shoyu soup. The fishcake was tiny and the pork slice was very tender — in the first few minutes, I marveled as I watched the thick ring of fat on it soften and melt into my broth.
The noodles, of course, were perfectly firm and al dente.
I thought I had won our ramen race but from my first taste of the Ex's broth, I knew he had me beat. While mine was a perfectly good rendition of a classic, his was simply mind-blowing. I adore broths with some heft to them — a liquid you can almost chew.
I tried to dissect it — there was miso, for sure, and a lovely slight char from Nakamura sauteing the bean sprouts before pouring the oolong tea-based miso broth over it, but there was also something else. From the slight tingling on my lips, I wondered if it could be.
"Sichuan peppers," Nakamura's sidekick confirmed. Ah — málà. That deliciously numbing and spicy sensation.
And this was even before I tasted the topping, which was a dried tofu and XO sauce topping created by Momofuku's David Chang, the sidekick said. I loved the crunchiness of it and the intense swirl of umami it offered.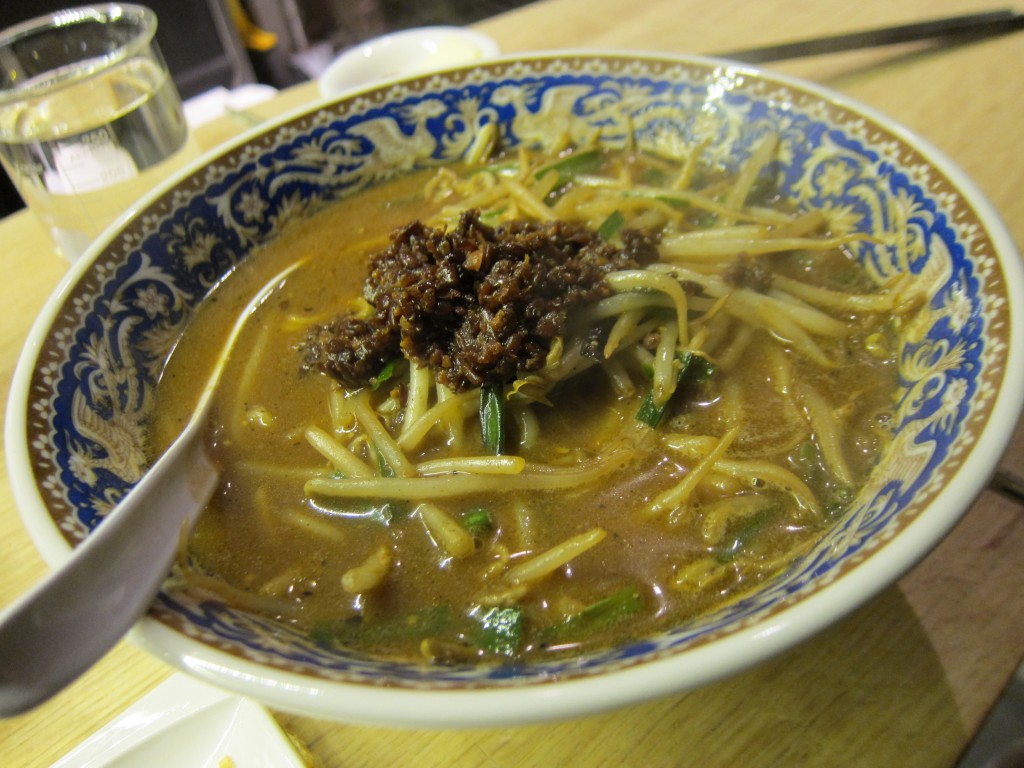 And then the Ex added his egg into the mix, along with this additional bit of chili sauce and a slab of butter — all of which made the broth even richer. I could not stop eating this soup.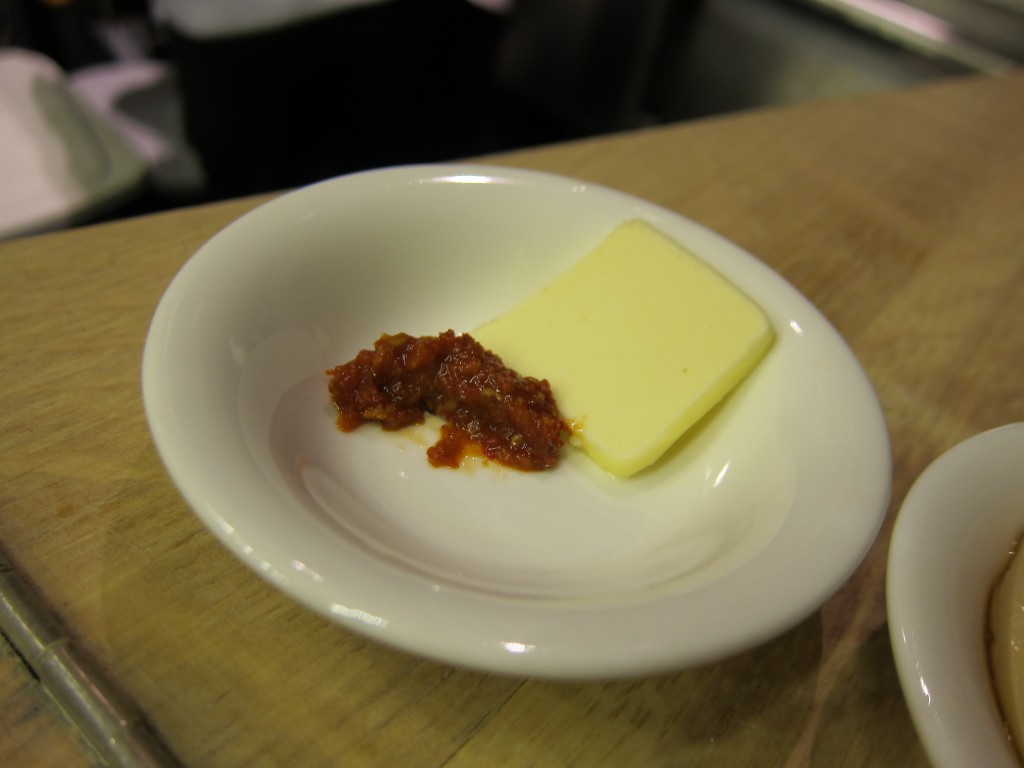 I consider myself lucky, having managed to wedge myself in on just Ramen Lab's second night open.
If what they say is right, that one should never judge a restaurant in its opening week because it's still working out its kinks — well, if this meal was Ramen Lab working out its kinks, I can't wait to see what happens when it finally does.
Ramen Lab, 70 Kenmare Street, New York City; 646.613.7522; http://www.ramen-lab.com/