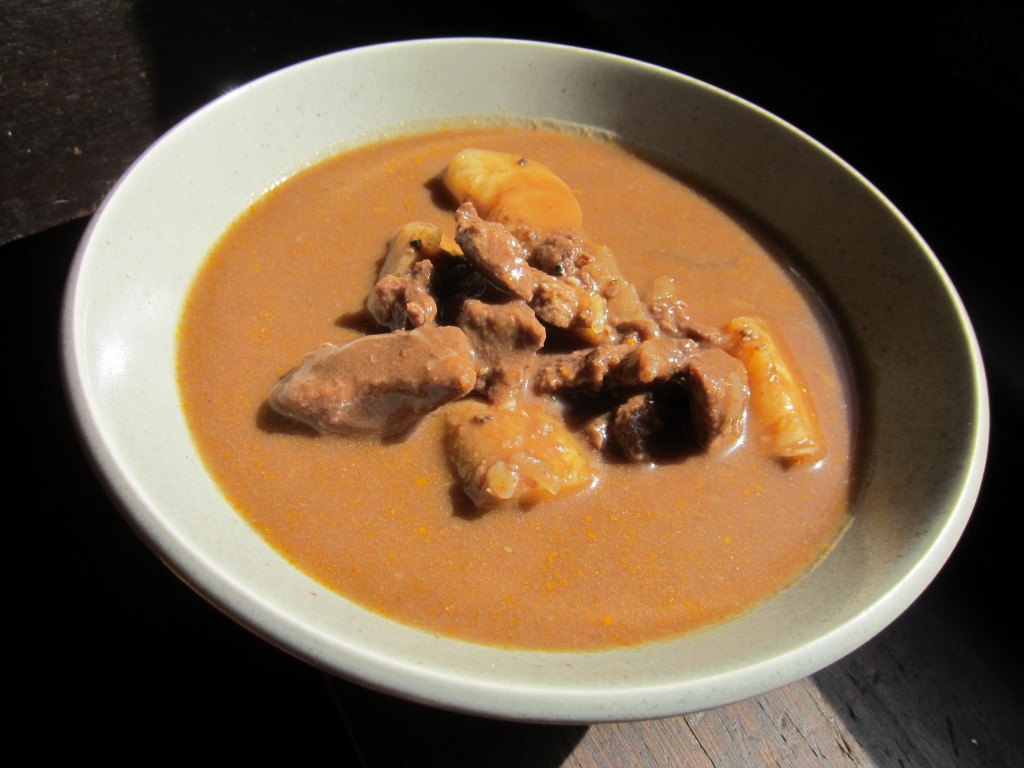 Home and the warmth and security of it have been on my mind recently. After 10 years in an apartment I love in New York City, I'm finally moving out — where to? It's hard to say.
When I look back on the years and think about what I've adored about this little Brooklyn pad, there are far too many things to list. But I do know that what started to make it feel like a home when I first moved in was that moment after all the boxes were unpacked and the dishes put away, when I could finally pull out my pots and make a good meal for me and the Ex.
So when my Let's Lunch group decided on the topic of "housewarming" for our virtual lunch date this month — in honor of HapaMama's new kitchen finally getting done — I started getting hungry for a comforting, hearty dish that would truly make me feel at home in any new place.
What to make? Well, how about a classic? And so, red wine beef stew it was …
Now, this isn't a fancy gussied up stew by any stretch — it's just meat and potatoes, packed with gobs of good flavor. The recipe is simple though, which makes it easy for anyone just settling into a new place. (In fact, if you're not fully unpacked, its long cooking stretch in the oven leaves you with time to get that one while you're waiting to eat.)
The lovely thing about this stew is, by the time it's ready, your kitchen, your home, smells of hearty meaty goodness. And if that doesn't smell like a nice, warm home, I don't know what does.
Buon appetito!
~~~
Don't forget to check out other Let's Lunchers' housewarming dishes below! And if you'd like to join Let's Lunch, go to Twitter and post a message with the hashtag #Letslunch — or, post a comment below.  
Betty-Ann's Mango-Rum Bread Pudding at Asian in America
Grace's New Kitchen at HapaMama
Linda's Fesenjan at Spicebox Travels
Lisa's Chargrilled Asparagus with Tomato, Avocado and Hazelnut Salsa at Monday Morning Cooking Club
Margaret's Flatbread with Olive Oil & Rosemary at Tea and Scones
Pat's Slice & Bake Matcha Cookies at The Asian Grandmothers Cookbook
Sonja's Chocolate Chip, Pecan & Pretzel Cookies at Foodnutzz
~~~
Red Wine Beef Stew
(Adapted from an Epicurious recipe)
Ingredients:
4 pounds chuck roast, cut into 2-inch pieces
1 1/2 teaspoons kosher salt
1 teaspoon freshly ground black pepper
3 tablespoons all-purpose flour
1 tablespoon olive oil
1/4 cup tomato paste
2 cups dry red wine
4 cups low-sodium beef broth
3 or 4 cloves garlic, peeled and bashed
1/2 pound sliced mushrooms
1 large yellow onion, quartered
2 bay leaves
4 sprigs thyme
10 medium carrots (about 2 pounds), peeled and cut into 3-inch pieces
1 1/2 pounds baby white or red potatoes, quartered
Directions:
Preheat the oven to 325°F.
Season the meat with salt and pepper, place in a large bowl, and toss with the flour.
Heat the oil in a large Dutch oven or wide-bottomed pot with a tight-fitting lid over medium-high heat. Cook the meat, in batches, until well browned on all sides, 6 to 8 minutes, transferring the pieces to a plate as they are browned.
Add the tomato paste, wine, broth, onion, bay leaves, thyme, bashed garlic and 2 of the carrots and bring to a boil. Return the meat and any juices back to the pot (the meat should be barely submerged in liquid), cover, and transfer to the oven. Cook for 1.5 hours.
Add the potatoes, half a pound of mushrooms and the remaining 8 carrots to the pot, cover, and return to the oven. Cook until the meat and vegetables are fork-tender, about 1 to 1.5 hours more. Serve with hot garlic bread.