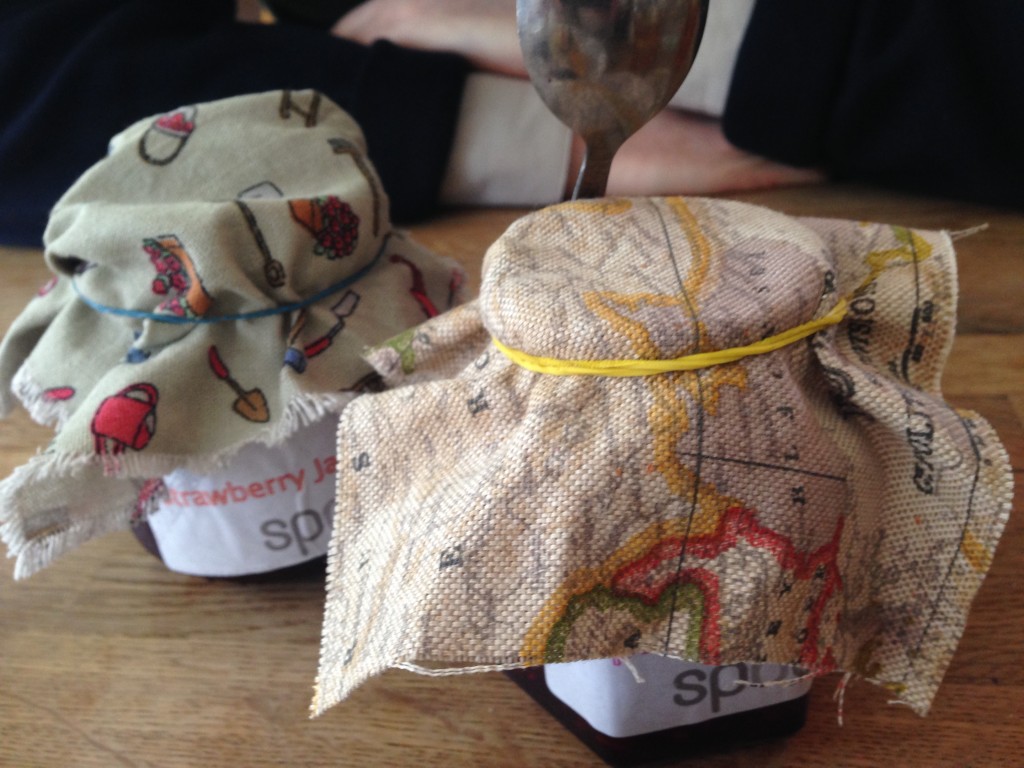 J.K. Rowling, as you might imagine, is big in Edinburgh.
The Elephant House, with its sweeping picture window views of Edinburgh Castle, is constantly packed with camera-toting tourists, as Rowling wrote bits of Harry Potter there — back when she could still wander the world incognito, of course.
Besides this cafe, however, there is one other spot that is something of a Rowling shrine — though one that's considerably less mobbed, as it's morphed into something else since its Rowling years: Spoon, a bright and cheery first floor restaurant that used to be Nicolson's Cafe, otherwise known as the place where Rowling wrote some of the early chapters of Harry Potter.
As much of a fan as I am of the series, I've never wanted to get in the perennially long line at the Elephant House. Spoon, on the other hand, not only doesn't have the lines but is also a restaurant whose food I'd heard good things about.
So on a drizzly Sunday, D.B. and I set off for a little look-see …
Spoon will charm you the moment you walk in — its comfortable bohemian, shabby-chic decor has a breezy ease to it that seems to attract the hipsters of this city. (Not that you can tell from this terrible photo — in Scotland, I've found that my camera doesn't always quickly adjust to situations where there suddenly is a miraculous flood of sunlight.)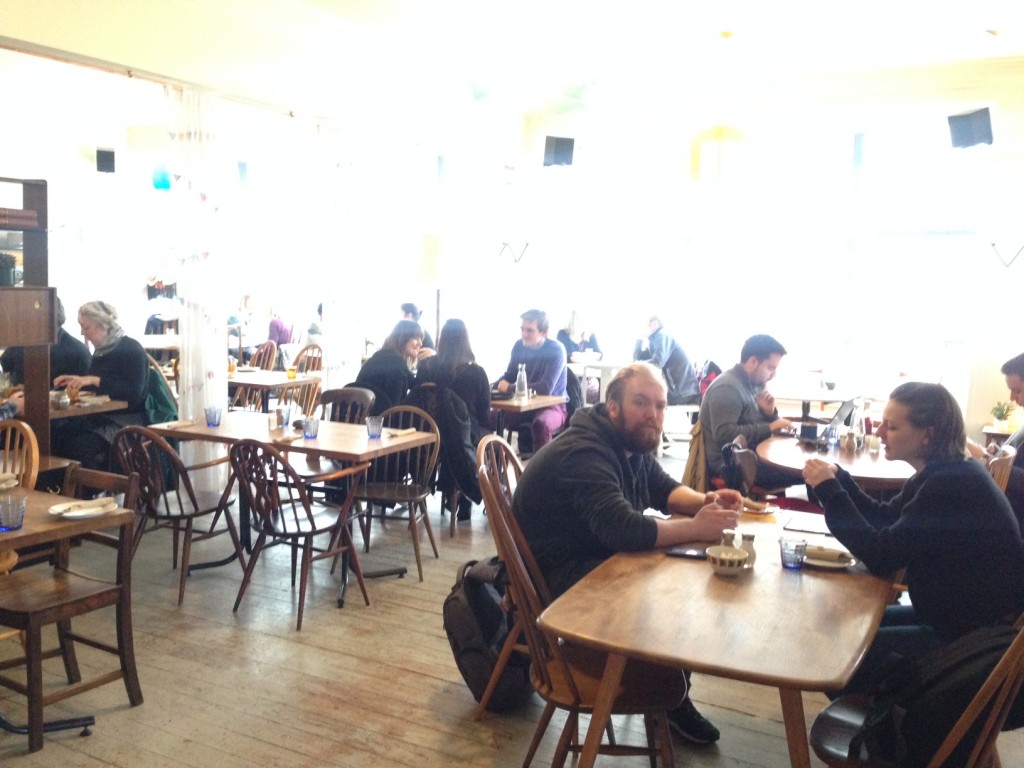 In addition to the main dining room, there's a darling little loungey area for coffee or food.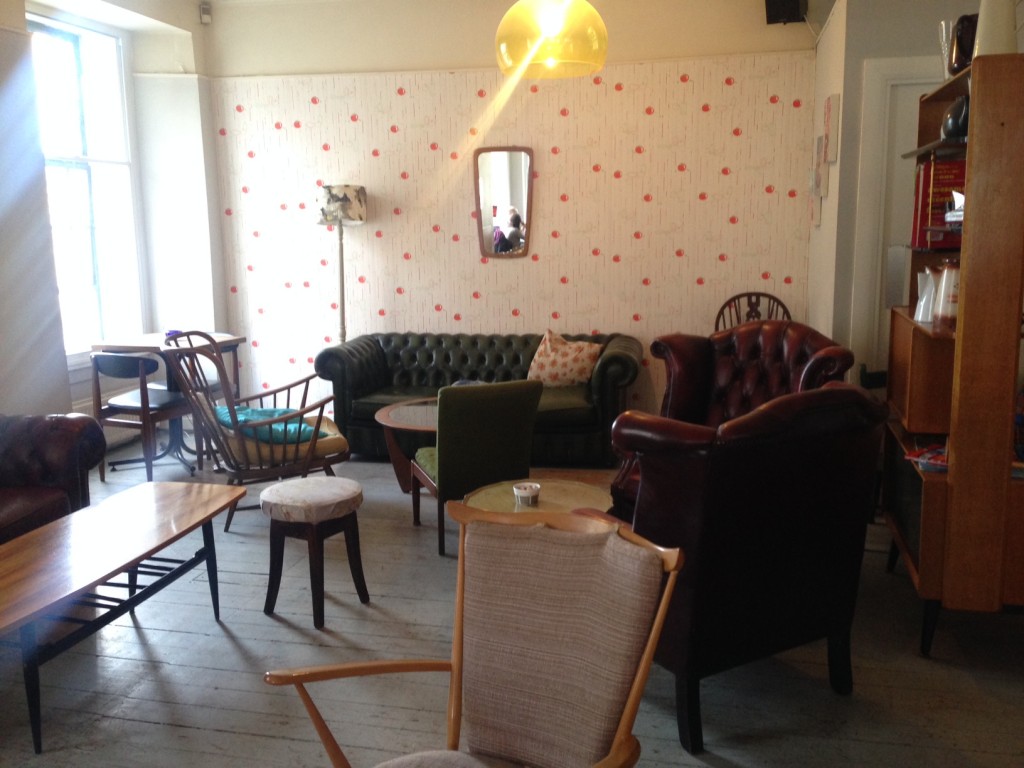 Speaking of which, I was eager to eat, as I'd first heard about this place from my trusty food guru Lar over at Asian Cajuns.
I like straightforward menus with unfussy dishes and this was definitely one place for that.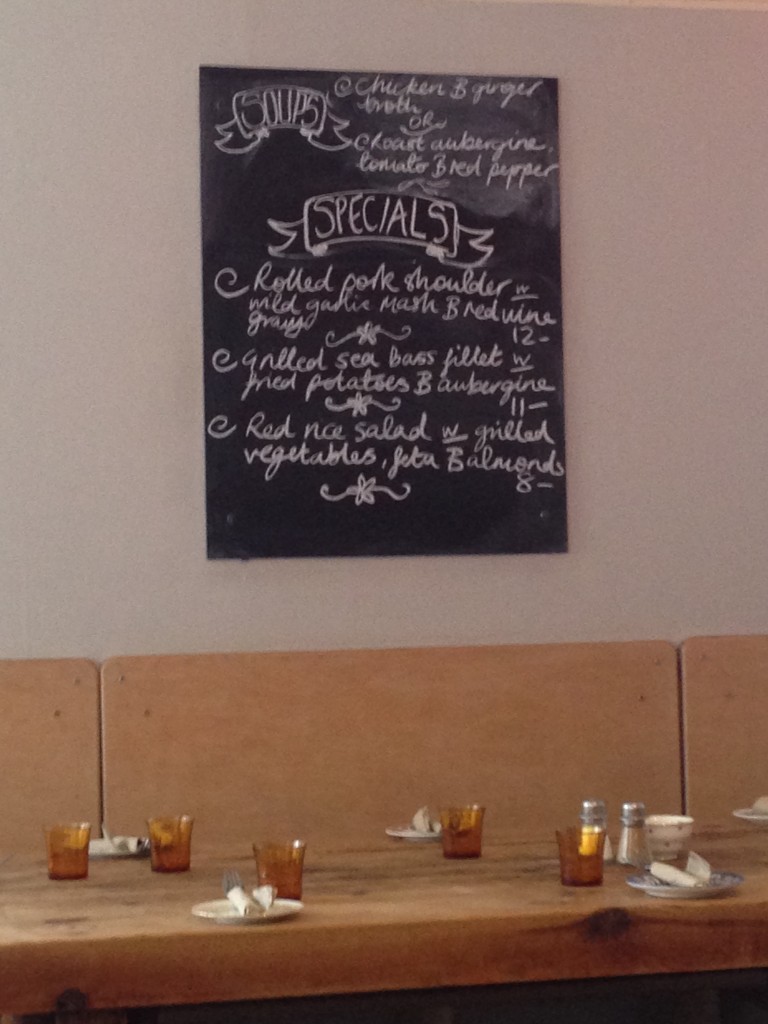 The chicken and ginger broth (£4.50) beckoned — as I find myself almost constantly craving something warm and soupy in Scottish climes. But this being a Sunday brunch, first things first: a cafe Americano (£2). (Love the glassware — mismatched vintage plates and all.)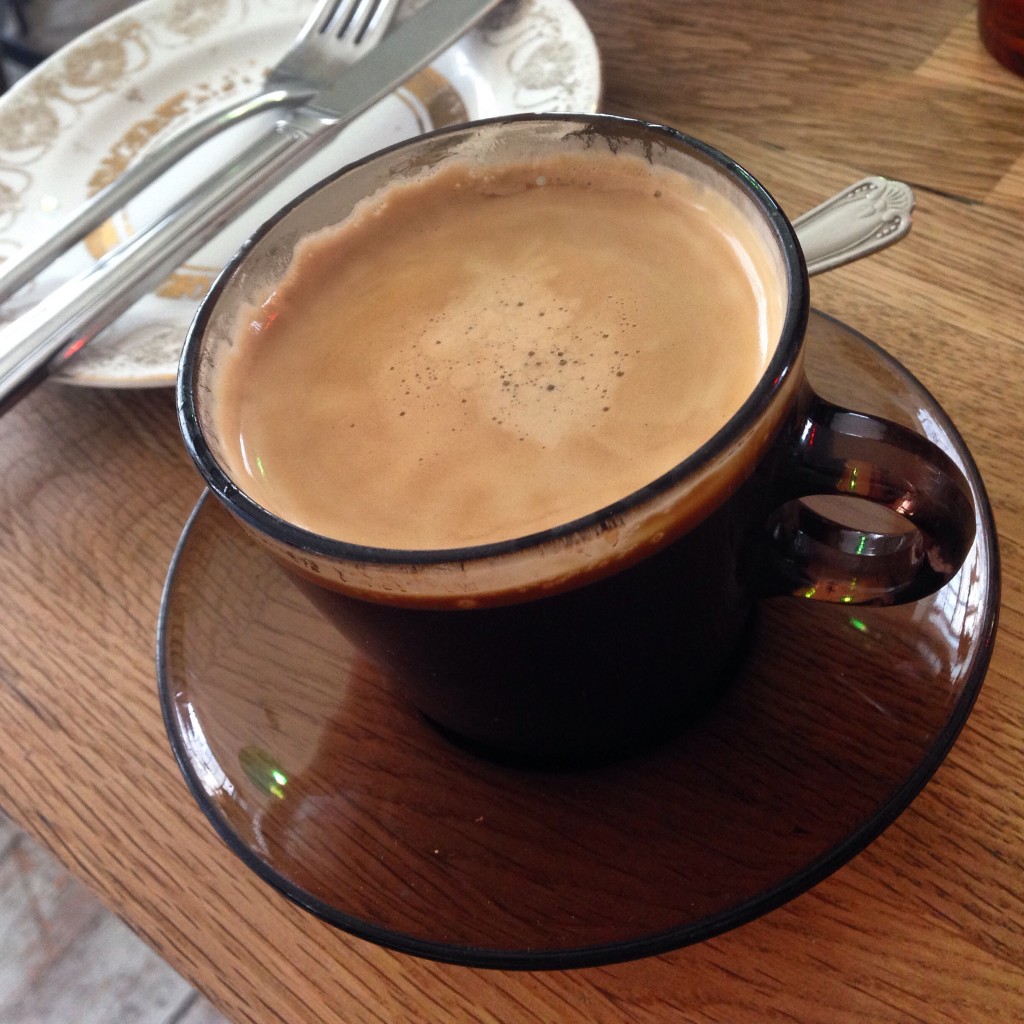 D.B. decided on lunch, opting for the grilled sea bass fillet with fried potatoes and aubergine (£11). I'm not the biggest fish fan, unless it's in Cullen skink, but this tasted just fine to me. (The aubergine chunks though, were slightly squidgy and tasteless.)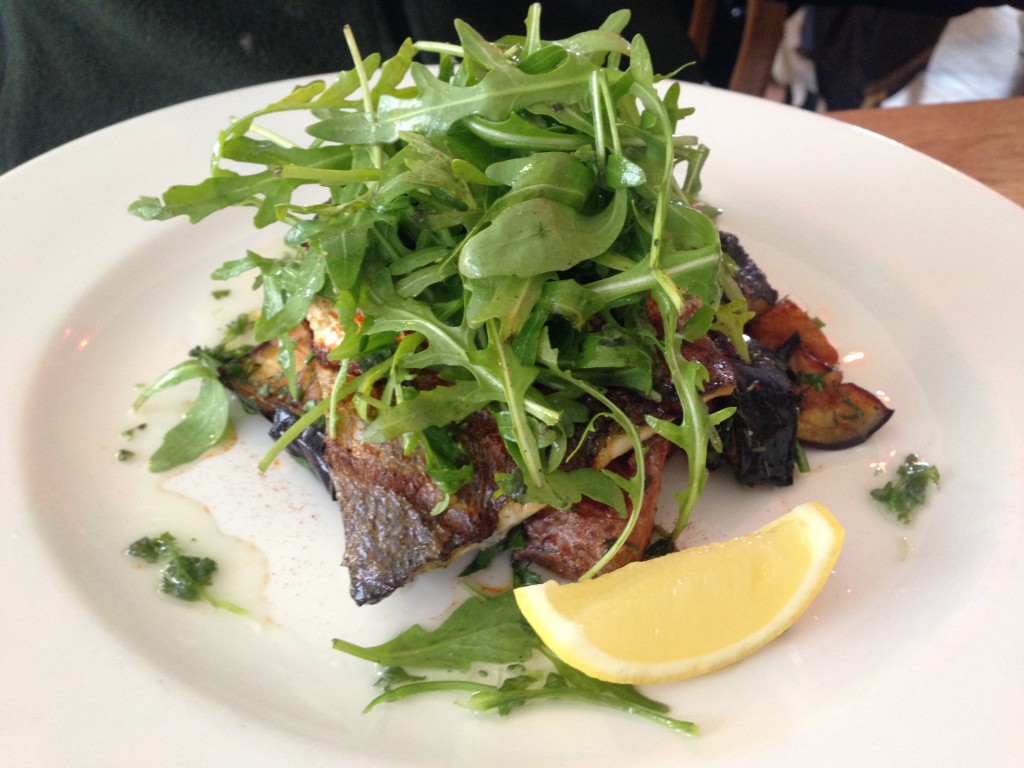 The menu was otherwise packed with basic brunch fare — Eggs Benedict, grilled kippers with bread, pancakes and more. But as soon as I'd seen haggis on the menu, I knew I had to order it. (I know many outside Scotland are squeamish about it but I adore the stuff — even after having made it.)
So, the mixed grill (£8.50) featuring bacon, sausage, haggis, black pudding, baked beans, chips, toast and a fried egg it was. Everything was incredibly tasty — especially the haggis, bread and beans, which was housemade — though the black pudding was slightly disappointing. It could have been more flavorful.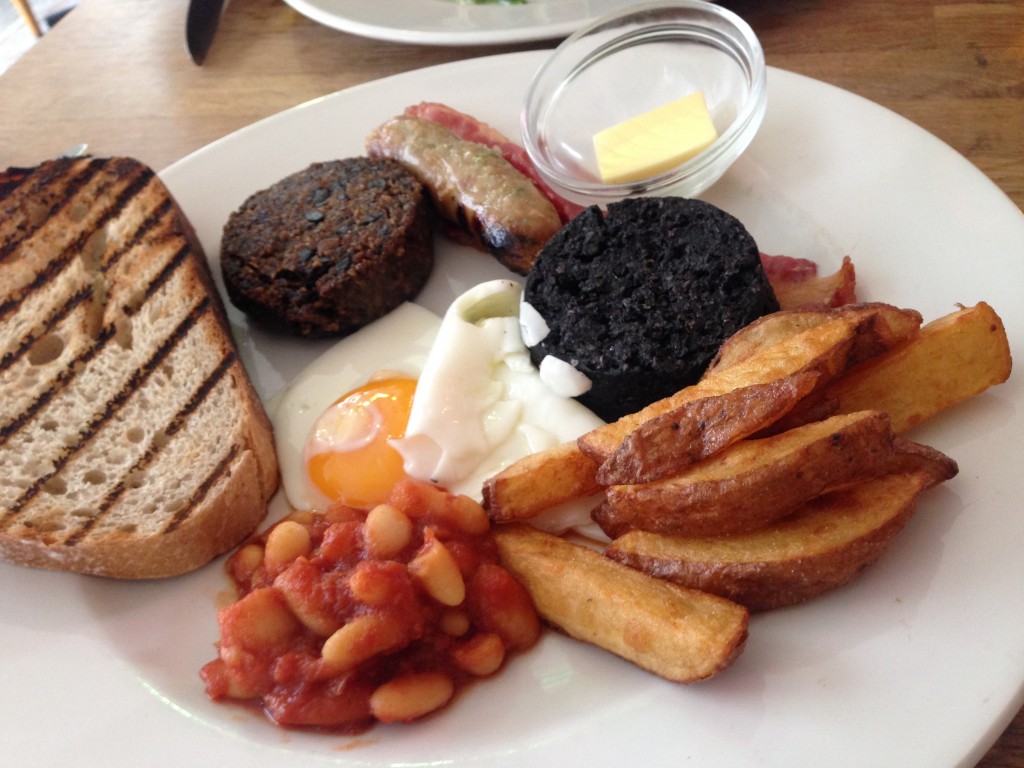 And the housemade raspberry and strawberry jams (pictured up top) on that deliciously crisp bread were a nice capper to the meal.
Would I return? Based on the food, perhaps not. Although I can see how the airy setting would be a delightful spot for a hot cup of coffee — and a spell of good writing.
Spoon, 6A Nicolson Street, Edinburgh, Midlothian EH8 9DH; +44.0131.557.4567; http://www.spoonedinburgh.co.uk/