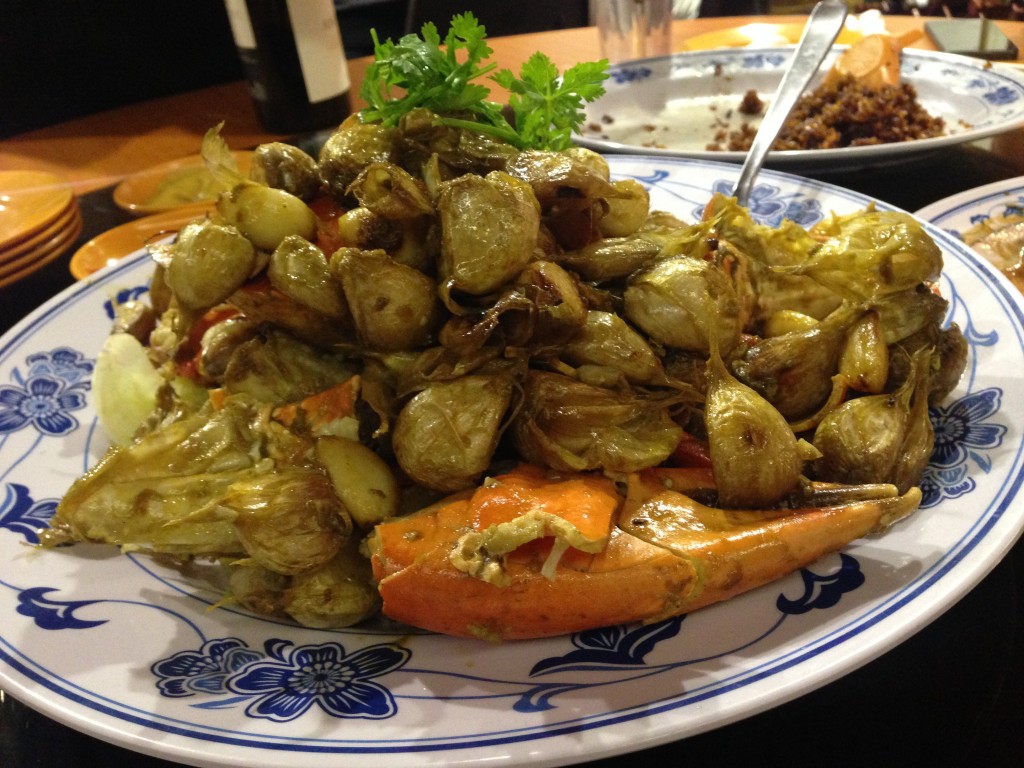 For months now, I've been tortured by Instagram.
Specifically, a seemingly endless stream of Instagram photos from a place called New Ubin Seafood in Singapore. In the middle of the night in Brooklyn, I'd find myself scrolling through photo after photo of gigantic crabs, split open and doused with gravy, wooden platters piled with glistening chunks of steak — and I would think, why have I never been to this restaurant?
Thankfully, I have good friends who wanted to fix this right away. So on a humid Saturday night, I found myself wending the desolate night streets of an industrial estate in Singapore's Sin Ming neighborhood …
First timers headed to New Ubin Seafood might wonder what they're in for on their way there — the industrial estate it's in is a ghost town at night. Amid the darkness though, Christmas lights strung up in the shape of a crab are a sign you're in the right place.
This restaurant first started in 1986 on Pulau Ubin, a rustic little island just off this city state's north shore. When the government acquired the island in 1992, the restaurant moved to the mainland, and it's been feeding massive crowds ever since.
There's an open-air area …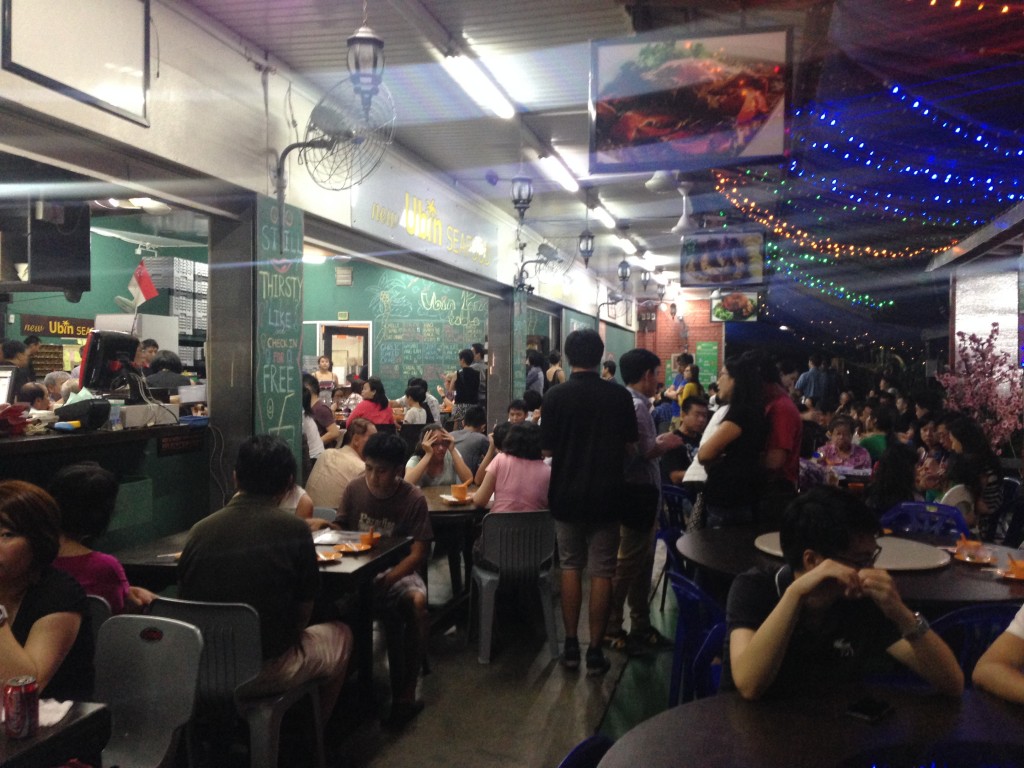 … and a whimsical menu you can ponder during your long wait. (We had a short wait, even with a reservation.)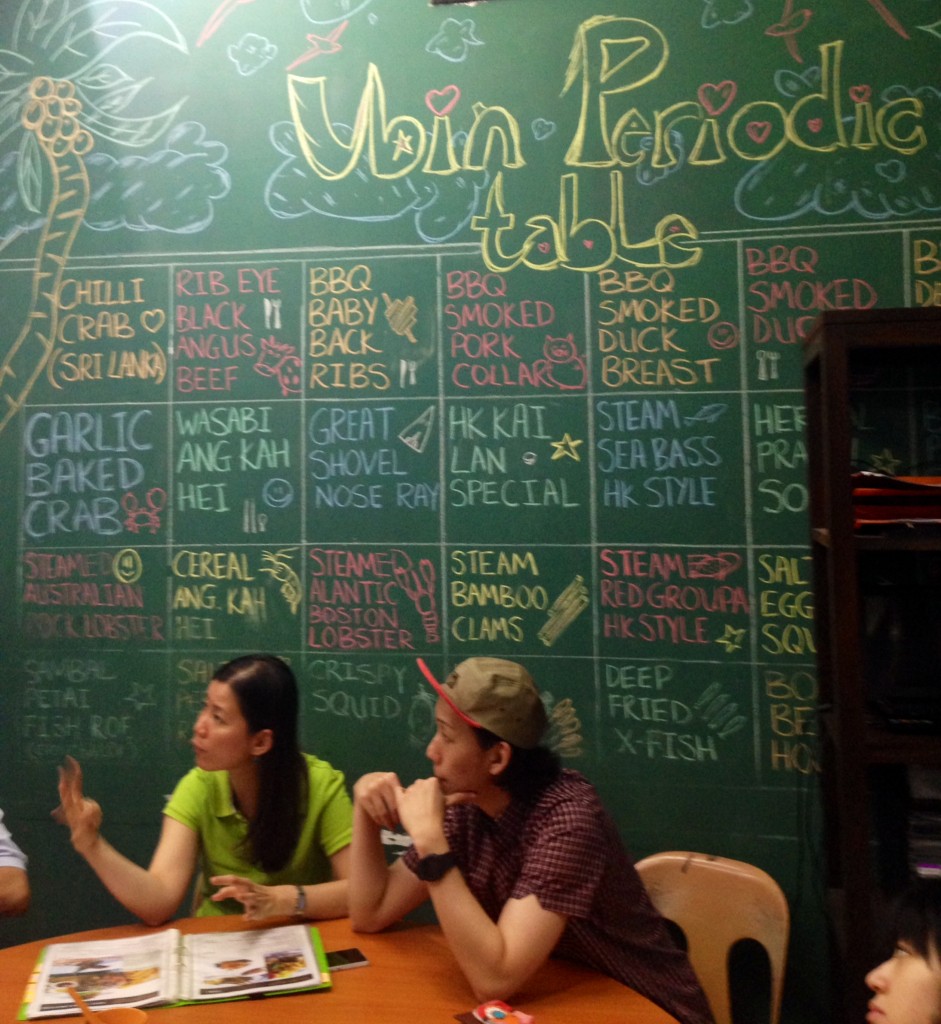 My friend Jimmy is buddies with the owner's son, so we managed to book one of the few tables in a comfortable air-conditioned room.
(I got a kick out of this sticker touting an allegiance to St. Joseph's Institution, my father's alma mater.)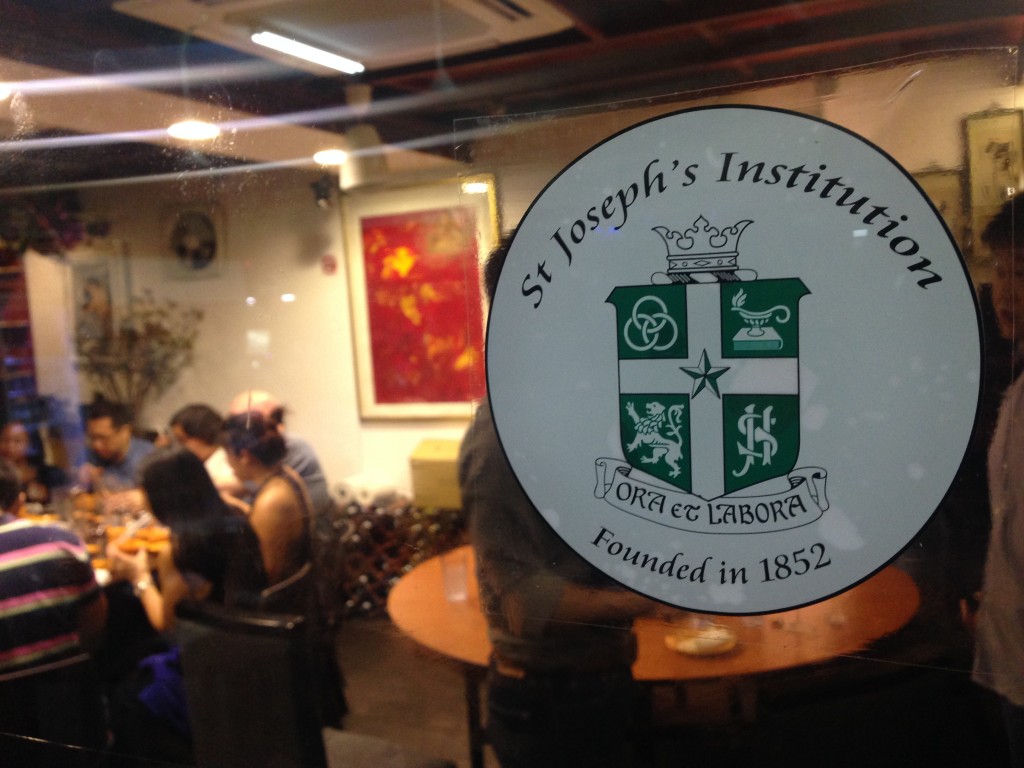 There are two air-conditioned rooms — we got the nice one, which also functions as the restaurant's wine cellar.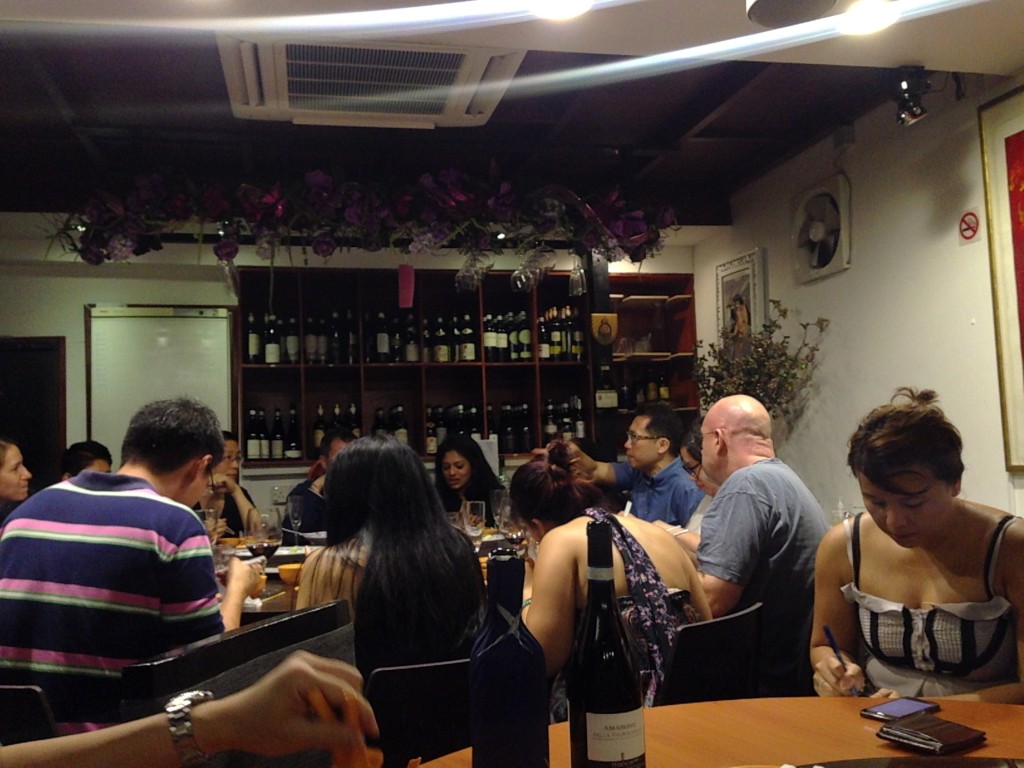 There was no need to place our order — we'd already texted it over a few days prior. In fact, our group of five mouths only finalized the menu after lobbing a flurry of messages over two whole days.
My main (and only) request was a dish I'd been craving for a long time — har cheong kai (chicken coated with fermented shrimp paste and deep fried). While New Ubin has the word "seafood" in its name and you can indeed get platters of the freshest catches off Pulau Ubin each day, it's really a glorified tze char restaurant, a Singaporean eatery that cooks simple, home-style Chinese dishes. Each dish comes in three sizes, small, medium and large, so you can tailor your meal to how large your group is as well as individual preferences. (We had decided on variety versus quantity, so small versions of each dish it was.)
We hadn't been seated very long when the first dish landed: har cheong kai (SGD $14/USD $11.20 for the small). The eight wings had just been fried and were hot to the touch. The coating was salty and shrimpy — and delightfully crunchy — and the meat within was juicy and tender.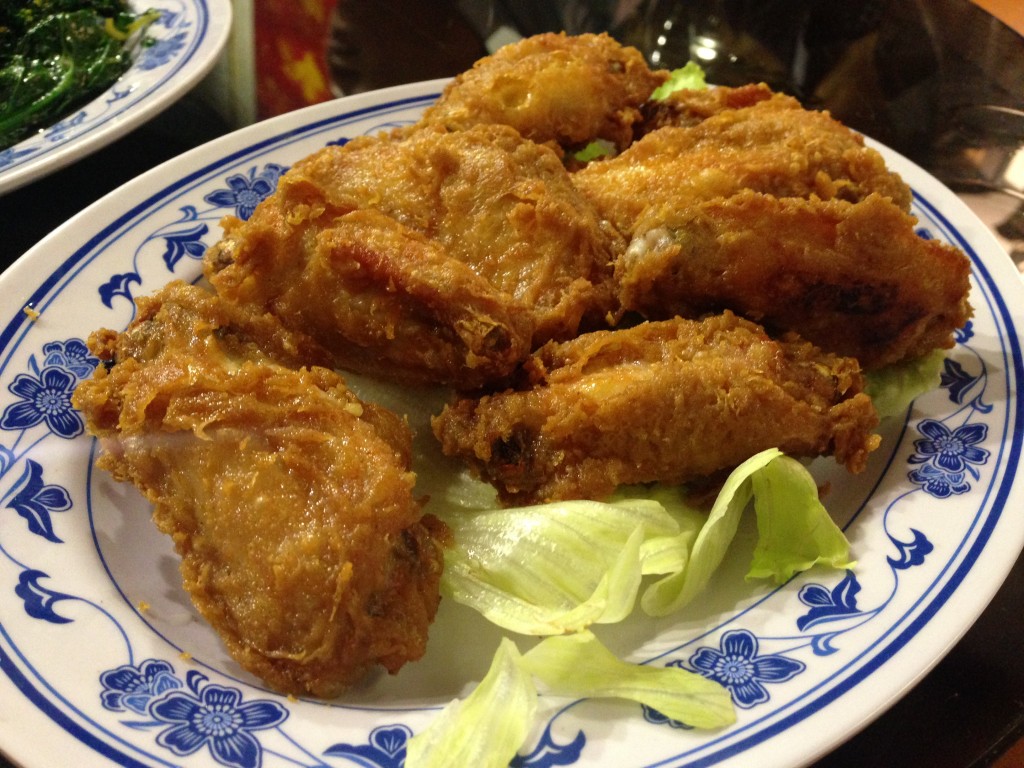 Next up: a house specialty — an egg slow-cooked for 60 minutes, topped with truffle oil and char-grilled foie gras (SGD $9/USD $7.20).
As you can see, the foie was fairly large and nicely done. It — and slow-cooked eggs — aren't my favorite, though. But if this is your thing, this is a good rendition.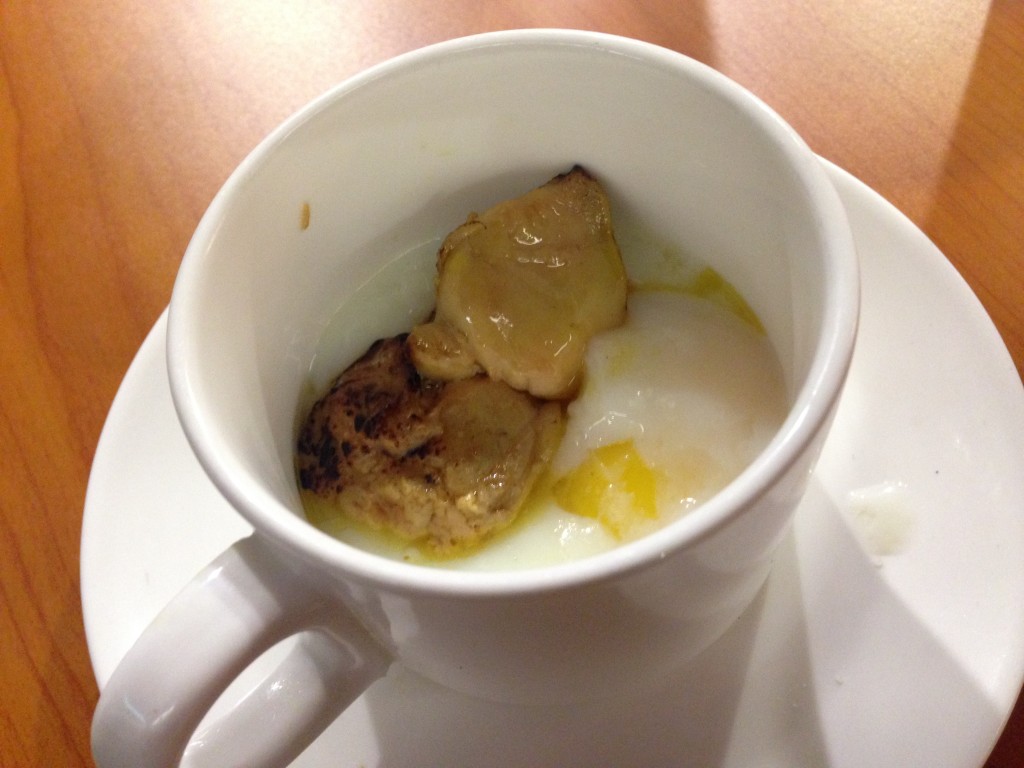 I don't like very many vegetables but I do eat kai lan (Chinese broccoli) and this version (SGD $12/USD $9.60), I adored.
It appeared cooked two ways — first, steamed, Hong Kong-style, and then finished off with a generous sprinkling of shredded kai lan that had been deep-fried with bits of fish to a lovely crispiness. Very very tasty.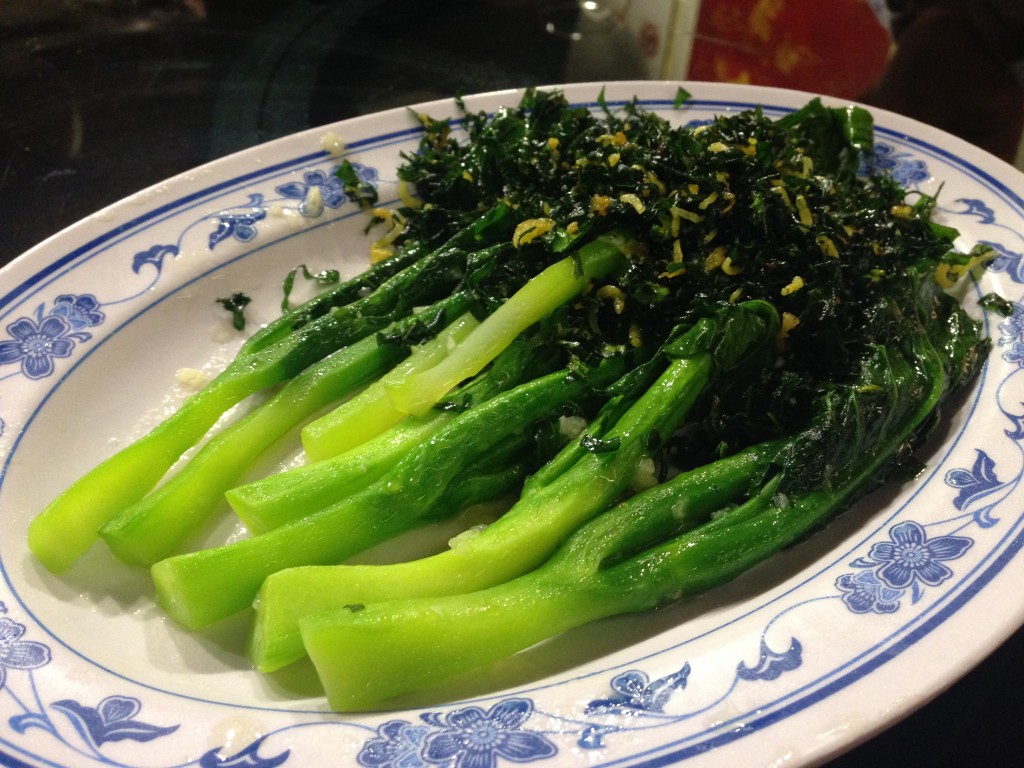 In our days-long text debate over the menu, my friend Jeanette had repeatedly insisted upon brinjal — a vegetable I actively loathe.
I have, however, entrusted her with my food decisions for more than two decades now, so when she said "Trust me," I did.
When the brinjal delight (SGD $12/USD $9.60) appeared, boy was I glad I acquiesced. The eggplant had been thinly sliced, coated with a sweet and slightly spicy sauce and then fried to caramelized crispiness. Basically, they were sweet brinjal chips. (Naturally, I devoured several — while acknowledging my previous folly to Jeanette, of course.)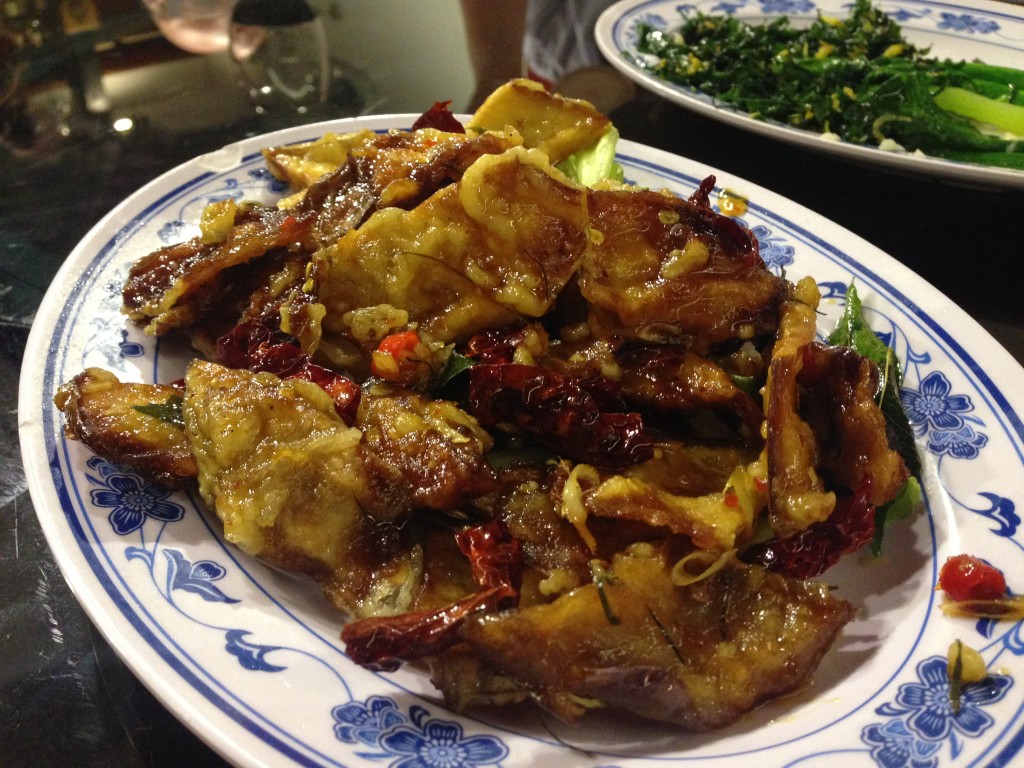 A starch was in order, so the "Boss bee hoon" (SGD $8/USD $6.40) it was.  This dish of fried rice vermicelli with fish cakes, vegetables and a smattering of curried spices was perfectly fried — the huge amount of "wok hei" (char) was terrific, and this disappeared so quickly we contemplated ordering second plate.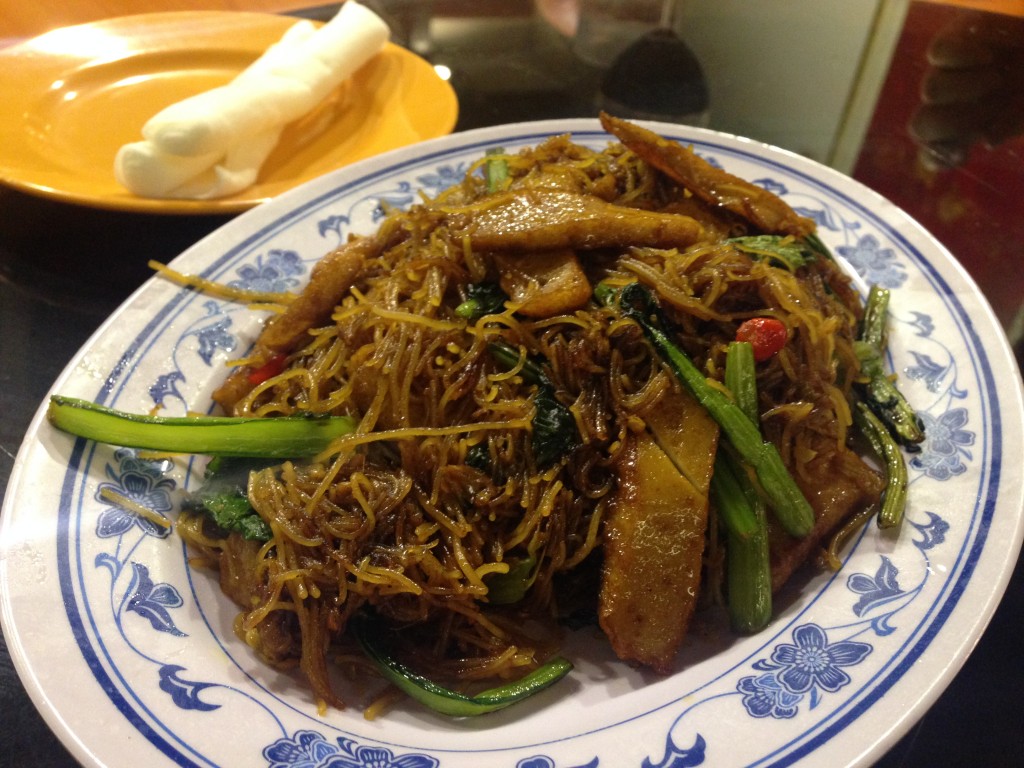 The smoked pork collar (SGD $14/USD $11.20) had been recommended, and it was good — again, with a lot of char and fat.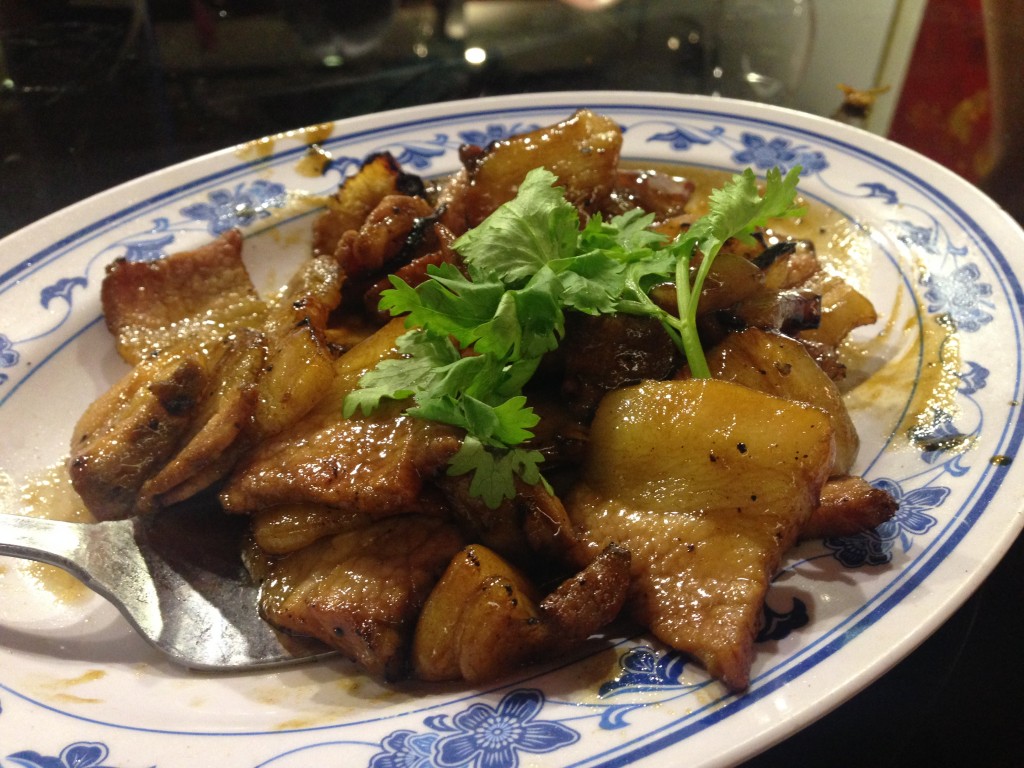 Finally, two dishes that are the restaurant's big specialties — Sri Lankan crab baked with garlic (SGD $6/USD $4.80 per 100 grams), pictured all the way up top. This dish was fantastic — the crab was nice and juicy and I loved the mounds of garlic gloves, each one beautifully mushy inside.
And then: American black angus ribeye steak (SGD $12/USD $9.60 per 100 grams) with fries.
Now, I generally avoid steak when I'm in Singapore — especially when it's American. It just seems silly for a visitor from New York to have.
This was a dish I did not regret, however. The steak was incredibly flavorful, even without the pairing of caramelized onions or condiments such as sea salt and chili sauce.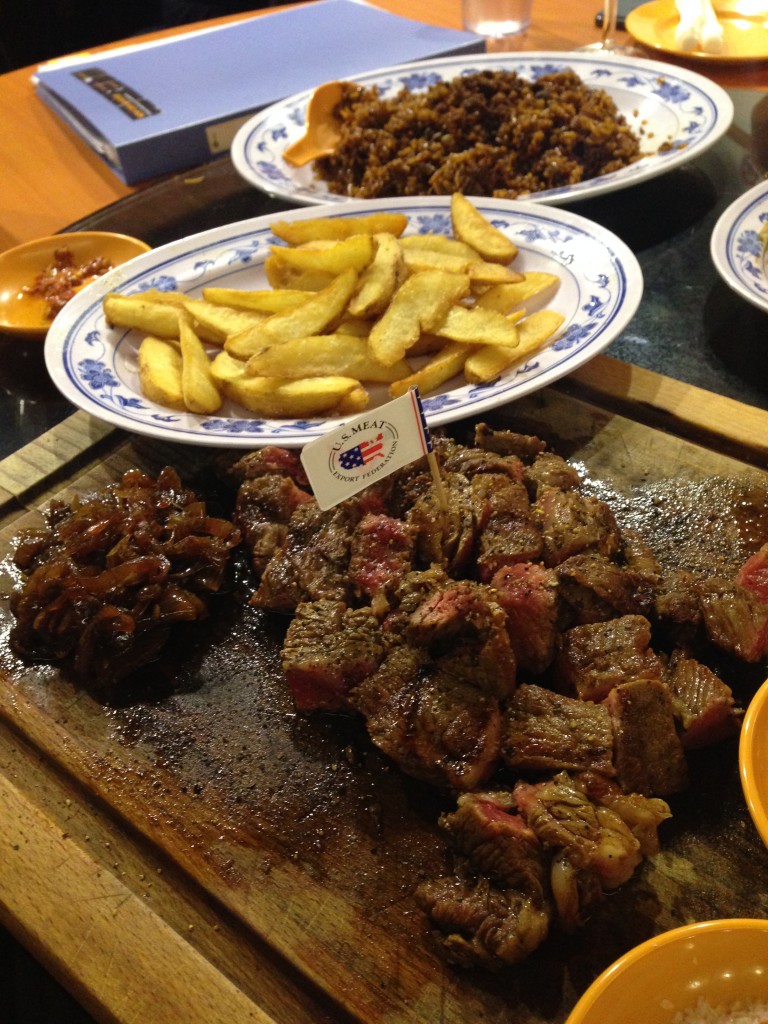 But the true piece de resistance was the dish's side of rice fried to charred tastiness using the steak's drippings. This was so flavorful and rich I found myself not being able to have more than a few bites, sadly.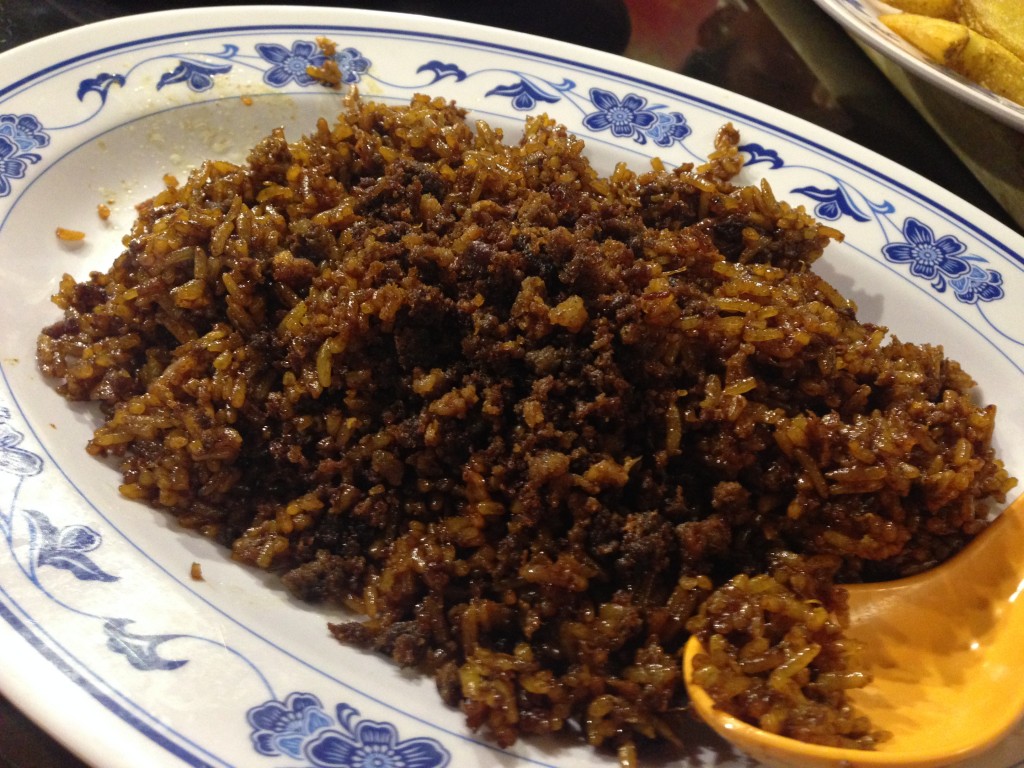 After all these months of salivating over New Ubin Seafood from afar, I have this one to thank for finally making this meal happen. (Don't let her petiteness deceive you — this woman eats more than most men twice her size.)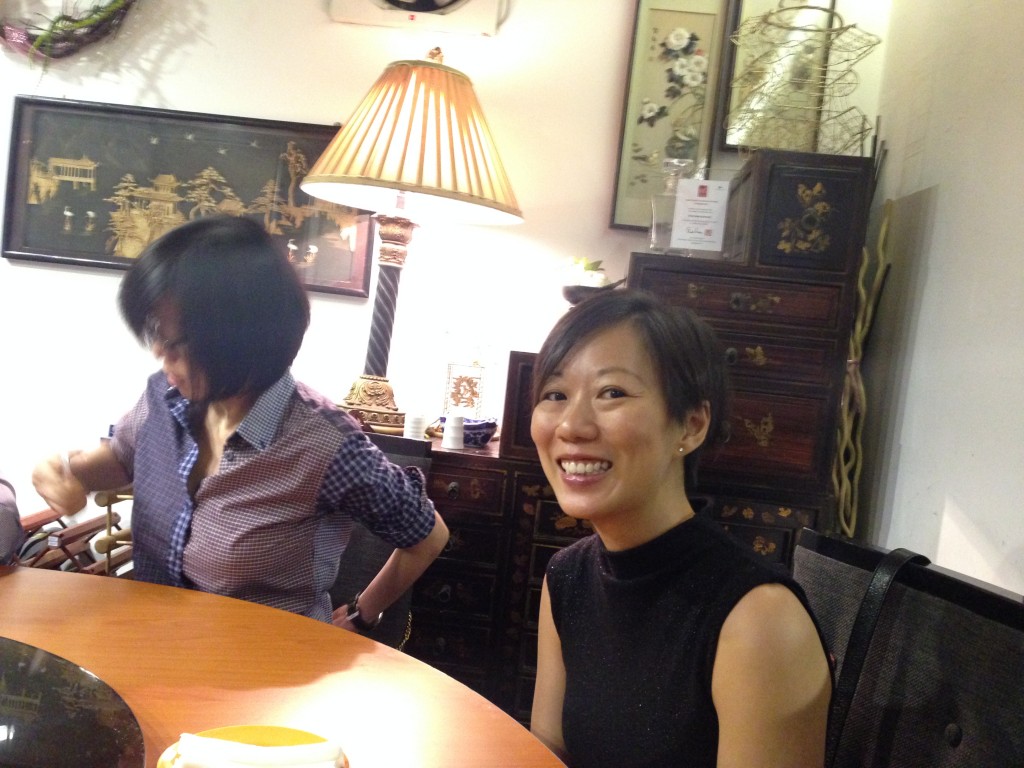 And now, if you'll excuse me, I believe I have some photos to Instagram.
New Ubin Seafood, Block 27 Sin Ming Road, Sin Ming Industrial Estate Sector A #01-174, Singapore; +65.6466.9558; http://ubinseafood.com/