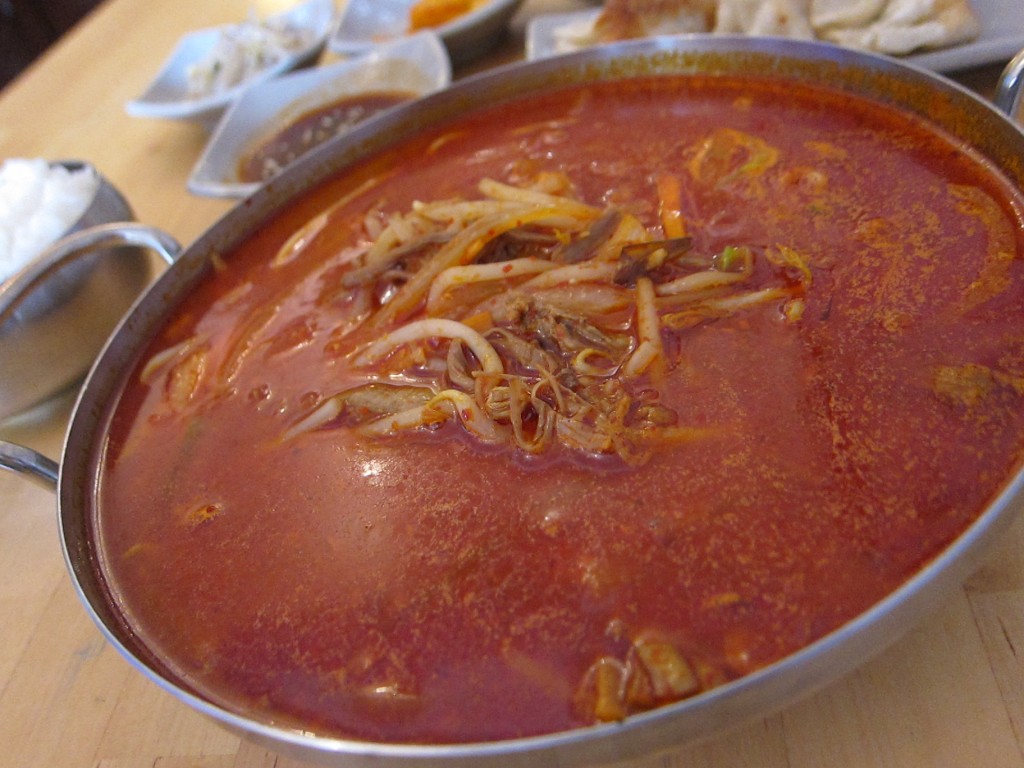 The thing about a good thing is, sometimes you shouldn't shrug off that nagging feeling that it's not going to last because, well, that may be true.
In this case, I'd be referring to my recent elation over discovering that, contrary to my previous belief, the Korean food scene in Edinburgh is terrific.
After being surprised by a very tasty lunch at Kim's Mini Meals and then chasing that with an outstanding meal at Cafe Andamiro, I had decided to eat my words. Perhaps this city actually does do Korean well, I thought.
But then I paid a visit to Sodaeng …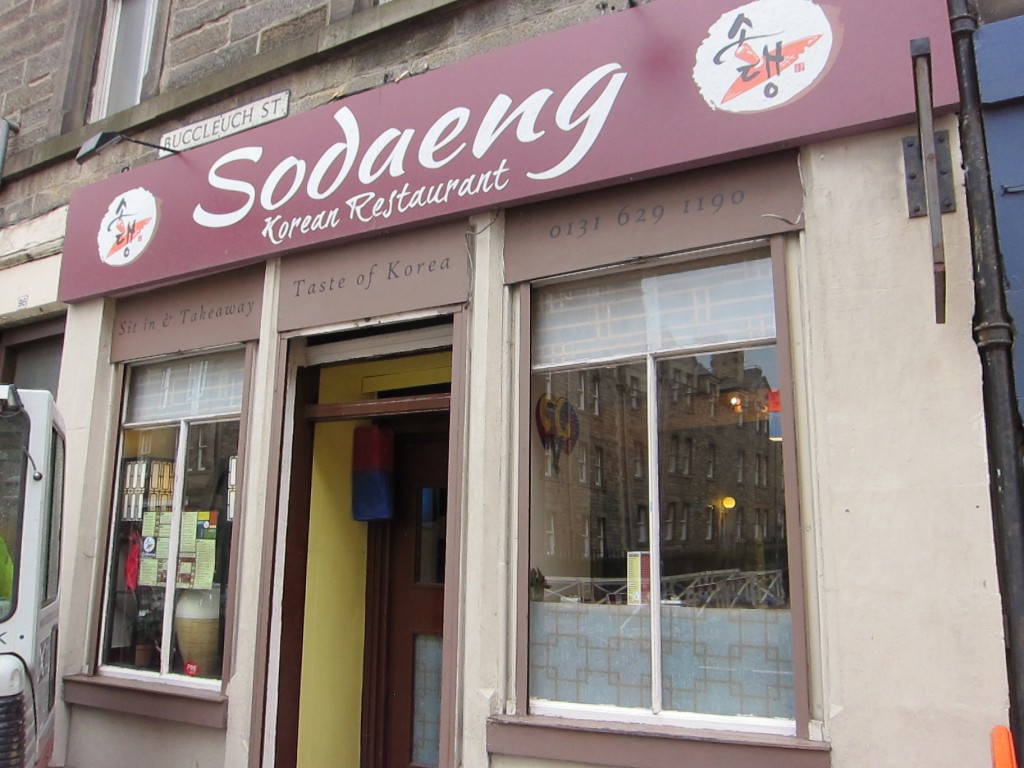 I'd seen Sodaeng before, of course — it's just across the street from Cafe Andamiro and not too far from Kim's Mini Meals, which, I suppose, makes this few block stretch something akin to Edinburgh's Koreatown.
As curious as I had been about Sodaeng, I was a little wary — why had I not heard anything about it from my food gurus in the city or read much about it online? And then I got an email from a student at University of Edinburgh who's been reading this blog. In this email, he urged me to try Sodaeng. "What I order are the salty and spicy tiger prawns with rice," he said. "Not sure what it's actually called but it's fantastic!"
Since I had a free lunch slot, I decided to mosey on over.
The restaurant is tiny — just a handful of tables and a kitchen in the back.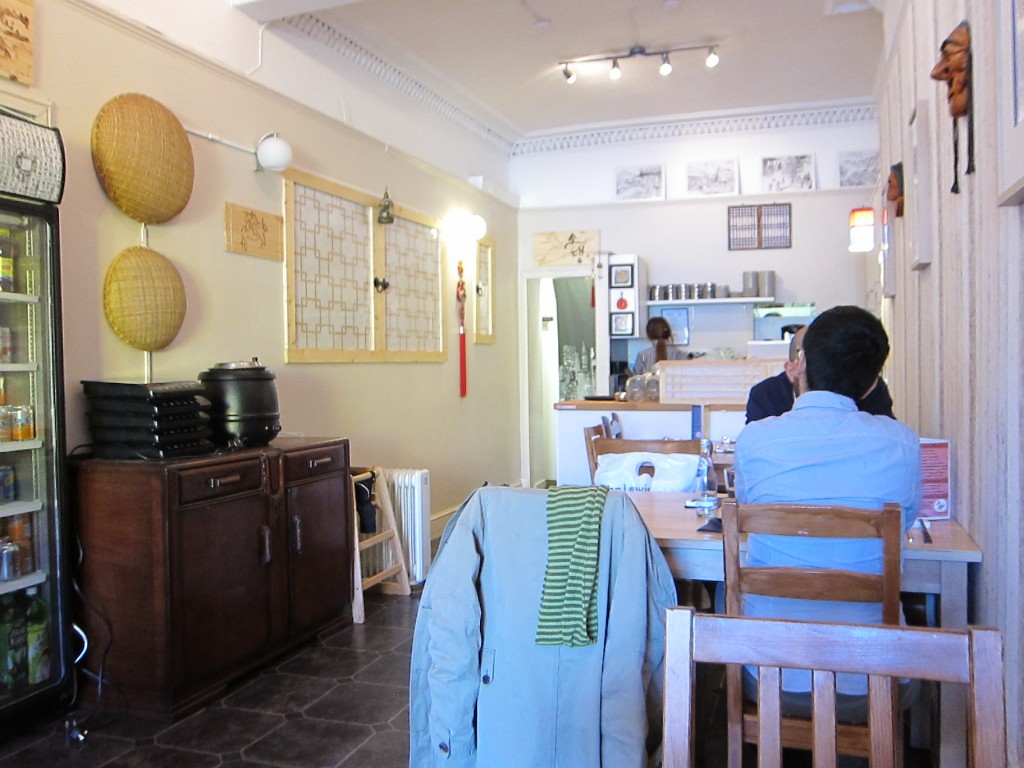 I liked these little bar counter seats with a view out the window.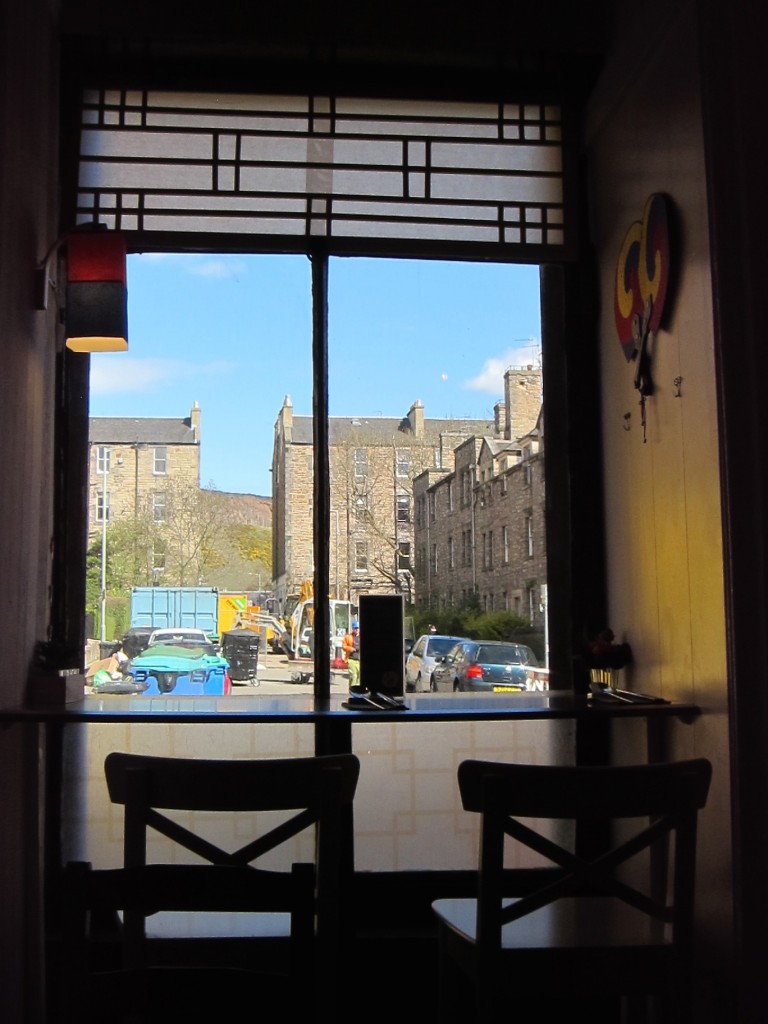 Sodaeng apparently means the lid of the "gamasot," which is a large iron pot used in Korea for cooking, the menu explained.
Speaking of the menu, Sodaeng's made me instantly suspicious. Look at how many items are listed here. And this is only one small section of this two-sided menu.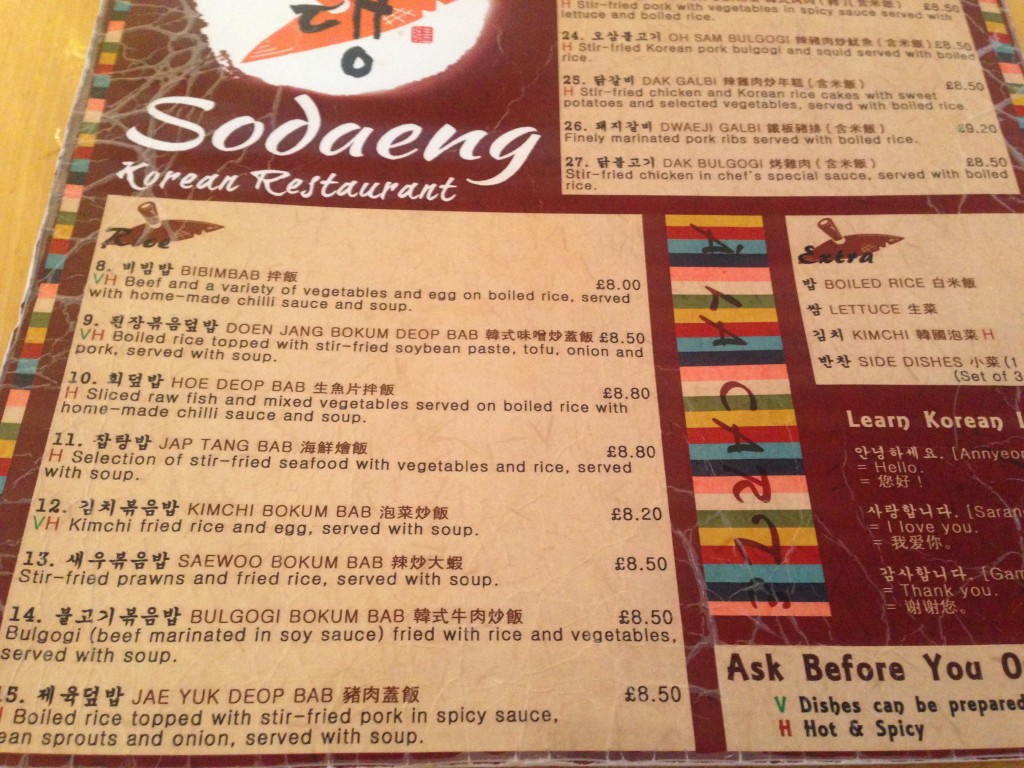 Here's another bit — and trust me, there's lots more.
It got me wondering, why is a small restaurant such as this offering a menu packed with close to 60 different kinds of dishes? (At Kim's and Cafe Andamiro, the menus are short and fairly bare bones while still making sure to offer the key Korean dishes most want.)
Sodaeng's here was about the size of menus you'll find at New York City's Koreatown restaurants, some of which have massive kitchens as well as dining rooms that span several floors.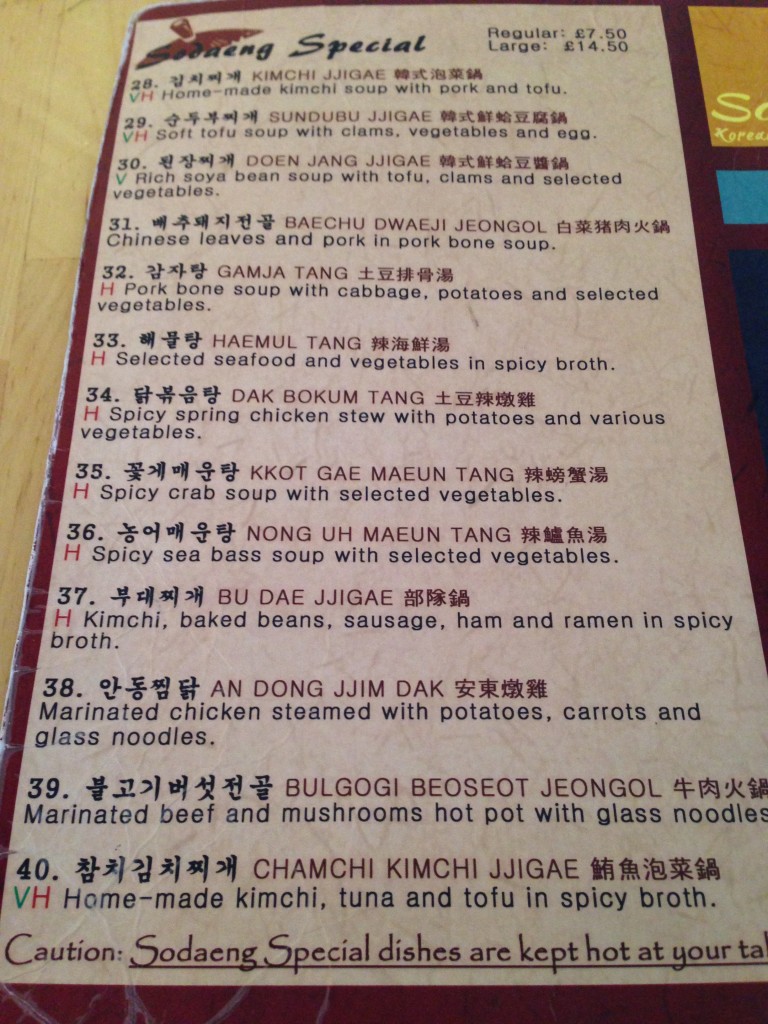 Regardless, I was seated — and hungry. So I decided to order.
First, the banchan (small side dishes) arrived: spicy pickled daikon, potato and bean sprouts, each sprinkled with white and black sesame seeds. This was a slightly boring and tasteless selection but, perfectly OK.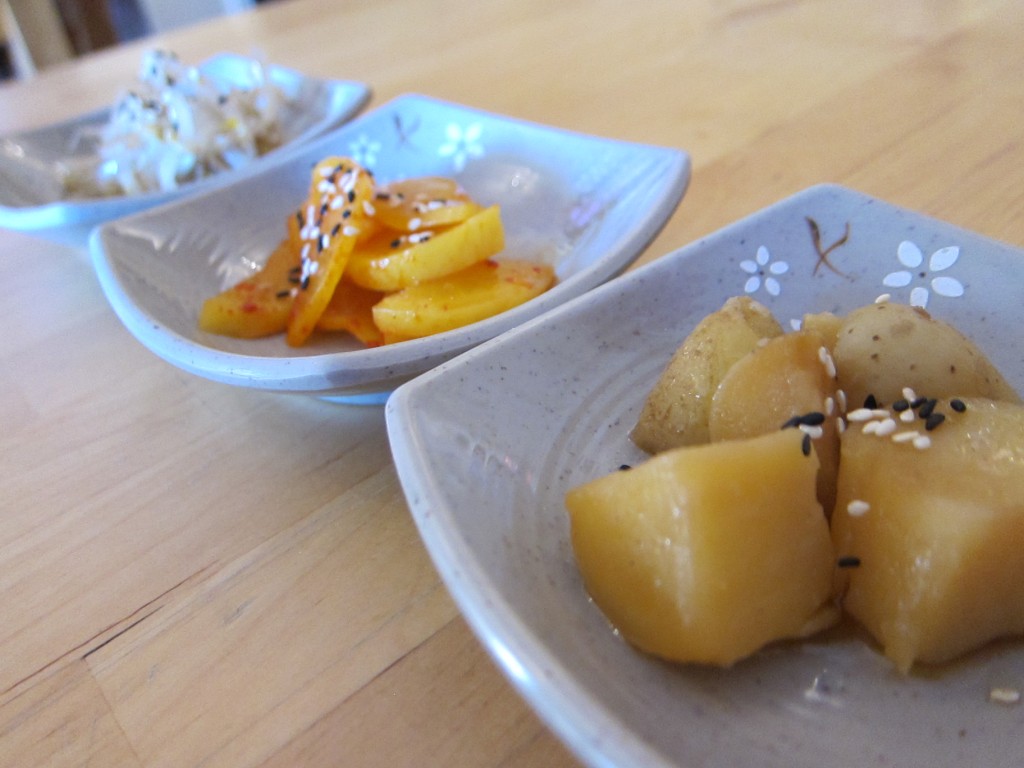 At three for £4, the fried mandoo struck me as rather pricey but I decided to see if they might be worth it.
They looked promising when they arrived and I tried to put my high mandoo expectations out of my head for a moment. (My ex mother-in-law, who is Korean, makes excellent mandoo — her recipe is in "A Tiger in the Kitchen," if you're curious — and I love making dumplings, so I do tend to have rather high standards.)
By any standards, though, these would not be good dumplings — the filling, in fact, had the distinctly stale taste of meat that had fairly recently been defrosted. I could bring myself to eat only one of the three.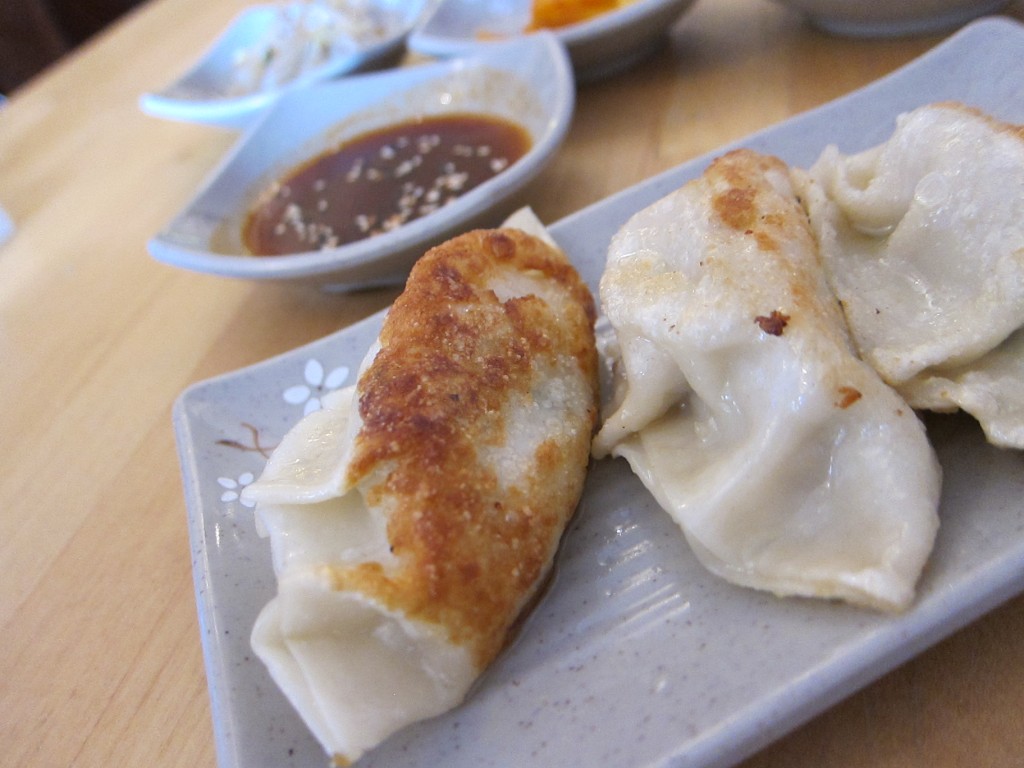 For my entree, I'd considered ordering what the student suggested but thought I should judge this restaurant on a more standard Korean dish perhaps, to be fair. So I ordered the yukgaejang (£8.80; pictured up top), a traditional spicy beef and vegetable soup.
Now, if you've been following my Edinburgh food adventures on this blog — or over at my Tiger Facebook page — you'll know how excited I was when Cafe Andamiro's yukgaejang landed on my table. Just look at this video and you can see the life and the spices in their version of this dish — it simply could not stop bubbling for many minutes after the waitress had set it down.
OK, now compare that video with the picture above. That film of grease you see on the soup? It coated my lips from my first sip. The beef was perfectly fine but the flavor of the overall dish was off — it was just a touch too sweet and lacking in some of the earthy flavors that make yukgaejang a terrific, heady melange.
As I made my way through this greasy, lifeless soup, hoping that it might turn for the better at some point, I noticed a slight hubbub. It turned out health inspectors had been doing a checkup the whole time I'd been there.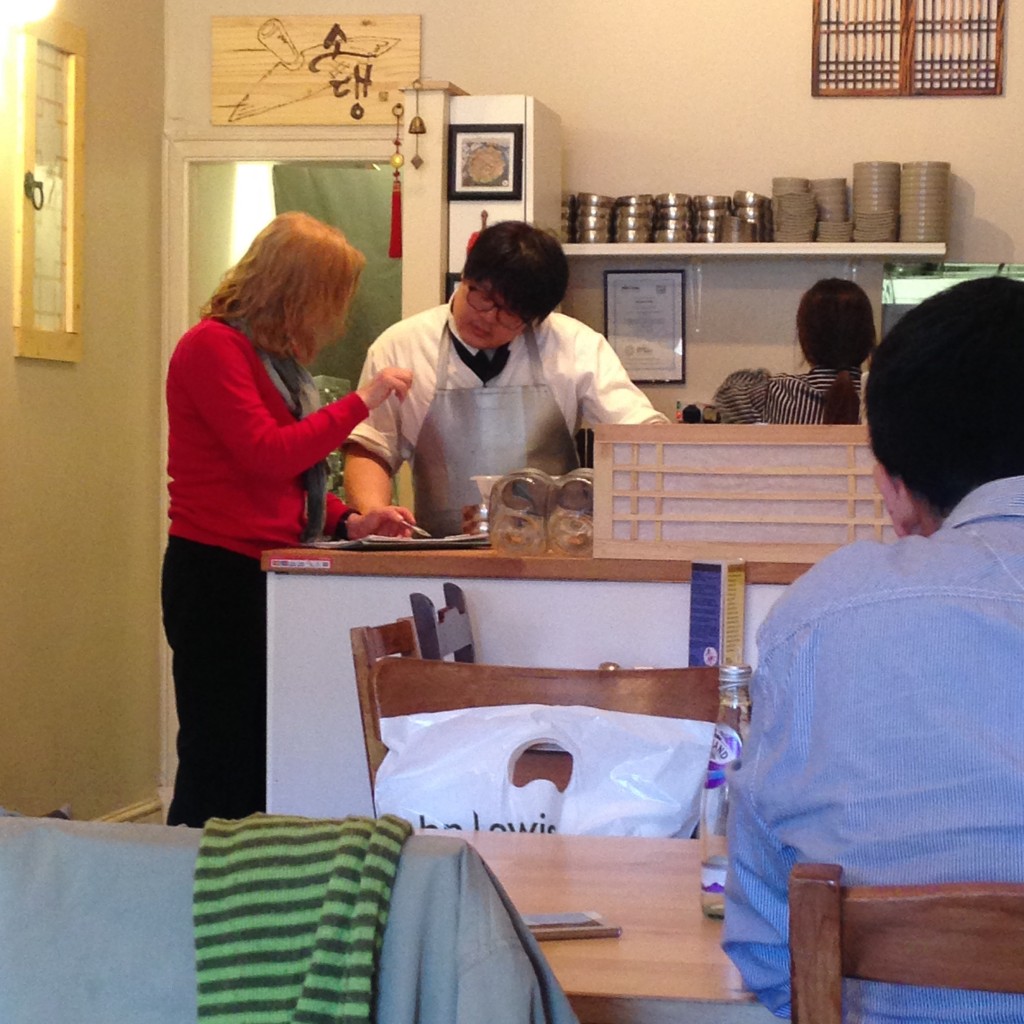 It made me wonder how this inspection might have affected the cooking of my meal and if I might have had a better meal there some other time. (Though I realized, if anything, my food had likely been cooked more carefully than it might have otherwise.)
Perhaps I'd been wrong to not try the dish a regular had recommended me. But at the end of the day, I'm inclined to think that if you can't nail the basics of the cuisine you're supposedly serving up, then there's just little point in sampling the rest.
Sodaeng, 94 Buccleuch St, Edinburgh, UK EH8 9NH; +44.0131.629.1190; https://www.facebook.com/sodaeng2014?ref=br_rs