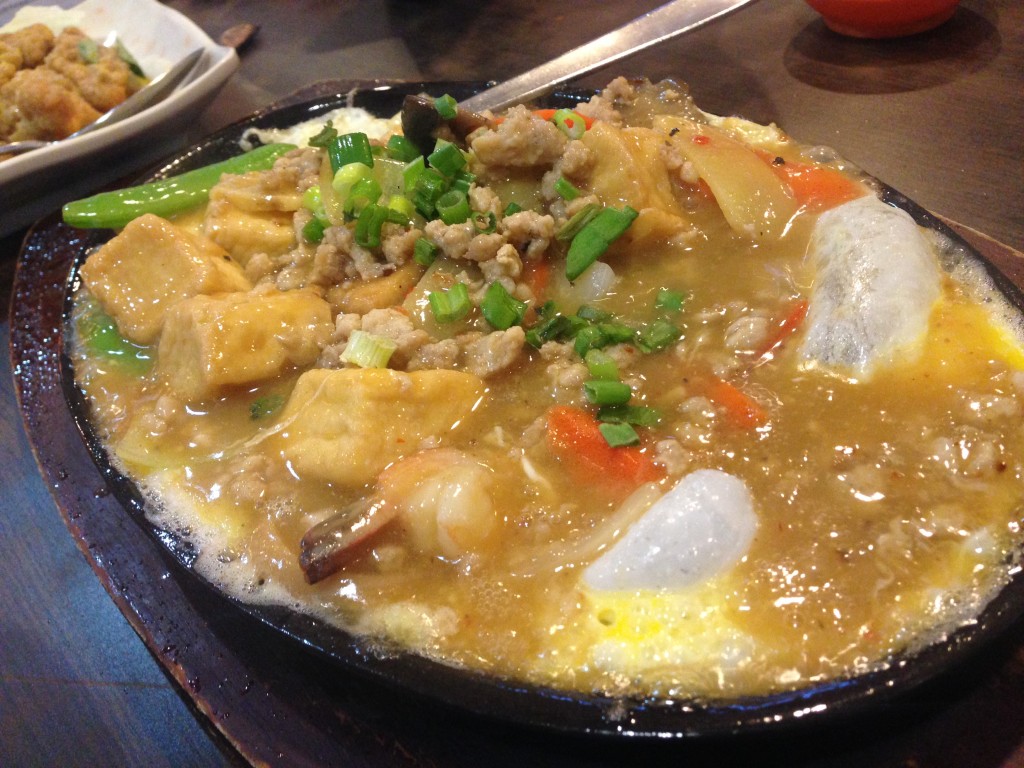 One of my Singapore cravings is a simple dish: Fried braised tofu with a big pile of minced pork on top.
You can find this in some hawker stalls — but you'll likely find the better versions at zi char restaurants, which are casual Chinese eateries that serve inexpensive homespun dishes. ("Zi char" means "stir-fry" in Hokkien.)
As much as I adore this tofu dish, I hadn't had a good version yet this trip back, so when my father mentioned liking a little zi char place his old schoolmates had taken him to recently, it was settled. Dinner at Sum Kee Food it was …
Now, this restaurant is located in a rather unusual setting — the Yeo Association building in southern Singapore. It's an imposing old clan association building dedicated to the Yeo families of the country. If you're not visiting the association or its temple, step around the corner and you'll find this welcoming entrance.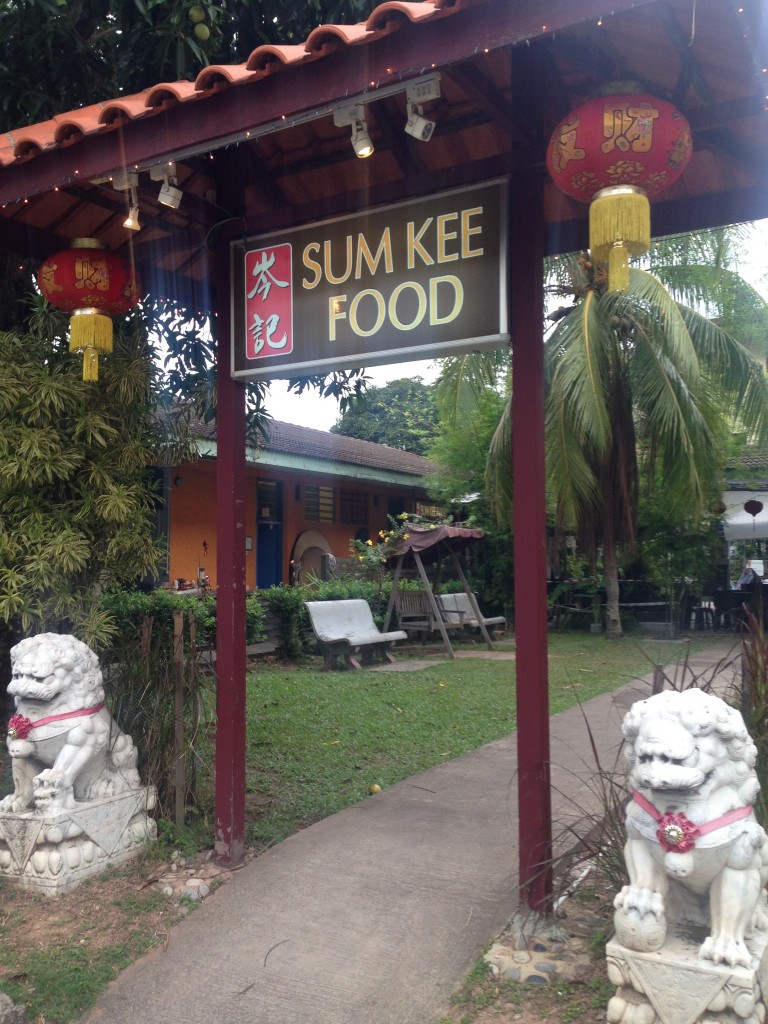 There's rather tranquil outdoor seating — where my father and his old schoolmates apparently got a little rowdy and started singing school songs from decades ago.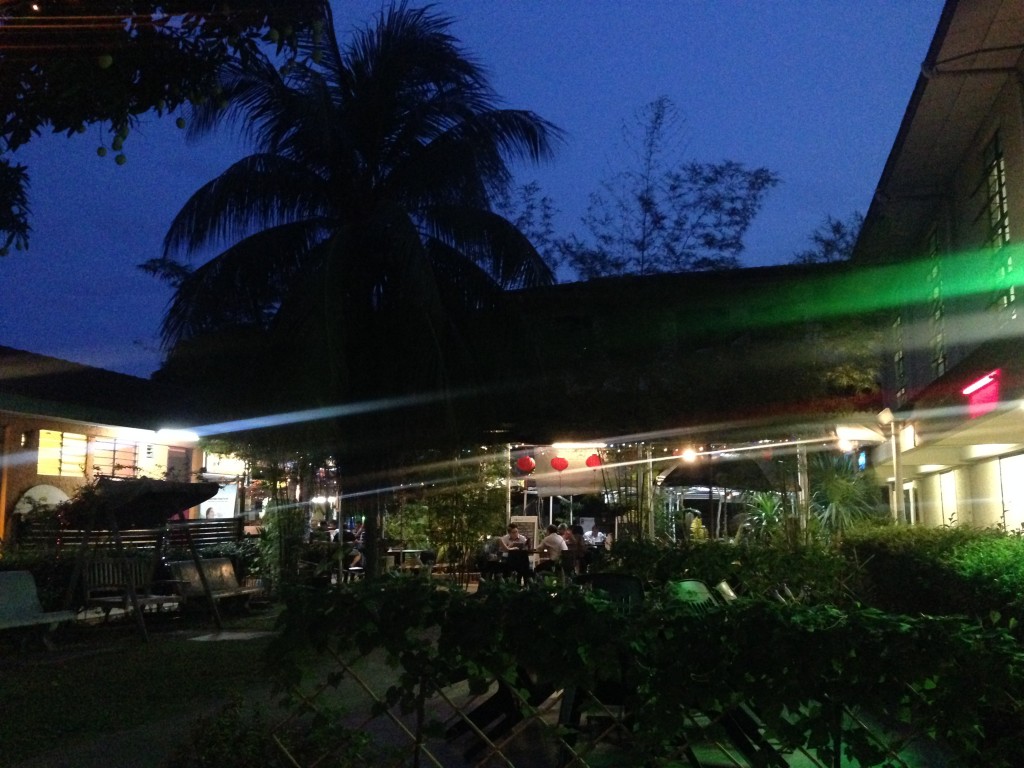 On your way into the air-conditioned main room, you'll see this sign. I wondered what complaints or squabbles might have inspired it.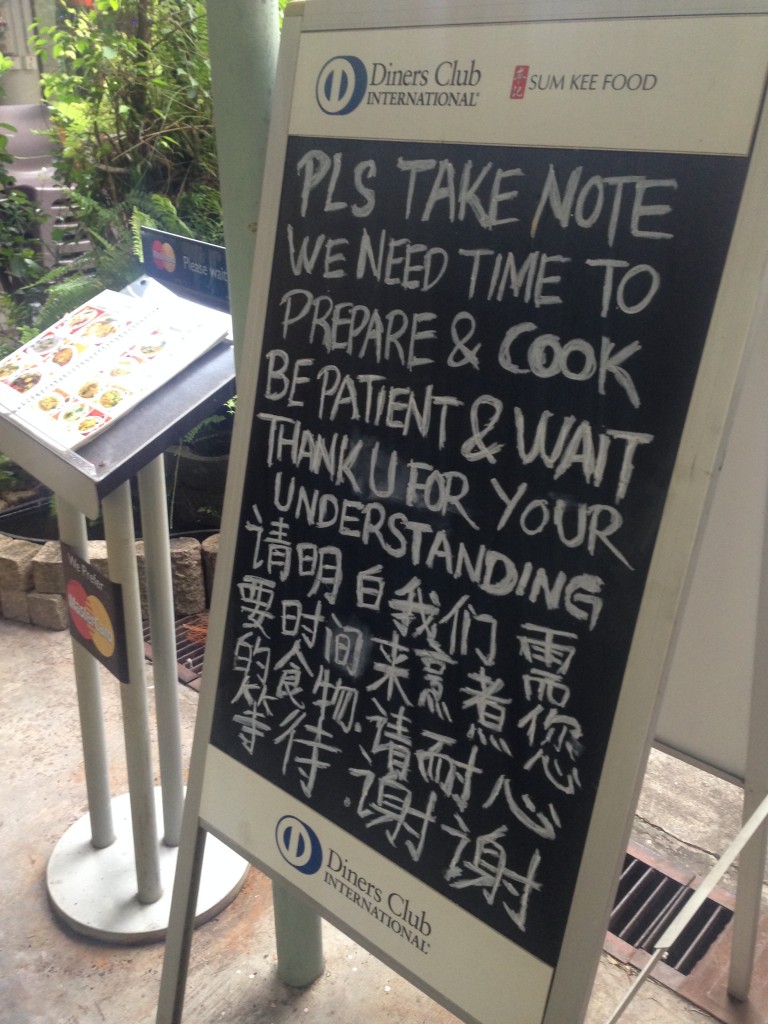 And here's the air-conditioned room — very important these days in sweltering Singapore. Be sure you make a reservation as the room really filled up right after 7 p.m.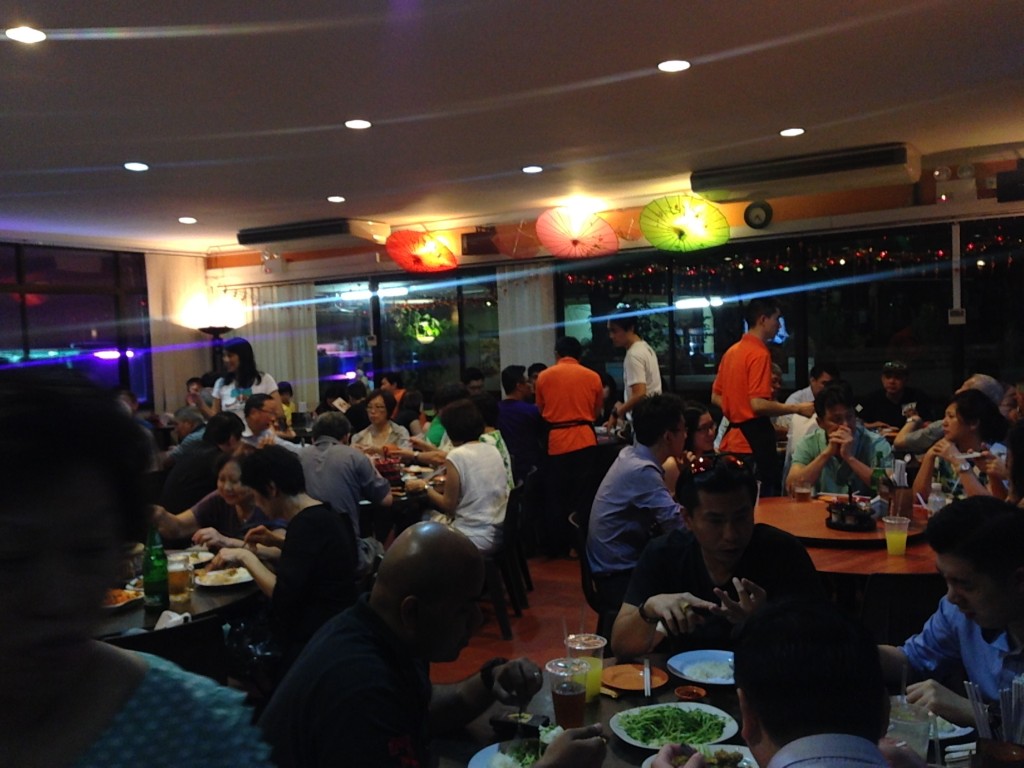 There's a visual menu as well as specials on the board.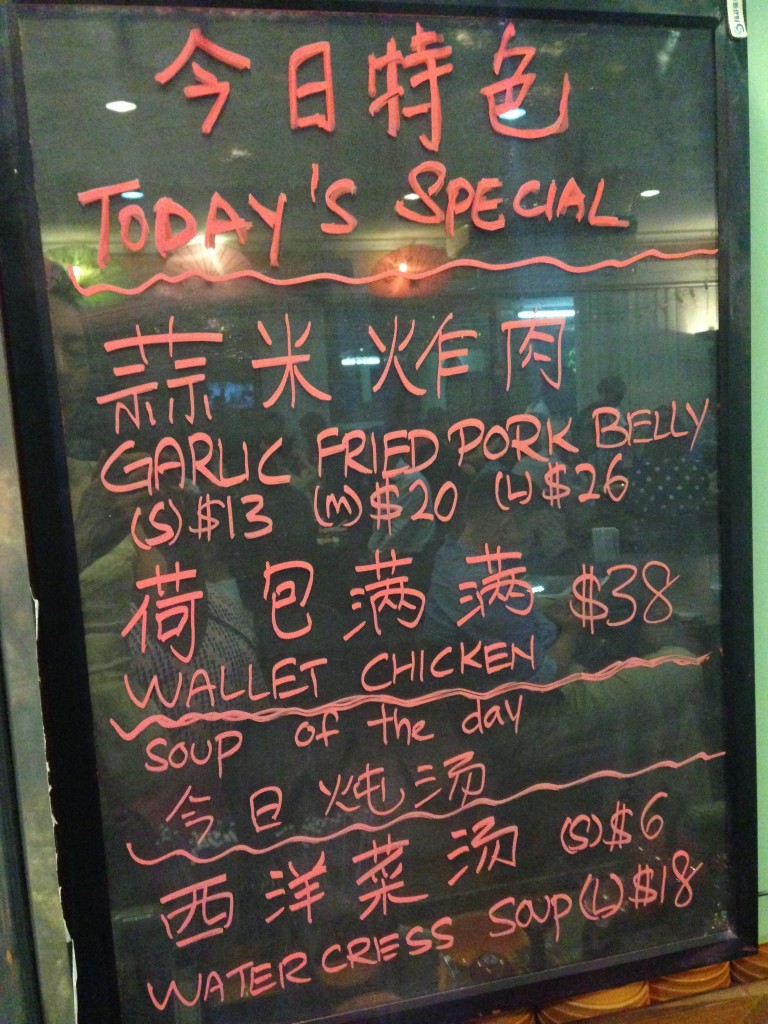 But we decided to consult with the waitress and order some of the specialties of the house. When my parents requested something spicy — eyeing the fish head curry on the table next door but deciding it was far too large for the three of us — the waitress suggested the kung fu pork ribs (Small: SGD $10; Medium SGD $15; Large SGD $20), pointing to a picture of fried pork ribs doused in a fiery orangey-red sauce.
And this is pretty much what we got. The boneless pork ribs were very nicely fried — crispy but not greasy — and the slightly sweet Thai-style chili sauce and julienned vegetables on top were a tasty accompaniment. My mother could not stop reaching over for more.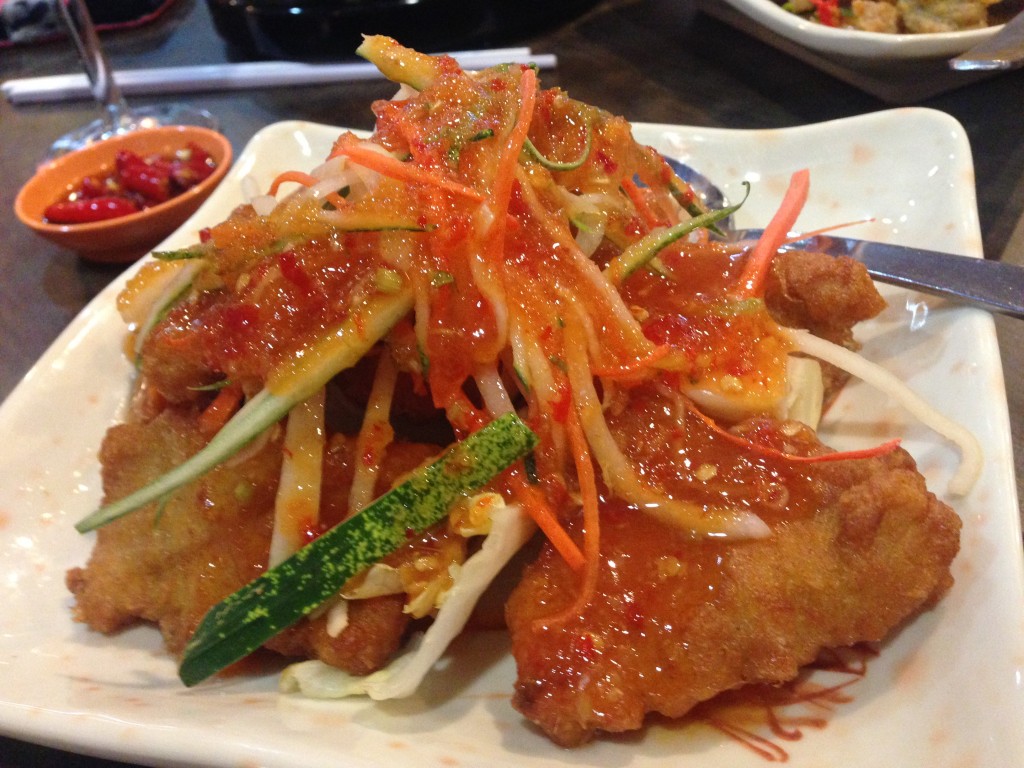 A noodle dish seemed in order and while the beef horfun (wide flat rice noodles) looked good in the photo, the Sum Lor horfun (Small: SGD$6; Medium: SGD$13; Large: SGD$25) was the specialty.
This turned out to be wide flat rice noodles braised in a fishy gravy and tossed with slices of fish and bean sprouts. I'm not the biggest fan of bean sprouts but this combination was nice — and the rather tender fish was nicely cooked.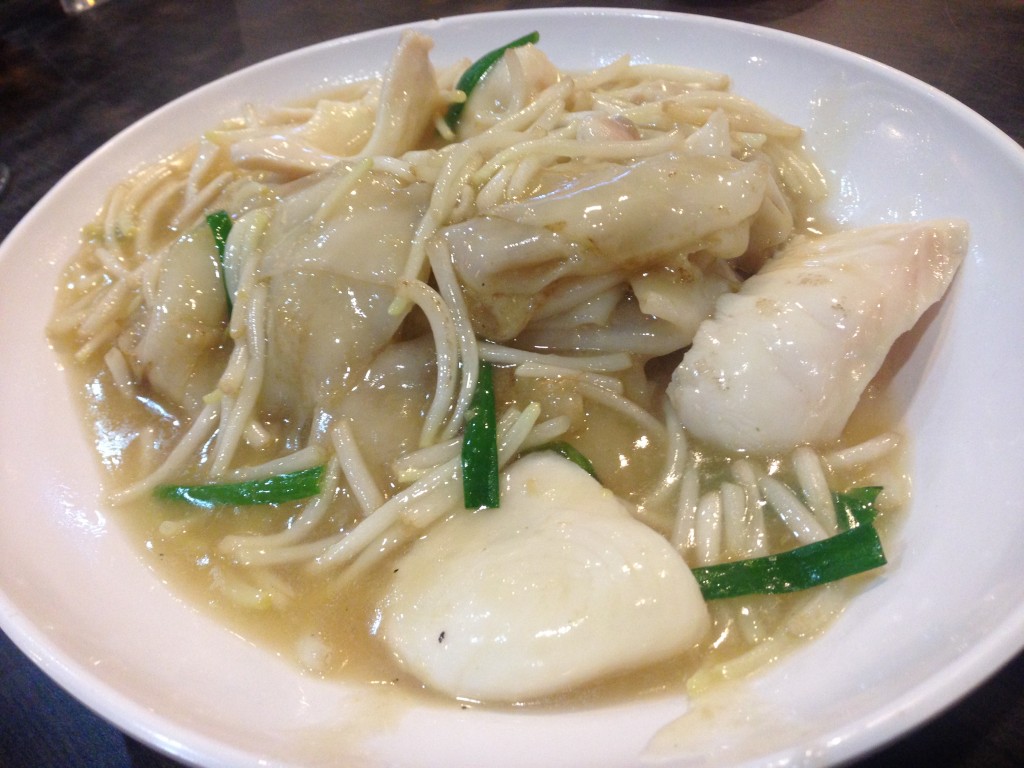 I'd read that there were two must-try chicken specialties — the "Chicken bikini skin" (deep-fried chicken skin) and the "Ultraman chicken," which is popcorn chicken coated with salted egg yolk and deep-fried.
As hungry as we were, it seemed just a bit much to order two deep-fried chicken dishes so the Ultraman it was. The small plate (SGD$12) came packed with little hot nuggets tossed with just a few fresh sliced chilis and it was delicious. The salted egg gave the chicken a crunchy, slightly crumbly crust, not unlike a cornmeal coating on an American-style fried chicken. But this being salted egg there was infinitely more flavor there.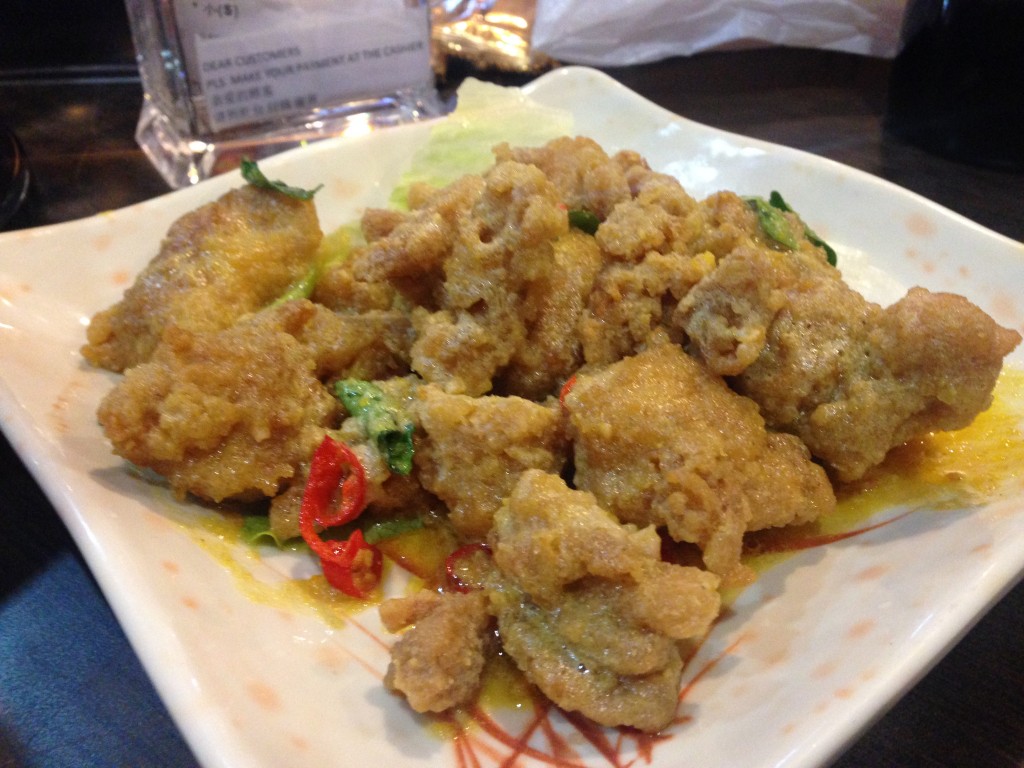 So, after all that, how was my tofu (Small: SGD$12; Medium SGD$18; Large: SGD$24)? Well, it arrived looking very promising — the gravy was positively bubbling and the tofu looked nicely fried and puffy. Also, in addition to the usual minced pork, there were bits of shrimp, Chinese mushrooms and sliced vegetables that added different textures and varied flavors to the dish.
It didn't quite gel for me, however — the gravy wasn't earthy or porky enough and as a result the whole dish didn't quite have enough oomph.
As we closed our meal with a table filled with mostly empty plates however, I realized this was a small imperfection. Everything else had very much hit the spot.
Sum Kee Food, No.2 Telok Blangah Street 31, Yeo's Building, Singapore; +65.6737.3233 / 6333 8556; http://www.sumkee.com.sg/