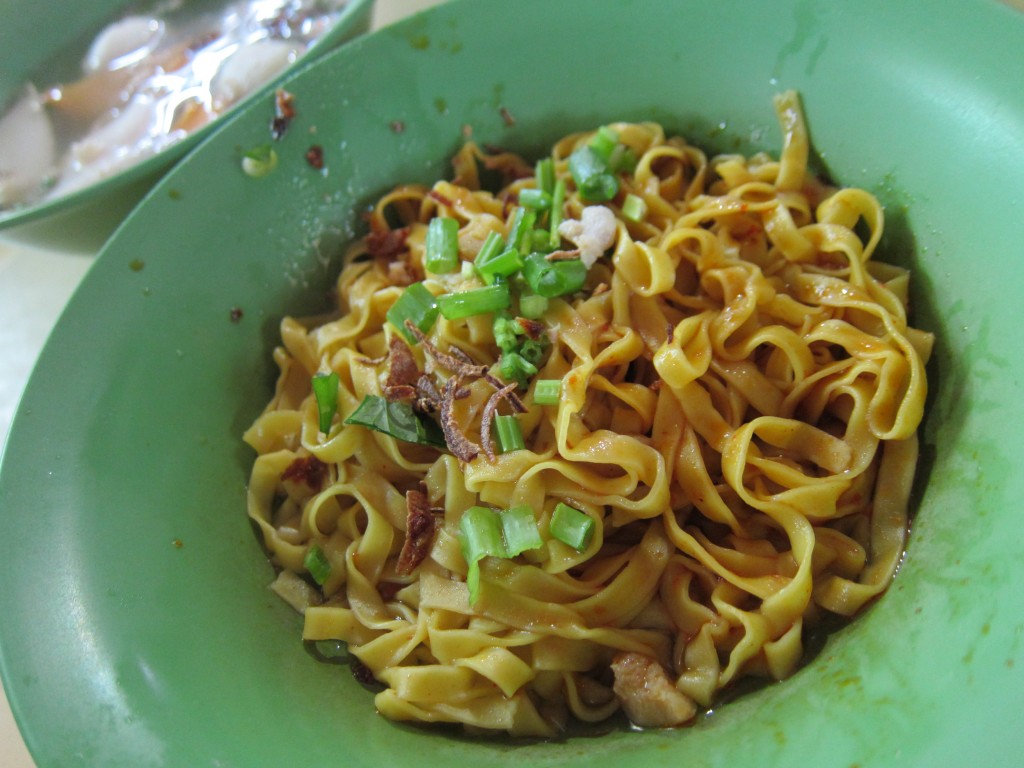 My mother and I sometimes have to do a little sneaking around when we go to our neighborhood wet market / hawker center in Singapore.
You see, if we're spotted sitting near or even just passing by a certain noodle stall, a sweet lady will pop her head out with a wave and chirpy "Ni hao ma?" Which always makes us feel so bad we'll drop all other breakfast plans to dutifully belly up to her counter and order a bowl of noodles.
It's not to say that we don't like her noodles — sometimes though, I may crave something else for breakfast. My sister, on the other hand, always craves the one dish this hawker makes — mee pok ta, a dry Teochew style dish of noodles with fishballs, fishcakes and minced meat — and has been a faithful fan for years. And that is why this mee pok lady stalks us.
Naturally, for my sister's first breakfast after landing in Singapore, she has meepok on her mind. So, off we went …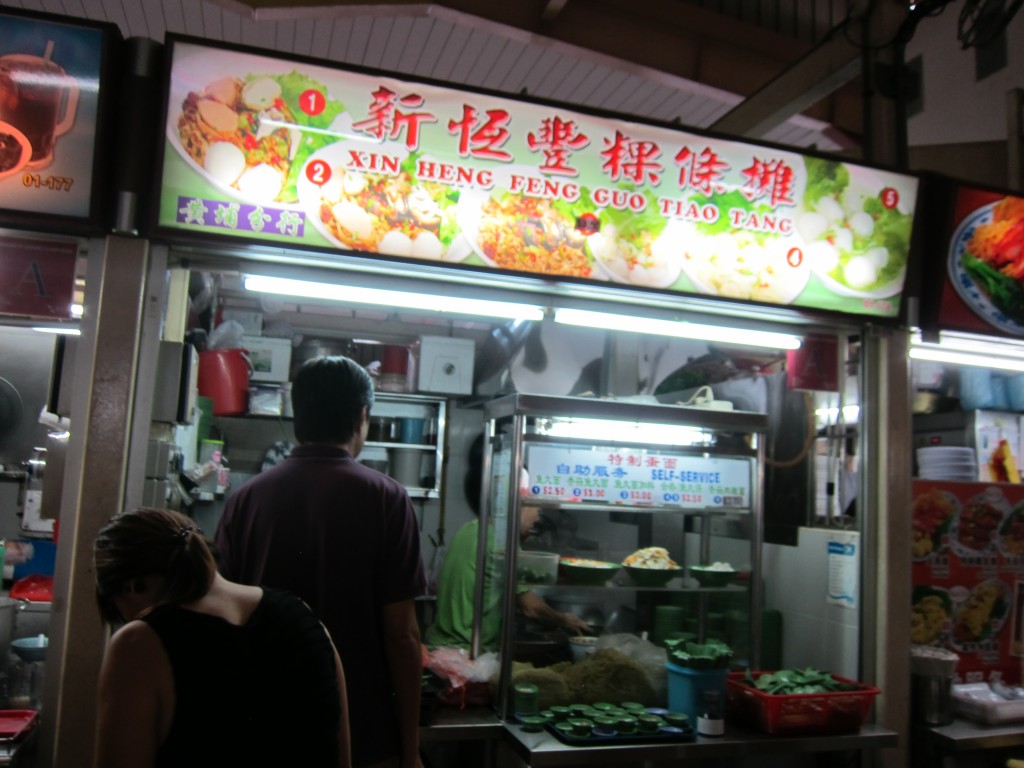 Like all other hawker stalls, the setup here is bare bones. They sell one thing: mee pok, though you can get various iterations of it. (Fish balls, fish cakes, minced pork etc.)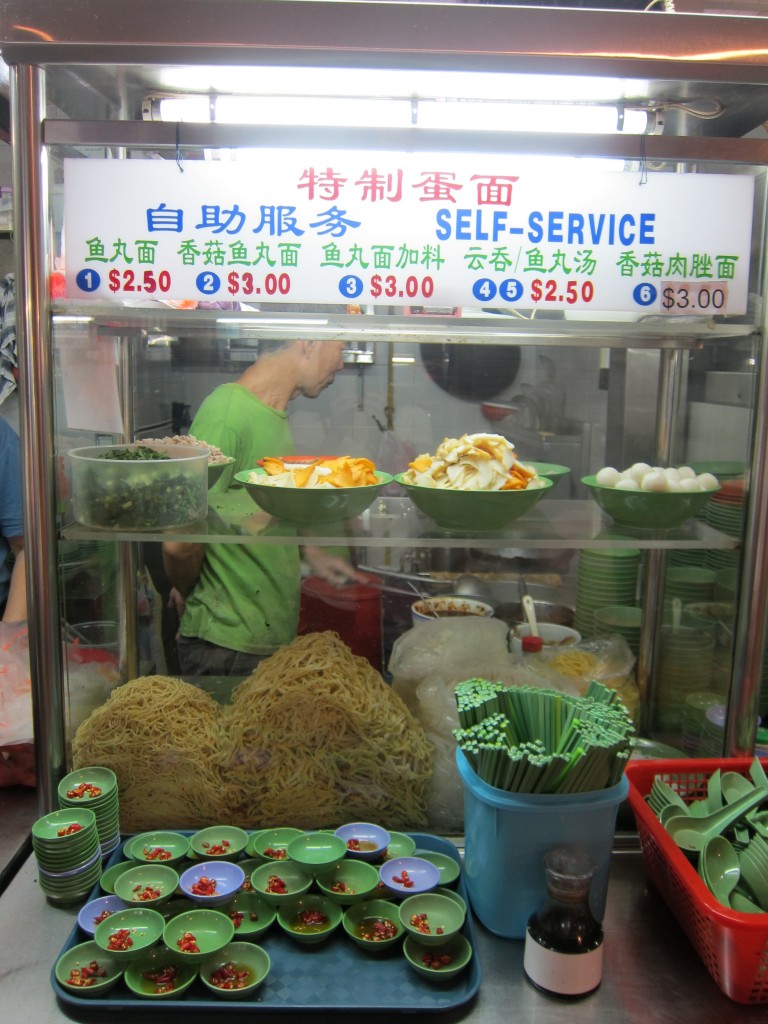 The ingredients are all laid out in this glass case so the cook can assemble bowls swiftly.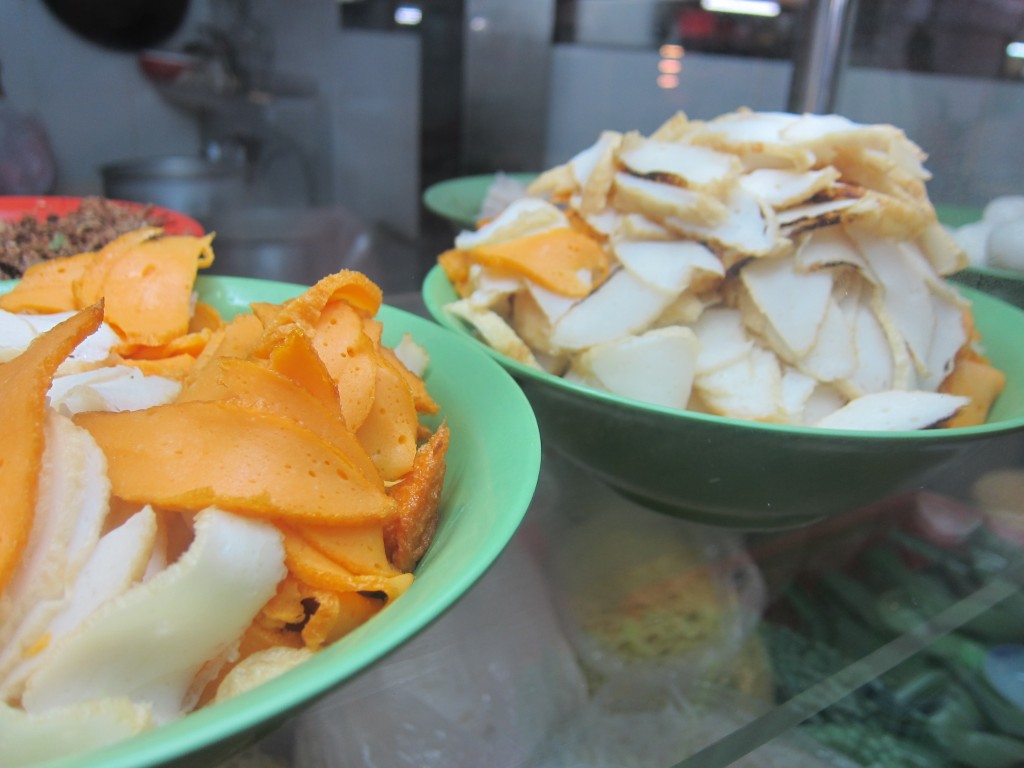 And fiery little chili padis have been sliced up and doused with dribbles of soy sauce, ready for you to just grab one or two after your noodles are ready.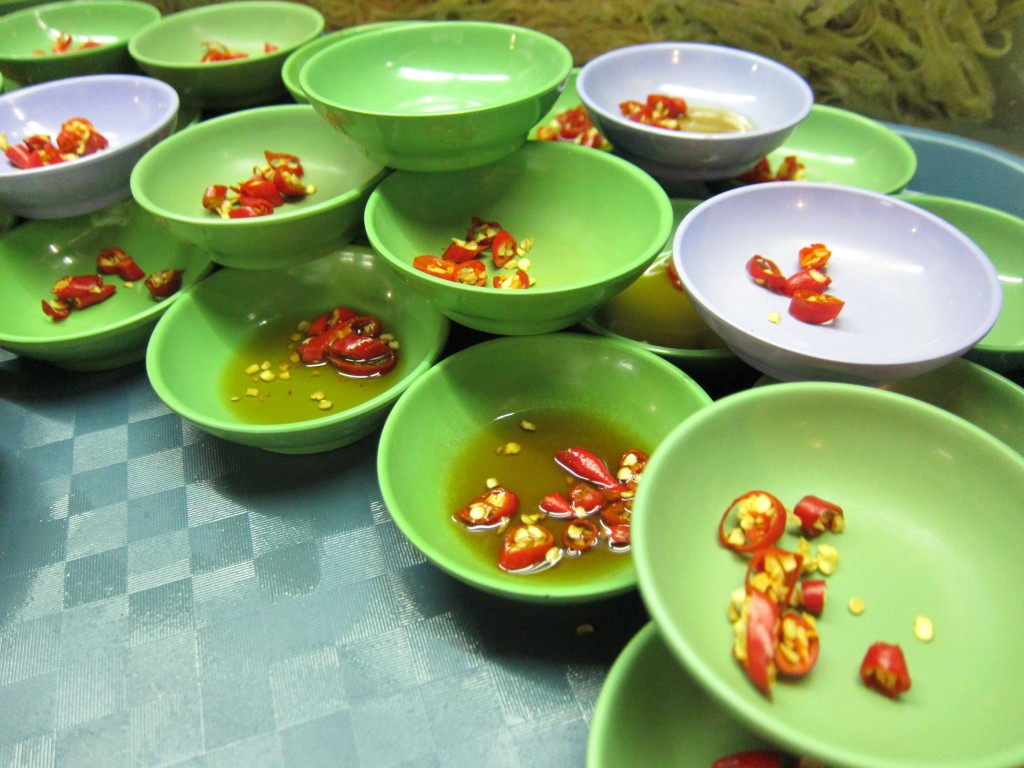 For SGD $3 (USD $2.25), you get a bowl of tagliatelle-like egg noodles with a spicy chili aioli (pictured up top), along with this bowl of soup packed with fish cakes, fish balls, minced pork and a few pork dumplings.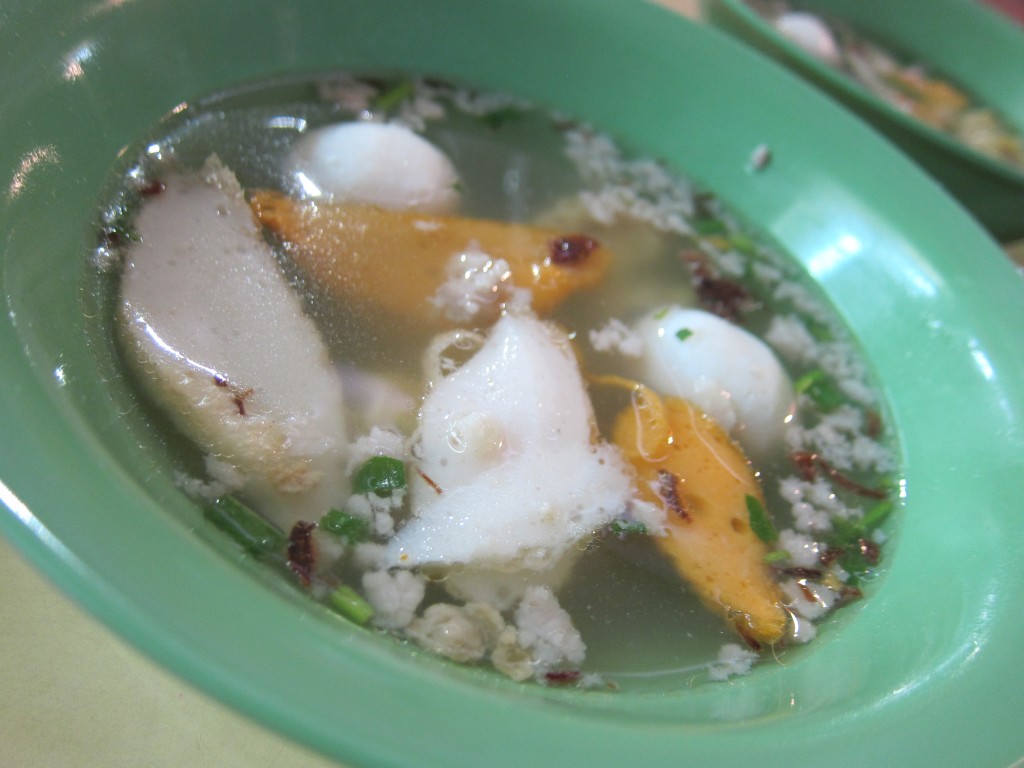 The noodles are nicely al dente but I feel the aioli doesn't have enough spiciness or kick to it. Also, there's not much in the way of deep-fried pork lard — which I love for the crunchy umami it adds to this dish. I came upon just one. The fish balls, fish cakes etc were perfectly fine — nothing to complain about.
When I confessed to being less than enthused about this bowl, citing my usual favorite as being superior, my mother and sister shushed me, however.
"It's too oily," my mother complains.
"You can't eat that every day — all that lard," my sister adds.
I disagree with my mother but I suppose there's some truth to my sister's words. So, alright. Touché.
If you ever find yourself in Bedok's New Upper Changi Road Hawker Centre and spy this lovely woman (on the left, shown with my happy and sated sister), don't speed up or hide. Stop, place an order, take a seat, eat. You won't regret it.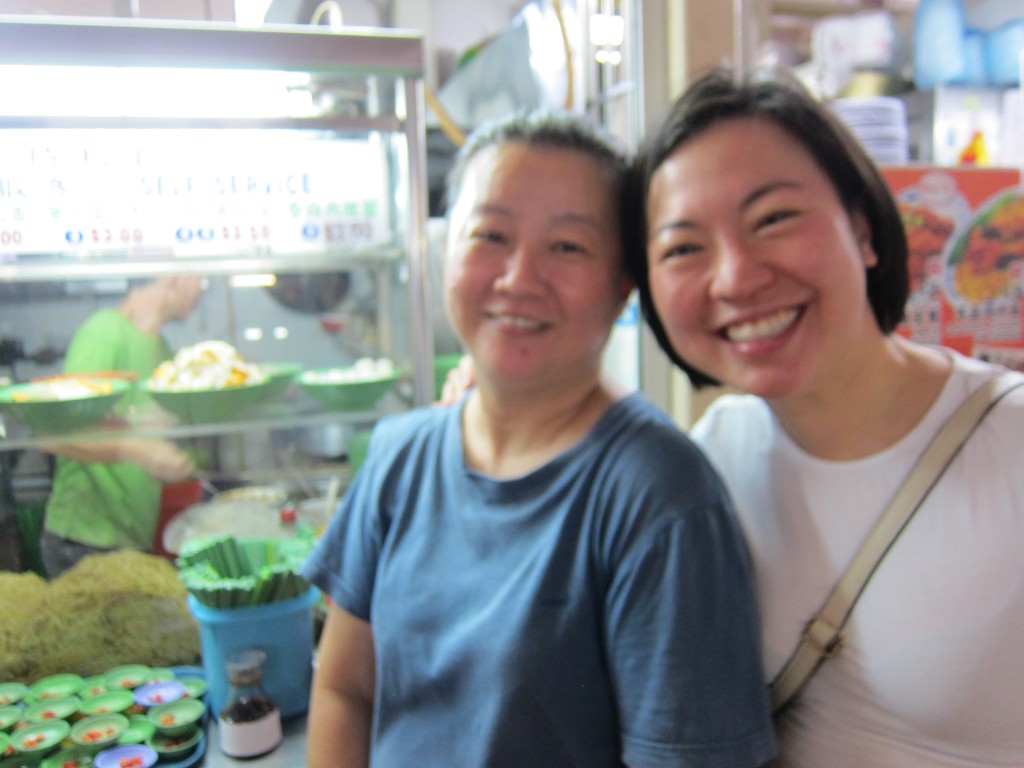 Xin Heng Feng Guo Tiao Tang, New Upper Changi Road Hawker Centre, 58 New Upper Changi Road #01-178, Singapore.