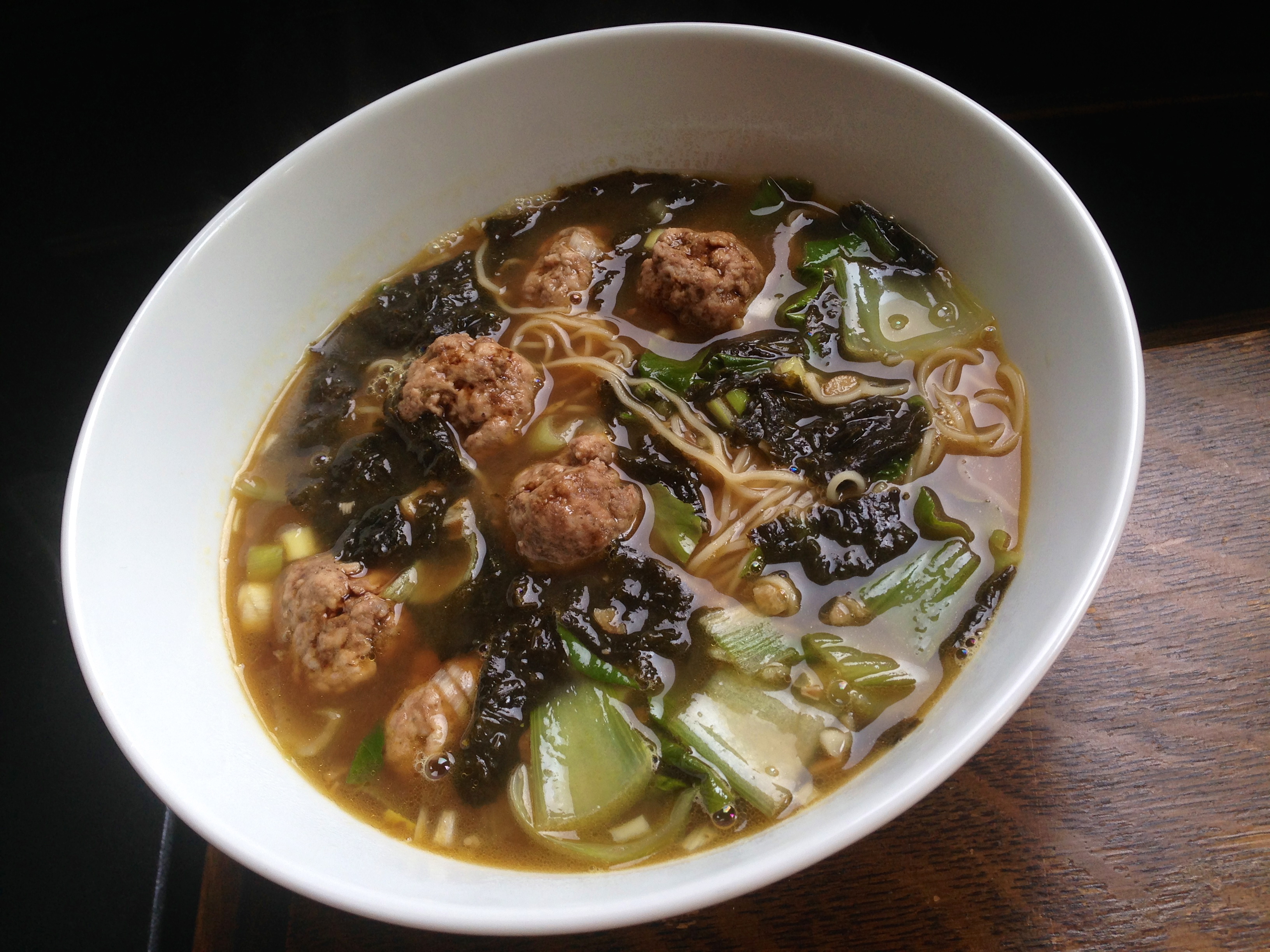 A few years ago, I vowed to log all my random kitchen creations on this site.
Well, I'm a little embarrassed to say that other than a delicious Singapore-inspired turmeric-sambal chicken stir-fry I concocted one early spring night two years ago, this endeavor has rather fallen by the wayside.
And then this week, I whipped up a quick lunch that had me reaching for pen and paper at first bite — a garlicky seaweed and bok choy soup noodle studded with super peppery pork balls.
From the first taste, I knew this was a keeper …
Now, this bowl of noodles all began when I stumbled upon a bottle of Korean Hyangshin sauce. Most of the words on the labeling are in Korean so I had no idea what to do with it, but a quick search showed that this is a soy sauce fortified with the natural essences of umami-filled ingredients like onion, ginger, garlic, apple, pears and more. It's used as a seasoning in soups and stir-fries. In fact, it's often used to add oomph to Korean seaweed soups.
I've been a little obsessed with seaweed recently — both as a snack (so much healthier than chocolate) and in soups. So out came the pot and the experiment began.
After stir-frying some onion with baby anchovies — whose flavor I love in any soup — I tossed in chicken broth and a bunch of ingredients, including seaweed and bok choy.
At this point, if you've used vegetarian broth and no anchovies, this could remain a vegetarian soup. But you know me, I'm a meat girl. So out came the minced pork, marinated and then tossed in as small balls.
How was it? The fact that I wrote down the recipe should be proof enough. Each sip, each bite, was a sheer delight — the combination of salty seaweed, earthy anchovy and pork and the slight brightness of the fresh bok choy bits was terrific by the mouth.
And if it's true that these flavors are going to mingle more and intensify overnight, well, I just can't wait for lunch tomorrow. Buon appetito!
~~~
Seaweed-Bok Choy Noodle Soup With Peppery Pork Balls
Makes at least two to three servings
Ingredients:
1/2 lb ground pork
White pepper
Dark soy sauce (preferably Tiger brand)
Soy sauce
Sesame oil
Ground Sichuan pepper (optional)
Fish sauce
Chinese noodles (any variety you prefer)
1 quart vegetable or chicken broth
Corn or vegetable oil
Four garlic cloves, minced
Three baby bok choys, coarsely chopped into large chunks
About 15 grams or more of dried seaweed (roasted seaweed works too but it adds much more salt)
Dried baby anchovies (optional)
1 TB Hyangshin sauce
1 to 2 scallions, coarsely chopped
Water
Salt to taste
Directions:
Marinate minced pork with generous dashes of white pepper and Sichuan pepper, if using, and several big splashes of soy sauce and dark soy sauce, a dash of sesame oil and fish sauce. Gently knead mixture together and set it aside.
Heat about a generous dash of sesame oil and a splash of vegetable or corn oil in a large pot (enough to fry the minced garlic in). When that's sizzling, toss in the garlic and stir fry until fragrant (about a minute) then add dried baby anchovies, if using. Stir-fry to mix that up for less than a minute — or until fragrant. (Note: If not using baby anchovies you can add dashi granules later on if you have it on hand.)
Carefully add broth in, stirring well. Once that comes to a boil, add in the bok choy and coarsely ripped seaweed. Mix well and let that come to a boil, then add Hyangshin sauce.
While this is boiling, bring a smaller pot of water to boil and cook the noodles in them, drain and set aside in a bowl.
Form small meatballs — about 3/4 of an inch — out of the pork and gently add that to the broth, mixing well. When that comes to a boil, taste the broth — if you'd like it more diluted, add water by the half cupful until you've reached your desired flavor. If you want more flavor, add small splashes of soy sauce. Finally, add a tablespoon of sesame oil to the broth and toss in the scallions, mix well then ladle the soup over your noodles. Serve immediately.