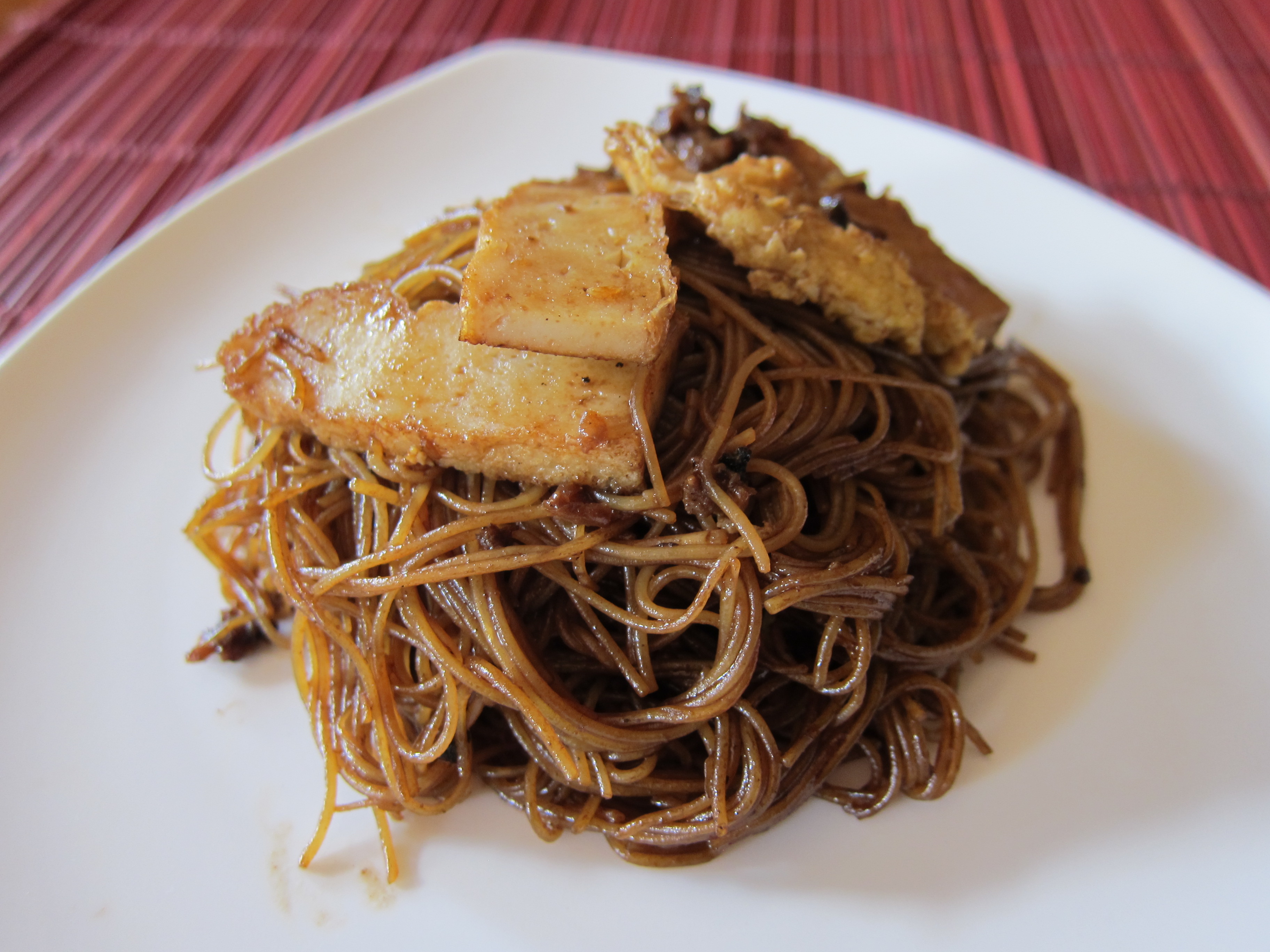 Choosing a favorite summer memory from my girlhood in Singapore can be difficult — since the country is right by the equator, it's summer all year round.
Yes, that means all my childhood memories are summer ones.
But when Karen over at GeoFooding asked me to choose a favorite childhood food memory to write about for this month's Let's Lunch virtual lunchdate (which happens to be on Julia Childs' birthday — happy birthday, Julia!), one dish instantly came to mind.
In fact the thought of it was so intense I almost felt I could taste it right there and then — my mother's char bee hoon …
My mother is the first to tell anyone that she's not a good cook — it's never been something she's focused on. Her generation, after all, was the one that was far more intent on shattering glass ceilings in 1970s Singapore than perfecting their stir-fries.
It isn't true that she's not a good cook, of course — and among my friends, she was particularly known for a few dishes.
I had the great fortune of growing up in an apartment complex with a pool as a child — this meant that my friends often came over for afternoon swims on sweltering tropical days.
Here's me at age 14 with my two besties, Regina on the left and Jeanette on the right. We're still best of friends all these years later. (I won't go into how many years exactly.)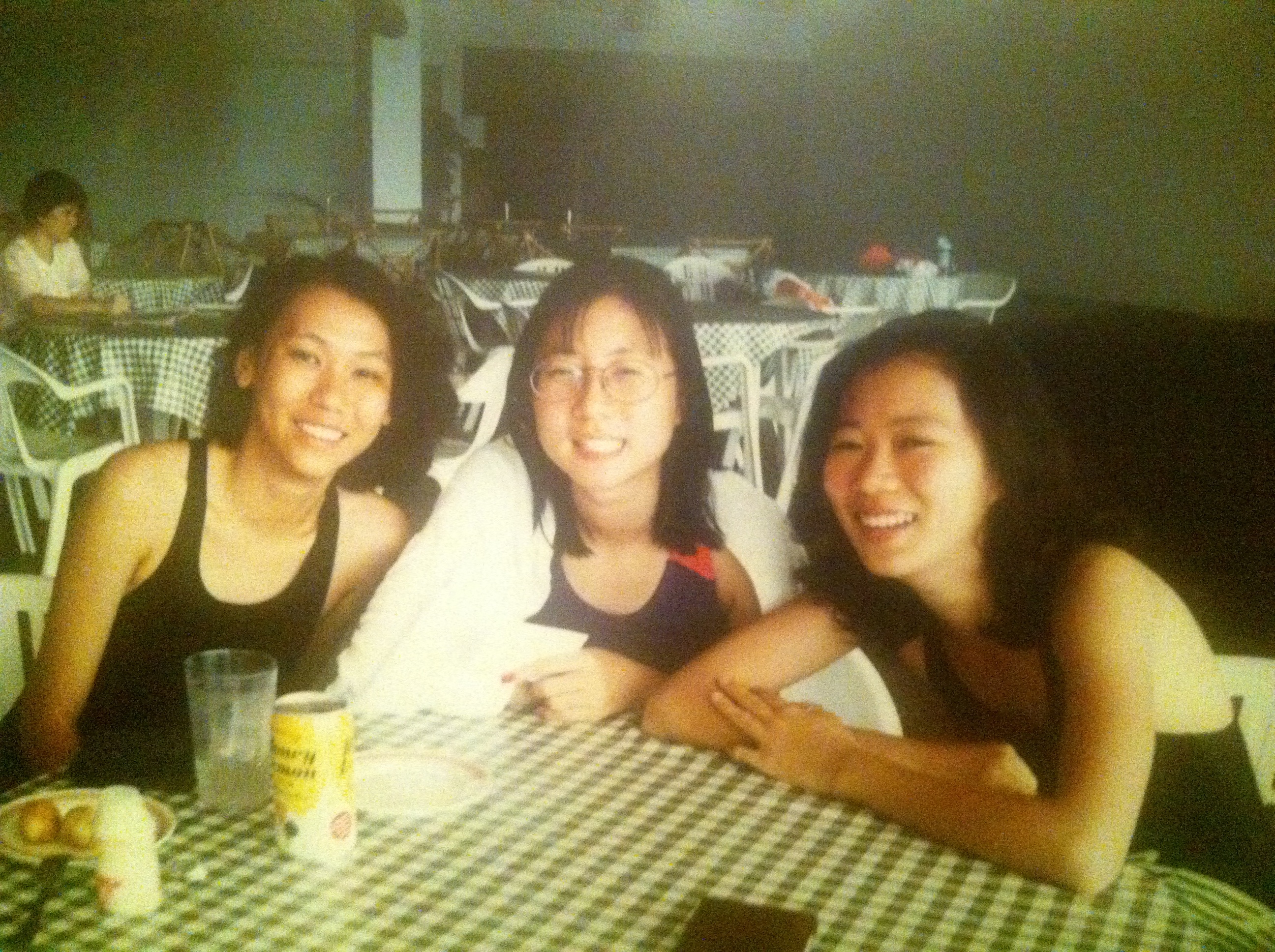 Whenever my BFFs came over, my mother would always set out a few things: green bean soup, which is supposed to have "cooling" qualities to help regulate your body temperature when it's particularly hot; her out-of-this-world slightly garlicky and peppery crispy fried chicken wings, which I blame for my lifelong obsession with fried chicken; and char bee hoon.
Now, char bee hoon is a classic homespun dish in Singapore — it's rice vermicelli wok-fried with vegetables, some seafood and/or meat and some Asian sauces. Each family has its own version — some toss in slices of waxy Chinese sausage or scrambled eggs, others may go more vegetable heavy with carrots, julienned cabbage and bean sprouts.
My mother's was always very simple — sliced fish cakes, some lightly marinated pork slices and not too much in the way of vegetables. (She relented on her green endeavors with me after I kept spending more time picking out all the vegetables in my noodles than actually eating them.)
In fact, her bee hoon (which means vermicelli; "char" means fried) is so basic that her instructions for making them were just this:
"Must soak beehoon in water before frying. Then you fry the rest of the ingredients like veg, prawns or any meat. Add oyster sauce, pepper and water, then add the beehoon. But if you prefer the dry type then just add a little water and mix all together!"
When she texted this over, I thought, well, maybe let's see if I can jazz things up a bit. So I stir-fried some ground beef I had in the fridge with garlic, spicy dark soy sauce, white pepper, salty preserved radishes and a big splash of Shaoxing wine …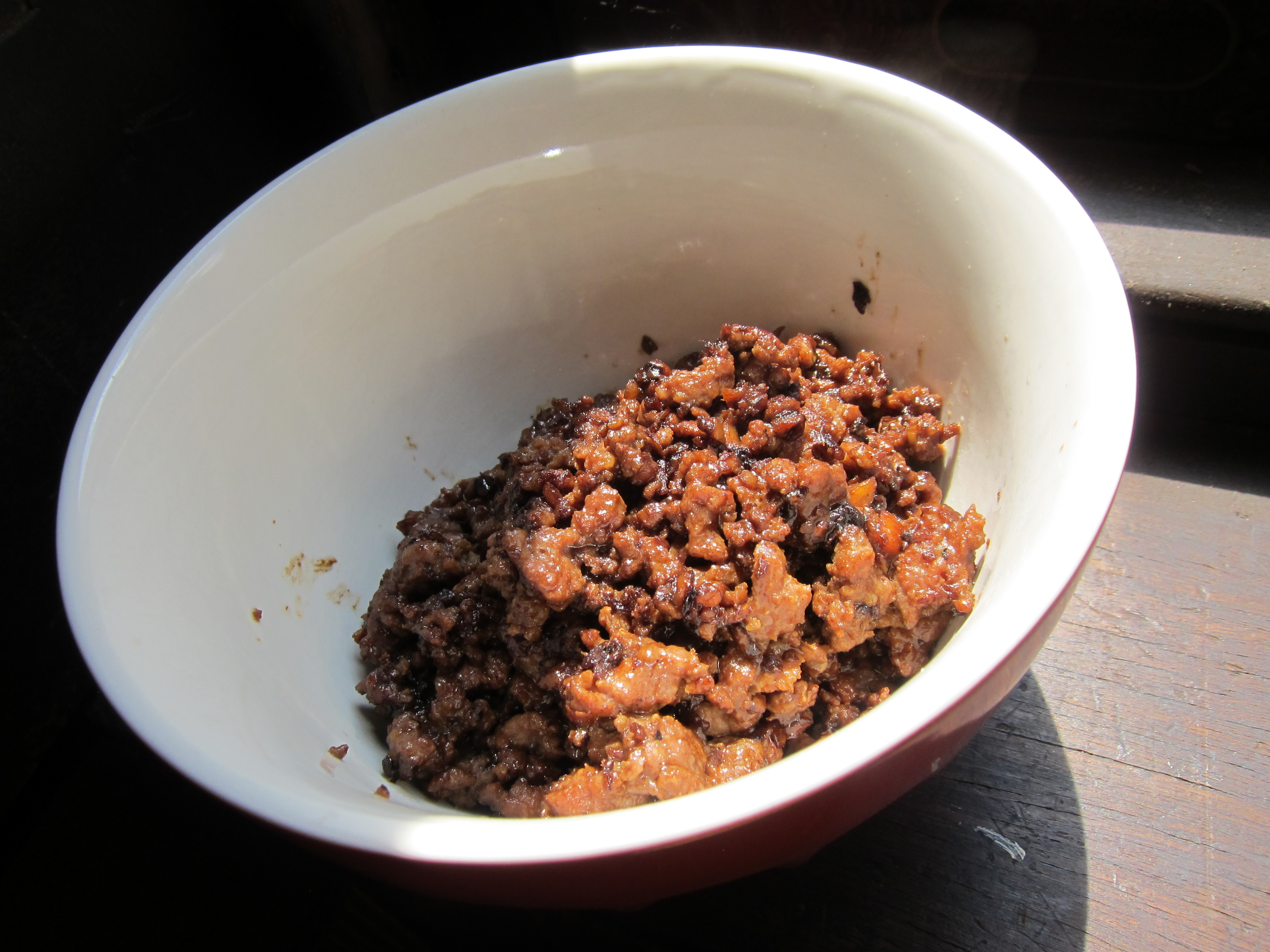 … then I turned up the wok heat and quickly fried some eggs beaten with a smidgen of sesame oil and soy sauce …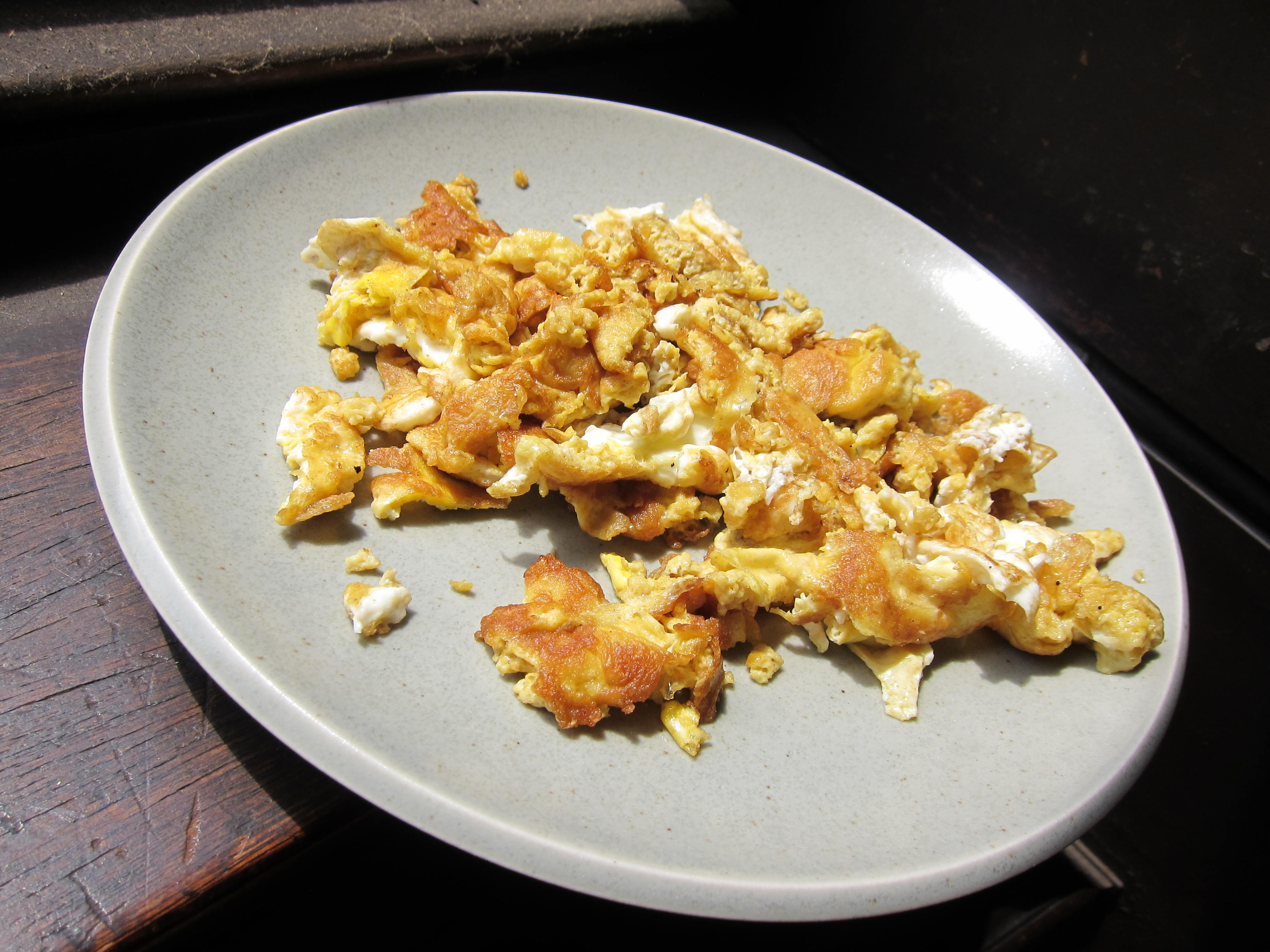 … and for the sauce, after consulting a few Singaporean web sites featuring various family recipes, I concocted a gravy that included oyster sauce, dark soy sauce, sesame oil, fish sauce and light soy sauce, pouring that into the hot wok, over the noodles with eggs, beef and slivers of fried fish cake (my nod to mum).
How was it? Tasty. But — not to my taste.
The brilliant thing about my mother's noodles is how plain it is — just a few flavors; each one subtle, all working harmoniously together. It never needs it, but the addition of fiery little Southeast Asian chili padi always spices things up.
Well, there you have it — that adage is true: Mother knows best.
So cheers to her — and also to that generation of food lovers before us, including Winfried Schlosser, the dear father-in-law of my Let's Lunch buddy Karen. Until his recent passing, Winfried was a big fan of Karen's food adventures and an avid follower of Let's Lunch.
This plate of noodles is for you … buon appetito!
~~~
Don't forget to check out other Let's Lunchers' dishes inspired by favorite childhood summer memories below! And if you'd like to join Let's Lunch, go to Twitter and post a message with the hashtag #Letslunch — or, post a comment below.
Betty Ann's Suam Na Mais (Corn Soup with Shrimp and Spinach) at Asian in America
Eleanor's Mom's Malaysian Char Kuey Teow at Wok Star
Grace's Mung Bean Popsicles at HapaMama
Karen's Watermelon Salt Water Taffy at GeoFooding
Linda's Auntie Number One's Fresh Peach Ice-Cream at Spicebox Travels
Lisa's Aunty Myrna's Cabbage Rolls at Monday Morning Cooking Club
Vivian's Ham & Egg Salad Sandwich at Vivian Pei
~~~
Mum's Char Bee Hoon (True Singapore Noodles)
Ingredients:
Rice vermicelli, soaked in water for 30 minutes, then drained
Corn or vegetable oil for frying
Vegetables (bean sprouts, carrots etc.), if desired
Prawns, shelled, if desired
Meat, such as Chinese sausage, roast pork or sliced pork, if desired
Fried fish cakes, sliced, if desired
Oyster sauce
White pepper
Water (to be poured in when frying)
Directions:
Soak vermicelli in water before frying. Then fry the rest of the ingredients such as vegetable, prawns or any meat. Add oyster sauce, pepper and water, then add the drained vermicelli. But if you prefer a dry version then just add a little water and mix it all together. Serve immediately with sliced bird's eye chilis on the side.