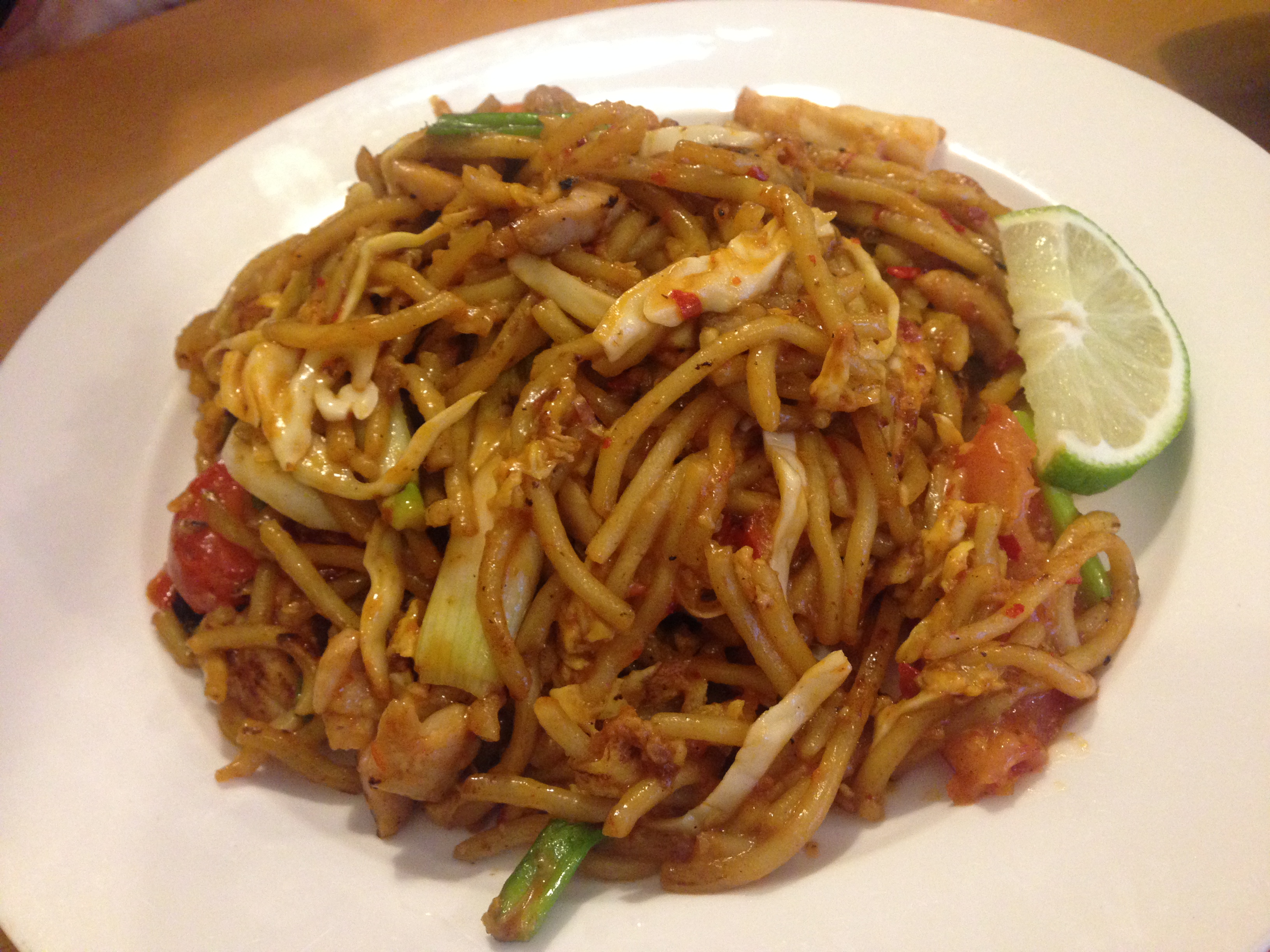 Dorset Boy is a little particular about food, which I realize could be a problem.
As you may have guessed from this blog (and Tiger), I am a total food trollop. I will eat anything at least once — I constantly crave variety, the different, the new.
Potato – potahto, though. Plus, there seems to be some degree of curiosity about my food quirks. So when I learn that there is a Malaysian restaurant in Edinburgh — one that actually comes well-endorsed by the one Malaysian-Scot I've met in the city — he knows we have to go.
So one night, the ever-patient man allows me to drag him to Kampong Ah Lee …
I'd passed this little restaurant many times on the way in and out of the city — and from the first time I saw its name, I was curious.
"Kampong" is one of my favorite Malay words — it means "village." And "Ah Lee" is about as downhome of a name as you can find in Southeast Asia. Put all that together and I thought this place must not be terrible. In fact, the place — and its sister restaurant, the larger Kampong Ali — is actually run by a chef named Mr. Lee who's from Negeri Sembilan, Malaysia.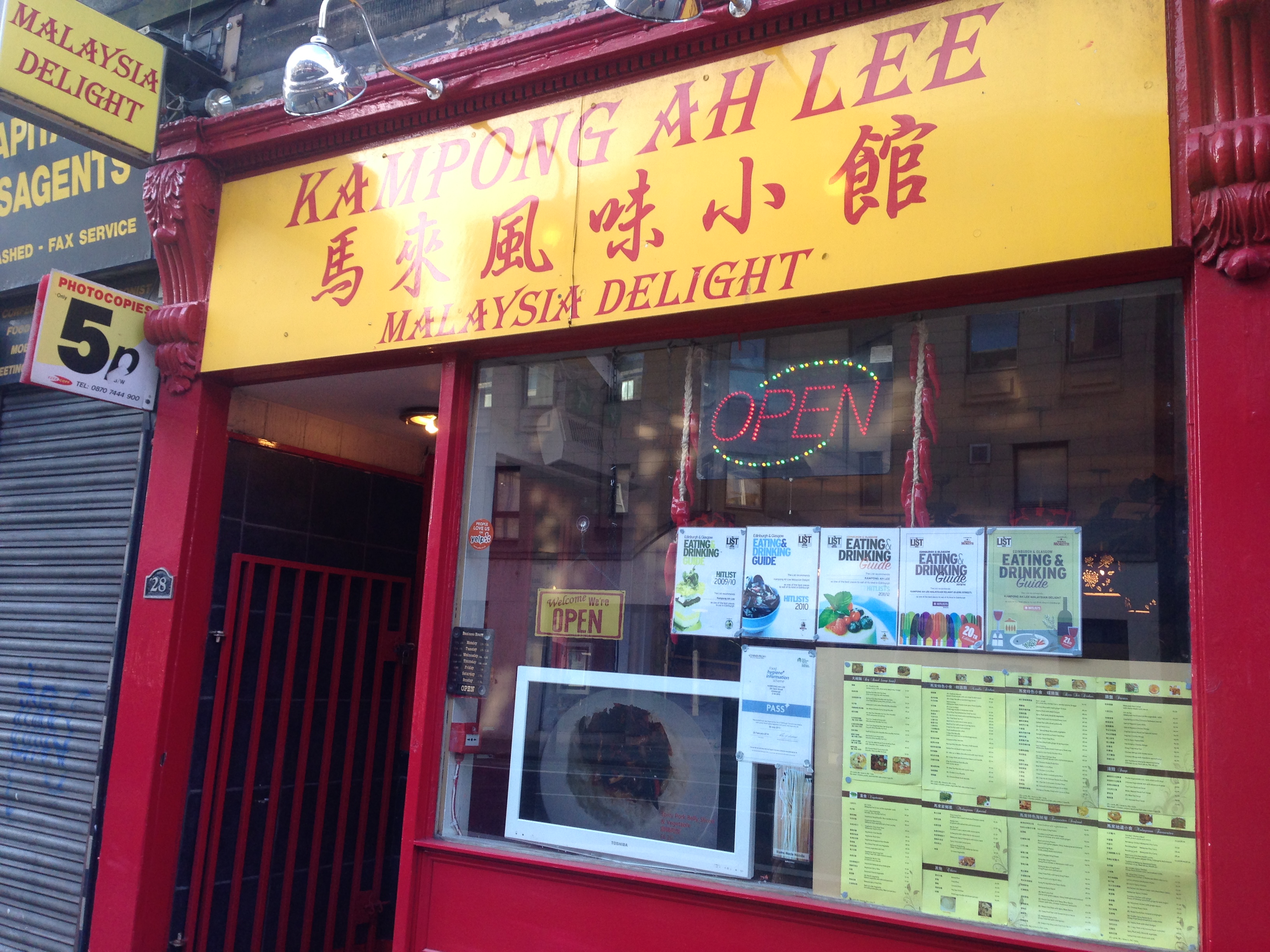 The place is pretty bare bones — a slender space packed with small tables. I found it a good sign that the waitstaff wasn't friendly. (If the staff is too friendly at inexpensive Asian restaurants, I often worry about the quality of the food. Good service is not the hallmark of many terrific and authentic Asian eateries.)
The menu was fairly extensive — besides Malaysian standards like £3.50 roti canai (crispy flat bread with curry) and £7 nasi lemak (coconut rice with chicken curry, peanuts with sambal and egg), I was surprised to find old favorites that you're more likely to see in Chinese Southeast Asian home kitchens than in restaurants, such as pickled vegetable and pork soup (£3).
I wanted to sample everything, but there were only two mouths at our table. So I brushed aside my desire for Singapore-style Hokkien prawn noodle soup (£7.30) and went with a few standards by which I judge the authenticity of any Malaysian restaurant.
First, the mee goreng (£6), a spicy street hawker-style dish of yellow egg noodles stir-fried with seafood (usually, shrimp and sometimes, squid), tofu, egg and perhaps chicken. For a restaurant in a city not known for its Asian food, this dish wasn't bad — the flavors were authentic, if a little sweet rather than spicy. (Dorset Boy couldn't get enough of this, however — the noodles disappeared rapidly.)
Next, the beef rendang (£8), a coconut-inflected dry curry that's one of my favorite dishes in Singapore. The best versions I've had at home feature chunks of beef braised to such tenderness they practically fall apart in your mouth.
I was suspicious when the dish landed, however — I'd never seen rendang studded with large slices of onion before. The flavor wasn't bad though the beef wasn't terribly tender. Plus, it wasn't quite on the mark flavor-wise — again, it was a little too sweet for my tastes and not fiery enough.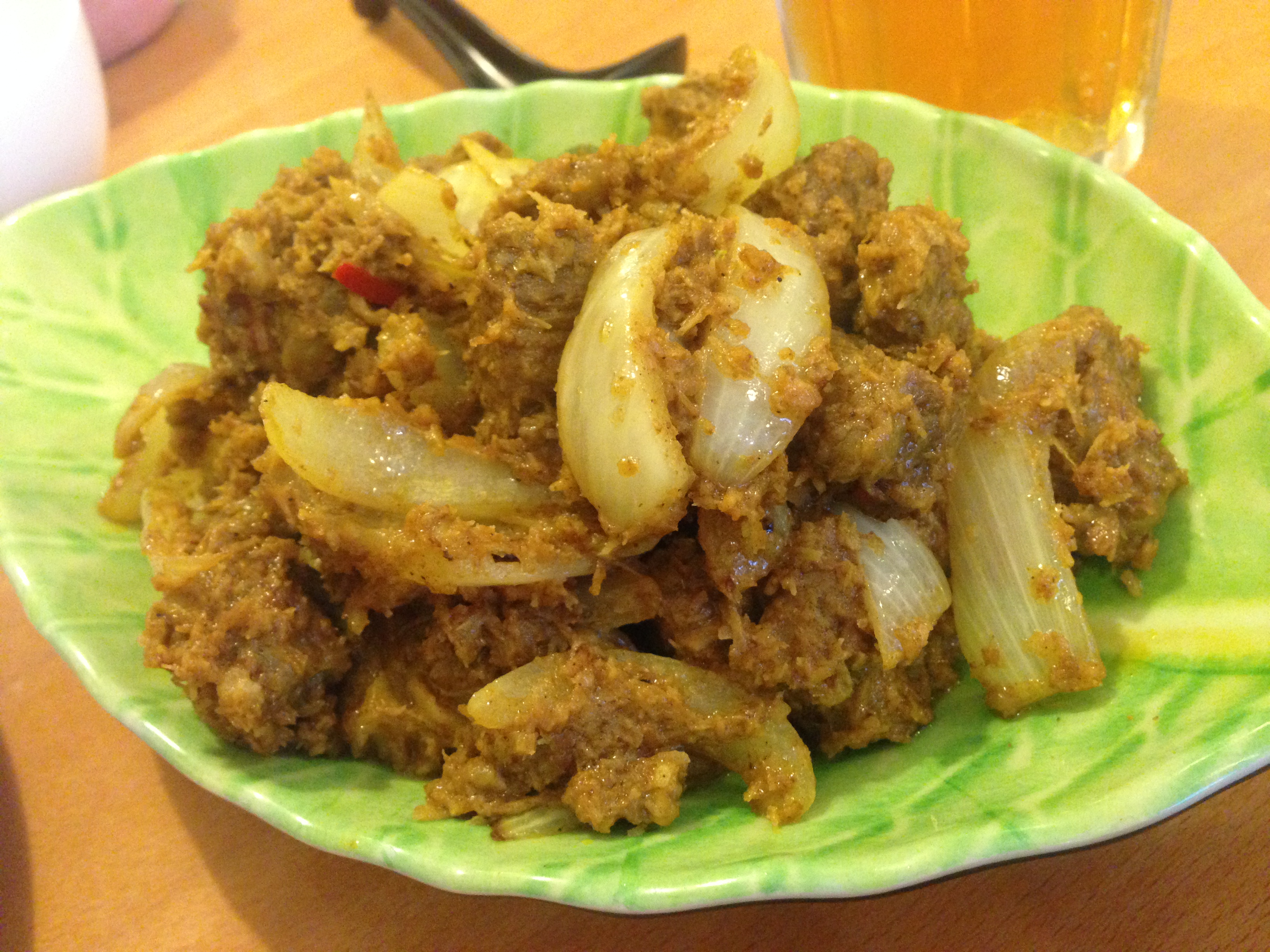 Watching Dorset Boy polish off his plate though, I wished we were hungrier. I craved a taste of the kangkong belacan (£7.30), a dish of water spinach wok-fried in a spicy fermented shrimp sauce, perhaps even a side of  "Hainan oil rice" (£2), a dish I adore from home in which rice is cooked with chicken fat, garlic and fragrant pandan leaves.
From the looks of our first Southeast Asian meal together, the empty plates getting cleared away, I guessed we might be back. A good sign, I suppose. Stomachs, like minds and hearts, perhaps can be changed.
Kampong Ah Lee, 28 Clerk Street, Edinburgh; +44.0131.662.9050; http://www.kampungali.com/sister-restaurant/