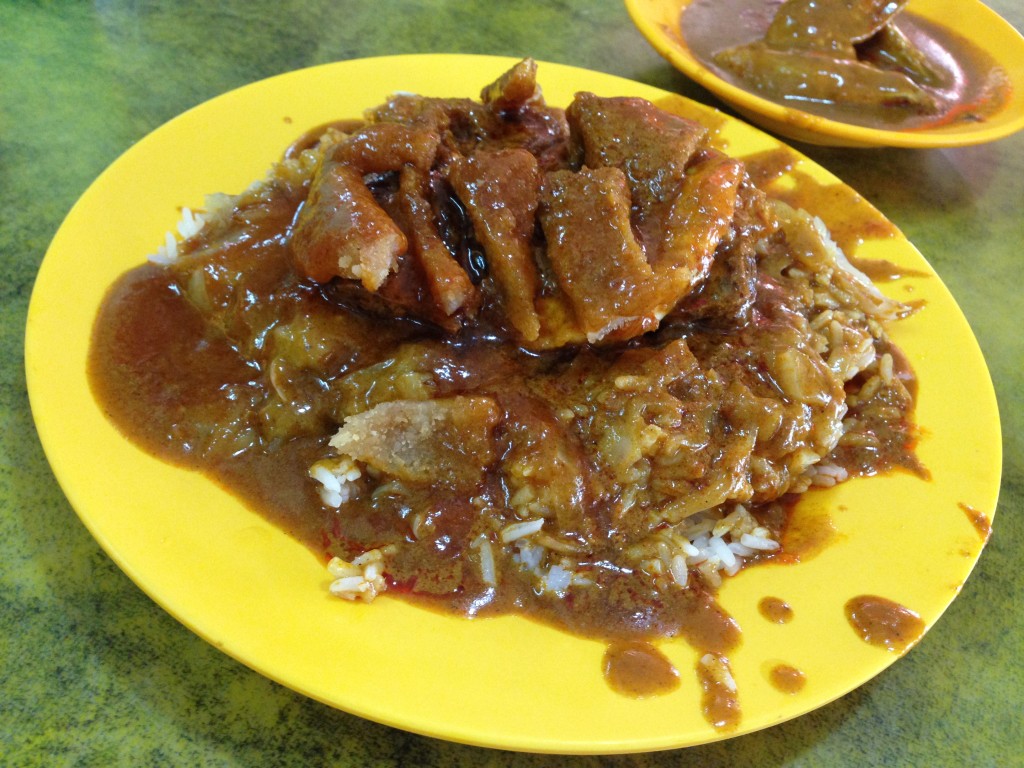 A few years ago, after I mentioned my big love for Singapore's Hainanese curry rice to an old friend who knows her food, she immediately asked, "Have you been to that 'Nine Fingers' place?"
Now, if you've ever had curry rice, you'll understand why that name might be disturbing. It basically comprises a bunch of different dishes of your choosing (breaded fried pork chops, crispy fried eggs, curried squid, braised tofu or chicken wings, etc.) snipped up into bite-sized pieces with a gigantic pair of scissors, dumped on a plate of rice and then doused with mellow Hainanese curry.
"Nine fingers?" I asked, wondering whose plate that lost digit might have ended up in.
"I forget how many fingers," my friend Jill said. "But it's good."
Since then, I've been intrigued by this curry rice — finally, this week, I decided to make the journey. It turns out that it's eleven fingers, not nine. Not that that makes the name any less bewildering …
Located in a government housing estate across from the always crowded Kwan Im Thong Hood Cho Temple — one of the major places of worship for Goddess of Mercy devotees in Singapore —  Eleven Finger Curry Rice can be a little hard to find, even after you've located the 3838 Eating Place food court that it's in.
All you have to do, however, is look for the long line snaking out from a little hawker stall in the back.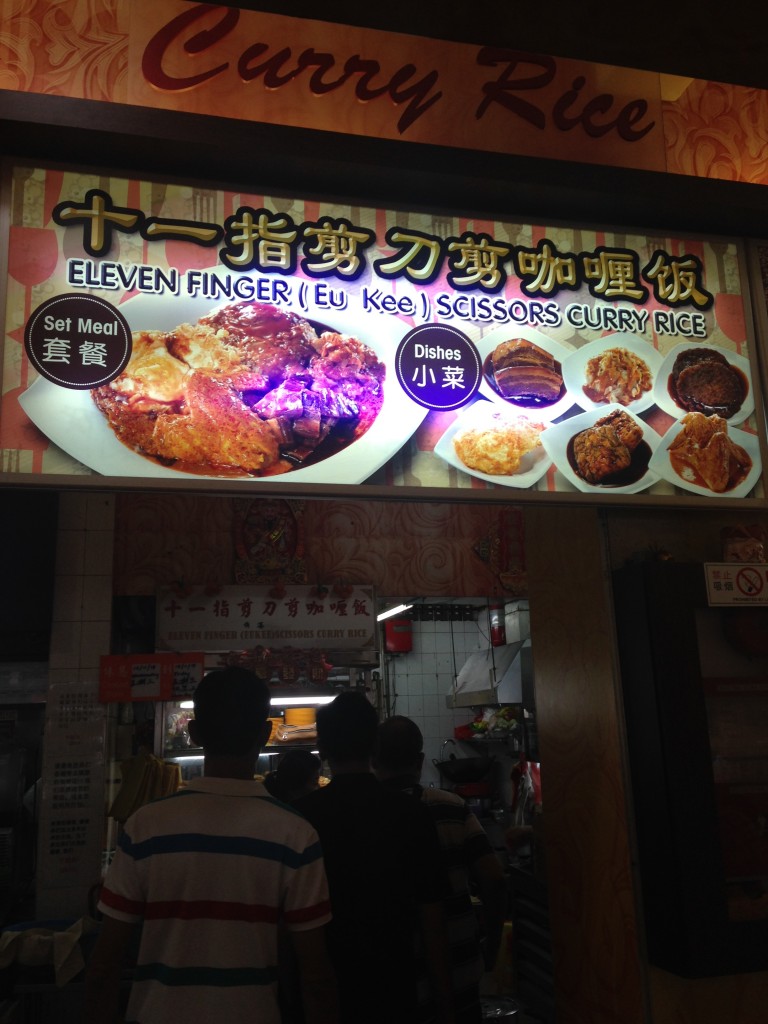 The setup is bare bones — the auntie in front of the counter takes your order (and money) and the one behind starts grabbing items you've selected and snipping them up with a big pair of scissors.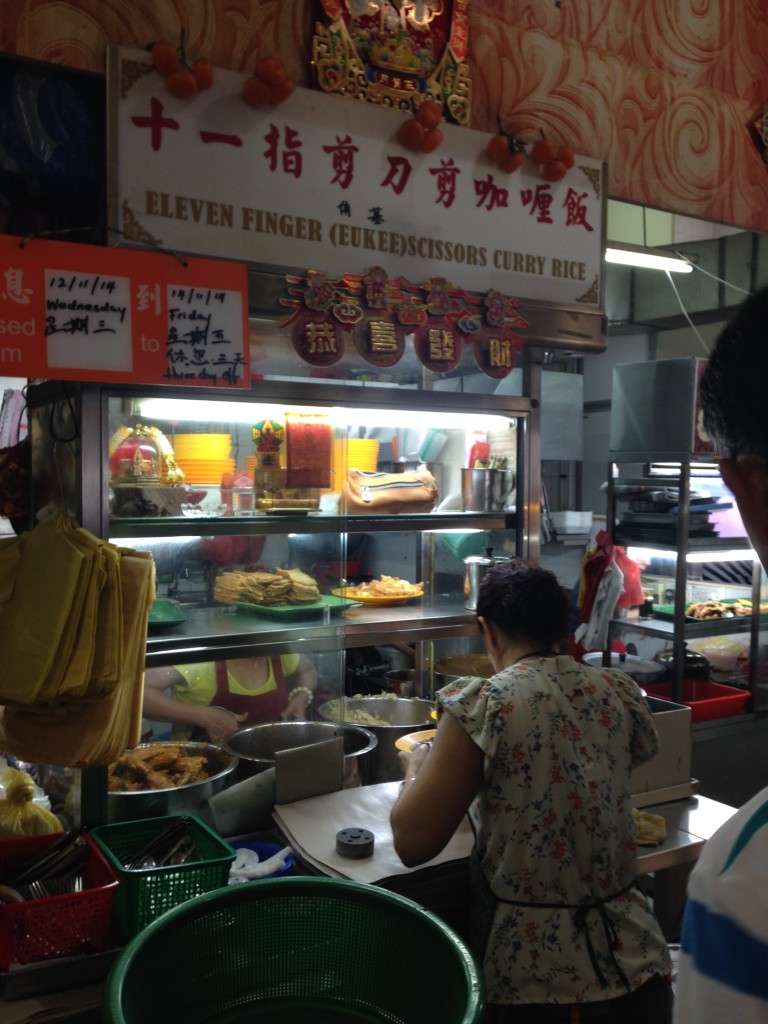 The selection wasn't massive but the basics were here — deep-fried pork chops, crispy fried eggs, braised chicken wings, chap chye (mixed vegetable stew) …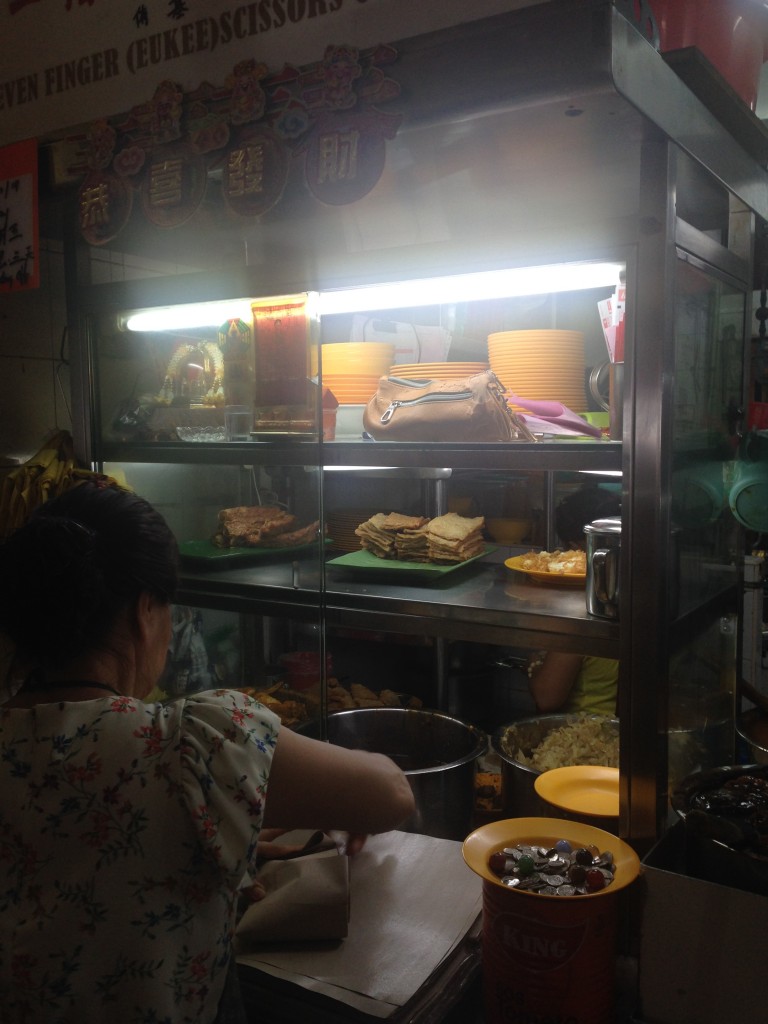 … and this beautiful pot of tofu in a simmering soy sauce-based braising liquid.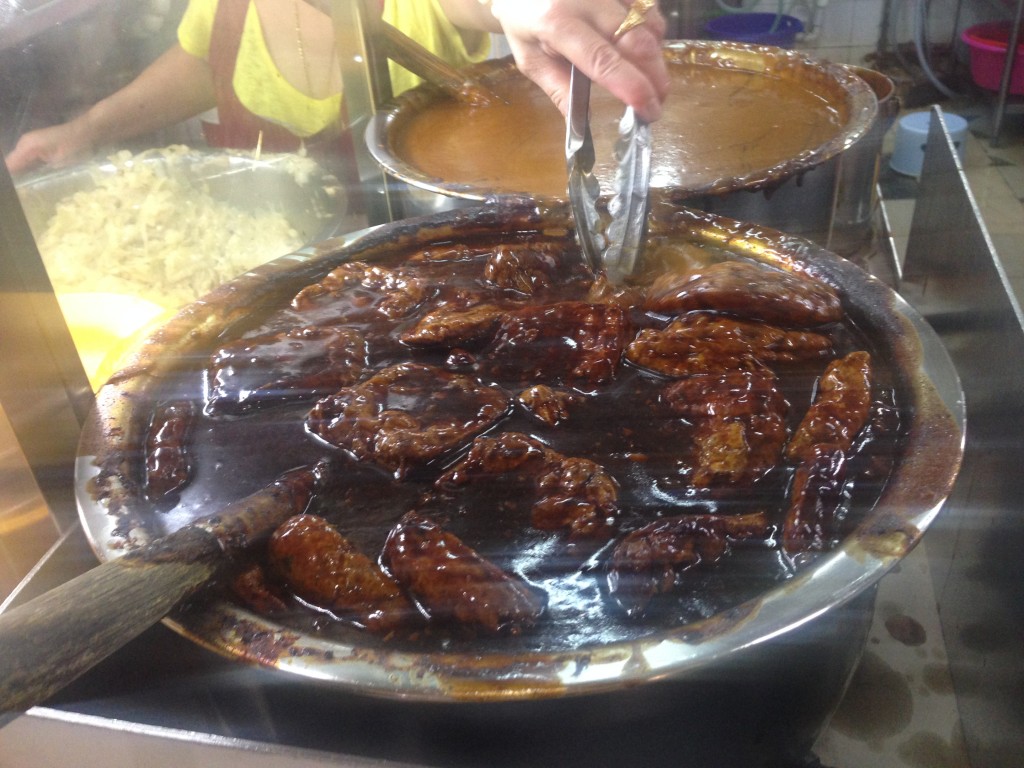 It's impossible to tell from my plate above, but beneath that curry is a fried egg, a large slab of braised tofu, a fried pork chop and a mound of chap chye. (There was no more room on my plate, so the chicken wing came on the side.)
I consider myself very fussy about curry rice — I adore it so much I've waxed lyrical about it (and my favorite place to have it — Loo's Hainanese Curry Rice) in the pages of The New York Times.
I particularly love how deceiving it looks — at first glance, the gooey brown mound resembles nothing more than a pile of swill. But trust me — you'll be hooked from the first bite. When done well, the combination of flavors (salty tofu, slightly sweet curry) and textures (crunchy pork chop bits, crispy bits of fried egg, mushy vegetables, falling-apart-soft chicken) is a sheer burst of heady, complex umami in your mouth. And that's exactly what I had at Eleven Finger — each element was done very very nicely. And the combination? Divine.
After just one bite, I decided to add this place to my regular rotation of must-visit places when I'm back in Singapore. And maybe next time, I'll even ask the aunties about that mysterious extra finger.
Eleven Finger (Eu Kee) Scissors Curry Rice, 3838 Eating Place, Block 269B, #01-235, Queen Street, Singapore.