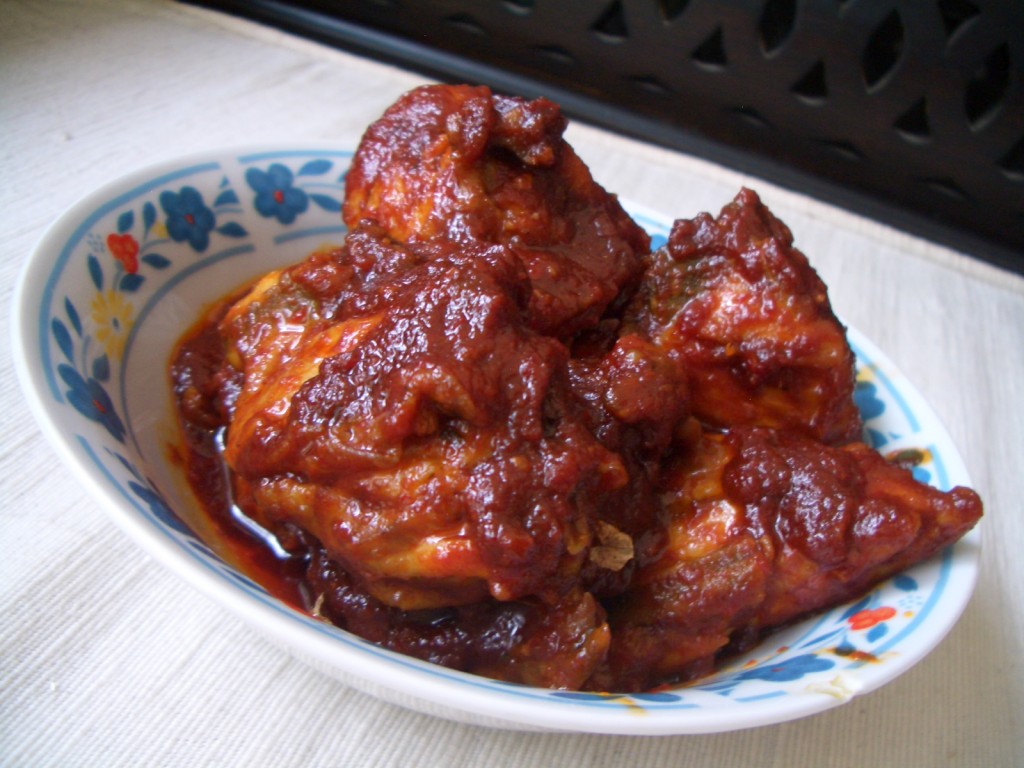 In many ways, the holiday season in Singapore is not unlike that of many other cities.
Forests of tinseled trees and explosions of twinkling lights take over malls and shopping streets; there is an unceasing assault of cheeseball tunes wishing you a Holly jolly Christmas. And tables everywhere are packed with glistening hams, turkeys or perhaps, a big plump goose.
This being Singapore though, my family often likes to include a local favorite or two at a Christmas meal — which is how we sometimes find ourselves chasing a plate of hearty roast beef with something curried. So when my sweet Let's Lunch friend Lisa at Monday Morning Cooking Club suggested sharing a non-traditional holiday dish for our monthly virtual lunch date, I started craving something spicy.
One of my favorites? Malay ayam masak merah, a dish of fried chicken doused in a complex tomato-based gravy that's both fiery and sweet …
Now, this isn't a dish that my family makes — if we have a homemade curry on our holiday table, it's usually Aunty Alice's Chinese-style chicken curry. But even so, ayam masak merah certainly is one that we adore. (If it appears at a family meal, it's usually because it's been purchased.)
My dear friend Aisah's mother makes it though — usually for special occasions like the Malay new year — so when she offered to teach us how to make it a few years ago, I was eager to learn.
I'd never thought of trying to make it before — with its myriad flavors packed in, I just always assumed it was pretty complicated. But it's actually somewhat straightforward — you fry up the chicken until it's nice and crisp, set that aside, then fry up the spices until they're fragrant, add gula melaka (palm syrup), tomato sauce and more, mix that up and then add the chicken back in.
As I watched Aunty Jianab do it, I was amazed that such magic looked so effortless — and I was grateful that she had taken the time to share her recipe.
So in that spirit of sharing, here's her terrific recipe below. And here's wishing you all a sweet (and spicy) holiday season!
~~~
Don't forget to check out other Let's Lunchers' non-traditional holiday dishes below! And if you'd like to join Let's Lunch, go to Twitter and post a message with the hashtag #Letslunch — or, post a comment below. 

Annabelle's Rosemary Whole-Wheat Shortbread at Glass of Fancy
Betty Ann's Shrimp Pomelo Salad at Asian in America
Jill's Italian-Style Green Bean Casserole at Eating My Words
Linda's Turkey Spring Rolls at Spicebox Travels
Lisa's Duck Confit at Monday Morning Cooking Club
Mel's Sausage Rolls & Piroshkis at The Cook's Notebook
Sonja's BBQ Spiced Pomegranate Rabbit at Foodnutzz
~~~
Aunty Jianab's Ayam Masak Merah
•1 whole chicken, cut into pieces
•5 shallots
•10 dried chillis
•3 cloves of garlic
•1 can tomato puree (140 grams or 4.9 oz.)
•1/4 cup liquid gula melaka or palm sugar **
•1/8 cup kecap manis
•1/2 cube chicken bouillon cube
•1/4 cup of water
•1 tsp salt, plus more for seasoning the chicken
Lightly salt the chicken pieces and set them aside for half an hour before cooking. Soak the dried chillis in hot water for five minutes until they're soft. Drain them and then set them aside.
Using a blender, puree the shallots, chillies, garlic and enough water so that you form a wet paste. This is known in Malay as the rempah, or seasoning paste that will form the flavor backbone of the dish. Set this rempah aside.
Pour enough oil into a wok so that the oil comes up two or three inches high–heat the oil. When it's crackling hot, fry the chicken pieces until they start to turn golden but are not fully cooked. Remove the chicken and set it aside.
Pour out the hot oil in the wok, reserving about 1/4 cup of oil. Heat that 1/4 cup of oil–when it's hot again, add the rempah to the wok and fry it over high heat until it's fragrant and you can really smell the spices. Add 1/4 cup of water and the 1/2 chicken bouillon cube and mix it up, making sure that the cube dissolves. Add tomato puree, then gradually stir in the kecap manis. Look at the color carefully–you want it to be a dark crimson. If it starts getting too dark, dial back on your kecap manis, which sweetens it.
Stir in the gula melaka then add 1 tsp of salt and the chicken pieces. Fry it altogether until the chicken is completely cooked through, which should just be a few minutes.
Serve hot with steamed rice. Note: This dish is often better a day or two after you make it so the flavors have more time to mingle together and deepen.
** Gula melaka is sold in solid chunks. To liquify these chunks, heat them over low heat in a sauce pan, adding water as it melts until you reach a maple syrup-like consistency. Then run the liquid through a sieve so flies and other impurities are removed.