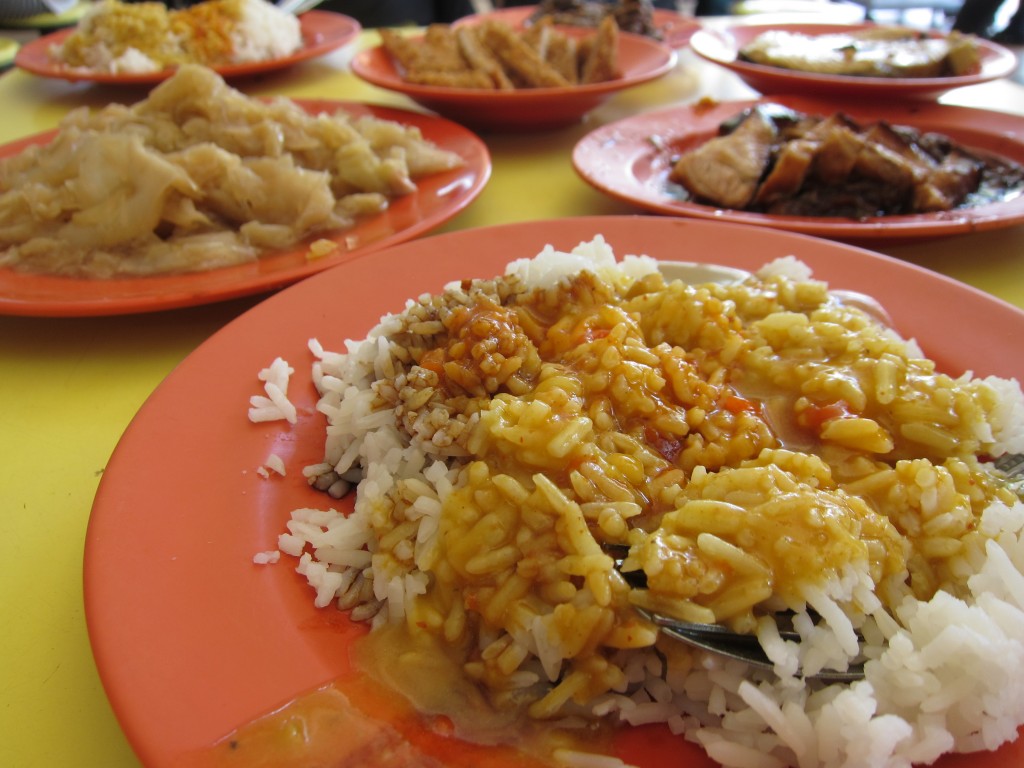 One of the great joys of Singaporean cuisine for me is Hainanese curry rice.
I had my first taste of this as a teenager, at a small stall in Singapore where you pointed at troughs of items in a glass case then watched as the hawker quickly used a big pair of scissors to snip everything you'd picked into bite-sized pieces, piled it onto rice and then sloshed a ladle of curried gravy over everything, turning it into a brownish yellow mound. The final product may look like swill, but each mouthful of this heady combination of flavors and textures is divine.
So when Singaporean writer Colin Goh, a friend whose tastes and appetite I respect, mentioned having a go-to curry rice place in Singapore, I knew I had to check it out. "It opens at 4 am, and you eat with the port workers," he said. "Make sure you drench your rice with ALL 3 GRAVIES."
Well, he certainly didn't need to tell me twice …
Located in a hawker center in southwestern Singapore, not too far from office parks and our massive port, Feng Kee Hainanese Curry Rice is especially popular early in the morning and at lunchtime. Just look for the long line and you'll find it.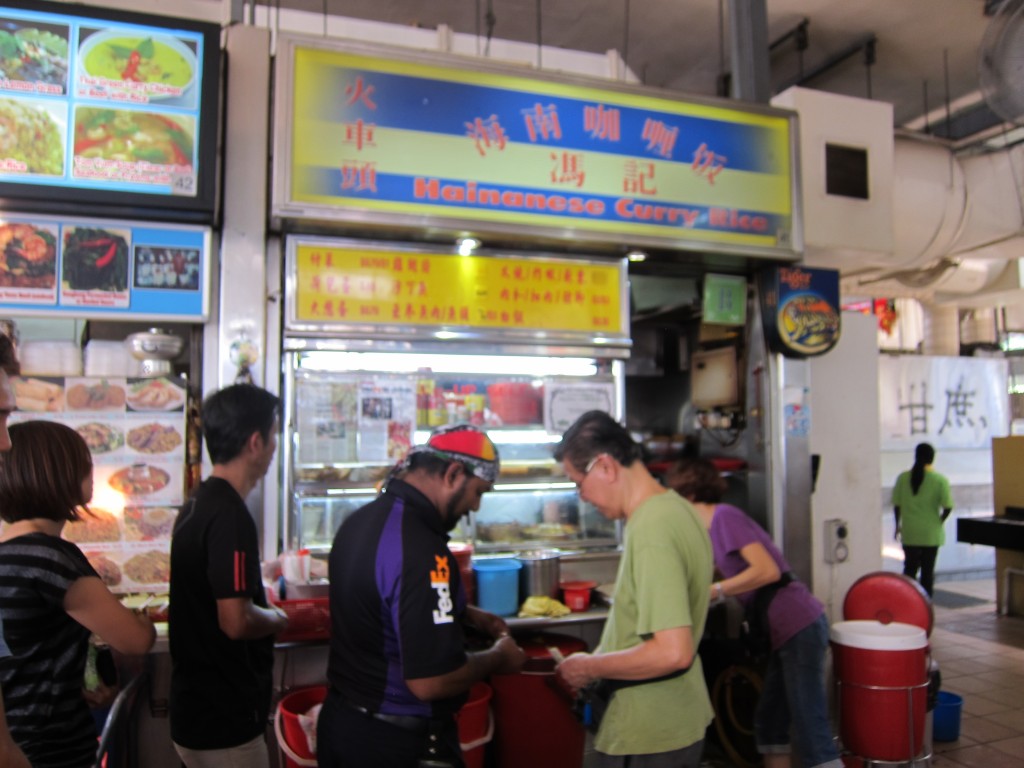 The setup is bare bones — everything's on display in the glass case: crispy pork chops that have been breaded in crumbled saltine crackers and fried, curried squid, assam (tamarind) fish, braised pork and more. Just point or tell them what you want.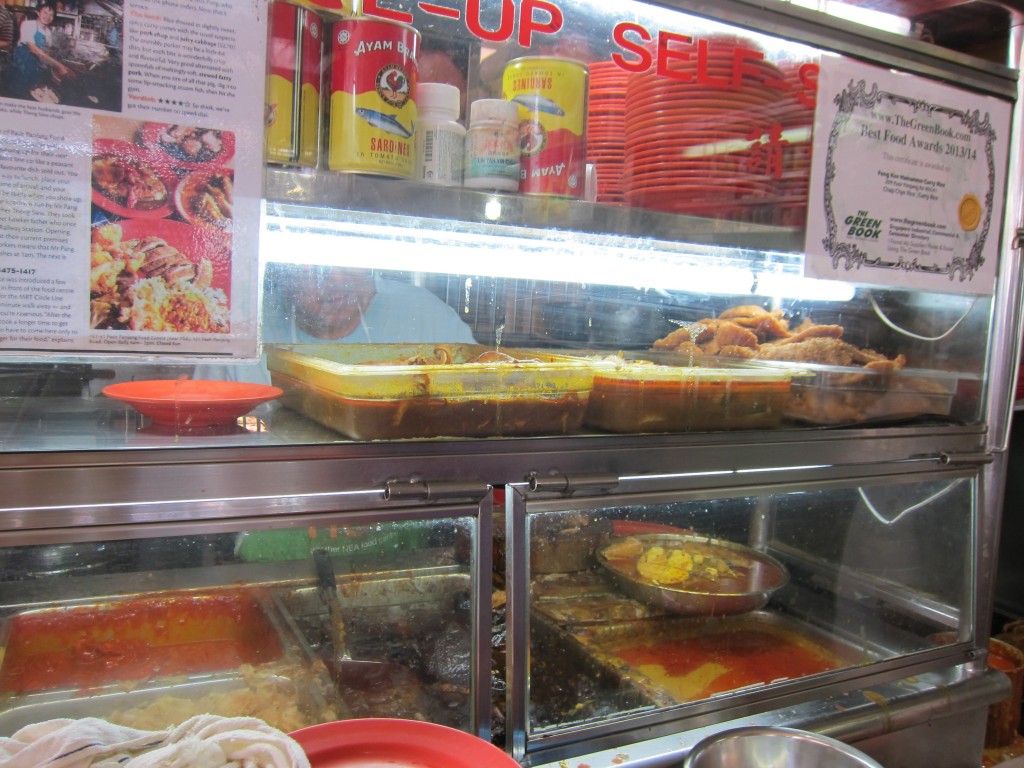 And Mr. Feng here will assemble it all for you. His father set up this stall decades ago and this tiny place has such a faithful following it's regularly named one of the best curry rice stalls in the country.
If you want to try it though, you'd better come quickly. I happened to catch Mr. Feng on his off day (having driven 30 minutes to get to this stall one Sunday only to find it closed, except for him and his wife prepping food for the next day) and he confessed, "it's such hard work — I want to close this in two years!"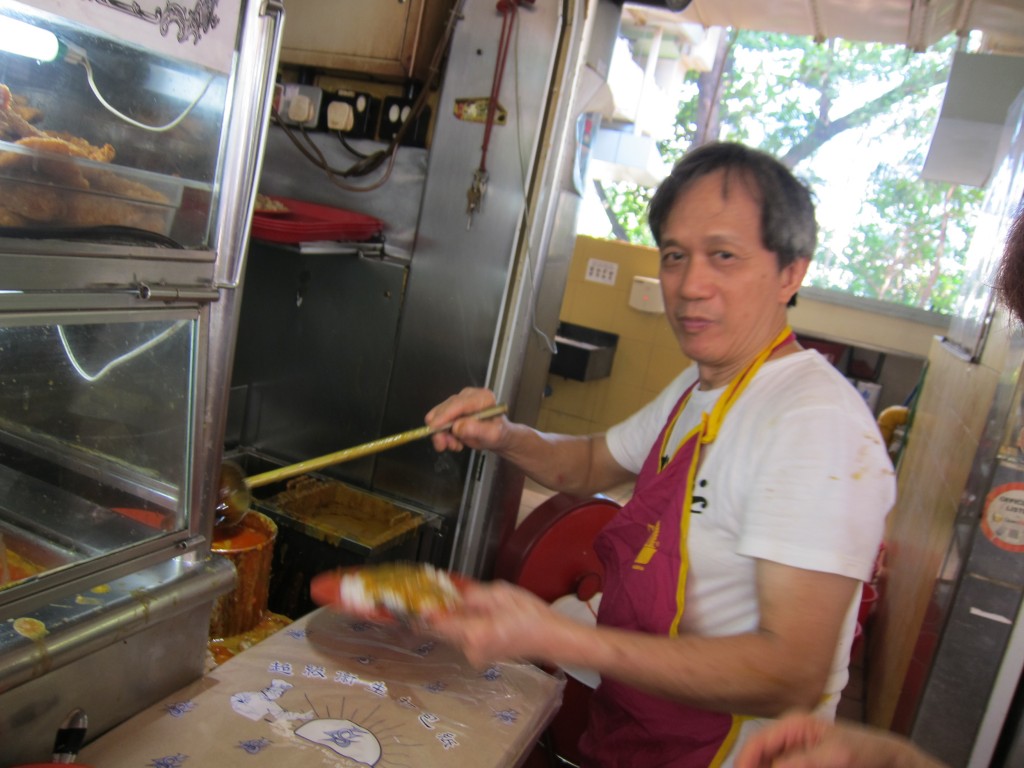 Once you've done all your pointing, find a free table and they'll bring you your tray of picks.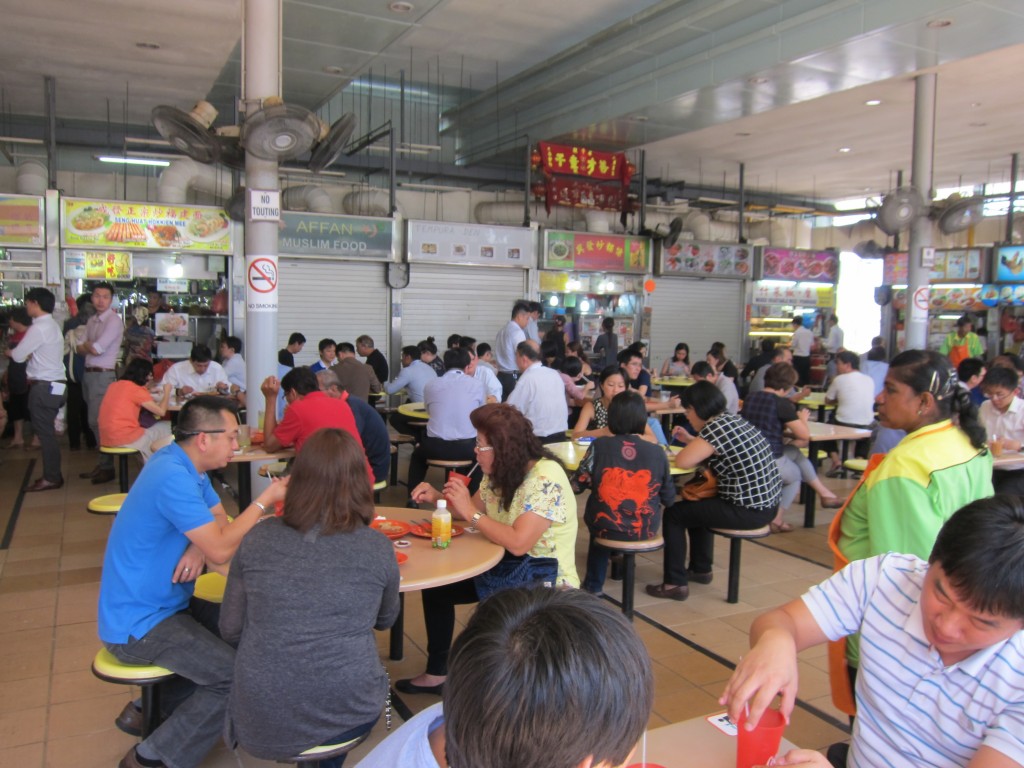 Now, if you're eating alone, you'll get a single portion assembled on one plate. But since I was with my mother, everything came spread out over a few little plates.
We had to have the pork chops — the classic Hainanese curry rice dish. I have to admit loving the breading of Hainanese pork chops almost as much as I love the meat itself, so I adored how thin and crispy these were.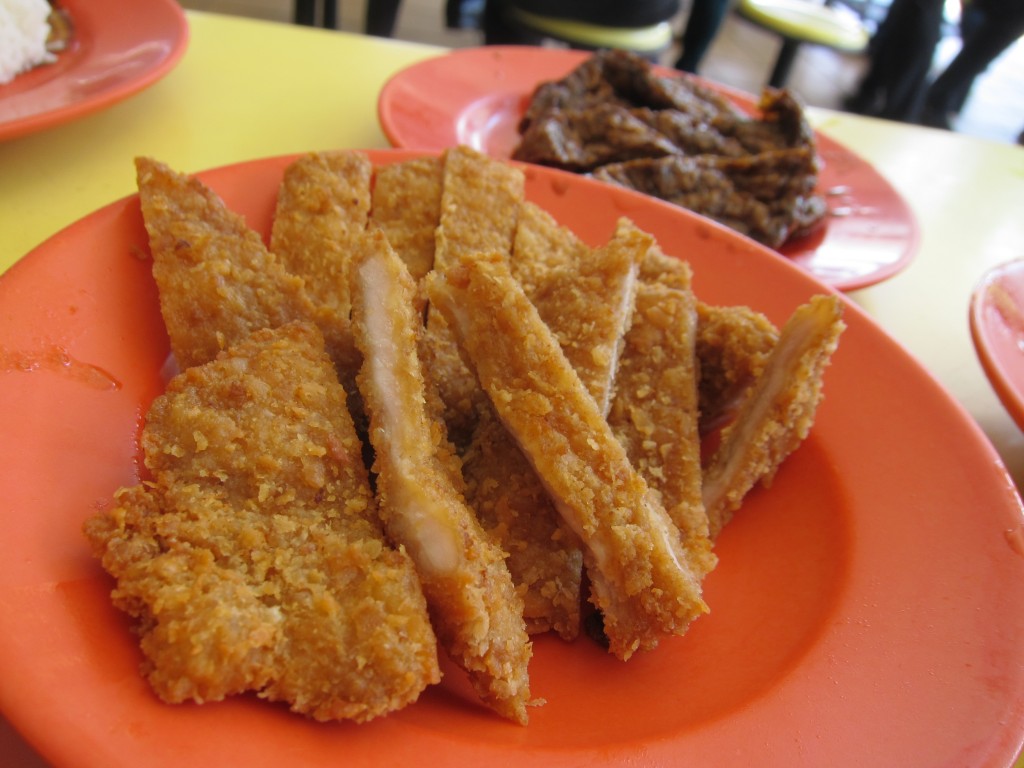 My mother had heard that the pork belly braised in dark soy sauce and spices including star anise were the specialty here so of course we had to try it. These were sheer perfection — braised to such softness they were falling apart on our forks and almost felt as if they were dissolving on our tongues. The gravy's flavor was intense and I loved how seeped into the pork it was.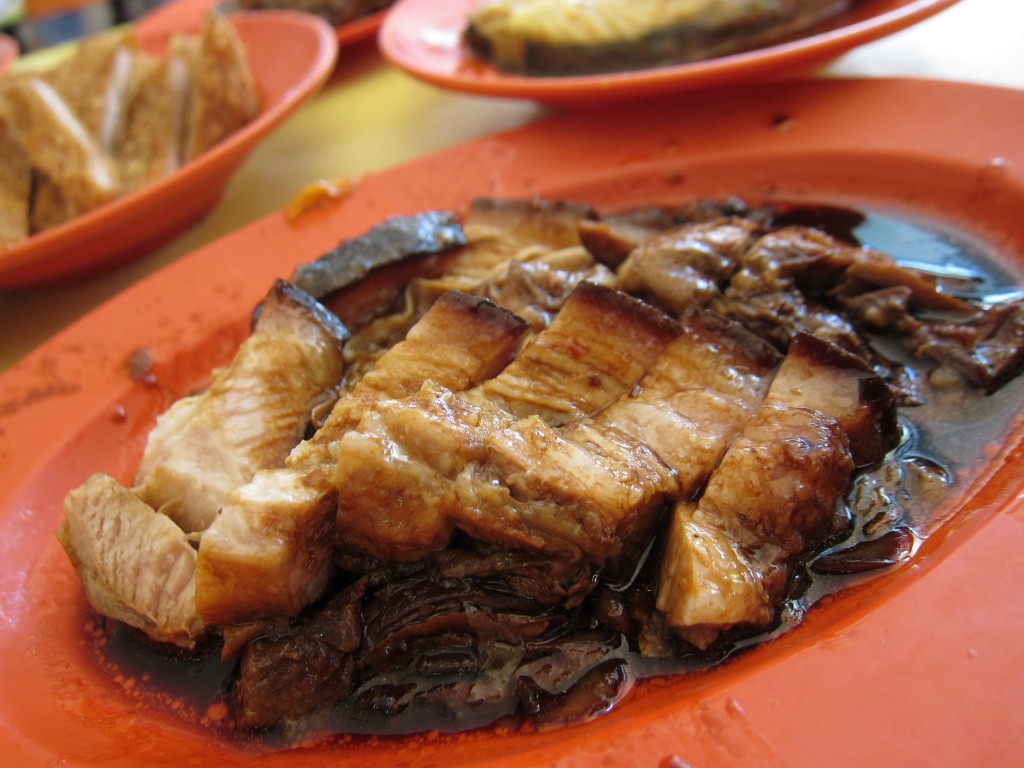 My personal favorite is tau pok — fried bean curd that's usually braised to spongey softness and just packed through and through with the soy-star anise porky liquid it's been simmering in for hours. I don't think I need to tell you how tasty this was — just look at it.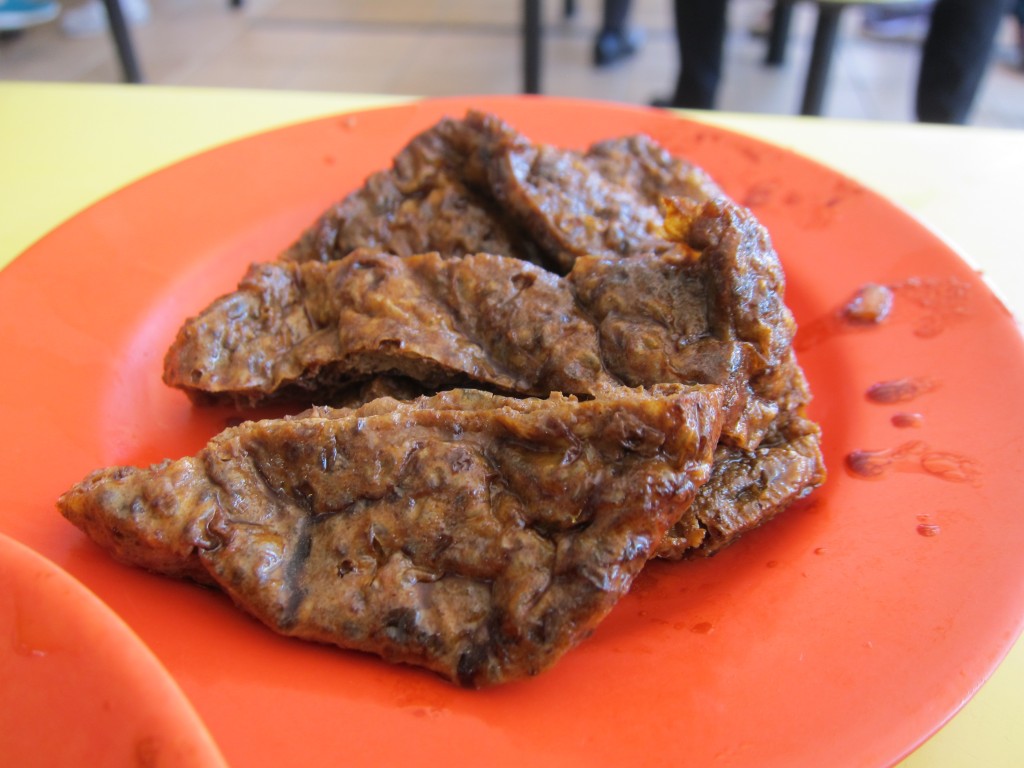 Of course, we had to have chap chye — stewed cabbage — which is another hallmark of traditional curry rice. This too was very nicely done — just soft enough while still maintaining its structural integrity.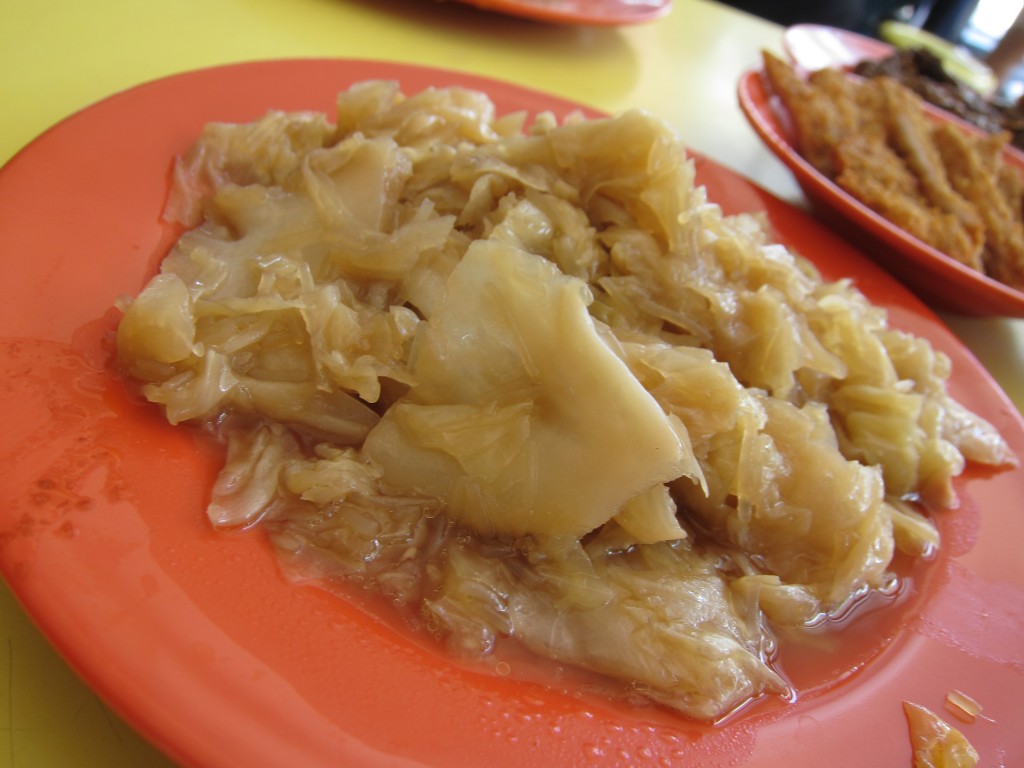 We'd ordered quite a bit at this point and Mrs. Feng looked like she was about to ring up our order when I pointed at the assam (tamarind) fish. Though she looked concerned that it might be too much food, she put a slice on a plate anyway. Again, this was done rather well — and the sour assam gravy was a nice addition to our meal, helping to cut through the rich porky flavor of the braised pork as well as the hearty, thick curry sauce.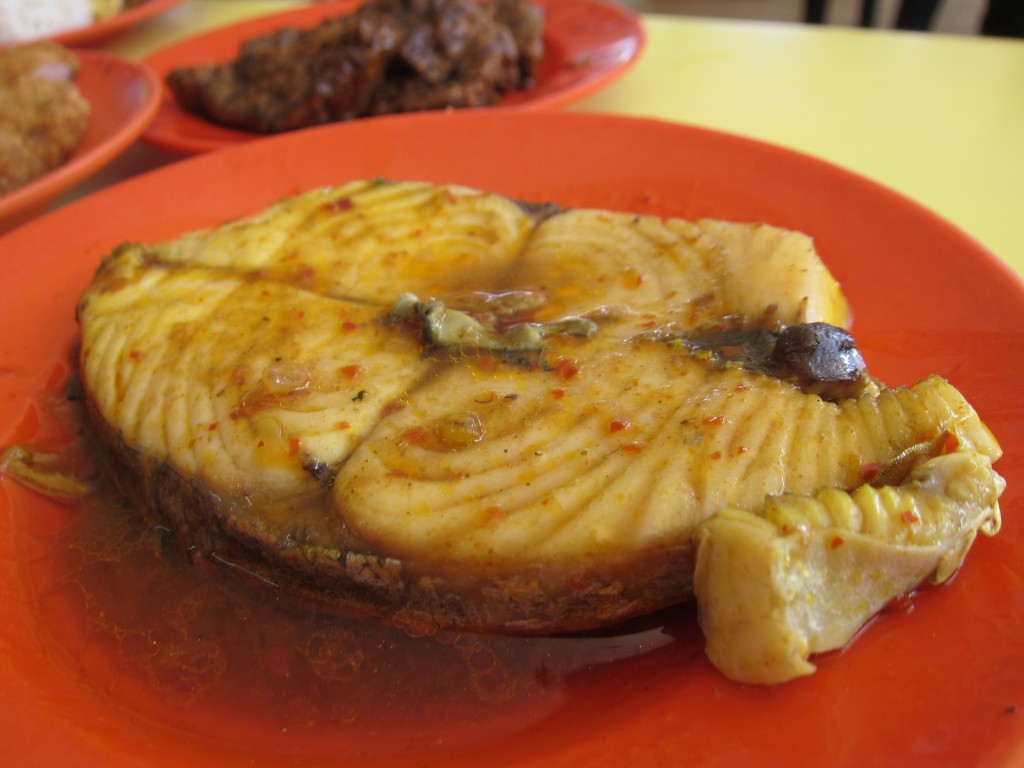 The rice itself was a highlight as well. Some Hainanese curry rice hawkers will douse just one gravy on your rice these days — then again, some have been known to pile on as many as five or seven, apparently. If you look at the first photo up top, however, you can see the three colors on my plate of rice — the combination of porky soy sauce, spicy chili gravy and thick Hainanese-style curry was stellar.
Now, as you could probably tell from the amount of food shown in these photos, this could probably have fed at least three people, and it set us back just SGD $13 (about USD $9.70).
My mother and I dutifully polished off all our plates, however. If Mr. Feng's really just going to be around for two more years, we certainly weren't going to let a morsel go to waste.
Feng Kee Hainanese Curry Rice, Pasir Panjang Food Centre, 121 Pasir Panjang Road, #01-41, Singapore; +65.9650.9647. Open from 3:30 a.m. to 2 p.m. every day except Sunday.