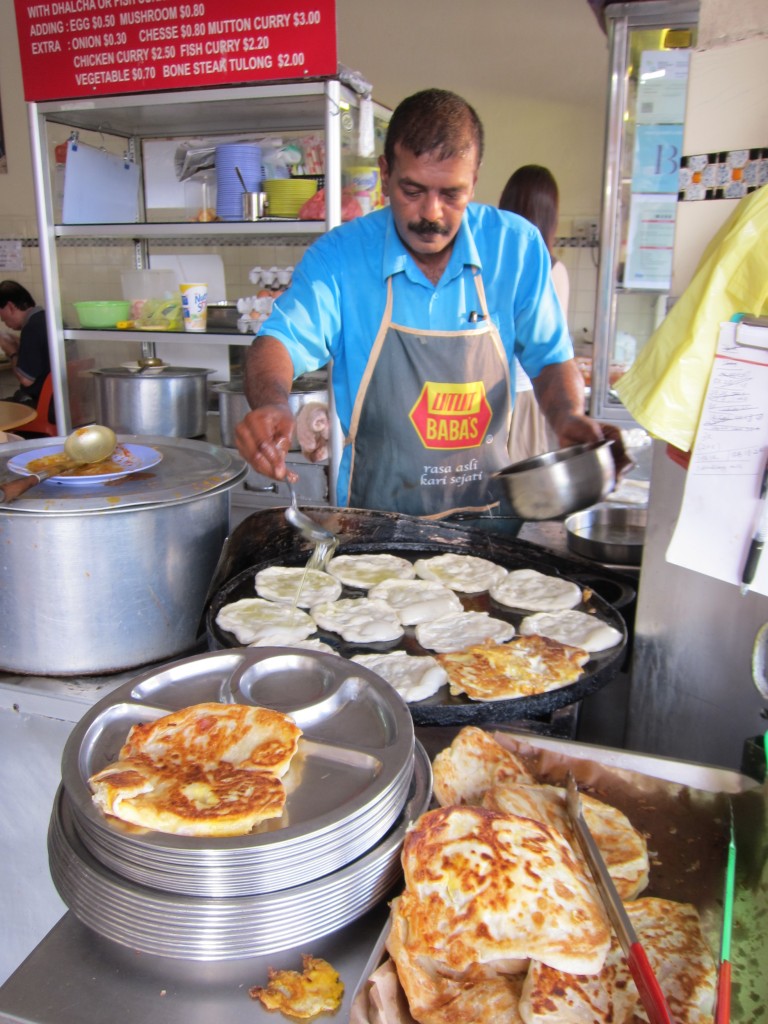 Roti prata is one of those staples of Singapore eating — this fried Indian bread paired with curry is so beloved as a breakfast or late-night supper dish that Singaporeans often love expressing strong opinions on which they think is the best in the country.
Recently, I'd been hearing about a tiny Indian stall a little hike from the beaten path that various food experts have waxed lyrical about, some even declaring it's one of the best. What apparently makes this version special, I'd heard, is how crispy it is.
Well, if you've been reading this blog at all, you'll know my massive love for all sorts of crispy foods. So as soon as I could persuade my mother, we hopped in her car and were on our way to Mr. and Mrs. Mohgan's Super Crispy Roti Prata …
Now, this little stall is located in Poh Ho Restaurant, an old-school kopitiam (coffeeshop) in a charming stretch of the city state's East Coast that still feels like 1970s Singapore, with its narrow streets and squat pre-war townhouses. (Everything is built up so high into the sky in this metropolis that it's lovely to be somewhere where the buildings don't instantly dwarf you.)
On our first attempt, Mr. Mohgan had taken the day off. (He and his wife take Tuesday and Wednesday off every other week.) On our second try however, there he was in the flesh.
When I'd first starting hearing a buzz about this stall, I wondered why I'd not heard of it before. There are some giants of Singaporean roti prata (Casuarina, Jalan Kayu) that every Singaporean knows about, and they've been widely regarded as gold-standard prata-makers in the country for decades. It turns out that while Mr. Mohgan has been making prata for more than 30 years, he only opened his own shop in 2009.
He makes his prata from scratch all by himself, refusing to hire anyone else. So from about 6:30 a.m. until when he runs out (be sure to go early), there is he taking little balls of prata dough, flattening them out then tossing them in the air (a la pizza dough) …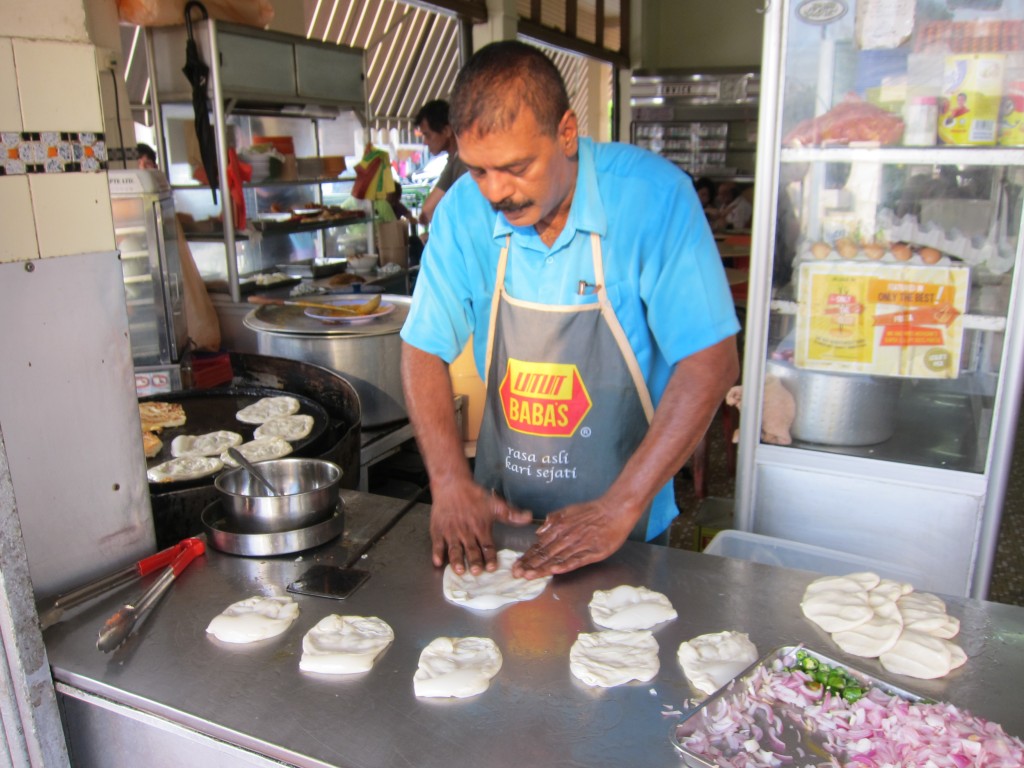 … before placing them on the fryer.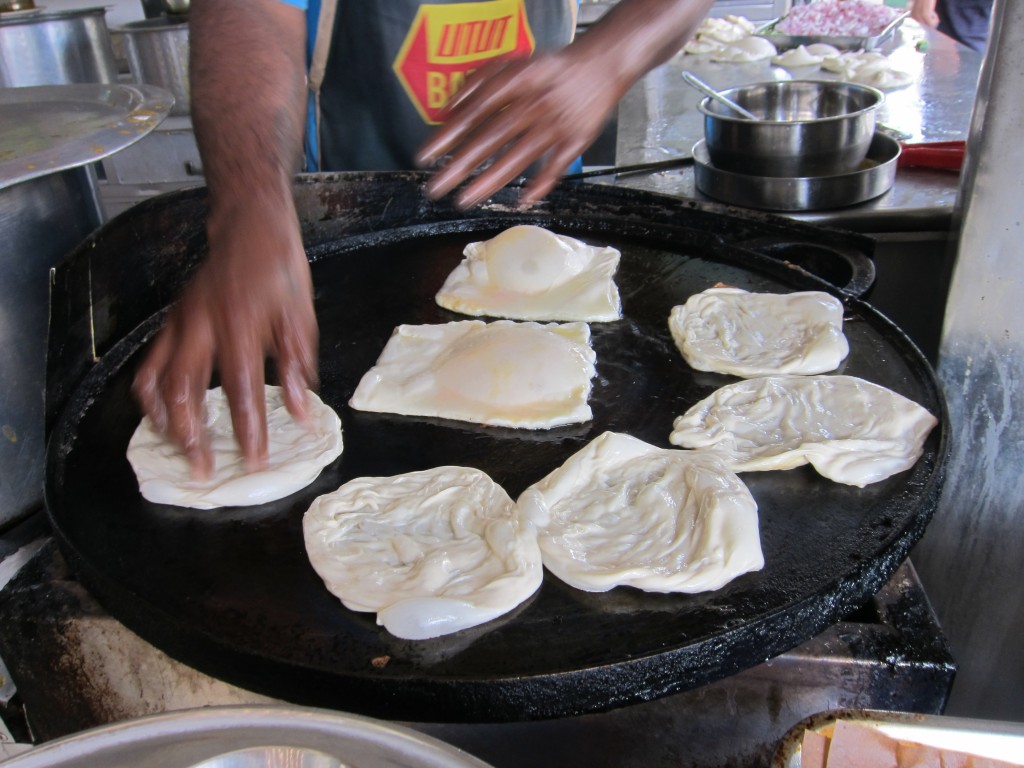 Mrs. Mohgan takes the orders and you can get several versions. Here's the "kosong," the Malay word meaning something like "zero" or "empty," meaning this is a plain prata.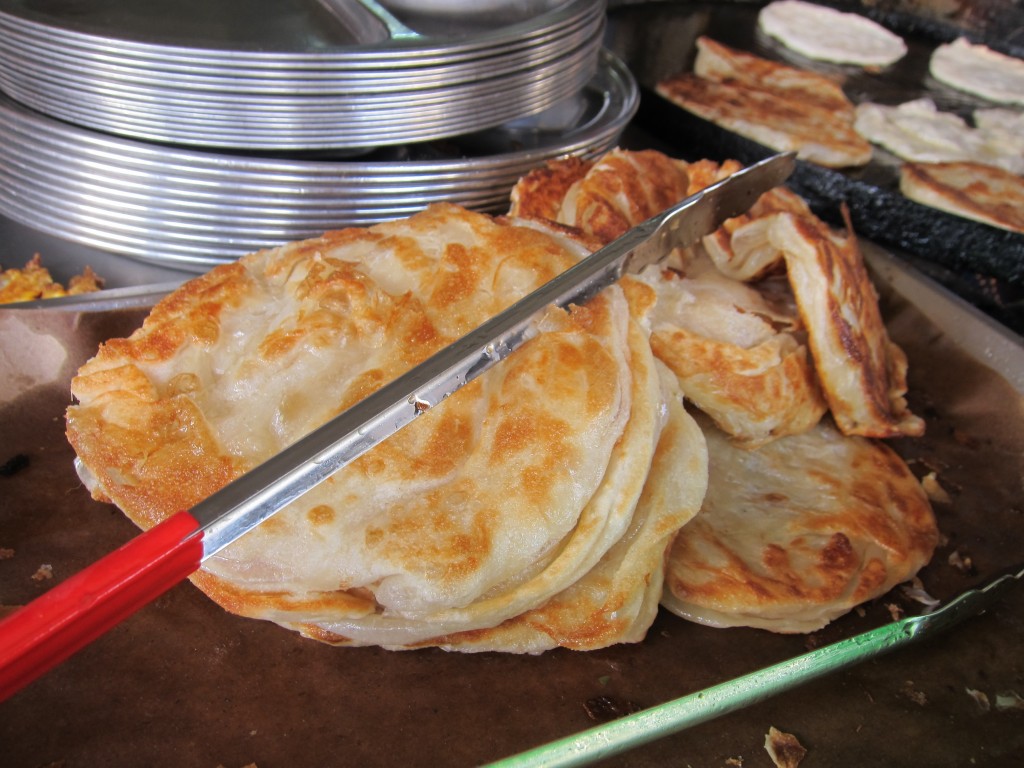 But you can also order ones filled with cheese, onions, egg, mushrooms or sliced chilis. You can see him assembling an egg one in this video.
I have my personal favorite prata, a "plaster" in which a fried egg is plastered on top. And I figured I should try a kosong as well.
This comes with not just a side of curry sauce (do the fish curry) along with a fiery anchovy sambal, a slightly unusual addition. After sampling it though, my mother and I wondered why this isn't just the standard condiment combination for prata — the sambal added a deliciously spicy kick to the slightly sour fish curry.
The plaster was tasty — the egg was perfectly done and just slightly runny, which is how you want it so the yolk mixes with the curry to form a nice rich glop that you slather all over your prata.
And the kosong — oh my. Now this is where you really see why Mr. Mohgan is a true god of prata. His secret to crispiness is that he drizzles oil on the prata as they're cooking, as you can see in this video. Most prata vendors just toss their dough onto the greased grill and don't add any more oil while cooking.
The result is a deliciously crisp thin pancake that has a lovely crunch when ripped off or cut up and dipped in curry-sambal. Each bite was a delight.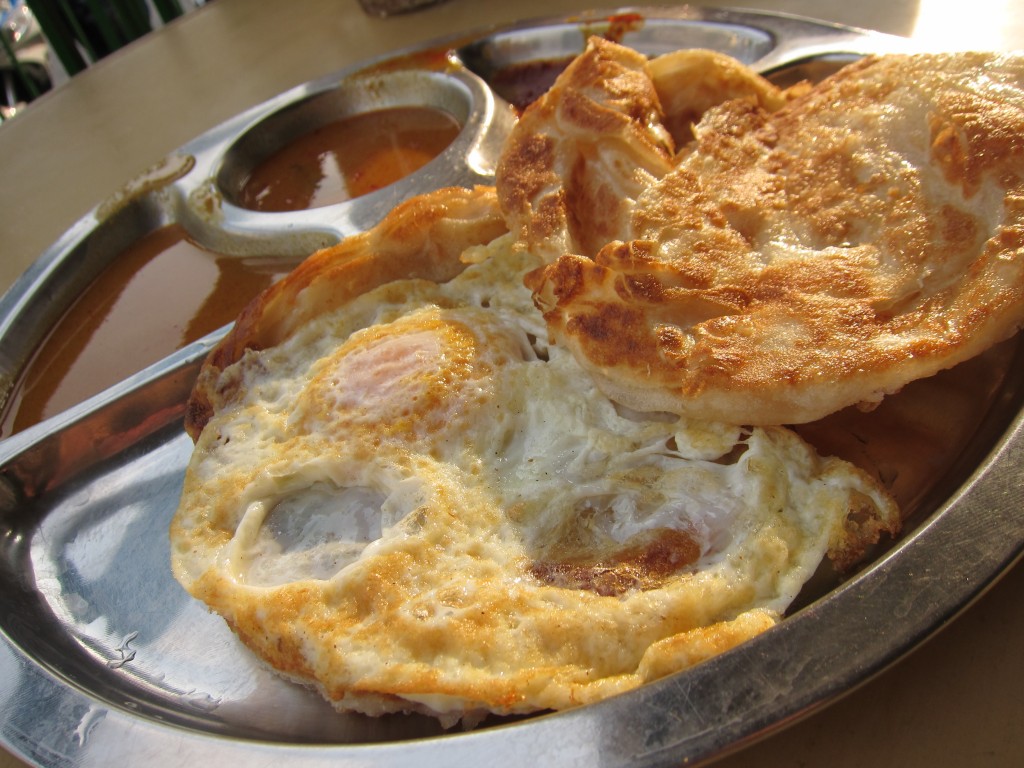 We'd seen a few people ordering the onion, egg and chili prata so my mother got one and this was incredibly tasty. (I instantly wish I'd gotten one too.) For those who are a little tepid about spiciness, there are actually not that many slices of chili in here — and they're not super fiery.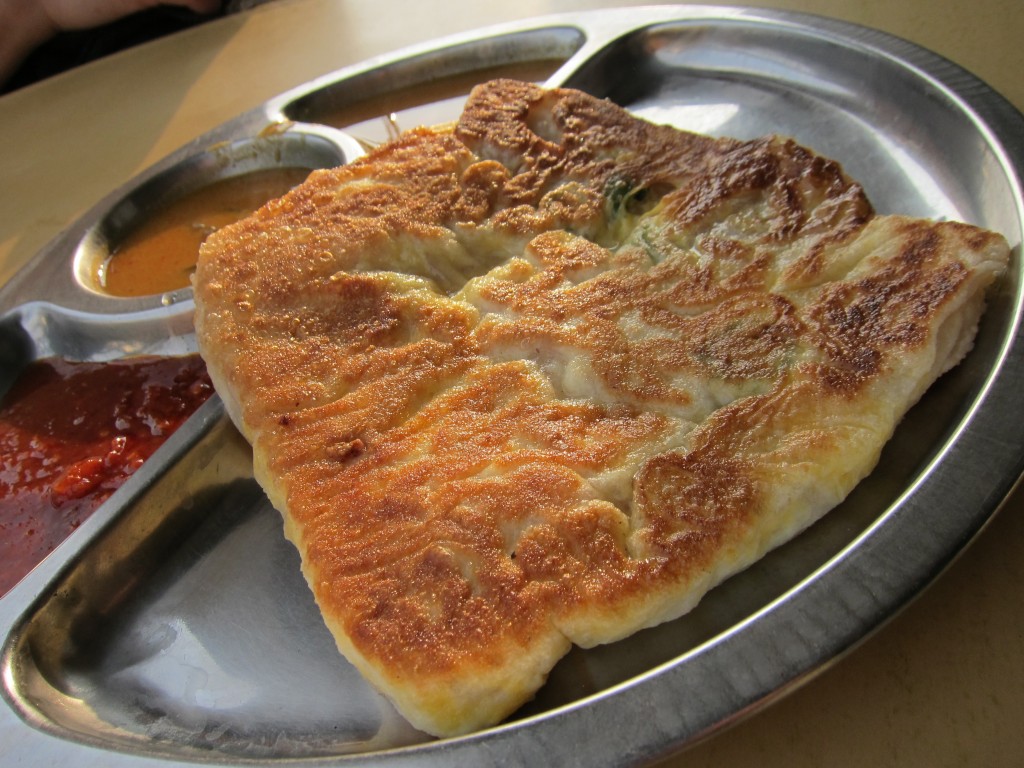 I thought our meal had been sheer perfection — and then we got the bill. The price for both our plates? SGD $4 (USD $3).
As soon as our plates were empty, we were already making plans to come back.
Mr. and Mrs. Mohgan's Super Crispy Roti Prata, 7 Crane Road, Singapore; +65.9794.3124.