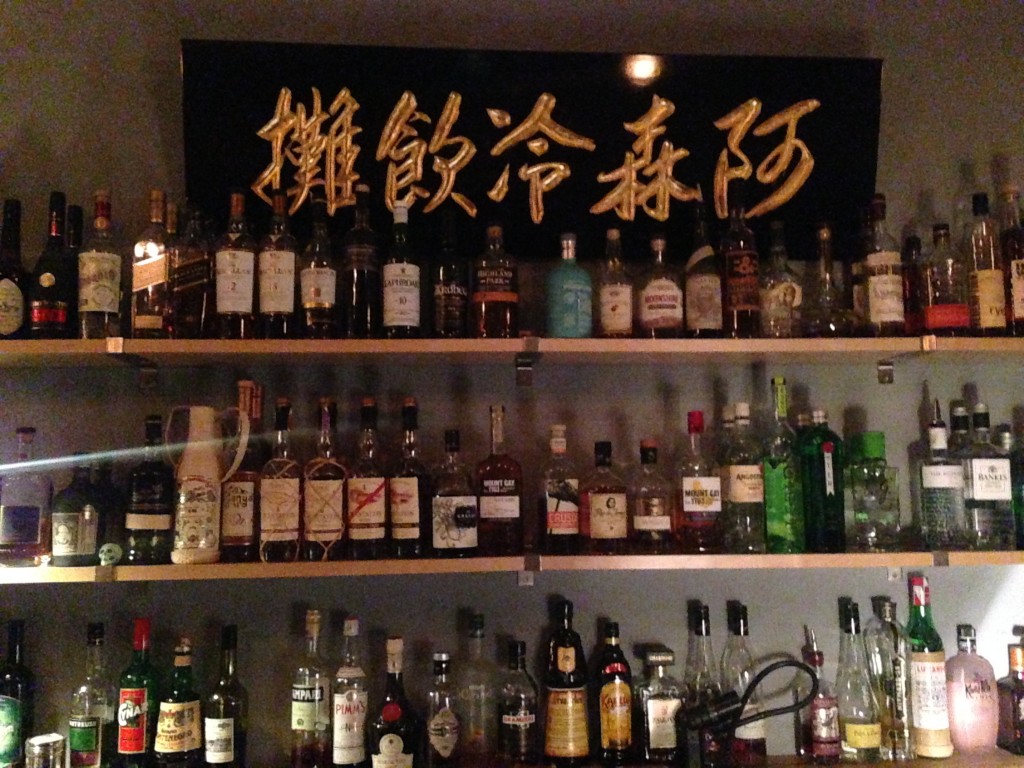 I'm generally skeptical of "It" places. The more anyone tells me I simply must try this restaurant or that bar, the less inclined I am to make the journey.
Recently in Singapore, Ah Sam Cold Drink Stall has been the name on many lips. This speakeasy-style bar in touristy Boat Quay has been foisted on me in many a discussion when the topic of boîtes has arisen. So naturally, I've resisted.
That is, until I found myself in Boat Quay this week, thinking of where to go next for a drink and a bite. With Ah Sam just around the corner, I thought, why not …
Most of the places in Boat Quay's narrow, squat townhouses perched on the banks of the Singapore River are generally to be avoided. Fresh seafood, bar scenes — trust me, you'll get that better anywhere else. Generally speaking, this slender street is for the tourist who has no clue where to go in this city.
Amid all these tourist traps, however, there's a little blink-and-you'll-miss-it staircase. Go up one flight and you'll step into the cozy Ah Sam Cold Drink Stall, opened in autumn 2013 by Sam Wong, who manned bars at some of Singapore's fashionable cocktail joints (such as Jigger & Pony) before opening his own place.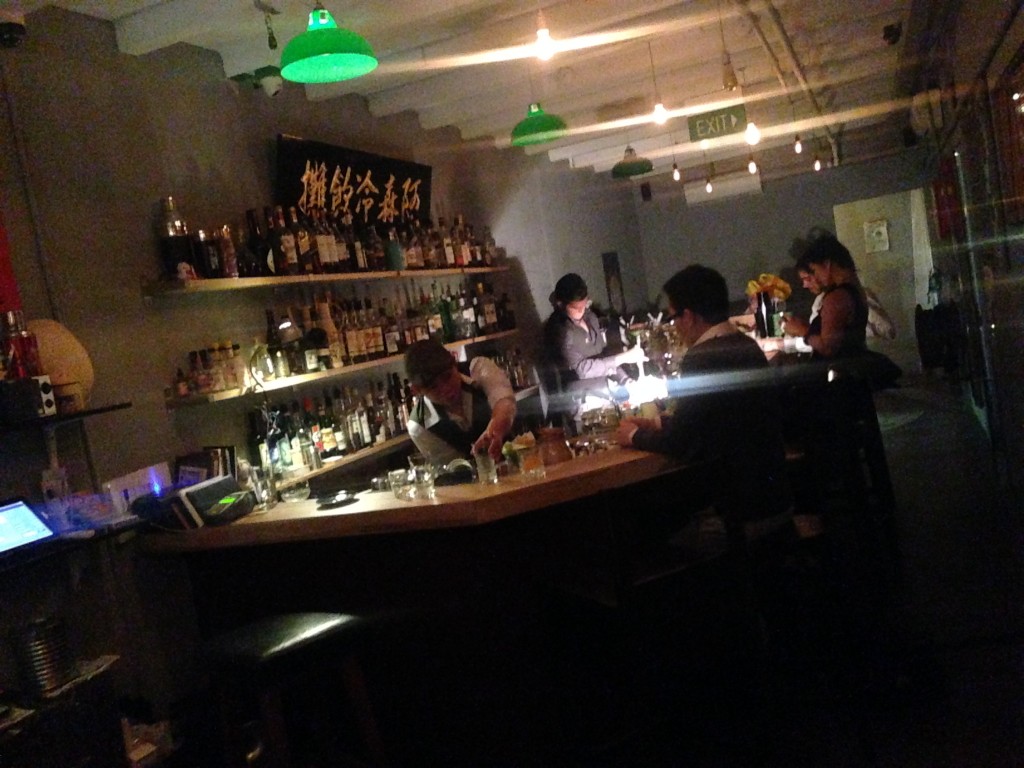 The view is lovely — you can see the Singapore River. (Just try to ignore the touristy detritus beneath.)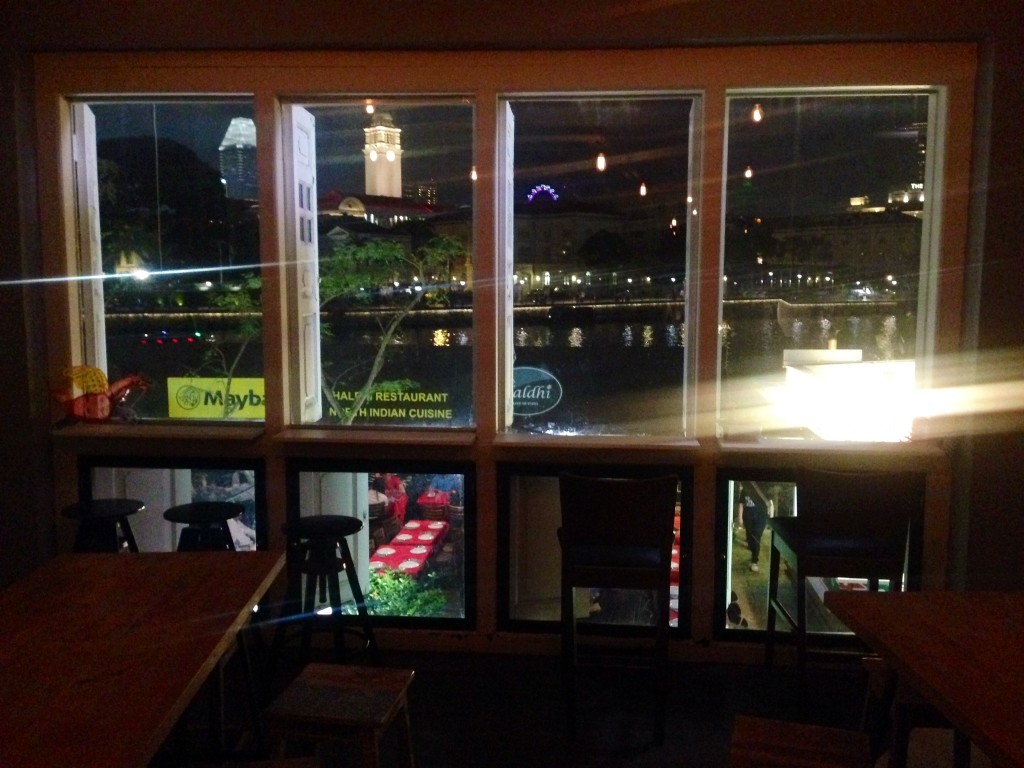 And the food, I'd heard, was fantastic. Local favorites — a plethora of fried noodles, Singaporean-style spring rolls and kong bak pau, braised pork belly sandwiches — fill the board.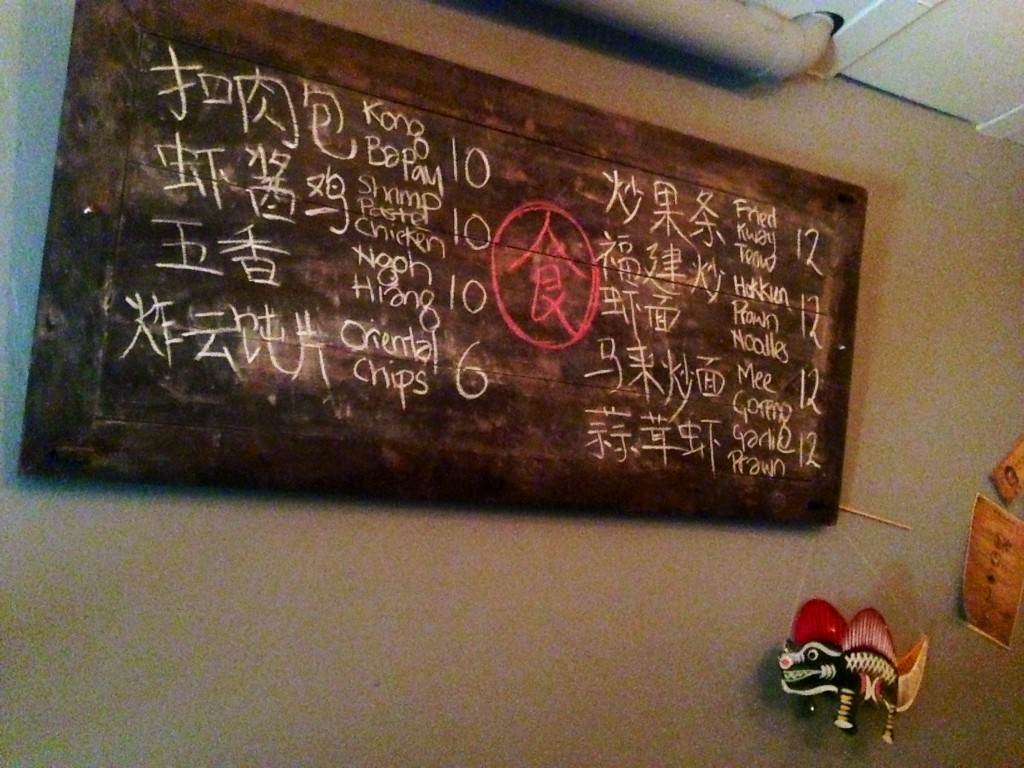 First up, we had to have cocktails (prices generally are around SGD $18; USD $14.40). I'm not a big cocktail person — I have to confess to not drinking them often and making them even less — so I'm often at a loss when it comes to ordering.
The bartender, a jovial chap who had just started a few days before, simply said: "Tell me what you like."
Gin, I said. And ginger. And I can't bear anything sugary.
A short while later, this appeared before me: a frothy cocktail with gin, ginger ale, lime juice and laksa syrup for spice. (Laksa is a Singaporean soup packed with coconut milk and curry.)
As a fan of gin gimlets — I love anything tart — this was right up my alley, and very very tasty. The laksa syrup added a lovely slight kick to the overall flavor.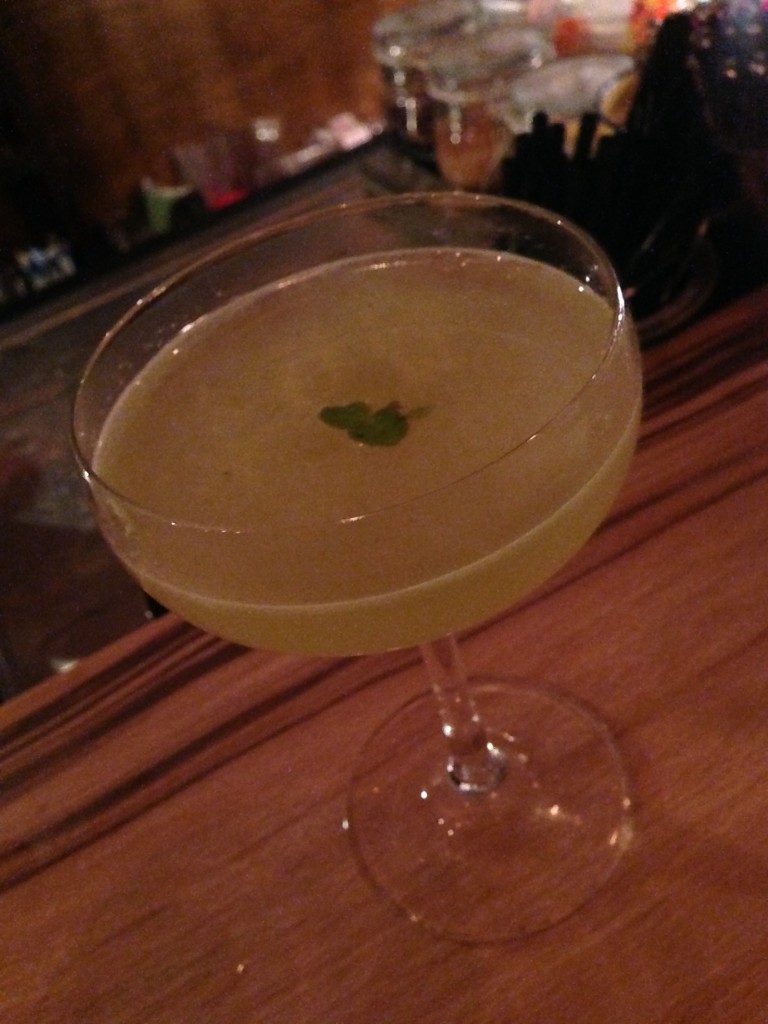 Seeing our satisfaction, the bartender suggested that I try a chendol martini next, a sweet cocktail built on the flavors of chendol, a Southeast Asian dessert heavy on coconut milk and gula melaka, a palm sugar syrup used in many Malay dishes.
Later, perhaps. First, I needed to sample this much-touted food.
Now, I've eaten high-end or non-hawker versions of classic Singaporean street food before — and have usually been disappointed. When you have a hawker uncle sweating over a stove day after day for 20, 30 years, making the same dish over and over, what he produces is simply going to be hard to top.
At Ah Sam, however, the cook, Edwin Poh, is a third-generation hawker — he grew up learning the craft and recipes from his grandfather by cooking as a child with him in his stall.
The Hokkien mee ($12) — a classic hawker dish featuring three kinds of noodles wok-fried with prawns and squid, finished off with chili sauce and squirts of lime juice — had been highly recommended. And it didn't disappoint — the noodles were nicely fried, the flavors were terrific (with just a touch of the essential "wok hei," or charred flavor from wok frying), and the prawns were large and plentiful.
(I also loved that it was served on the cheap brown waxed paper that hawkers use to wrap up their noodles.)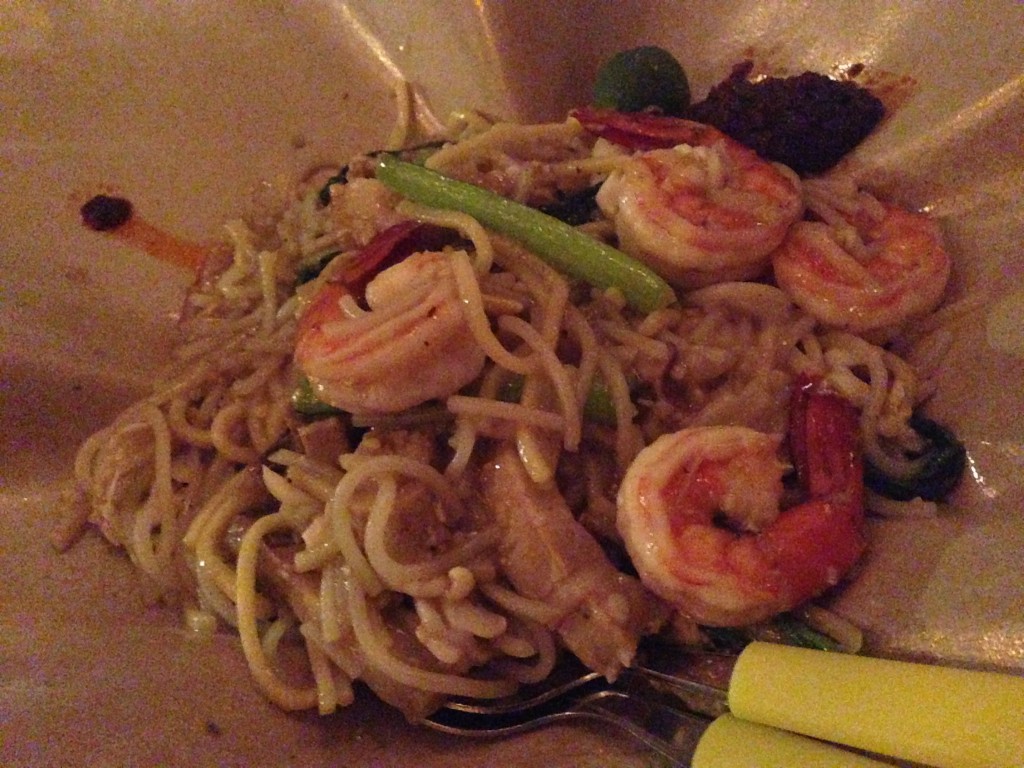 I thought that was hard to top but the har jeong gai (prawn paste chicken) blew my mind. This dish (SGD $10; USD $8) can be hard to execute well — there has to be just enough fermented prawn paste coating the chicken to give it that intensely deep seafood flavor and it has to be lightly fried but fried enough so it's hot and crisp but doesn't feel too dense.
Chef Poh's was perfect. The skin was packed with flavor and incredibly crisp and the chicken inside was tender and bursting with juices. Each bite was a delight. (I found myself already plotting a return trip to Ah Sam just for these fried chicken wings from the first bite.)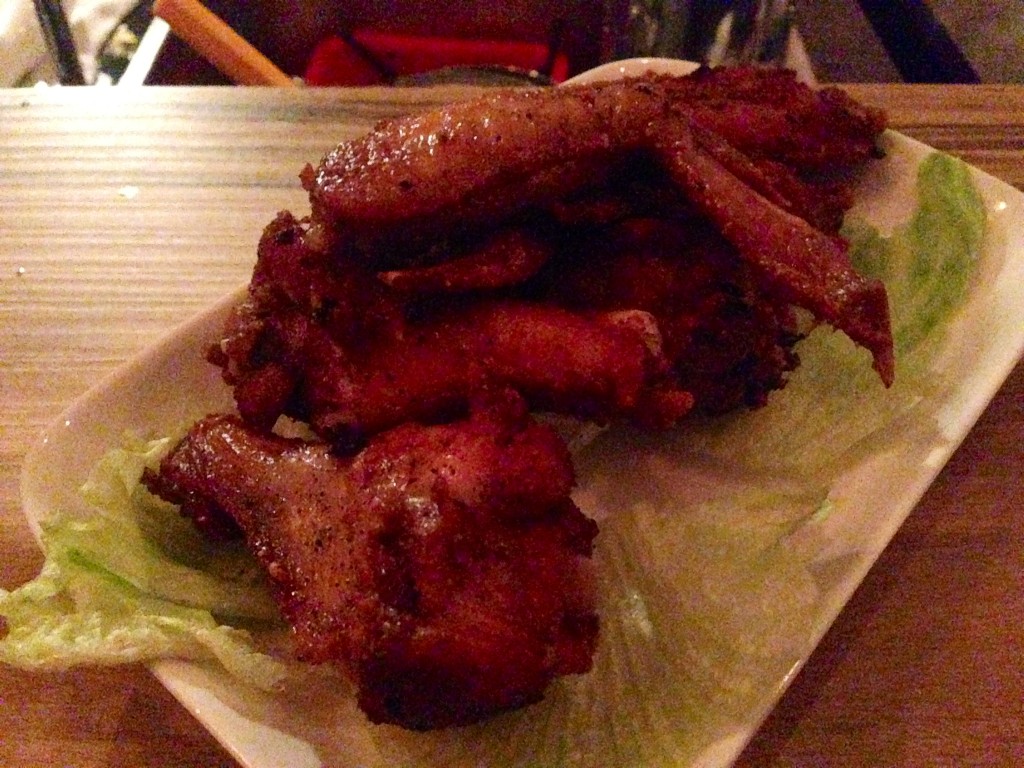 As we polished off the last of the wings, I felt great regret that it had taken me this long to finally get to Ah Sam Cold Drink Stall. Also, that we were so stuffed there wasn't room for a chendol martini.
There's plenty of time to fix that, however. I'll definitely be back again soon.
Ah Sam Cold Drink Stall, 60 Boat Quay, Singapore; +65.6535.0838; https://www.facebook.com/AhSamColdDrinkStall