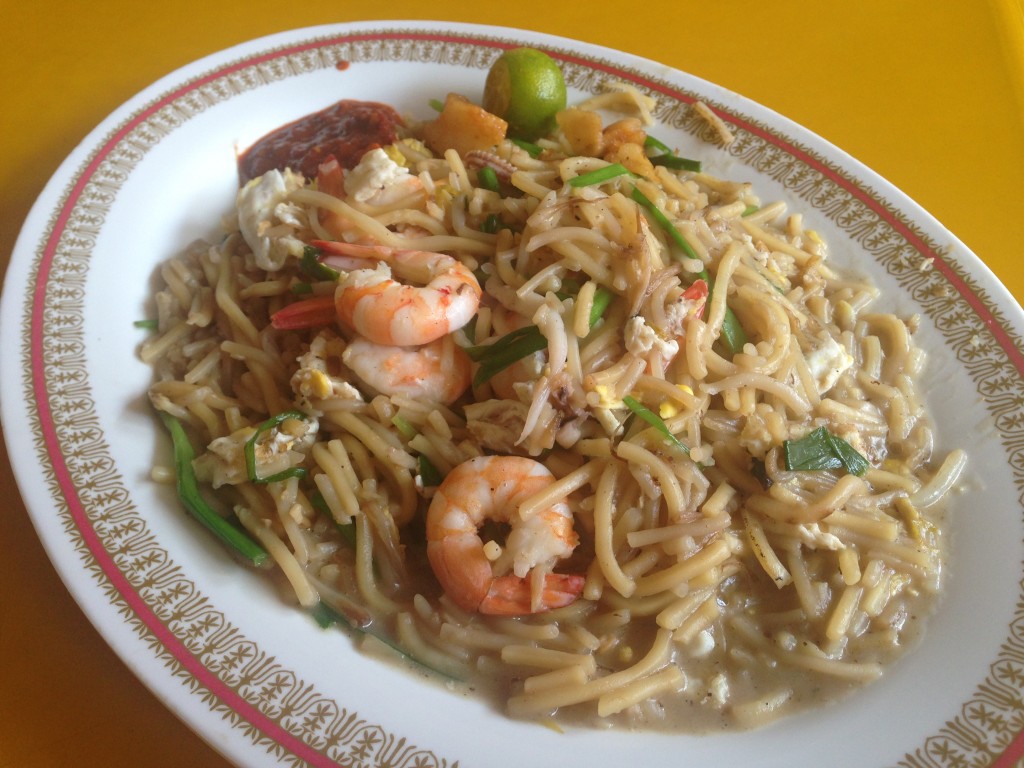 If you happen to wander into the cozy hawker center perched on a sleepy bend in Singapore's Bedok neighborhood, an incongruous sight may catch your eye.
Amid the usual phalanx of hawkers in jeans or shorts sweating over hot stoves and churning out bowl after bowl of tasty cheap fare, you'll see a stately man in a tailored black trousers, a white dress shirt, his hair neatly slicked and combed back. With a gold Rolex watch on one wrist and a towel casually draped over one shoulder, this man silently and deftly stir-fries woks of Hokkien mee, a delicious Singaporean Chinese dish featuring three different kinds of noodles stir-fried with shrimp, eggs and squid in a thick shellfish-inflected gravy.
When I first spied this on a recent trip home, I had to stop and stare for a moment. Who was this man? Why was he dressed like a banker to fry up noodles?
Most important — how was his Hokkien mee?
Well, there was only one way to find out …
It turns out that Kim's Fried Hokkien Prawn Mee is something of a legend when it comes to noodles. According to the good people over at Makansutra (which puts out the handy annual Makansutra guide to where to eat in Singapore), "Mr Tan Kue Kim is a master. If you asked the golden generation foodies, they will say the golden trio or "fook , luk, shou" (the gods of fortune, prosperity and longevity) of Fried Hokkien Prawn Mee of Singapore is as follows- "The Cripple" at Lavendar Street/ Serangoon Road junction, "The Opium King" at Lor 29 Geylang (both have passed on) and Ah Kim (as he calls himself). He knows just when to let what into the wok at exactly when..he uses all his senses when cooking."
You can see from his numerous newspaper clippings how beloved (and well-covered and reviewed) he's been in his decades of cooking up Hokkien mee for the masses.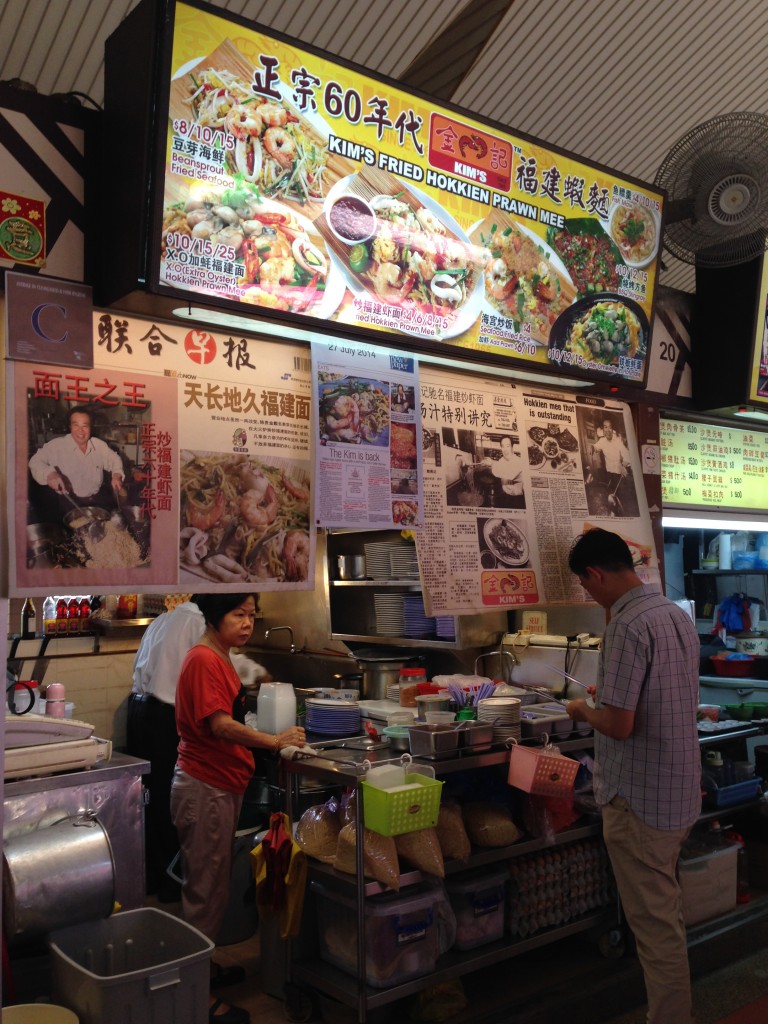 There's no talking to Ah Kim himself, however — if you want to order anything, you've got to go through this tough lady.
When she noticed me taking my camera out, she consented to a photo. I cheerily said, "Smile!"
This is her smiling.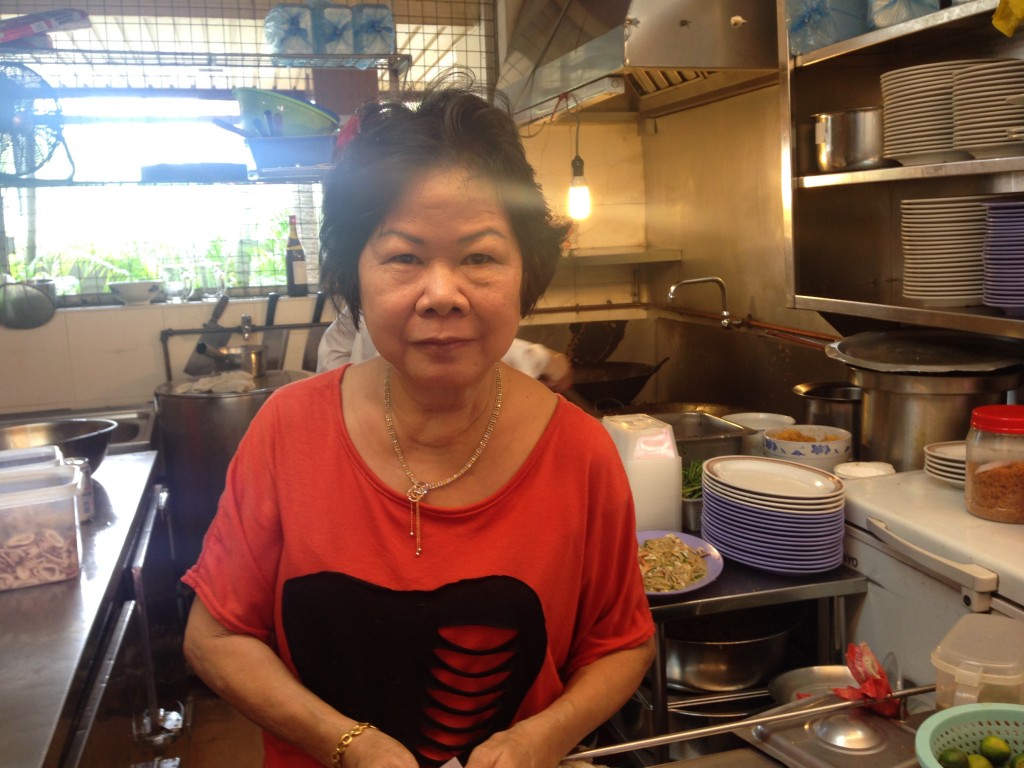 Once you place your order — we went for the small plate (SGD $4 / USD $3.20) — everything happens very quickly.
Ah Kim is a non-stop noodle frying machine, as you can see. (This picture is a little blurry because the man basically does not stop moving.)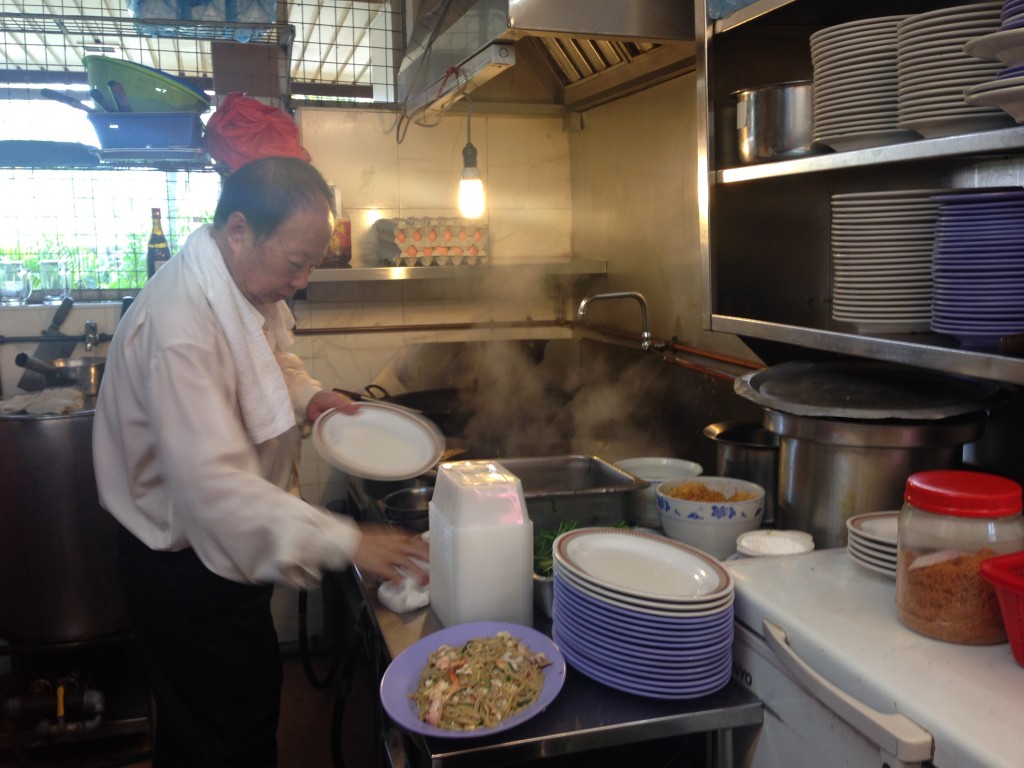 So your plate appears in a minute, pretty much — and it's up to you to add the fixings you want such as extra chili, crispy chunks of deep-fried lard and freshly squeezed limes.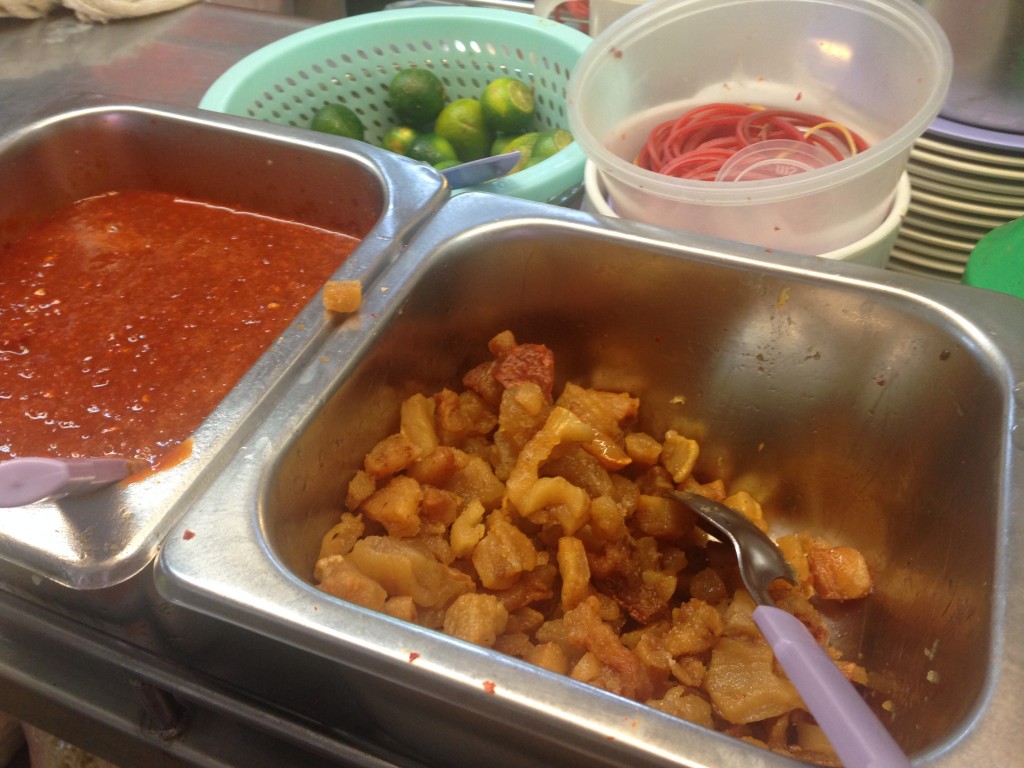 So, how was it? At $4, we got a fairly large plate of noodles, as you can see from the photo up top. The plate was packed with a generous serving of plump shrimp and chunks of squid, and the bits of scrambled egg and fresh Chinese chives were nice additions.
Two key things — the noodles were perfectly fried, just a hair softer than al dente, which is just the right consistency for this dish, as you want the noodle's texture and not-so-firmness to marry well with the goopy gravy. And the gravy was deliciously garlicky and fishy and thick enough to nicely coat the noodles.
As my mother and I polished off the last remnants on the plate, I realized it was very plain to see why Ah Kim was anointed one of Singapore's three Gods of Hokkien mee. And if you want to taste the food of this living legend, I highly recommend that you get your tush to Bedok — stat.
Kim's Fried Hokkien Prawn Mee, Stall 19, Bedok Corner Food Centre, 1 Bedok Road, Singapore.