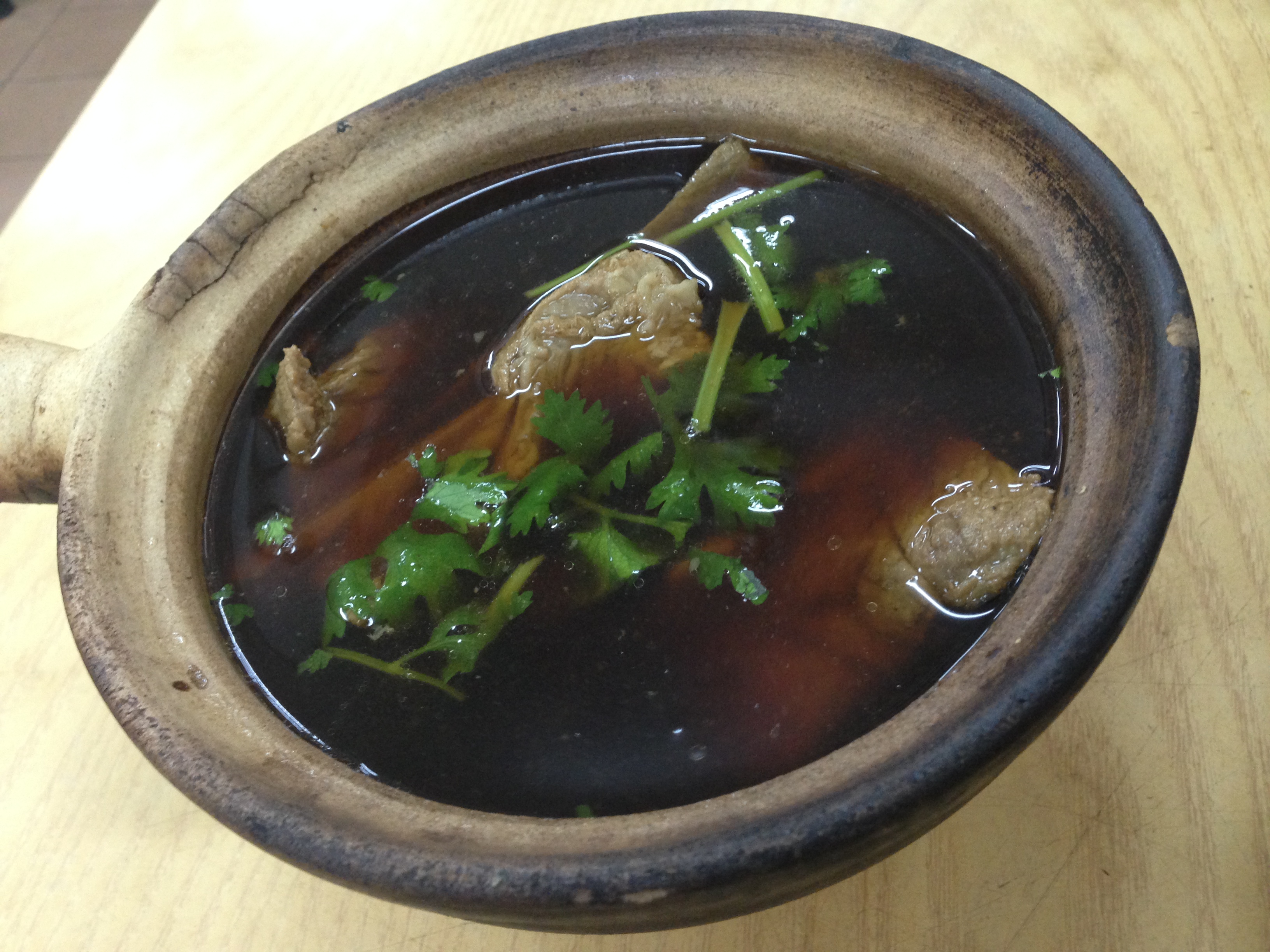 There are very few people I trust whole-heartedly when it comes to making food decisions. Especially if I'm in a city for a limited time, I find few things worse than a bad or even mediocre meal — that's just one valuable eating slot needlessly squandered.
In Singapore, I'm fortunate to have several food gurus — among them, I have absolute blind faith in my dear friend Willin, who has never steered me wrong. He's a chef, after all — check out his newly revamped Wild Rocket if you haven't — so he is particularly discerning.
When I recently mentioned to Willin that it'd been ages since I'd had bak kut teh (which means "pork bone tea"), a peppery pork rib soup that's a favorite dish of the Teochew Chinese of Singapore (i.e. my people), he immediately had a suggestion.
"Go to Joo Chiat," he said, referring to a small neighborhood on Singapore's East Coast that has recently become a hotbed for eats (and Vietnamese prostitutes). "That place on Joo Chiat Road is one of the best."
Since this was Willin, I didn't need to think twice. As soon as we found ourselves hungry again, my mother and I headed over …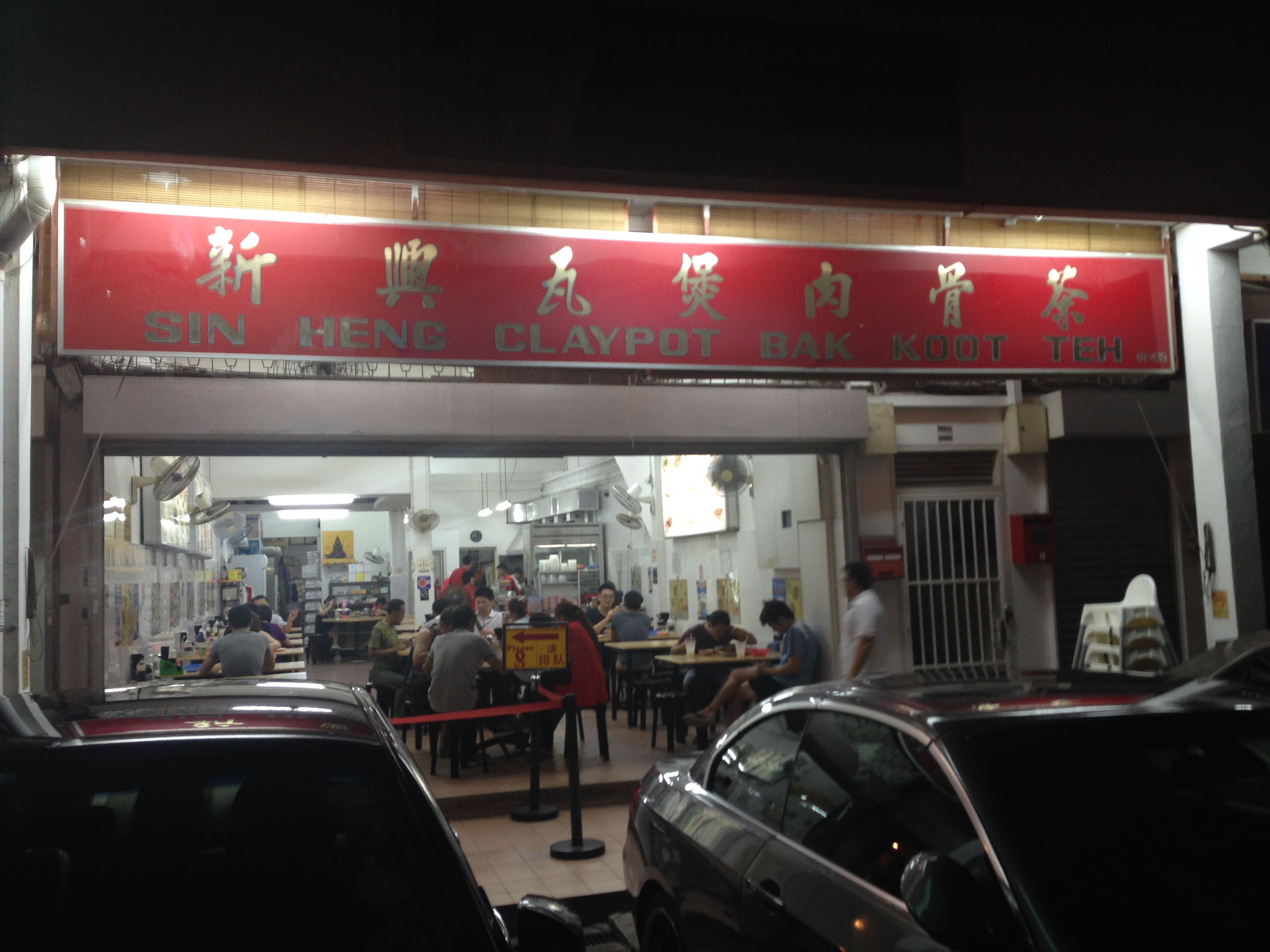 Sin Heng Claypot wasn't hard to find — Joo Chiat Road is narrow and not very long. Plus, its parking lot is constantly packed.
The place has been around since 1983 and has garnered quite a following. We could tell how popular it was from the fact that it actually had a large sign (and rope) directing queue traffic.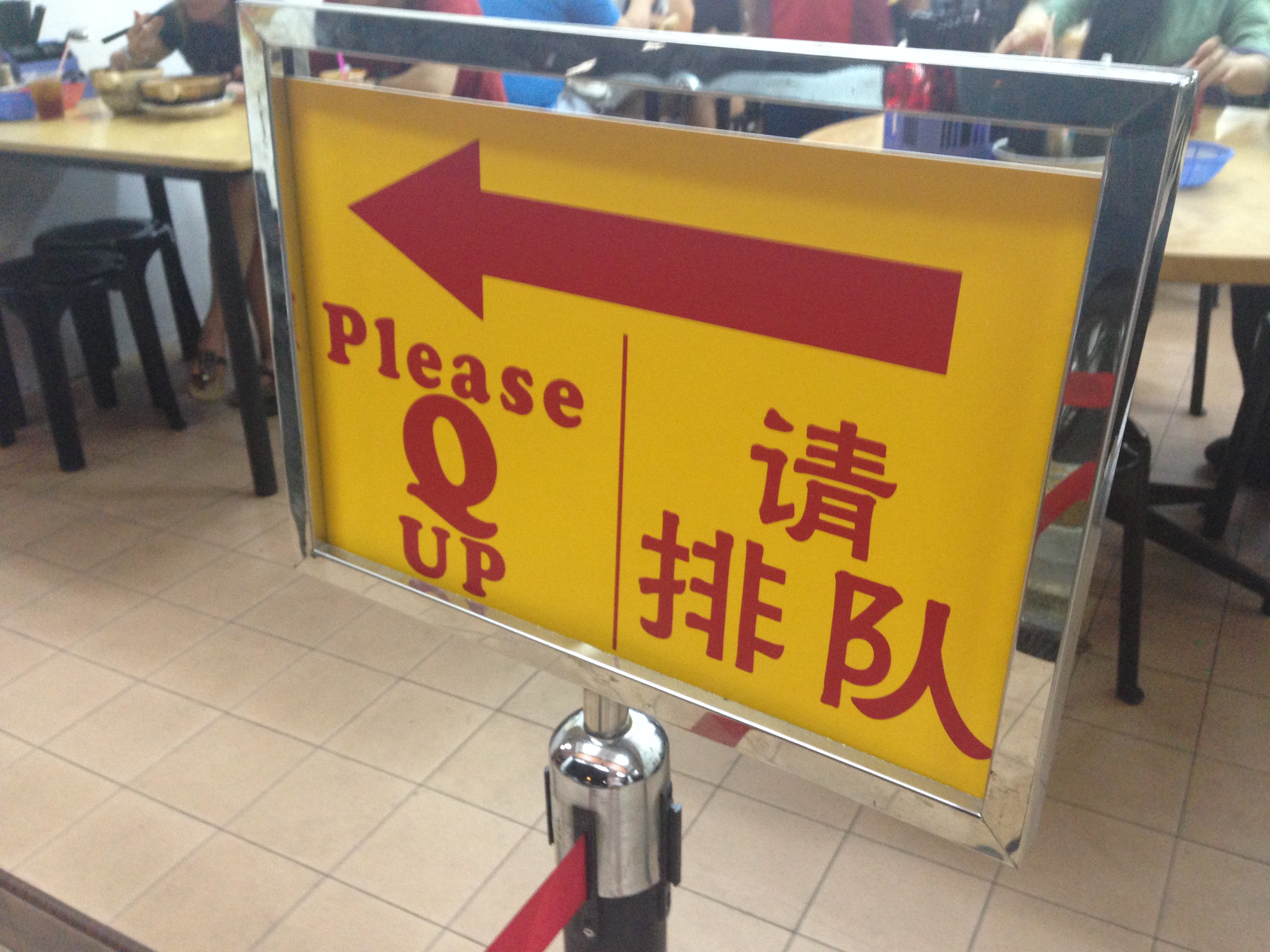 Late on a weeknight though, we got a table right away — I took this to be a good sign when we sat down: Big baskets bearing not one but two kinds of freshly cut chilis.
It always warms my heart to see tiny Southeast Asian chili padi (left) set out as an essential condiment in any eatery — I could eat these fiery little buggers with just about any meal.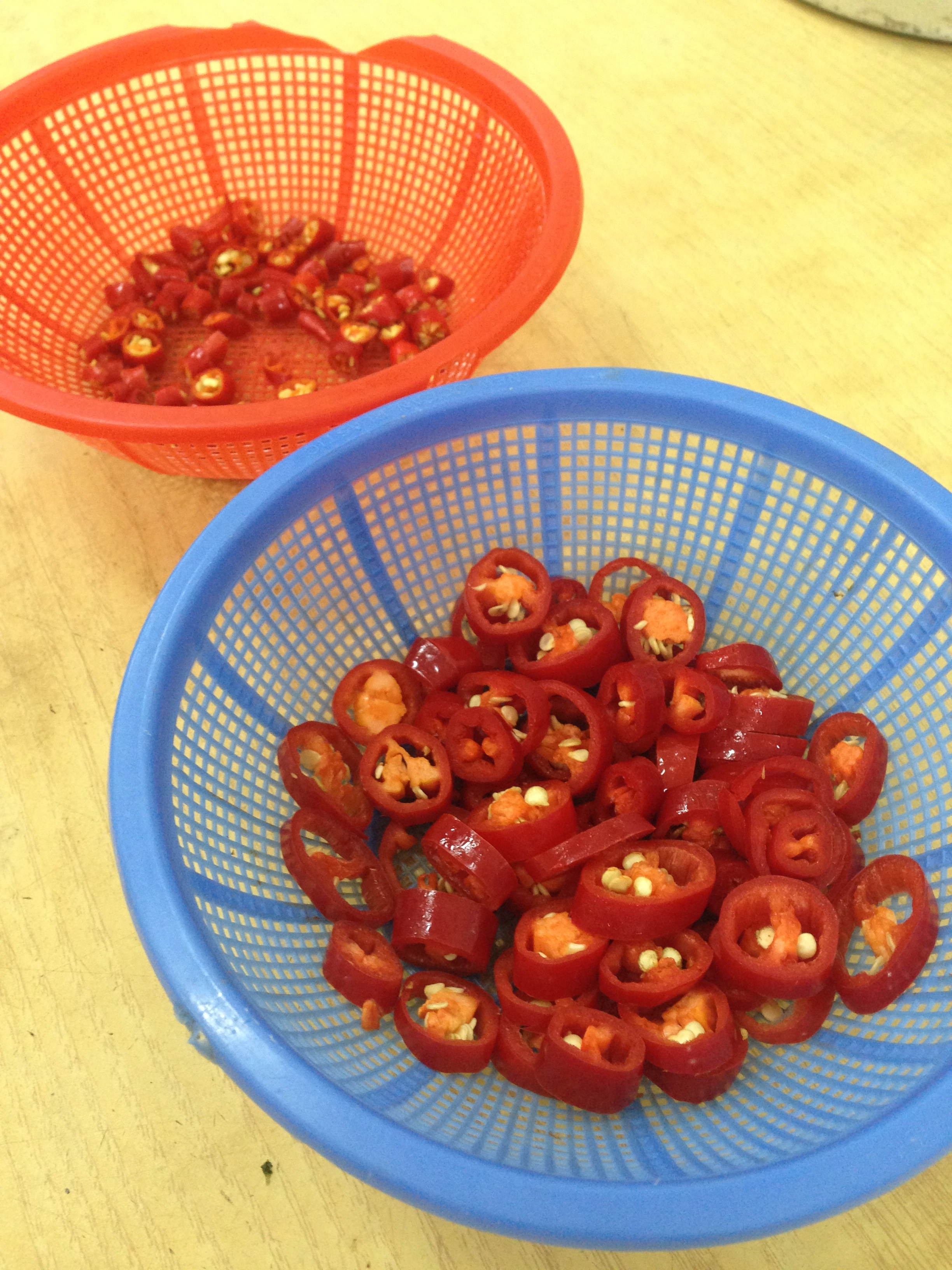 The unusual thing about this bak kut teh joint is that they serve two kinds of this Southern Chinese soup — a Hokkien (Fukienese) version, which is heavier on Chinese herbs (Solomon's Seal, buckthorn and more), and the Teochew kind, which is darker, sweeter and more peppery. (Prices start at SGD $6 / USD $4.80 for an individual portion.)
Now, I have both Hokkien and Teochew blood in me — but I'm also not terribly keen on the bitterness that Chinese herbs often lend to a dish. So, Teochew it was (pictured up top).
The broth was intensely aromatic — a lovely balance of hearty pork flavor with a deep, slightly floral pepperiness, the saltiness of soy sauce and sharpness of garlic brightened up with bits of cilantro to finish. The meat itself was incredibly tender, falling off the bone as we picked up the ribs with our chopsticks.
The yam rice here is a specialty — yam is a big ingredient in Teochew cooking — but we were saving room for other things.
Besides bak kut teh, Sin Heng Claypot has a sizeable menu peppered with all sorts of home-spun stir-fries.
Our waiter encouraged us to try the sesame chicken, a decision we regretted almost as soon as the dish landed on the table.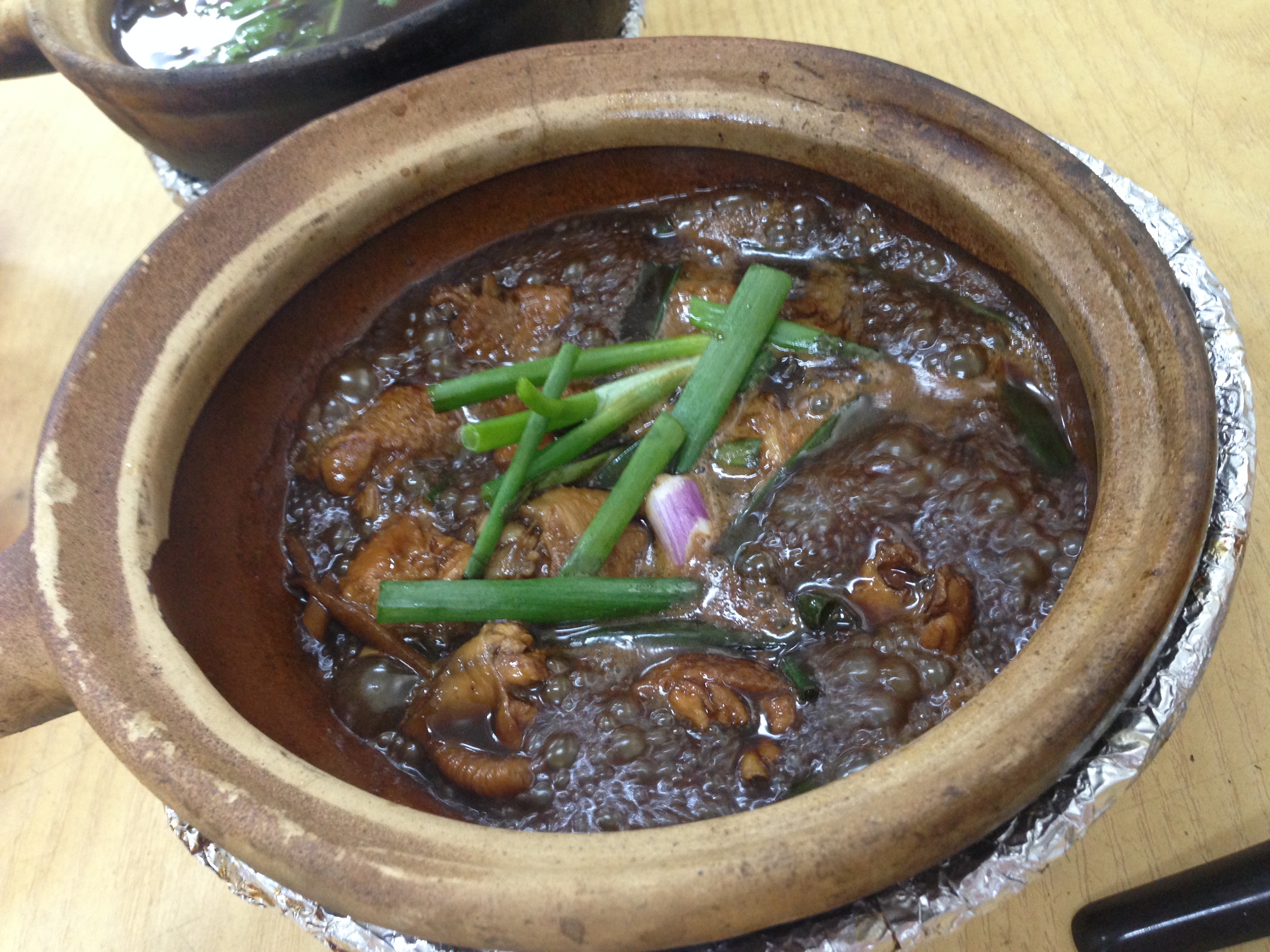 The gravy was lackluster and starchy and the chicken chunks were largely big pieces of bone with scraggly flaps of meat draped around them.
"Lousy," my mother said, grimacing as she picked out several more chicken bones from her mouth. It's true — I felt we'd been conned into eating the leftover scraps the cook had little use for.
I should have known better, however — Willin only said to have the bak kut teh here. We were tempting the food gods by veering from his advice.
So listen up — go to Sin Heng, have the bak kut teh. You won't regret it.
Sin Heng Claypot Bak Kut Teh, 439 Joo Chiat Road, Singapore; +65.6345.8754.