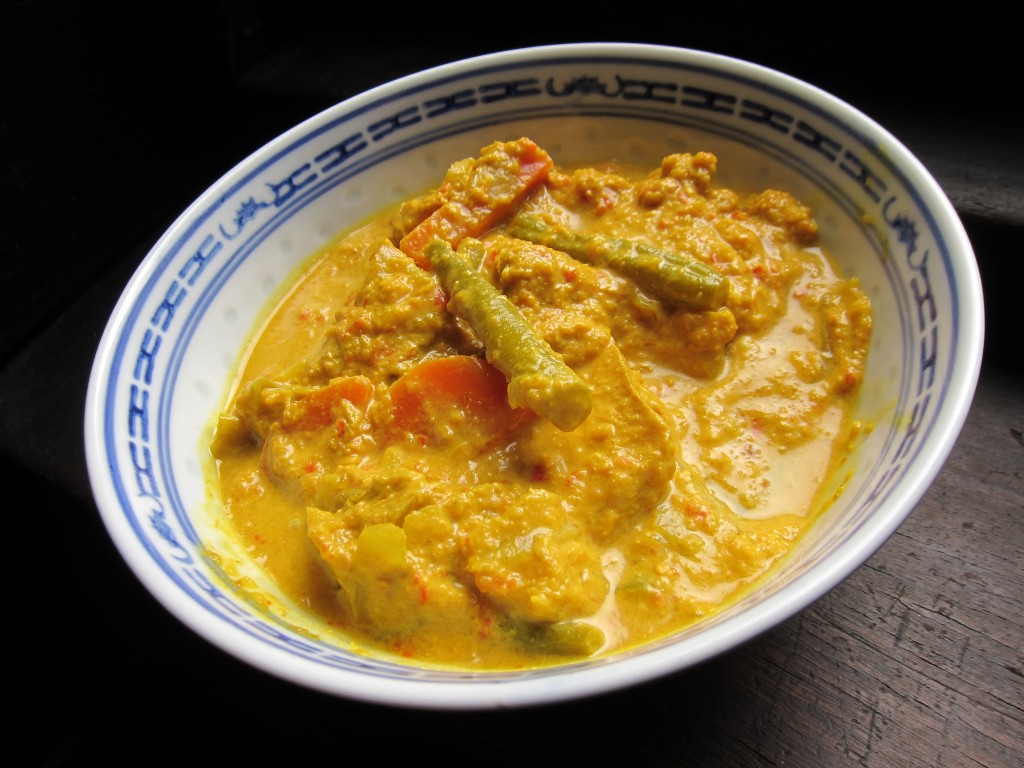 It's been a harrowing weather week here in New York City — especially for those of us who were spawned in the tropics.
With temperatures in the teens and 20s (and windchill dipping well below zero occasionally), this Singaporean transplant has never been more miserable. But with each gash of wind battering my cheeks, the thing that's kept me going is one thought: Something hot and soupy — preferably with a little spicy kick to it.
Soup noodles are always terrific, but stews — now that's a meal that has some heft for these climes. What to make? A surprising choice, actually, for anyone who's read "A Tiger in the Kitchen" or this blog and knows what a carnivore I am.
But if you've ever tasted sayur lodeh (pronounced sy-yer loh-day), a heady Malay vegetable curry that's fiery with a tinge of sweetness, you'll know why it came to mind when my intrepid Let's Lunch crew decided to whip up some stews for our January virtual lunch date …
Now, as much as I adore sayur lodeh, having eaten it since I was a child in Singapore, I'd never thought to make it. It's not something my family makes at home — we're Chinese, not Malay. And, it's always much easier to just go to a hawker center to order it from a stall.
(You'll find it at classic nasi padang stalls, where Malay hawkers will fill shelves with little plates of various dishes — turmeric fried fish, sambal eggs, beef rendang, sayur lodeh and more. You basically point at what you want and they'll dish it out for you with rice. It's seriously one of the best types of meals you'll have in Singapore.)
In New York though, you'll find nothing of the sort. So, I rolled up my sleeves and got down to work.
After consulting several blogs by Malaysian home cooks, I settled on one that looked doable and made some tweaks. The process was fairly easy — the hardest part is chopping up all the vegetables and ingredients for the spice paste (rempah). Once you have that done, the dish comes together in a flash (details below).
How was it? Probably a little too sweet — I worried about it being too spicy for some of my dinner guests and ended up tipping too much sugar in the mix. But apart from that, not bad for a first try.
The most important thing though — it definitely warmed me up.
~~~
Don't forget to check out other Let's Lunchers' stews below! And if you'd like to join Let's Lunch, go to Twitter and post a message with the hashtag #Letslunch — or, post a comment below.  
Betty-Ann's Salmon Sinigang (Tamarind Stew with Vegetables) at Asian in America
Demetra's Coconut-Shrimp Soup at Sweet Savant
Linda's Chinese Soy-Braised Pork & Peanut Stew at Spicebox Travels
Lisa's Chicken & Fennel Casserole at Monday Morning Cooking Club
Margaret's Beef & Venison Stew at Tea and Scones
Mel's Lamb & Harissa Stew at The Cook's Notebook
Rashda's Morocco-inspired Meatball Stew at Hot Curries & Cold Beer
Sonja's Slow-Cooked Lamb Ragu at Foodnutzz
~~~
Sayur Lodeh
(Recipe by My Kitchen Snippets, with some tweaks)
Ingredients:
4 to 8 pieces deep-fried tofu triangles (You can buy these in packages at Asian grocers)
20 green beans, ends trimmed off and cut in half
450 gm cabbage, roughly cut
2 carrots, peeled and sliced
200ml coconut milk
2 cups vegetable or chicken stock
sugar & salt to taste
2 TB vegetable or corn oil
Blend the following into a paste:
2 tbsp dried shrimps, softened in hot water (omit if making a vegetarian version)
6 large red chilis, deseeded
1 medium red onion
3 cloves garlic, peeled
1-inch ginger
2 stalk lemongrass, removed outer skin and sliced
4 candlenuts
1 tbsp turmeric powder
Directions:
Heat oil in wok over high heat — when it's crackling, add blended spices and saute until fragrant. (Watch this carefully — do not burn.) Add chicken or vegetable stock and bring to a boil. Then, add beans, cabbage and carrots — cover and simmer until vegetables are soft. (At least 20 minutes.)
Add coconut milk with salt and sugar to taste. Keep stirring until it comes to a boil. Add tofu and simmer for five or 10 more minutes. Serve with hot rice.