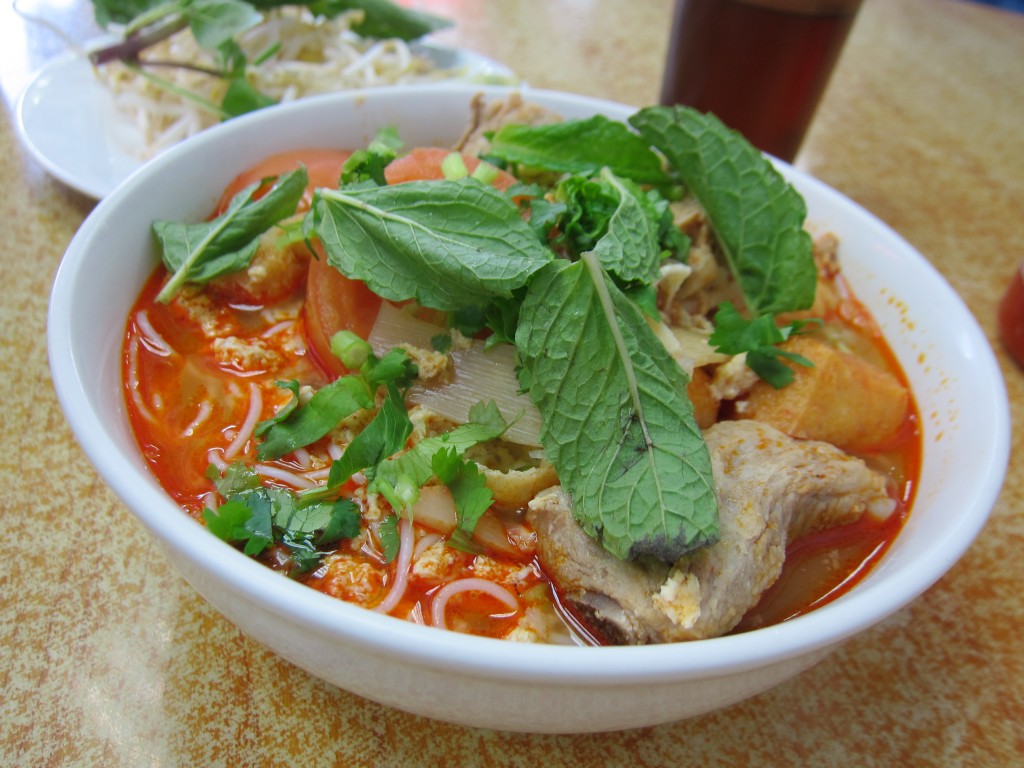 The Ex and I have been on a bit of a quest recently. After a Thrillist list of "10 Best Pho Spots in NYC" by the lovely Patty Lee caught my eye a few months ago, we decided hey, why not check them all out?
My immense love for pho (Vietnamese beef noodle soup) is well-documented on this blog — not just places in New York, but also Edinburgh, Berlin and even Wichita, Kansas.
In New York, however, I've found myself going to the same place over and over recently — the always reliable Xe Lua in Manhattan's Chinatown, a little place that Chef Simpson (of Cafe Asean) introduced to me and one that I absolutely love. (The pho broth there is intensely aromatic and meaty — very satisfying.) So when this list presented itself, we said, let's try them all!
With a big blizzard about to hit our fair city, a bowl of hot Vietnamese soup seemed just about right. So off we went, on the trail of Thanh Da, in the sprawling Chinatown in Sunset Park, New York …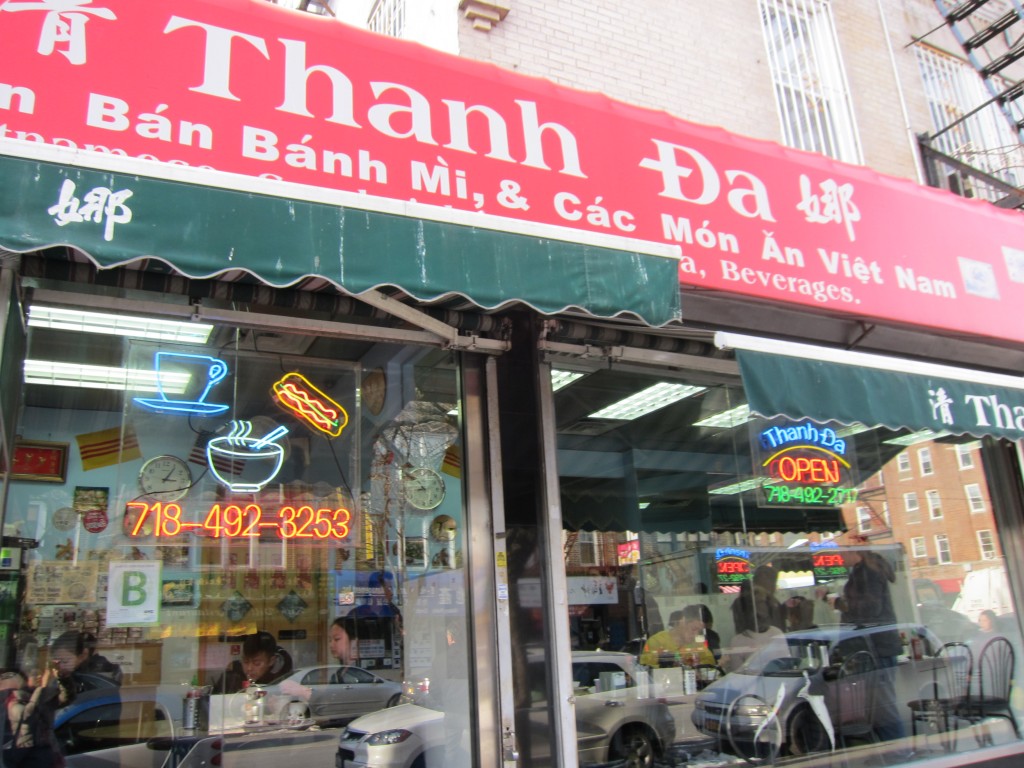 Thanh Da is a very bright and airy affair with a simple set up. There's the counter at the front where you can order any number of things (drinks, pho, snacks) to go.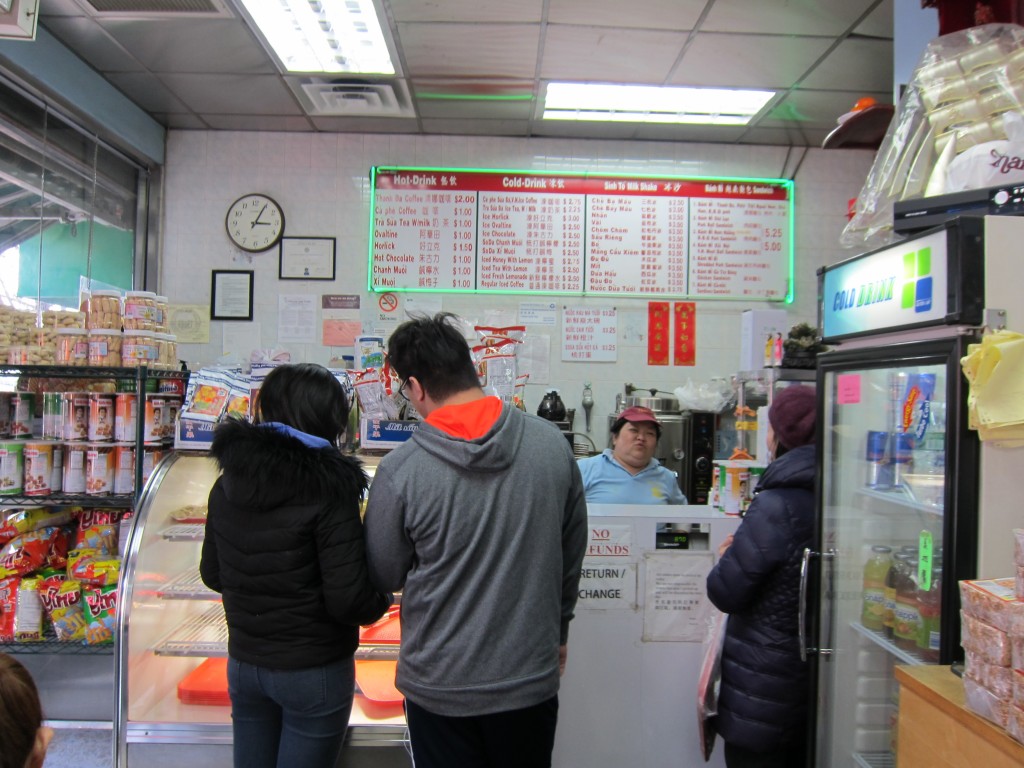 And then there's a small seating area on the right with just a few tables.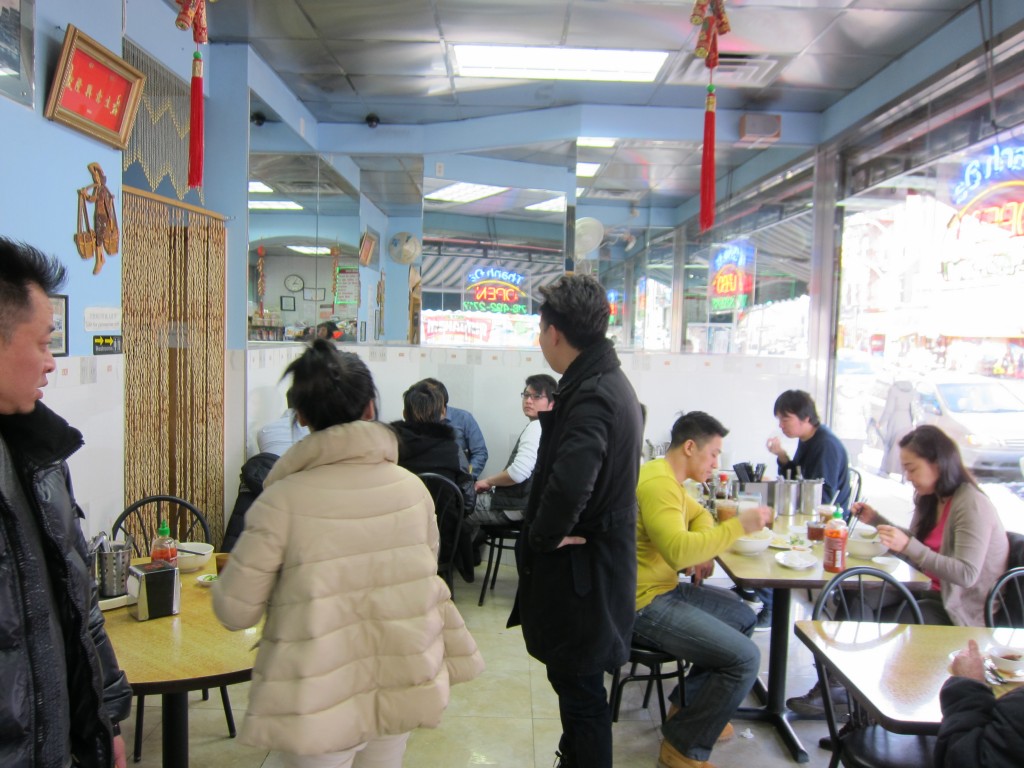 The menu is fairly big but almost everyone we saw seemed to be enjoying the pho — with the exception of one retiree who very meticulously slurped up every morsel on her plate of Vietnamese pork chops and rice. The pleasure and gusto with which she did it made me momentarily reconsider my pho order.
But since the menu featured almost an entire page of pho options (and, it was the sole reason for our trek, after all), I figured I should try it.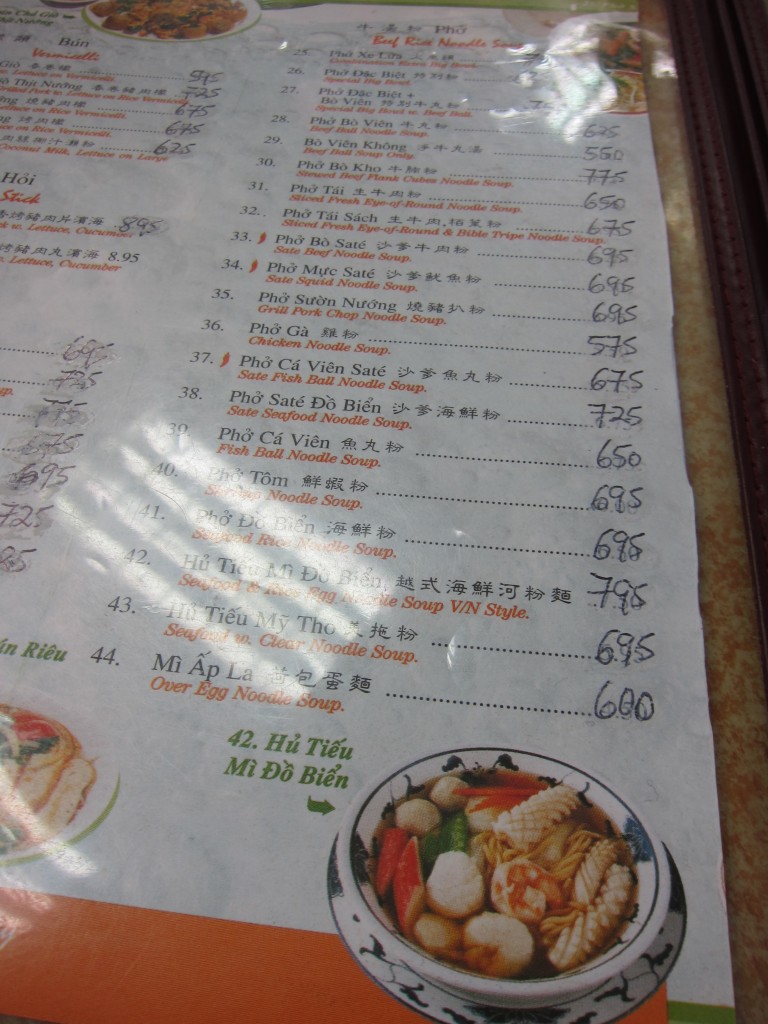 First, my ice coffee landed — it was fine, though it had a slightly off, bitter taste to it.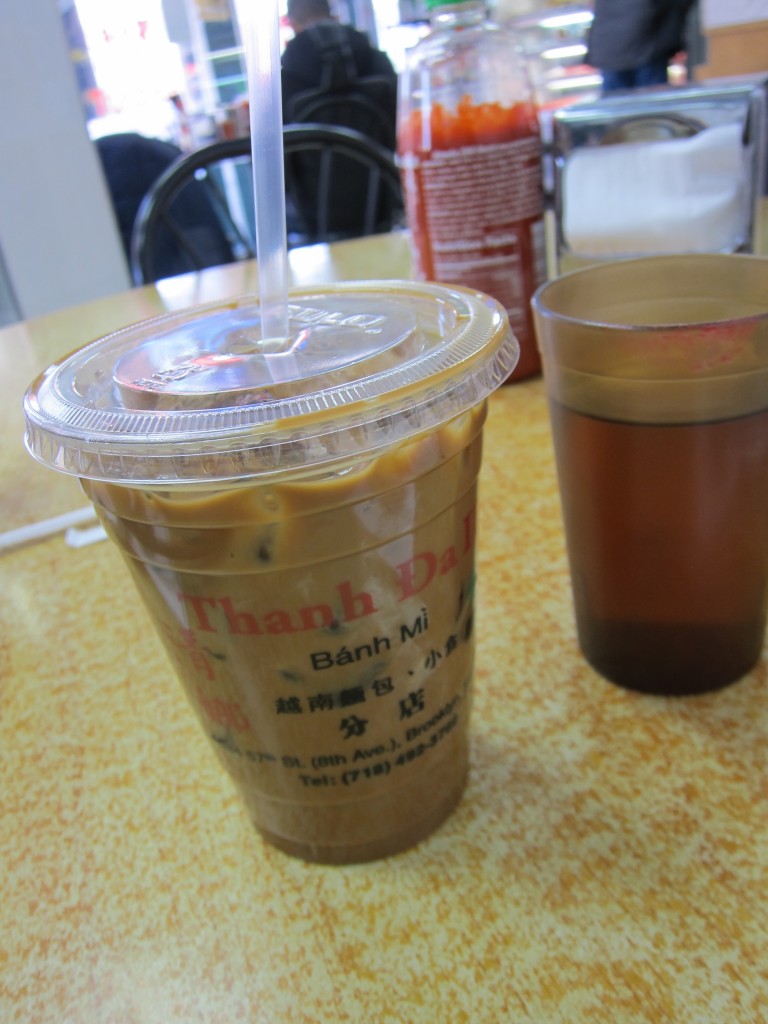 My pho tai ($6.50) came in a medium-sized bowl and was packed with an impressive amount of noodles and beef. (In fact, there was so much of both I half wished there was less — I'm usually a bigger fan of the broth in pho than the noodles or beef.)
The beef was very tender (though a little flavorless) and the noodles (flat vermicelli) were nicely al dente. The broth, however, was a disappointment — perhaps it was an off day for the restaurant, but this soup tasted rather watered down (second-round teabag tea came to mind) and I found myself wishing it had just a little bit of punch.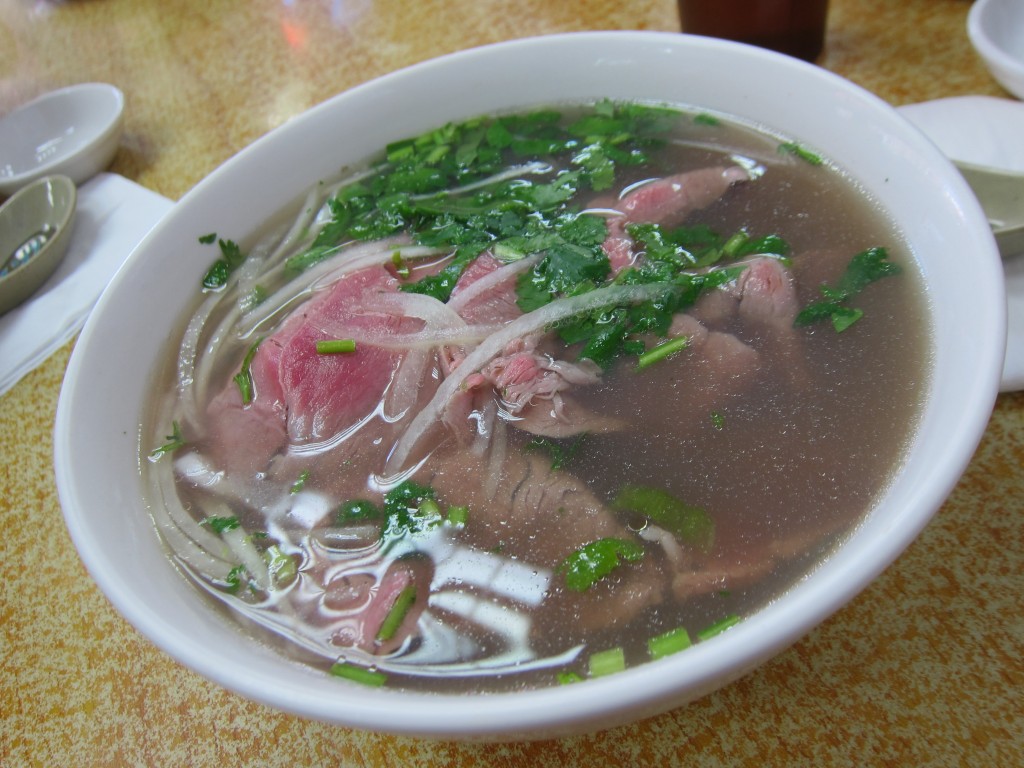 When we first sat down, the Ex and I had spotted bun rieu on the menu — a dish of vermicelli in a tomato-inflected crab and pork bone broth with pork ribs, crab balls and tofu. I'd had it only once before — a home-made version by Chef Simpson, and the flavors packed into each little bowl were so intense I never forgot it.
So we decided we definitely had to try Thanh Da's version (photo up top) — and thank goodness we did. This broth was everything the pho soup was not — the first taste of it knocked my socks off. I loved how the strong seafood flavors stood up to the earthy porkiness in the broth. And the soft chunks of spongy crab balls, which nicely soaked up the soup, were incredibly tasty.
As noodle soup experiences go, we left rather satisfied, even if the pho wasn't quite what we'd hoped for. And even better — we still had that list of even more places to get to. Stay tuned …
Thanh Da, 6008 7th Avenue, Brooklyn, New York; 718.492.3253